MOST WANTED
Our Head Of PR Tries Out Caroline Hirons' Newest Launch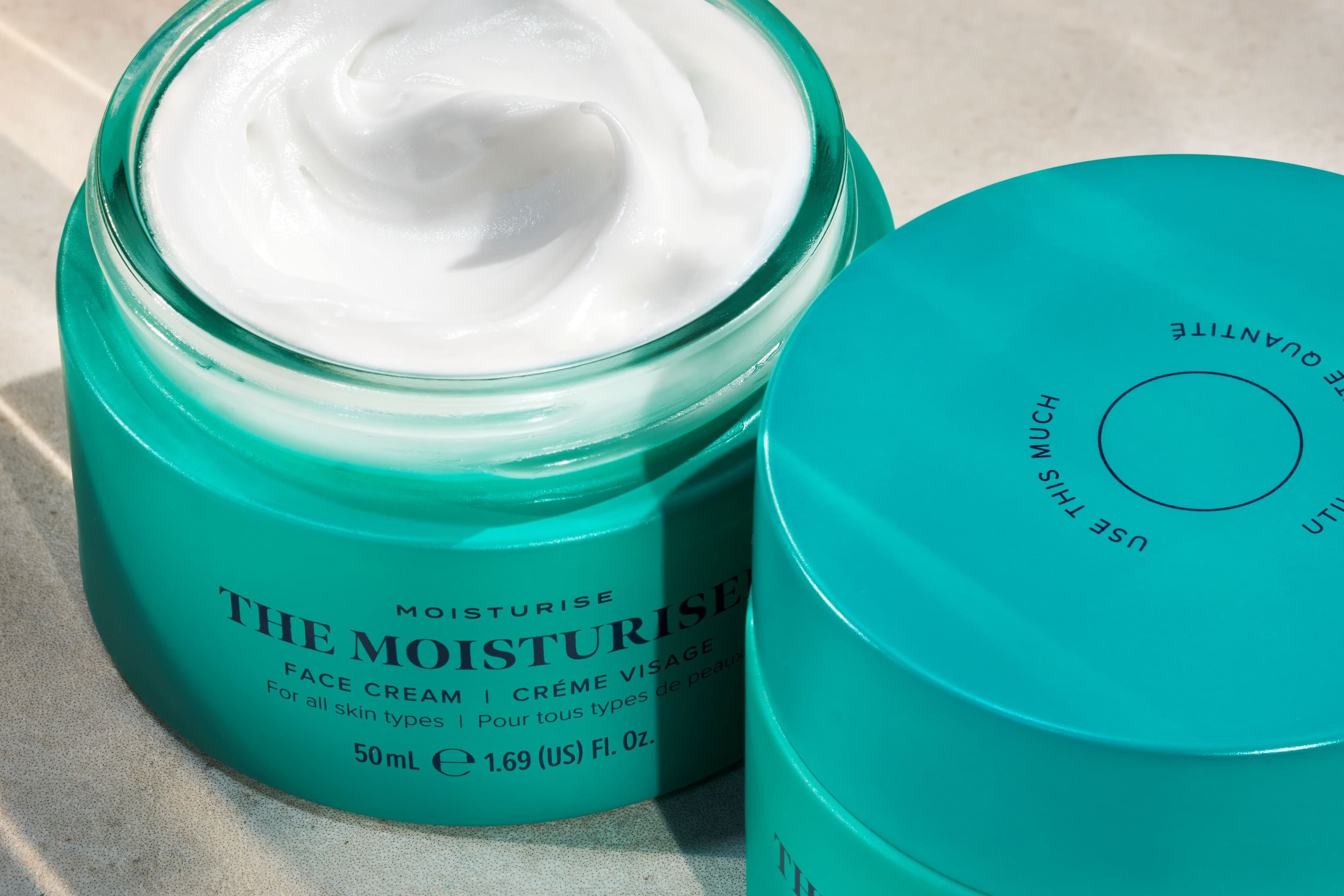 The success of Skin Rocks Retinoids set the bar high for whatever
Caroline Hirons
launched next. And fortunately, the skincare expert and brand founder didn't leave us wondering what was coming next for long. In fact, Caroline has launched not one but two new lines, much to the delight of her loyal Skin Freaks community. While the new The Support Oil helps to nourish and maintain your
skin barrier
and joins the two retinoid serums in Skin Rocks Treatment category, The Moisturiser comes in a green jar and sits within a new 'Moisturise' line.
Having made no secret of my love for Caroline's
Retinoid 2 Serum
, I made it my business to be one of the first to get my hands on Skin Rocks The Moisturiser. Here's my honest review…
Top Line On Skin Rocks The Moisturiser
Caroline Hirons has covered every base with Skin Rocks The Moisturiser, € 72,00. There's a fragrance and fragrance-free option depending on your skin type and preference, and the formula is packed full of moisturising ingredients. I'm talking hyaluronic acid, squalane, ceramides and pro-vitamin D3. It's a formula that works for all skin types and is designed to hydrate and moisturise.
Everything You Need To Know About Skin Rocks The Moisturiser
There is only one word that covers Skin Rocks The Moisturiser and that is incredible. I have dehydrated skin, I am 45 and while I've been testing this face cream I've been recovering from the winter flu (brutal!). It's safe to say my skin was not in great shape; it felt sensitive, tight, and uncomfortable. In fact, it's probably the worst it's looked and felt in a while. So, we can all agree that I started from a position of my skin needing help.
When it comes to moisturisers, I have to admit I am really picky. I like something rich and hydrating, but I don't like any leftover residue once the product as sunk in. I also like a little bit of fragrance, nothing too potent but just enough to make the application feel luxurious in the morning and evening. Having tried Skin Rocks The Moisturiser for two weeks solidly (twice a day, some nights on top of Skin Rocks Retinol 2), I can confirm that it is really hydrating, doesn't leave any residue, has a fresh but not overpowering fragrance, and revived my tight, uncomfortable skin.
I'd also like to add that the packaging is sturdy, fully recyclable and has the same little touch as the Retinoids with the guide on the lid to show how much you should use.
The Verdict On Caroline Hirons' Moisturiser
If you've got this far, I think you already know what my verdict on Skin Rocks The Moisturiser, € 72,00 is. From the first time I used it, my skin felt hydrated and the tightness was instantly better. It's honestly my favourite moisturiser, and I think this will be a long-term commitment too! Which is saying something because as the Head of PR I am lucky enough to try a lot of products. I will be repurchasing this one. Bravo, Caroline!
More From Skin Rocks
Caroline Hirons is one of the most renowned skincare experts in the business with over 25 years of experience. When she decided to create her own skincare line, Skin Rocks, she knew it had to be incredible. Skin Rocks Retinoid 1 - Vitamin A Face Serum, € 80,00 and Skin Rocks Retinoid 2 - Vitamin A Face Serum, € 90,00 have become firm favourites among Space NK customers. Offering a potent dose of vitamin A in an expertly balanced formula to ensure you get all the benefits without the dryness or irritation. Caroline Hirons has expanded the line up with the barrier-building Skin Rocks The Support Oil, € 75,00 and The Moisturiser. I can't wait to see what she has planned for the next Skin Rocks drop.
Read More
• Inside Caroline Hirons' Skincare Routine
• Review of Caroline Hiron's Skin Rocks Retinoid 2 • Everything you Need To Know About Skin Cycling
• The Best Lip Balms