MOST WANTED
Is Naturium's Glycolic Body Wash The Ultimate Spring Prep?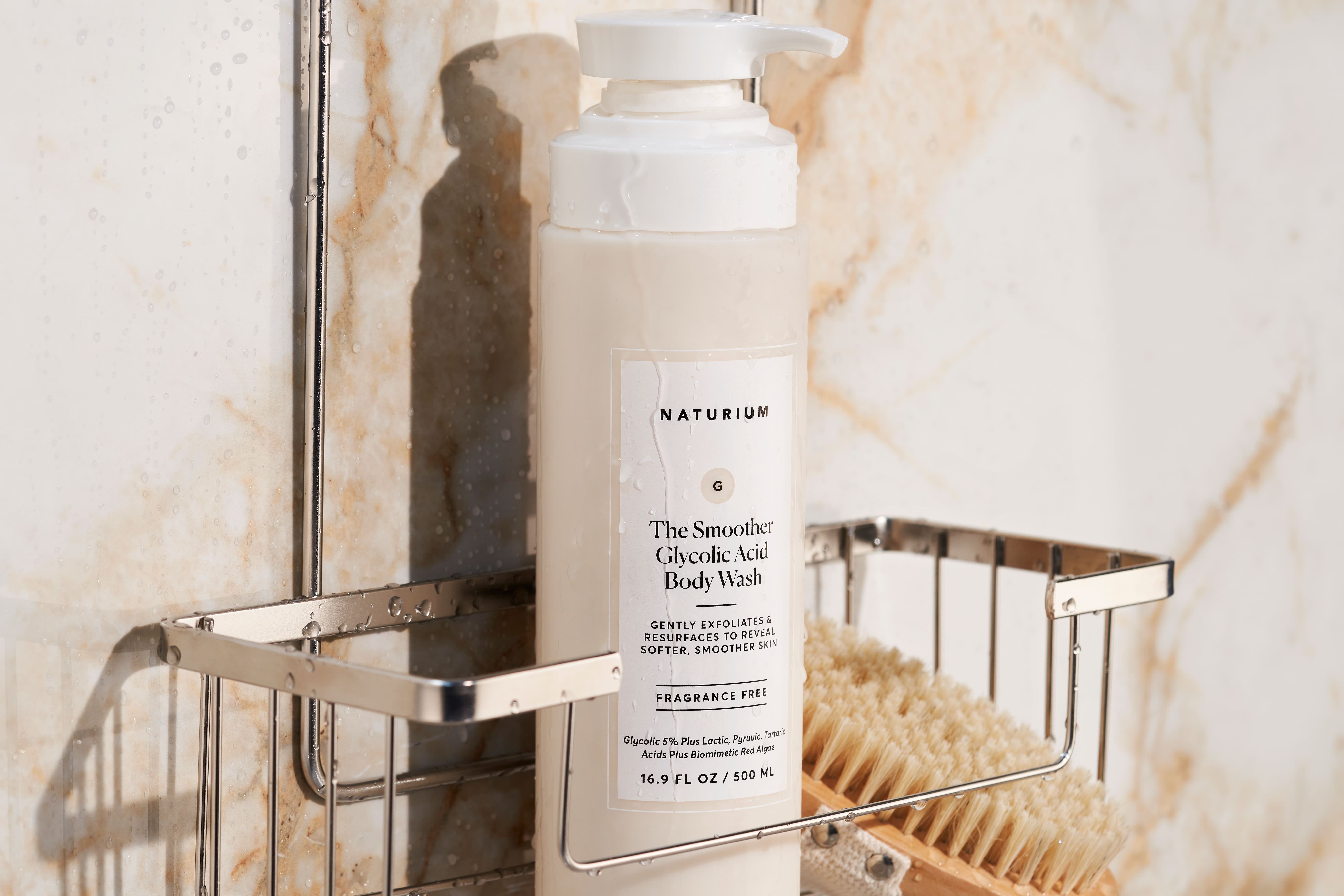 For the past few weeks there has been a buzz of excitement around the impending arrival of
Naturium
Body Washes at Space NK. The ingredient-based beauty brand has given its bodycare line the same treatment as its skincare offering. Heavyweight ingredients such as glycolic acid and
vitamin C
take centre stage and there are four body washes to choose from, including The Brightener, The Glow-Getter, The Multi-Vitamin and The Smoother.
We decided to road test the latter for two weeks to see if Naturium's The Smoother Glycolic Acid Exfoliating Body Wash lived up to its promise of gently sloughing away dry, dead skin. After all, this body wash be the ultimate spring prep and help minimise our summer bodycare routine. Here is our SEO coordinator Hanitra and beauty editor Victoria's review on Naturium The Smoother Glycolic Acid Body Wash…
Top Line On Naturium Glycolic Acid Body Wash
With a blend of AHAs, including glycolic, lactic and tartaric acids, NATURIUM The Smoother Glycolic Acid Exfoliating Body Wash, € 21,00 helps to gently exfoliating your skin from head to toe. The fragrance-free formula contains 5% glycolic alongside red algae to hydrate and soften skin. There's a pump to make dispensing simple and the bottle is pretty big at 500ml.
What Hanitra Thought About About Naturium Glycolic Acid Body Wash...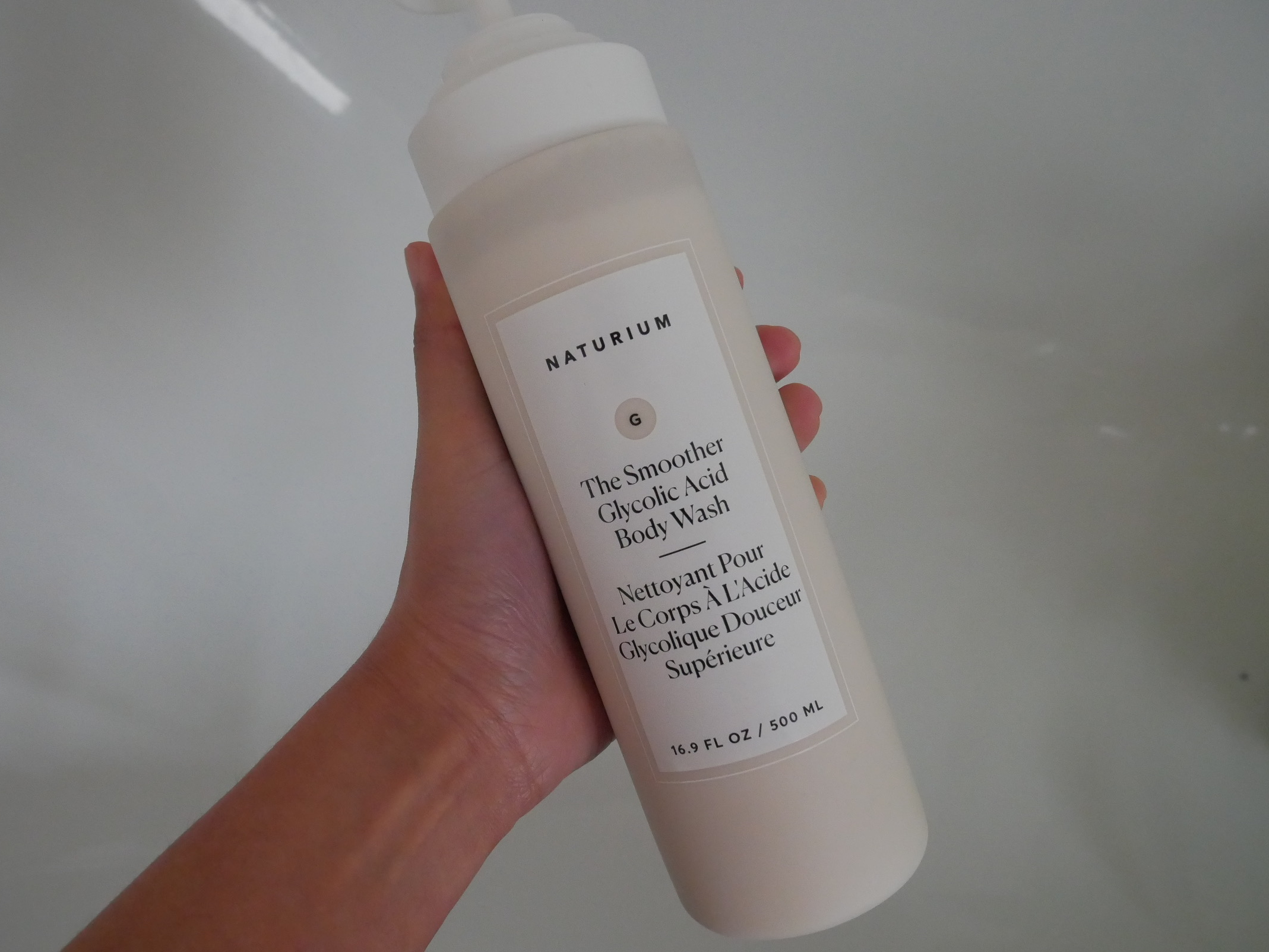 I am a big believer that bodycare is skincare and that is one of the main reasons why I was looking forward to the launch Naturium's bodycare line, especially after trying and loving the brand's skincare. I regularly use glycolic acid on my face to help ease acne and discolouration and smooth out skin texture. I think the idea of adding exfoliating acids to a bodywash is a great way to exfoliate your body without the hassle of adding in extra steps.
I found the texture of The Smoother really creamy; it felt very soft on the skin, and I really liked that it didn't lather too much (I've included a swatch below). To me, it felt like using your usual bodywash and I almost forgot that the main purpose was to exfoliate my skin. After the first use, my skin felt smooth without any dryness, which usually happens when I use ingredients like AHAs. I followed with Space NK Voyage Body Lotion, € 16,00 and was looking forward to the next day to see if my skin felt different.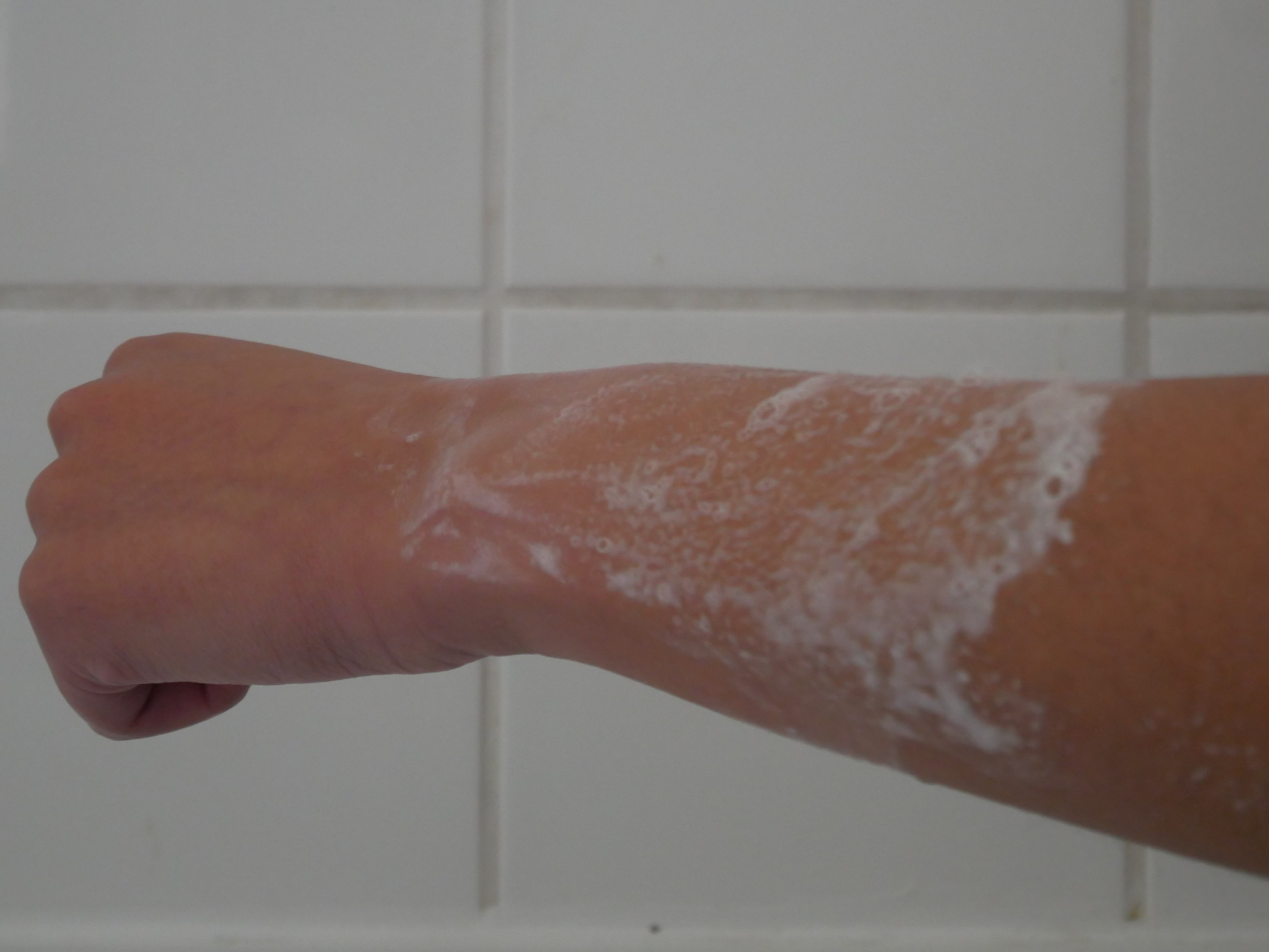 The next day my skin felt super soft and supple, and I could tell that the layer rough and dead skin that accumulated over the winter was gone. I also tend to get body acne and after a couple of days, I saw that some spots were less red and smaller.
I already know I'll be using this all spring and summer long to keep my skin feeling sooth. I'm really intrigued to see how this formula will impact the patches of discolouration and pigmentation I have on my body. A huge bonus is that you get a lot of product for a really good price, I think it's totally worth it.
What Victoria Thought About About Naturium Glycolic Acid Body Wash...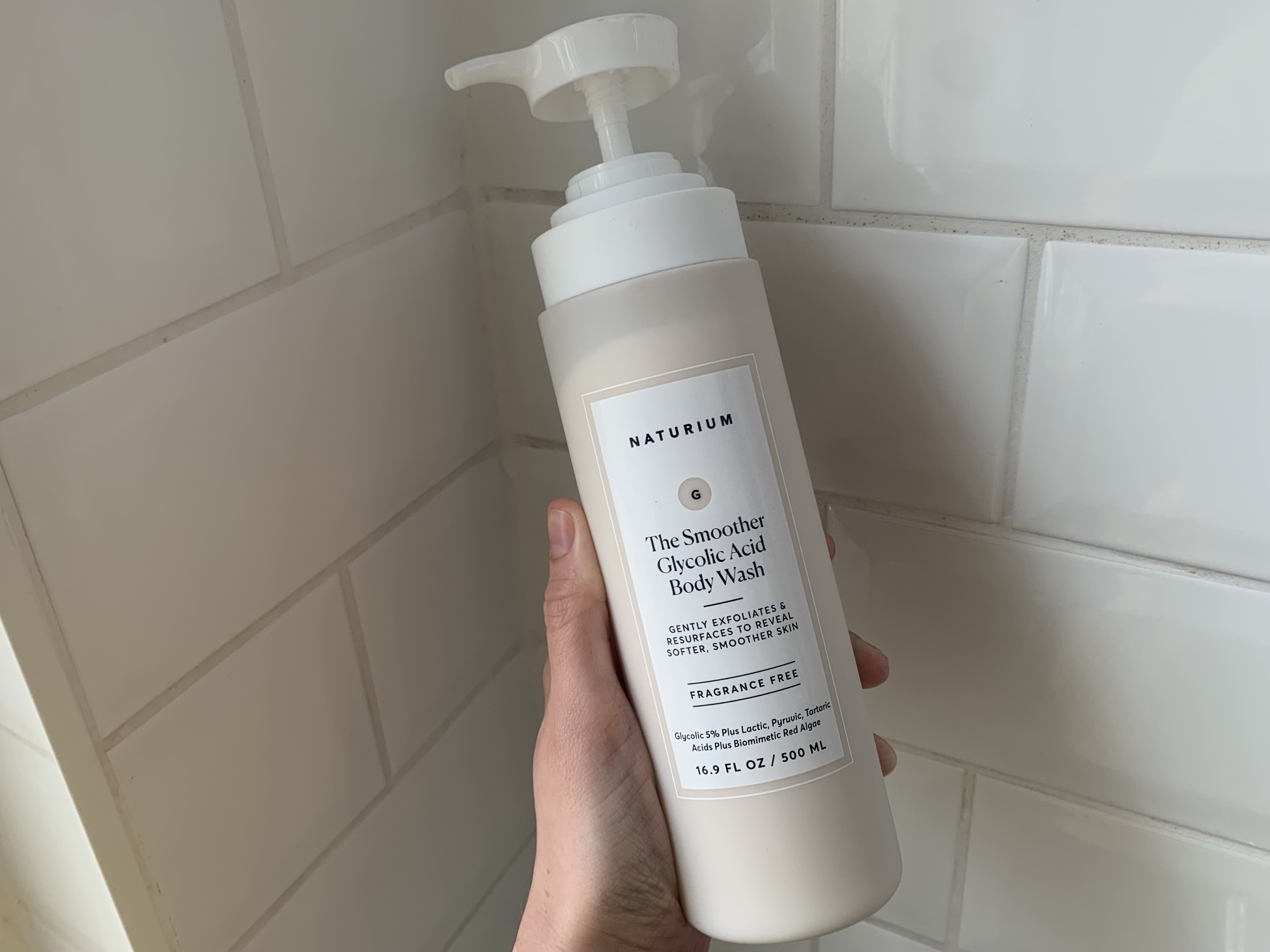 I'm quite routine with my bodycare. I like my morning products to be quick, effective and easy (Nécessaire The Body Serum Fragrance Free, € 52,00 is a firm favourite) and my evening formulas to be incredibly indulgent and pampering (think Aromatherapy Associates Revive Shower Oil, € 38,00, which I use in the bath and shower). I slotted Naturium's The Smoother Glycolic Acid Body Wash into my morning routine. [copy] [copy]The first thing I noticed was the luxe texture – it's super creamy, almost whipped and feels incredible. While the formula is super creamy, I also noted the absence of intentional fragrance. There is a slightly clinical scent to The Smoother which comes from the ingredients. This scent didn't linger for long and I didn't mind it on my body, but I didn't enjoy using Naturium's Glycolic Acid Body Wash as a face cleanser purely due to the scent.
In terms of results, my skin definitely felt smoother and softer, particularly the backs of my arms. Any little bumps were non-existent after using Naturium's Glycolic Acid Body Wash for a week. I also skipped my usual exfoliator and used this body wash before adding Tan-Luxe self-tanning drops to my moisturiser. Impressively it didn't look patchy or streaky.
The Verdict On Naturium The Smoother Glycolic Acid Exfoliating Body Wash
NATURIUM The Smoother Glycolic Acid Exfoliating Body Wash, € 21,00 is great value for money; the 500ml bottle will last you all summer and doubles up as a face cleanser and body wash. The creamy formula gently exfoliates without causing any tingling or leaving red patches.
The lack of fragrance won't be to everyone's taste, but it does make this body lotion more accessible for those with sensitive skin. If you're looking for an effective, multitasking body wash, this will be a great addition to your beauty routine.
More From Naturium
As we mentioned, The Smoother isn't the only Naturium body wash to launch at Space NK. There are three more and a very dreamy Body Lotion to explore.
NATURIUM The Brightener Vitamin C Brightening Body Wash, € 18,00 – If you like your bodycare to work as hard as your skincare, Naturium's vitamin C body wash should be on your shopping list. With ascorbyl glucoside (a stable vitamin C derivative) and bioactive fruit acids and enzymes, this formula helps to banish dullness.
NATURIUM The Glow Getter Multi-Oil Hydrating Body Wash, € 21,00 – Prefer a more indulgent approach to your bodycare? The Glow Getter will be the best Naturium body wash for you. Water-free and packed full of glycerin, linoleic oils and plant-derived squalane, this body wash feels more like a nourishing treatment, and it has a delicate, natural scent. We'd recommend this one for dry skin types.
NATURIUM The Multi-Vitamin Daily Nutrients Body Wash, € 18,00 – Whether you have combination, dry, oily or sensitive skin, this Naturium body wash will help to cleanse and rebalance your skin from head to toe. The plant-based surfactants help to wash away dirt, while the natural moisturising factor ensures your skin barrier is protected.
Once you're out of the shower, smoother your body in NATURIUM Bio-Lipid Body Lotion, € 19,00. The creamy body lotion contains shea butter, B vitamins and fatty acids to help nourish and strengthen your skin barrier. Keen to learn more about the brand? Check out our roundup of the best Naturium products.
Read More
• Best AHAs Exfoliants to Buy Right Now
• How to Get the Best Body Glow this Summer • Best Hydrating Skincare