MOST WANTED
The Space NK Verdict On The Ordinary's £6.80 Hair & Body Cleanser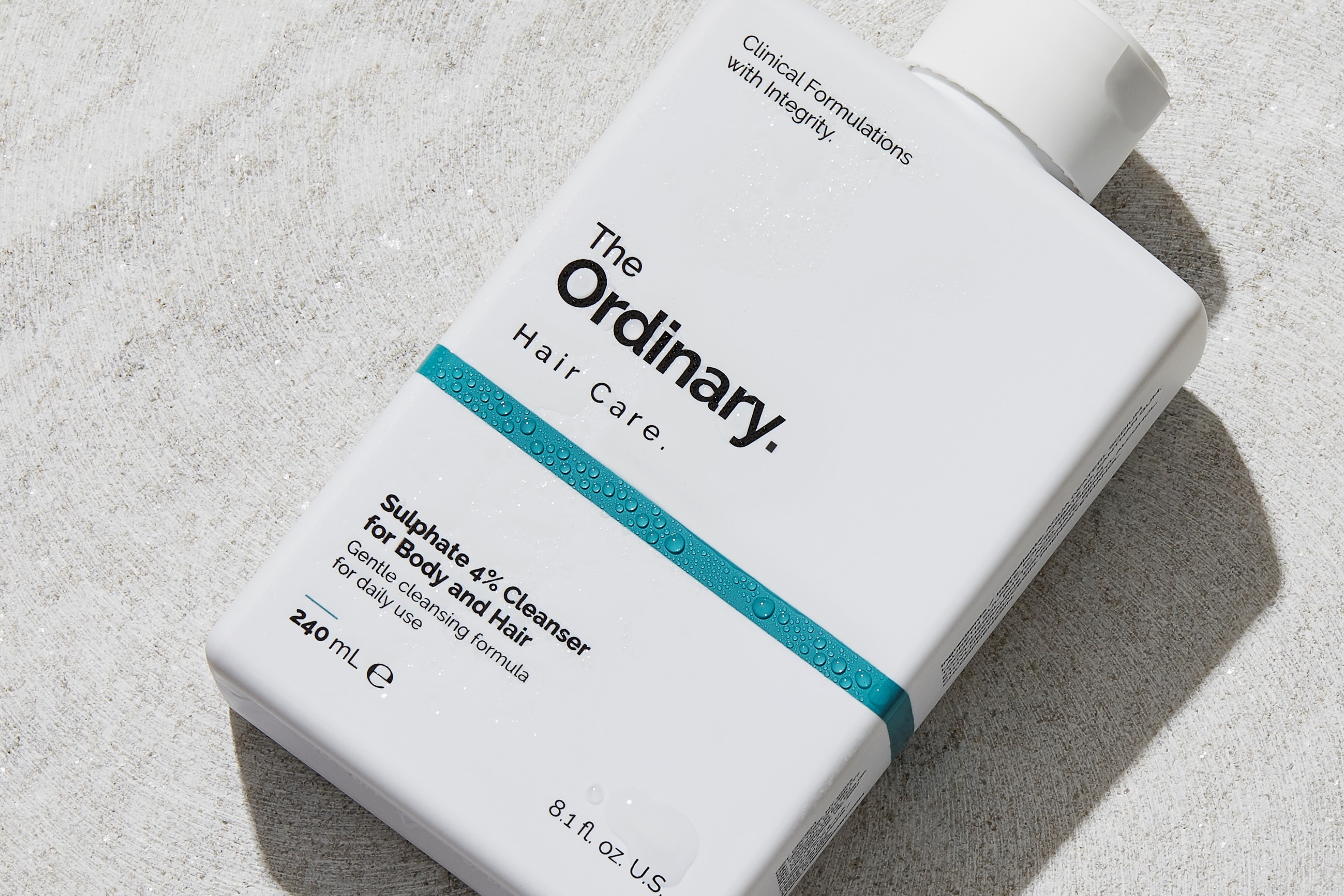 If you're looking to try out a new ingredient,
The Ordinary
is usually your first port of call. The brand has revolutionised how we approach skincare with its budget-friendly cream and serums. Whether you're looking for a
hyaluronic serum
to supercharge your existing moisturiser, or a
salicylic acid
to clear up a problem patch, The Ordinary will have something and it will give you change from £10.
Recently The Ordinary has expanded into body and haircare with its
Sulphate 4% Cleanser For Body And Hair, £6.80
and
Behentrimonium Choride 2% Conditioner, £6.80
. In keeping with the brand's ethos, specific ingredients have been championed, including the somewhat controversial choice of sulphates, but more on that later. In the meantime, here is my review of The Ordinary Sulphate 4% Cleanser For Body and Hair…
Top Line On The Ordinary Sulphate 4% Cleanser For Body And Hair
If you want to streamline your beauty routine and reduce the number of products in your bathroom cabinet, The Ordinary's Sulphate 4% Cleanser is a good shout as it's a fragrance-free, multitasking formula that suits all skin and hair types. Gentle enough to be used every day without stripping your skin and scalp, but stringent enough to provide a good clean.
Everything You Need To Know About The Ordinary's Shampoo & Body Cleanser
As someone with thick, naturally frizzy hair, I'm quite fussy about my haircare and I'm willing to invest in it. My usual go-to formulas include Oribe Gold Lust Repair & Restore Shampoo, € 19,00 and Living Proof No Frizz Shampoo, € 15,00. Neither are cheap, but I wash my hair once a week, so they last for quite a long time, and both leave my hair feeling soft and smooth. At just £6.80, The Ordinary's formula seemed too good to be true and it's labelled as a 'Gentle cleansing formula for daily use' so I was concerned it wouldn't leave my hair feeling and smelling clean for the full week. I was wrong.
The texture is runnier than my usual shampoos – it's watery rather than creamy. It's not necessarily a good or a bad thing, I just wasn't expecting it. It's also unscented, which makes it ideal for anyone with a sensitive scalp. I always double shampoo and the formula lathered up lightly on the second cleanse. Having followed up with The Ordinary conditioner, I was left impressed with the results. My hair felt clean, but soft rather than squeaky and having used the shampoo several times, my scalp hasn't felt dry, itchy or flaky. As someone who likes scent in their haircare, I have been using various conditioners and hair masks alongside The Ordinary's shampoo and body cleanser.
Why The Ordinary Has Used Sulphates
The rise of 'clean' beauty has tarnished the reputation of sulphates with rumours spreading that they're harmful and irritating to your skin. These days haircare brands champion sulphate-free formulas and if a shampoo or body wash contains sulphates it's rarely mentioned on the packaging. Sulphates, or sodium lauryl sulphate (SLS) as they're often referred to, are cleansing agents used in shampoos, body washes and cleansers.
In small concentrations sulphates are great for washing away grease and dirt, but if you have sensitive skin, you might find them too abrasive. It's worth noting that The Ordinary's hair and body wash contains 4% sulphates, while a lot of other brands will have a 10-15% concentration.
The Verdict On The Ordinary Sulphate 4% Cleanser For Body And Hair
The idea of using a body cleanser that doubles up as a shampoo goes against everything most of us have ever been told and I was worried that the body and hair cleanser would be too aggression on my scalp and leave my hair feeling squeaky. However, The Ordinary's body and hair combo cleanses without stripping your hair or drying out your skin. It's a great product to have in your bathroom if you've got a family or flatmates because it works for everyone and if someone is overly liberal with the amount they use, it won't break the bank.
READ MORE
• Best Tinted Moisturisers
• Morning Skincare Essentials • What Is Sensitive Skin?
• How To Treat Hormonal Acne • How To Recycle With Handle