UK200022775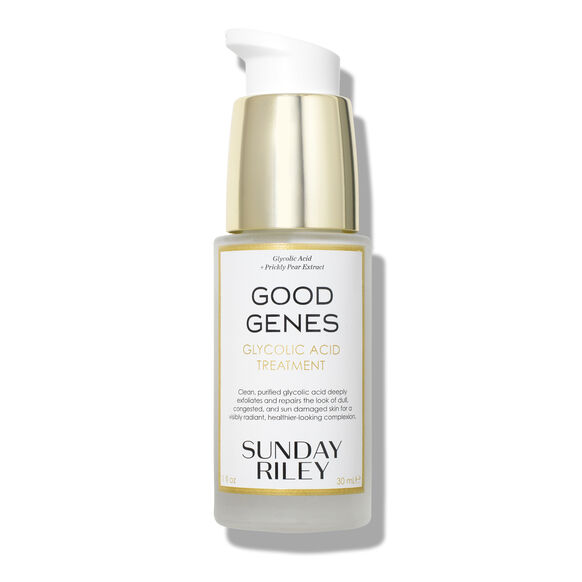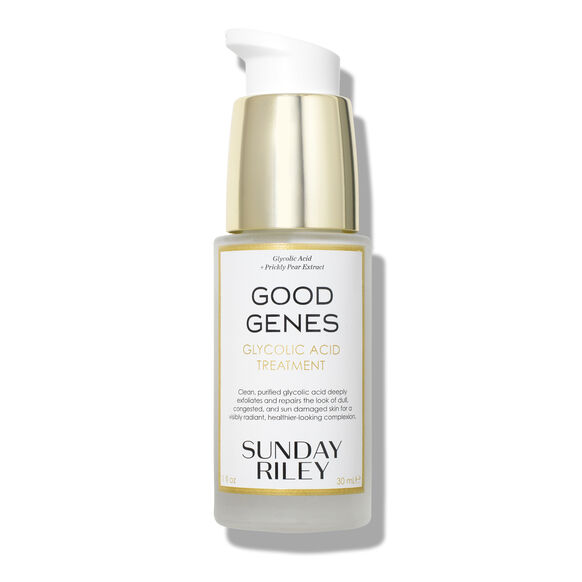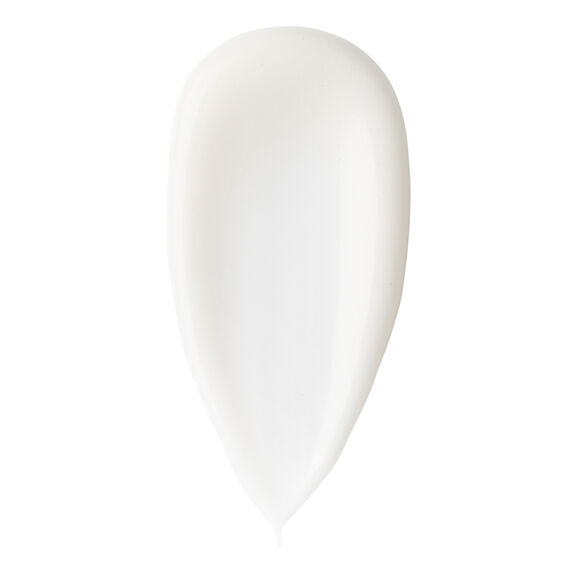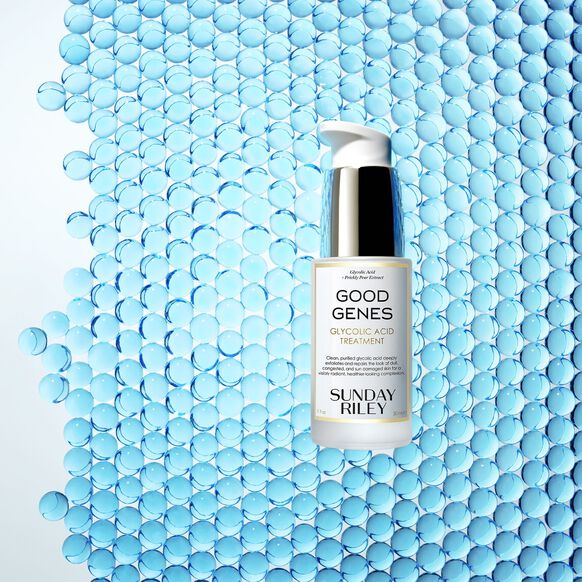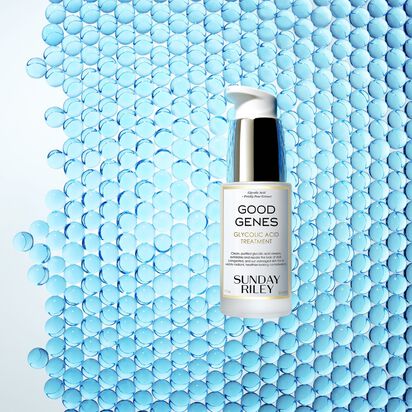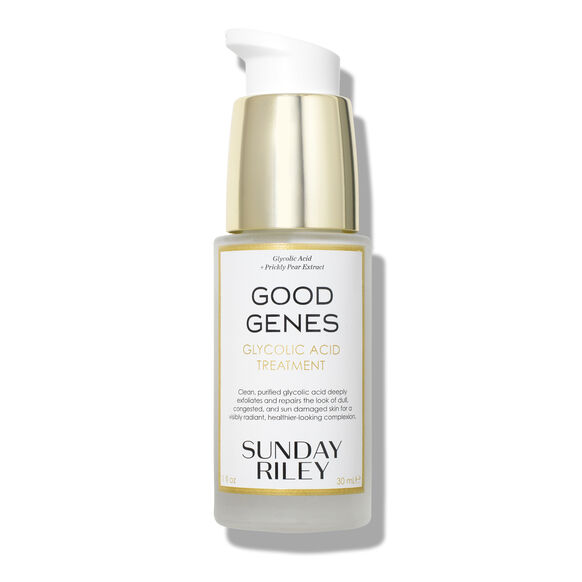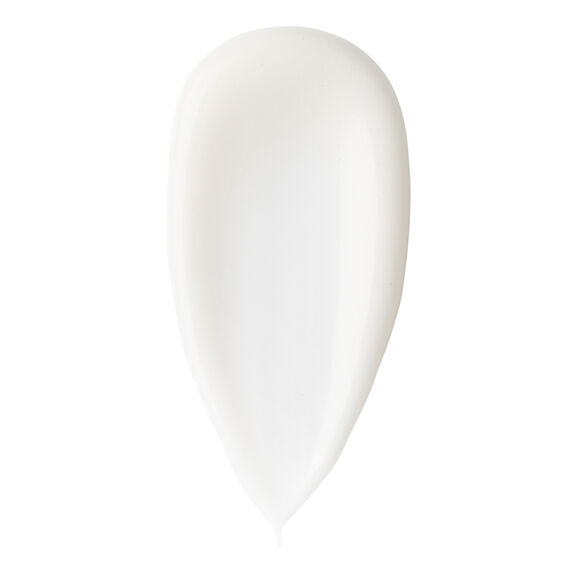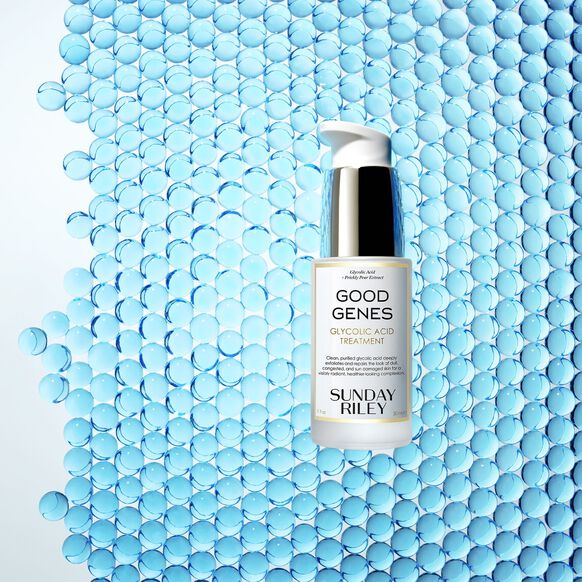 Price reduced from

¥748

to
¥598
Fast and easy payment with

Revive and brighten the complexion with the Sunday Riley Good Genes Glycolic Acid Treatment, a multi-tasking moisturiser and mask that works to refine, clarify and rejuvenate without drying the skin.
This innovative formula contains clean and formaldehyde-free glycolic acid molecules, prickly pear extract and purifying lemongrass. These active ingredients sink into the skin and help to remove debris while minimising the appearance of fine lines and wrinkles and unblocking pores. The treatment also contributes towards the health and vitality of previously sun-damaged skin and can help dull, lacklustre skin to regain its radiance.
The Sunday Riley Good Genes Glycolic Acid Treatment can be applied as a serum morning and evening each day. Its gentle exfoliation soothes and boosts the complexion.
Key Benefits
Nourishing treatment serum that works to soothe and brighten the complexion
Contains prickly pear extract, lemongrass and glycolic acid
Absorbs into the skin to reduce the look of wrinkles and lines
Gentle exfoliation boosts the skin
Can be used morning and evening daily
Helps to unblock pores for a clearer complexion
SKU# UK200022775
WATER/ AQUA/ EAU, DIMETHICONE, GLYCOLIC ACID, SQUALANE, CAPRYLYL CAPRYLATE/CAPRATE, PPG-12/SMDI COPOLYMER, POTASSIUM LACTATE, CETEARYL ALCOHOL, PROPANEDIOL, STEARIC ACID, GLYCERIN, PPG-24-GLYCERETH-24, BIS-STEARYL DIMETHICONE, OPUNTIA FICUS-INDICA FRUIT EXTRACT, SACCHAROMYCES CEREVISIAE EXTRACT, CYMBOPOGON SCHOENANTHUS OIL, PEG-100 STEARATE, GLYCERYL STEARATE, HYDROXYETHYL ACRYLATE/ SODIUM ACRYLOYLDIMETHYL TAURATE COPOLYMER, CETEARETH-20, CAPRYLYL GLYCOL, CHLORPHENESIN, XANTHAN GUM, SORBITAN ISOSTEARATE, POTASSIUM HYDROXIDE, PHENOXYETHANOL, CITRAL, GERANIOL, LIMONENE
Apply to clean skin as an exfoliating serum, morning or night.
跟踪的:Y50
在7-11个工作日内收到您的订单 消费Y350即可免费
表现:Y130
在3-5个工作日内收到您的订单
这个注重效果的护肤品牌将高科技创新与有效天然成分相结合,因其快速见效并且长期保持功效的活性配方而著称。
Rated

3

out of

5
by
Neenachabou
from
Didnt work fo me
I've been using this serum for a couple of months and didn't notice any special effects of it to my skin. And it smells pretty sour and funny. Sure I'm not buying this one again. Im switching to brands Retinol serum, let's see if there's any real benefits for the price.
Date published: 2021-09-30
Rated

5

out of

5
by
Kjlovingbeauty
from
Acid powerhouse
This formula is the best and a constant repurchase for me. It's the most hydrating and smoothing cream. I love it. It does it job so well smooth and glowy skin reveal. I've rosacea and it works for me. I use this a couple of days after derma planning my face and it works a treat
Date published: 2021-09-29
Rated

5

out of

5
by
shamzzzzz
from
expensive but worth it
This is quite expensive but really worth it I have rosacea and have tried so many different products. This is the first thing that has ever made a difference. It has calmed my rosacea down and also evened out my complexion so makeup goes on better and stays on.
Date published: 2021-09-26
Rated

3

out of

5
by
nasa
from
OVERRATED
So disappointed with this, I have used half of the contents and I can see no difference at all to my pigmentation or fine lines. I don't expect miracles but I get so frustrated when companies promise results especially at this price, all I can say is don't waste your money.
Date published: 2021-09-22
Rated

4

out of

5
by
vv521
from
smooth skin
I ordered this in a recent space nk best heroes volumes II box. I have heard about it quite a lot but hesitantly to try it due to my redness-prone and sensitive skin. After receiving it, I have used once/twice a week. It stings a bit each time when I apply it, which made me a bit worried. But the sting feeling generally disappeared very quickly and my skin feels smoother the second day. I will continue using this in such frequency.
Date published: 2021-09-17
Rated

5

out of

5
by
Lala741
from
great!
I ordered this on a whim because it gets so many great reviews. I am having a hard time with my skin and feel desperate to try anything. I am trying it slowly, like a retinol, so a few times weekly so see how I do. I notice almost immediately after applying that my skin looks more radiant and plump. I'm not expecting miracles, but I hope by the time I finish this bottle I will see a nice improvement. FYI - this is supposed to be the stronger version as opposed to the lactic acid version. I love the tingly feeling I get, but be aware it'll do that.
Date published: 2021-09-16
Rated

5

out of

5
by
Kb97
from
Holy grail.
This treatment is incredible. I am absolutely obsessed with it and find it's one of three things that actually works when I'm having a hormonal acne flare up. I am so glad I discovered this and will continue to repurchase time and time again. You will not regret buying this.
Date published: 2021-09-15
Rated

4

out of

5
by
Tatsiana
from
Не для тонкой кожи
Получила эту сыворотку в качестве подарка в одной из сумок Space NK.Моя кожа тонкая,сухая,местами чувствительная.Кислоты люблю в уходе.Эта сыворотка вызвала небольшое покалывание при нанесении.Я продолжила применять ее.Но заметила,что начались высыпания на лице.Наверное это хороший продукт,но не для чувствительной тонкой кожи.
Date published: 2021-09-15
Rated

5

out of

5
by
MissMuffin
from
Big Fan
I am a big fan of Sunday Riley products. They generally work very well with my skin tone. I started introducing acids into my skincare routine and I was using the Dr Dennis Gross pads, however my skin always felt a little irritated with them. I switched to this and have been using this about 2/3 times a week. I really like the Dr Dennis Gross pads, but this is leas harsh. It's helped to keep any breakouts at bay, evened my skin tone and any textural irregularities. You do need to be consistent with acids in order to see a result. After two months, I can see how my make up is looking much more flawless.
Date published: 2021-09-15
Rated

4

out of

5
by
SW11
from
Glycolic Treatment
Tried this as a sample. The product has a slightly medicated fragrance. It felt a bit tingly when first applied which I have not experienced with other glycolic acid products, but this quickly faded away. Would describe the product as more of a cream than a serum. I could feel the product on my skin so would recommend using at night as opposed to a base to apply make-up to in the day. In the morning, I was really impressed with the smoothness and brightness of my skin. It did leave it feeling slightly sensitive, so will leave it a day or so before using the remainder of the sample.
Date published: 2021-09-12
Rated

5

out of

5
by
Hels2000
from
Love it
I first tried this as part of a kit by Caroline Hirons. I was a bit confused by all the acids and found the kit and instructions super helpful. I now use this as part of my new routine. It has changed the way my skin looks and feels so much so that people have been commenting on my glow. Think I will use this product for ever!
Date published: 2021-09-12
Rated

5

out of

5
by
Georgina S
from
Amazing!
I first found this in a Caroline hirons kit, I fell in love with it and ordered the larger size before even finishing the first bottle. I noticed an improvement in my skins tone and texture after only a few days. The product goes onto the skin really well and a small amount goes a long way.
Date published: 2021-09-09
Rated

4

out of

5
by
beautylover83
from
Good genes treatment
This is a great treatment, it's helped brighten my skin and give it a clear appearance. I only use once a week - or when I feel my skin needs clearing. It really helps turn it around and the next day it looks much improved. Definitely going to be a repeat purchase for me.
Date published: 2021-09-06
Rated

4

out of

5
by
N4A
from
Revived Skin
I received a sample of this and I was pleasantly surprised by it's effectiveness. I used the serum at night time and woke up to clearer, smoother skin. I've given this product 4 stars instead of 5 as my skin was already fairly smooth to begin with. Perhaps that's why the difference was subtle. It absorbs fully and feels nourishing.
Date published: 2021-09-05
Rated

5

out of

5
by
dre
from
really light weight
very light weight and gives a healthy glow without it feeling sticky or think on the face , sometimes certain products can become too thick after applying layers of serums and moisturiser but this feels really good on the skin and I would purchase it after using my sample
Date published: 2021-09-01
Rated

5

out of

5
by
Komi
from
Absolutely my 5stars product
I really like this glycolic acid treatment, very effective but do not give me irritation. No matter use alone or with Luna oil, I can see my pore smaller and skin smoother after use. I really can tell you how effective it is in removing white head. I had an aged one, no matter how hard I press, how many acid used, I just couldn't remove it until I met this treatment, after 3 nights use, I can remove it easily without hurting too much my skill. Love love love this!!
Date published: 2021-08-31
Rated

4

out of

5
by
Zheniya
from
GOOD
Sunday Riley Good Genes creamy-siliceous texture. When applied, it slightly tingles the skin, does not roll off, does not clog the pores. It doesn't smell intense. It makes the skin smooth, smooth, significantly evens out the skin relief and complexion .
Date published: 2021-08-29
Rated

5

out of

5
by
wheeller18
from
Super serum
Now I understand why this tool is so popular. It lightened my post-acne spots very well, did not cause a negative reaction or allergies. It has a light, pleasant texture, absorbs quickly and leaves no stickiness. It reacts well to the following care and does not roll down.
Date published: 2021-08-28
Rated

5

out of

5
by
MK Marifi
from
Amazing Product!
I bought this as part of a kit and this product has an immediate result on my skin. It brightens, smoothen and clear my skin. My pores look smaller and the overall texture much nicer. It is easy to apply as it just glides smoothly on the skin. I've noticed a difference in just two weeks use. I apply it every other day in the morning and sometimes use it as a mask leave on for 20 mins then wash my face. It's amazing ! This product is a part of my skincare routine.
Date published: 2021-08-27
Rated

5

out of

5
by
cleocat55
from
Enjoyed the sample
I received a sample of this and have enjoyed using the product. It's so hard to tell from a sample whether you'll get on with something long term but this does seem to leave me with a definite glow, so maybe I will go ahead and purchase in due course.
Date published: 2021-08-24
Rated

5

out of

5
by
Emartine
from
Excellent, straightforward to use product
Originally bought this product as a gift, I've just upgraded to the larger size. Great to use every other night while I build up my retinol use. I put this on before bed and my skin feels so much better since using it over the past few months. Expensive but absolutely worth it.
Date published: 2021-08-24
Rated

5

out of

5
by
Analo11
from
My favorite exfoliating serum
I have very sensitive skin and am prone to hyperpigmentation. Most of the exfoliating treatments give me an allergic reaction and burning feeling. But not this one, even from the first time use my skin didn't react to it or dry out afterwards. I saw results after first usage. My boyfriend hates the smell of it, i don't mind but it's quite intense.
Date published: 2021-08-24
Rated

5

out of

5
by
Stella88
from
Good
I bought the 30ml bottle after using the sample. I have noticed when I wash my face how smoothly my skin feels. I received a sample and was using that for about 5 days and it gave me really great results which made me purchase the actual bottle. The only concern I have is that the sample and the 30ml bottle are different colors and consistency. I hope that does not become an issue with product results. It's also pricey but it gave me smoother skin which I'm here for.
Date published: 2021-08-22
Rated

5

out of

5
by
oceanwaving298
from
Good Genes
This is my all time favourite treatment and the one I can rely on to make a real difference. I like to use it 1-2 times a week, I find my skin doesn't need more than this and it helps it last. It really makes my skin glow, it balances and clears it in a way I've not experienced before. My pores look smaller and the overall texture much nicer!
Date published: 2021-08-20
Rated

4

out of

5
by
spatel
from
Effective but not harsh
Effective, but not harsh. I was a bit scared to try this out as I have sensitive skin and this tingles a lot for the first few seconds after application. However, it did not cause any negative reaction on my skin. I saw a visible difference in my skin even after a few applications. I have a lot of dry patches normally, these disappear after a few applications. It also reduces the appearance of fine lines. Great product.
Date published: 2021-08-20
Rated

5

out of

5
by
Phillipa765
from
I LOVEEEEE
I love everything about this ( okay bar the price!!) I love the smell, i love how it works on my skin, how it feels, how it smells! I genuinely think this is me new fav product!!! I just love the whole sunday riley skincare line atm and this is a fav! shame it is so expensive and i feel like a bottle doesnt last me very long.
Date published: 2021-08-20
Rated

5

out of

5
by
Jenne
from
Really nice exfoliator
I received a deluxe sample of this treatment, and I must say I really have enjoyed using it. Pivoting away from physical exfoliants, I was trying to find something that would provide nice brightening without messing with my skin barrier too much. I really have enjoyed using this one, it never stings too strongly and when I use it overnight I find my skin does look more firm and brighter. Would recommend it!
Date published: 2021-08-19
Rated

4

out of

5
by
DD93
from
Great multi-tasker.
Pros: - Keeps skin tone even. - A little goes a long way (a pump from the tip of your index finger to the first line/knuckle is enough). - Brightens skin. - Light texture. Cons: - Price (for amount of ml provided). I will definitely repurchase this product.
Date published: 2021-08-15
Rated

5

out of

5
by
SHB123
from
The Best
I've bought many bottles through the years, and can't remember a night I haven't used half a pump on my face before moisturiser. Outstanding product, and although it's expensive, as I only use half a pump it is very good value. Won't be without this.
Date published: 2021-08-13
Rated

5

out of

5
by
WRWR
from
5th bottle
Ive used this product on and off over the years. I find it incredible for wrinkles and pimples. It resurfaces your skin very fast but you have to be careful and use very high SPF the next day. Its an excellent product and probably regarded as one of my cult go to. It works on a million things over night.... wrinkles, sun damage, breakout and acne..
Date published: 2021-08-09
bvseo_sdk, dw_cartridge, 18.2.0, p_sdk_3.2.0
CLOUD, getReviews, 10ms
reviews, product