Sorry, this item is out of stock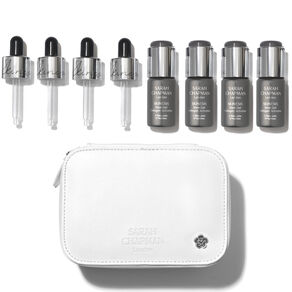 UK200008923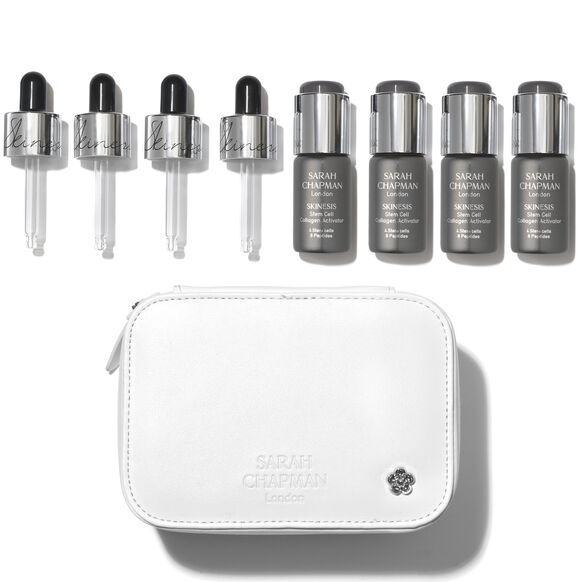 Pinch to zoom Double click to enlarge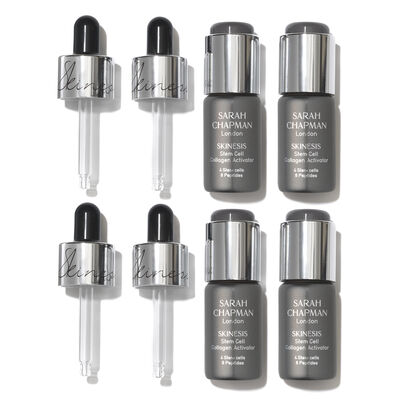 Pinch to zoom Double click to enlarge
Pinch to zoom Double click to enlarge
Rejuvenate the skin's appearance with Sarah Chapman Skinesis Stem Cell Collagen Activator. This unique, age-defying serum has a transformative effect on skin, using four botanical stem cells and eight collagen-building peptides.
The jasmine scented addition to the Skinesis range provides epidermal and dermal protection, and works to firm, smooth, volumise and brighten the complexion.
The synergistic formula transforms skin by infusing it with essential nutrients, antioxidants and hydration, resulting in it becoming visibly plumper and smoother, with a healthy glow and even tone.
Sarah Chapman Skinesis Stem Cell Collagen Activator tightens and lifts slack skin, and minimises the appearance of fine lines and wrinkles. The phials maintain maximum freshness by keeping stem cells and peptides separate until ready for use.
Key Benefits
Reduces the appearance of fine lines and wrinkles
Promotes smoother, brighter, younger-looking skin
Tightens loose skin
Provides dermal and epidermal protection
Unique delivery system maintains product freshness
Volumises and plumps skin
SKU# UK200008923
KEY INGREDIENTS:
ARGAN STEM CELL (ARGANIA SPINOSA SPROUT CELL EXTRACT) – STEM CELLS ARE CULTURED FROM THE RARE AND ENVIRONMENTALLY RESISTANT ARGAN TREE TO REVITALIZE DERMAL STEM CELLS FOR A MORE FIRM AND DENSE SKIN.
SEA FENNEL STEM CELL (CRITHMUM MARITIMUM CALLUS CULTURE FILTRATE) – THIS SEA PLANT WITH PHENOMENAL ABILITIES TO ADAPT TO HARSH ENVIRONMENTAL CONDITIONS CONTAINS PROPERTIES TO REGENERATE SKIN CELLS, IMPROVE EPIDERMAL SKIN FUNCTIONS AND LIGHTEN PIGMENTATION.
SEA HOLLY STEM CELL (ERYNGIUM MARITIMUM CALLUS CULTURE FILTRATE) – A SEA SHORE PLANT WITH A PHENOMENAL ABILITY TO RESIST HARSH ENVIRONMENTAL CONDITIONS, ITS STEM CELLS ARE CULTURED TO HARVEST THEIR UNIQUE PROPERTIES WHICH HAVE A REGENERATIVE, FIRMING AND HYDRATING ACTION ON THE SKIN AS WELL AS THE ABILITY TO IMPROVE OVERALL SKIN TONE.
GARDENIA STEM CELL (GARDENIA JASMINOIDS MERISTEM CELL CULTURE)– KNOWN FOR ITS ORNAMENTAL BLOOM, THE GARDENIA PLANT ALSO HAS HEALING AND REGENERATING PROPERTIES AND THE STEM CELLS ARE EXTRACTED AND CULTURED TO CREATE A PURE, HIGHLY CONCENTRATED ACTIVE WHICH HELPS STIMULATE COLLAGEN PRODUCTION AND REDUCE FINE LINES AND WRINKLES.
ARGIRELINE NP (ACETYL HEXAPEPTIDE-8)– MIMICS SIMILAR MECHANISMS OF "BOTOX" BY COMPETING FOR A POSITION IN THE SNARE COMPLEX, A NECESSARY PROTEIN THAT RELEASES THE CHEMICAL MESSENGER TO CREATE A MUSCLE CONTRACTION. ARGIRELINE, MUCH LIKE BOTOX, ALTERS THE SNARE PROTEIN COMPLEX THUS MUSCLE CONTRACTIONS ARE ATTENUATED AND THE APPEARANCE OF FINE LINES AND WRINKLES ARE MINIMIZED.
SYN-AKE (DIPEPTIDE DIAMINOBUTYROYL BENZYLAMIDE DIACETATE) – A SAFE AND EFFECTIVE TRIPEPTIDE WHICH MIMICS THE AMINO ACID SEQUENCE OF A SUBSTANCE EXTRACTED FROM THE TEMPLE VIPER SNAKE CALLED WAGLERIN 1. THIS SUBSTANCE BLOCKS NEUROTRANSMITTER UPTAKE THEREFORE ATTENUATING MUSCLE CONTRACTIONS AND SMOOTHING FINE LINES AND WRINKLES.
SNAP-8 (OCTAPEPTIDE-3) – WORKS IN CONJUNCTION WITH ARGIRELINE BUT WITH A LONGER PEPTIDE CHAIN FOR ENHANCED IMPROVEMENT IN FINE LINES AND WRINKLES
MATRIXYL (PALMITOYL PENTAPEPTIDE-4) – A SMALL PROTEIN CHAIN THAT STIMULATES COLLAGEN PRODUCTION BY MIMICKING THE AMINO ACID SEQUENCE OF PRO COLLAGEN-1.
SYN-COLL (PALMITOYL TRIPEPTIDE-5) – A TRIPEPTIDE THAT STIMULATES TGF-ß, A KEY ELEMENT IN THE ACTIVATION OF COLLAGEN PRODUCTION, THEREFORE REDUCING FINE LINES AND IMPROVING SKIN DENSITY.
RIGIN (PALMITOYL TETRAPEPTIDE-7) – THE AMINO ACID SEQUENCE ACTS SIMILAR TO DHEA, WHICH IS THE "YOUTH HORMONE" AND CONTROLS THE RELEASE OF INFLAMMATORY RESPONSES THAT ARE RESPONSIBLE FOR MANY OF THE SIGNS OF AGING.
BIOPEPTIDE CL (PALMITOYL OLIGOPEPTIDE) – IT'S AMINO ACID SEQUENCE GHK IS A FRAGMENT OF A COLLAGEN CHAIN AND STIMULATES THE PRODUCTION OF COLLAGEN AND GLYCOSAMINOGLYCANS IN THE SKIN.
EYELISS (HESPERIDIN METHYL CHALCONE, DIPEPTIDE-2, PALMITOYL TETRAPEPTIDE-7) – INCLUDES ACTIVE COMPOUNDS TO IMPROVE THE APPEARANCE OF DARK CIRCLES AND PUFFINESS BY DECREASING CAPILLARY PERMEABILITY, DECREASING INFLAMMATORY RESPONSES AND INCREASING LYMPH MOVEMENT UNDER THE EYE AREA.
植物干细胞粉末隐藏在瓶盖中,用户按下瓶盖后,干细胞粉末便会滴落到缩氨酸精华中,确保发挥产品的最大潜能。用户摇晃瓶子 10 秒钟,打开瓶盖,然后使用吸管直接涂用。
早晚涂抹于面部和颈部的洁净肌肤,然后涂抹您的日常护肤产品。
Stem Cell Collagen Activator 采用优雅的盒装,内有四瓶 10ml 精华以及四支滴管,每瓶可使用 2 周。
Sarah Chapman 品牌的理念是将高效的科学活性成分与功效强大的植物精华融合。Skinesis 配方加入令人神清气爽的自然香气,能提供多感官的皮肤护理体验,实现超乎想象的效果。