UK200022756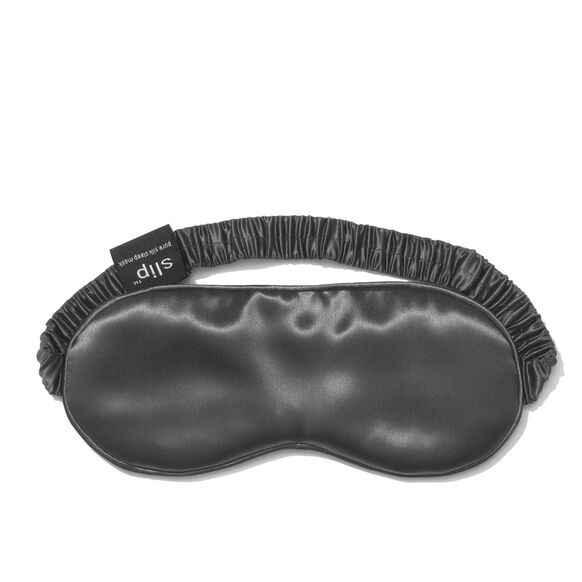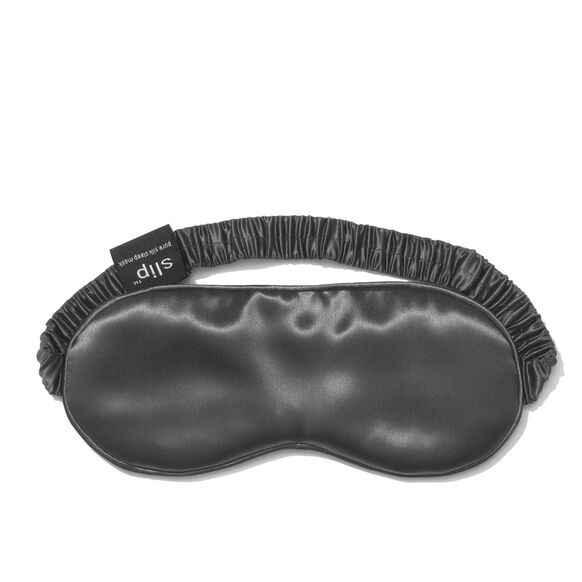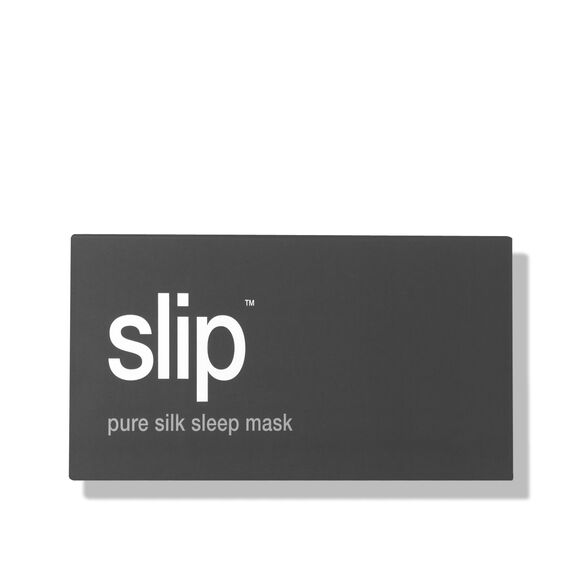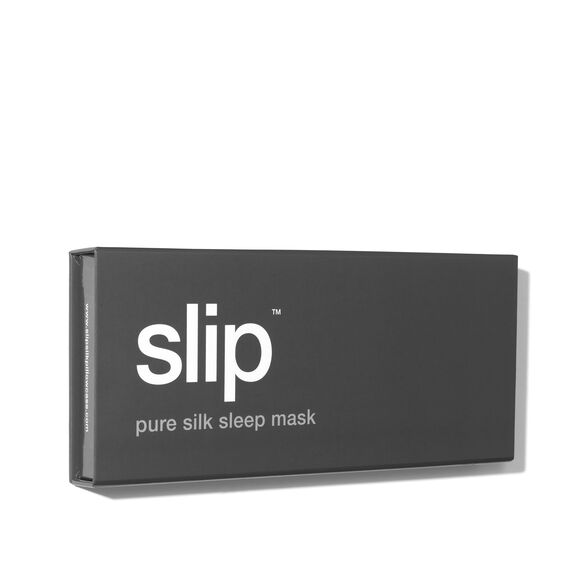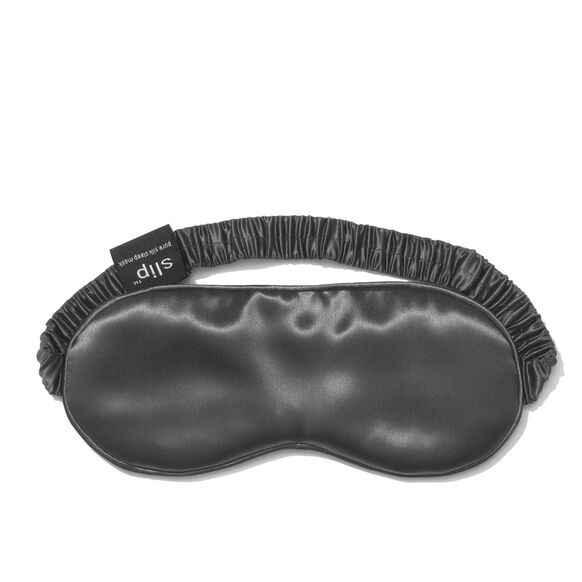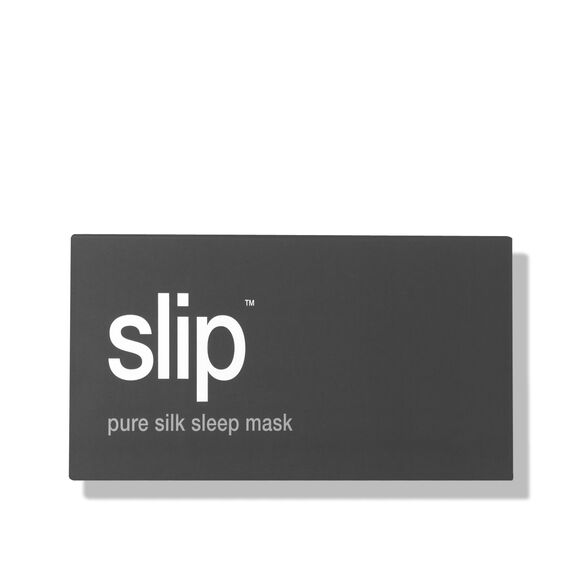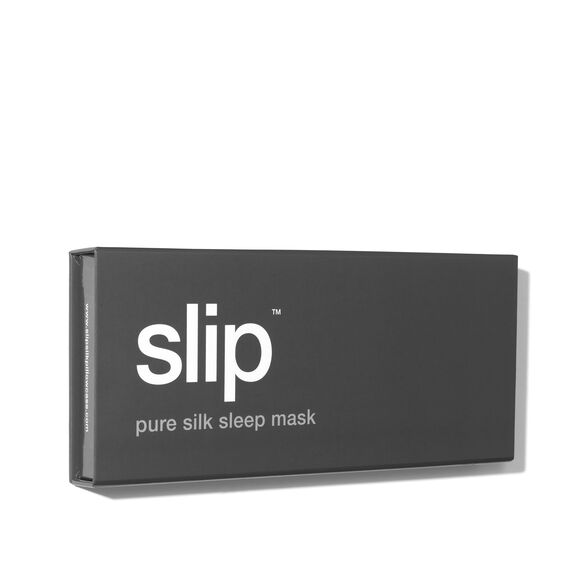 Fast and easy payment with

Achieve a soft and comfortable night's sleep with the Slip Silk Sleep Mask, a mulberry silk eye mask made without toxic dyes and chemicals. Crafted to the highest specification, this mask is thick, soft and durable, which means it will remain a firm sleep companion for years to come.
This sleep mask features a slipsilk™ outer layer, pure silk filler and internal liner. Its presence works to reduce distractions caused by light and movement, providing a comfortable and worry-free night's sleep. Perfect for sleeping while travelling or during daylight hours, the mask is available in an array of colours, styles and patterns.
The Slip Silk Sleep Mask is made by the same brand that delivered the slipsilk™ pillowcase. Its smooth surface helps to reduce creases that can be caused by regular pillows and sleeping accessories to keep the skin looking young.
Key Benefits
Soft sleep mask made with mulberry silk
Contains no dyes or toxic chemicals
Helps to reduce the creases often caused by regular pillows and sleep masks
Thick, durable and soft sleep mask will stand the test of time
Made to complement the slipsilk™ pillow
SKU# UK200022756
100% SLIPSILK™ MULBERRY SILK AND SILK FILLER
跟踪的:Y50
在7-11个工作日内收到您的订单 消费Y350即可免费
表现:Y130
在3-5个工作日内收到您的订单
Using only the highest quality, hypoallergenic mulberry silk and non-toxic dyes, Slip's range of eyemasks, pillowcases and scrunchies are carefully crafted and beautifully luxurious. Recommended by dermatologists and hairstylists, they prevent tugging on hair and protect against line-inducing creasing during sleep.
Rated

5

out of

5
by
FionaM
from
Great for encouraging sleep
As I am current;y recovering from major surgery, sleep, or rest during the day is essential. This mask is light and luxurious, it is not tight fitting and certainly encourages a sense of wellbeing and relaxation. Not being constricting, it is easy to remove when necessary without having to sit up, a bonus when entering the land of nod!
Date published: 2021-06-26
Rated

4

out of

5
by
psjkty
from
Necessary in summer nights
I use this every night and can't sleep without it. This eye mask blocks out all the light and it is a plus to know that the skin in contact with it will not suffer to much as the eye mask is made of silk and gentle to the skin. It is not tight around the head but mine does come off in the night.
Date published: 2021-06-10
Rated

5

out of

5
by
Anneke
from
Soft and Sleepy
I waited a long time before deciding to treat myself and buy one of these masks. I was struggling to sleep before and since using this sleep mask it's been a lot easier. The mask is incredibly soft and comfortable on the eyes and this calms me so I can drift off to sleep a lot sooner than normal. It's a luxurious product but I think it's worth it!
Date published: 2021-06-09
Rated

5

out of

5
by
Butterfly Lady
from
Soft as silk
I bought one for my daughter and treated myself at Christmas and I love it I feel I get a better nights sleep blocking out the light and it is so soft no more wrinkles on my skin with my pillowcase I can accuser the difference in the morning when I awake lovely smooth eyes
Date published: 2021-06-01
Rated

4

out of

5
by
Hue
from
Pure silk
The absolute essential for beauty sleep so do not lose sleep over wanting to invest or not. Perfect blackout and really fills out the gaps so no more light sneaking in. Can also so peaceful in these even with the kids so definitely treat yourself so ask the SO to treat you because this is boujee
Date published: 2021-05-16
Rated

2

out of

5
by
Mnm9
from
disappointed
I am disappointed for this mask, it is so tight and completely to wear at all. I wanted to purchase this since a long time and i was expecting that this will be comfortable and blocks all light but it disappointed me unfortunately. It is so uncomfortable for lashes.
Date published: 2021-04-26
Rated

2

out of

5
by
Toribella
from
Poorly Fitting/Size
Unfortunately this was a disappointing purchase for me. I'd had wanted one of these for ages and it did not live up to my expectations. I found that the mask was not sufficiently large enough to provide a complete blackout from the light unfortunately and thus unsuitable
Date published: 2021-04-19
Rated

4

out of

5
by
Matt1787
from
Perfect Relaxation
A brilliant product to aid with sleep and relaxation. Incredibly soft against the skin and gives a calming effect when covering the eyes. Once you get used to having this over your face, it really does bring on a sense of calm as soon as you put this on. The only negative is that it's something that should be put through a washing machine even on delicate.
Date published: 2021-04-04
Rated

5

out of

5
by
MicheleB
from
You can't put a price on sleep
I have been using this brand for a few years now, I'm on my second slip silk sleeping mask. The feel is so luxurious on my face and it really helps me get a good nights sleep. Plus I don't have to worry about wrinkle damage around my eyes. I never travel without it.
Date published: 2021-03-30
Rated

5

out of

5
by
avma12
from
A repeat purchase
I really struggle with my sleep and need the room to be pitch black. Even with blackout curtains, I need a sleep mask that doesn't move around and completely blocks out any light. The Slip mask is perfect as once it's over my eyes it doesn't slip up/down and there aren't gaps where light gets through. It feels beautiful on your skin and doesn't irritate around my eyes. Washes well on a delicates cycle/handwash and lasts well.
Date published: 2021-03-24
Rated

5

out of

5
by
Ruby09
from
The best
purchased this after reading rave reviews online and I am not disappointed. This is a lovely sumptuous silk eye mask. I purchased in black and it blocks the light out perfectly. I haven't tried it yet with eye cream on, but it's certainly worth the money. Treat yourself as it will last for ages.
Date published: 2021-03-01
Rated

5

out of

5
by
Reviewer101
from
Best one out there!
Honestly, a really lovely product - easy to hand wash and does not wrinkle as others may. Good investment. I have been using these slip masks for years and they wear very well without any problem. I think the price is fair, seeing as its silk and great quality!
Date published: 2021-02-05
Rated

5

out of

5
by
SarC87
from
Cannot be without it
I would give this 6 stars if I could - it is incredible. I really struggled sleeping and this has changed everything. It is soft, doesn't add any pressure, doesn't pull your hair and blacks out all, light. I left one at a hotel and had to order a replacement the next day - absolutely love it.
Date published: 2021-02-04
Rated

5

out of

5
by
Sophiehd
from
Very luxury but worth the price tag
Woweee this is a seriously luxury item - I saved up my N Dulge points as I wouldn't typically spend £50 on an eye mask, however since using it i would definitely agree to paying full price. I purchased the black after reading the reviews about the lighter colour getting dirty and also not sufficiently blocking out the light and I'm so glad i did. I put this on whenever I can't sleep and it may be psychological but it definitely helps and i can drift off in 5 mins!
Date published: 2021-01-04
Rated

5

out of

5
by
TinaD
from
Can't live without it
I've bought two of these. One for myself and one for my mother in law as a gift. I love how comfortable this mask is. I had previously found it an inconvenience to wear an eye mask but this one is so comfortable I actually prefer to fall asleep wearing it rather than without. It's very soft and silky smooth, good for preventing wrinkles in skin around the eyes!
Date published: 2021-01-02
Rated

4

out of

5
by
nishio99
from
great product!
the quality of this product is out of this world. Also explains the very expensive price tag. However, if you can afford it or want some luxury in your night time routine - this will do that for you. It effectively blocks out the light and isn't too tight that it's too uncomfortable to sleep
Date published: 2020-12-02
Rated

5

out of

5
by
Fran12
from
Posh!
This sleeping mask is so posh and fancy, I am so glad I bought it - it's worth the splurge. I have it in the gold colour, which matches my Slip thin scrunchies. What I will say is, make sure you take off your eye makeup thoroughly before bed, as even a little bit of leftover mascara will get onto the mask. Perhaps you wouldn't care with the black mask. Really glad I have this, and I plan on gifting one to my sister for Christmas too!
Date published: 2020-12-01
Rated

4

out of

5
by
Augenblick
from
Nice luxury
This sleeping eye mask really does feel luxurious on the skin. It is really soft and remains cool to the touch which is nice in the warmer months. I like to take with me on trips when I can't go to sleep because of the light and it does the trick nicely.
Date published: 2020-11-28
Rated

5

out of

5
by
Lucky19
from
Can't stay without
I first purchased this when it was on a promotion in a different colour and a little less expensive. Omg what can I say, i love this so much can't sleep without it. The fabric itself is amazing, most comfortable sleep and I just love it. I later purchased a black one for my son as there was so much light coming into his room, he also said it is worth buying.
Date published: 2020-11-22
Rated

4

out of

5
by
RPC_Skincare Enthusiast
from
Such great sleep!
I purchased this in charcoal and I sleep so well since wearing it every night. It feels heavy on your eyes but not at all in an uncomfortable way. It blocks most light out and is still on my head 4-5 mornings out of 7, as occasionally it comes off in the night. I do move about in the night and spend some time on my side or front and sometimes it does leave a bit of an impression on the side of my face following the outline of the mask, which is a little amusing seeing as I bought it to reduce fine lines and creases on my face, along with a silk pillowcase. Overall I would recommend this and wish my kitten hadn't pulled a little snag on one side after just a few weeks!
Date published: 2020-11-18
Rated

5

out of

5
by
emg
from
Amazing!
I ordered this mask and it arrived today, the quality is beautiful as is the colour (white). I can't wait to sleep in this beautiful mask which is so soft and perfect! It comes in great packaging too which is perfect for transporting it when going away etc!
Date published: 2020-11-18
Rated

5

out of

5
by
flore
from
Amazing!
I am super sensitive to light, and I have a sensitive skin. Starting from that, this is a dream! I had my eyes on it for so long but because of the price I was reluctant. But suffering everyday of the light coming into the room and not handling other sleep mask on my skin I finally ordered it. a DREAM. I just love it so much, got it in black so it could block the light properly and it definitely does. It stand perfectly on my face. It is super soft... It is just perfect.
Date published: 2020-10-08
Rated

5

out of

5
by
Beautylover34
from
Luxurious sleep
This is the most indulgent, luxurious sleep mask. I have never needed a sleep mask before but recently I had become more sensitive to light so I bought myself a sleep mask. I thought I would feel suffocated but this is so light and plush I feel only the lightest pressure on my eyes, enough to prevent them from springing open. It completely covers my eyes and provides complete darkness. I love how the strap is also silk so it doesn't leave indentations in my face and hair. I have the pink and it's so pretty. It feels so lovely having such a luxurious product, I look forward to putting this on to go to bed.
Date published: 2020-10-05
Rated

5

out of

5
by
Eilidh21
from
Sweet dreams and preventing wrinkles
I recieved this eye mask as a present and in absolutely delighted with it. It feels like such an indulgence to put it on to sleep at night, the silk is so soft and I'm convinced it's going a long way to prevent wrinkles (im nearly 30) Never comes off during the night like other masks I've had in the past, if I hadn't recieved this as a gift I would definitely have spent the money on it myself!
Date published: 2020-09-30
Rated

5

out of

5
by
Cate123
from
Sweet Dreams (Are Made of This)
As £50 is a lot of money for an eye mask, I waited for this item to appear in a sale (and used some indulge points). I am really happy with the purchase and would definitely recommend if only for the fact I sleep much more soundly with it on. If you are not used to wearing a mask it does take a couple of nights to become accustomed to the sensation, however once you get there you won't want to be without it! I haven't seen a vast improvement in the condition of my eye area, but I do wake up without that blurry first thing sensation.
Date published: 2020-09-29
Rated

5

out of

5
by
ChristinaZ
from
Great for light blocking
I bought the navy colour as I wanted a dark one but not black. I wear the Silk Sleep Mask in order to block the light as we don't have window shutters and the darker colours are great for this. It works amazing and really blocks the light but after a few months of use I noticed that my lashes are not that curly anymore - it makes them straight and they now lean a bit downwards but I guess that happens with any sleep mask.
Date published: 2020-09-23
Rated

5

out of

5
by
maximilianj
from
great for travelling
this has really been great while travelling it feels light and not too overbearing, it will be great for when we can travel again!, it also makes my skin feel softer and brighter. It really is lovely, i would recommend a darker colour fi you wear any makeup or fake tan as the paler colours tend to pick these up and not wash out which is a shame
Date published: 2020-09-19
Rated

5

out of

5
by
Alex V
from
A great eye mask
I love my eye mask, I use it every night and it keeps the light out very well. It also isn't too tight on my head and doesn't cause any creasing around my eyes/face which other masks have done in the past. One thing I will say it make sure you fully remove all your eye make-up before bed as I have had mascara transfer onto the mask. This didn't put me off but a lesson learnt. Make sure to wash on a gentle wash otherwise the silk will not feel as soft
Date published: 2020-09-16
Rated

5

out of

5
by
kittyrose
from
Stunning Sleep Mask
I have the black version of this and it is the most perfect eye mask. It is so beautiful and so comfortable to wear and it really blocks out all light. The silk is such exquisite quality and I sleep much better whenever I wear it. I would highly recommend it.
Date published: 2020-09-03
Rated

4

out of

5
by
SVT1973
from
Super soft
I chose the white mask and whilst I love the texture it still does allow light through. If you are looking not just for the skin benefits, but to create a darkness to enable sleep during the summer months then go for a darker colour. My eyes are less puffy in the mornings and I believe this is due to the mask helping me to get a full nights sleep.
Date published: 2020-08-19
bvseo_sdk, dw_cartridge, 18.2.0, p_sdk_3.2.0
CLOUD, getReviews, 7ms
reviews, product