UK200023150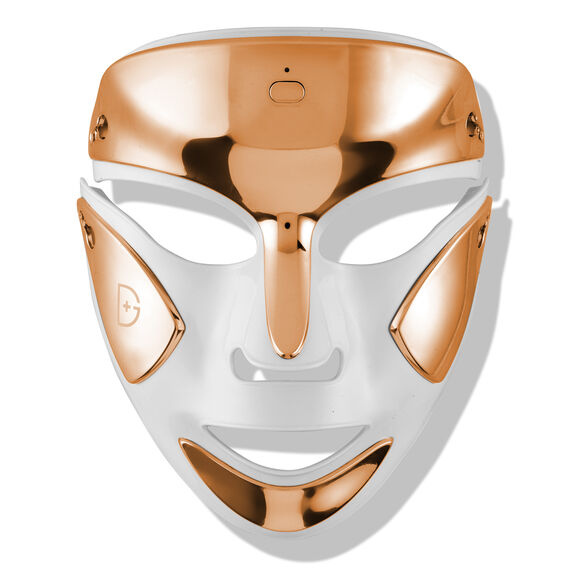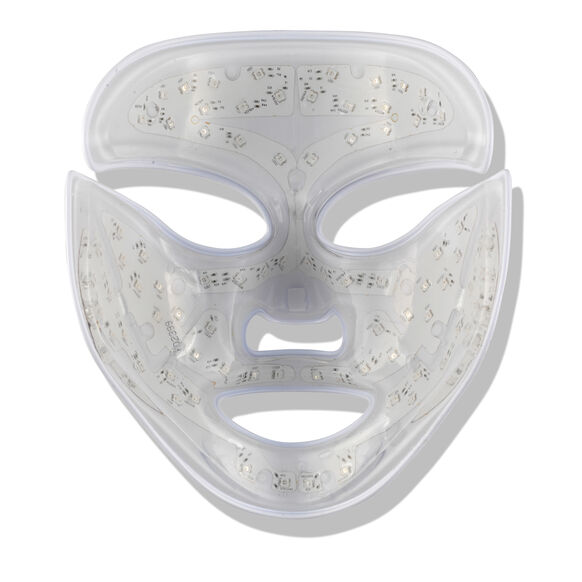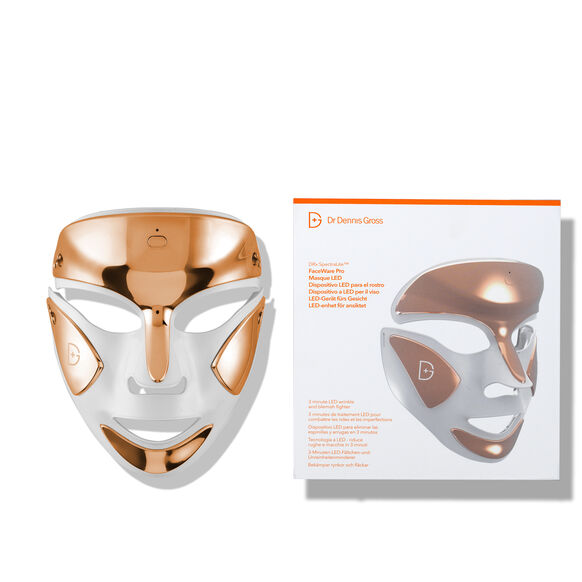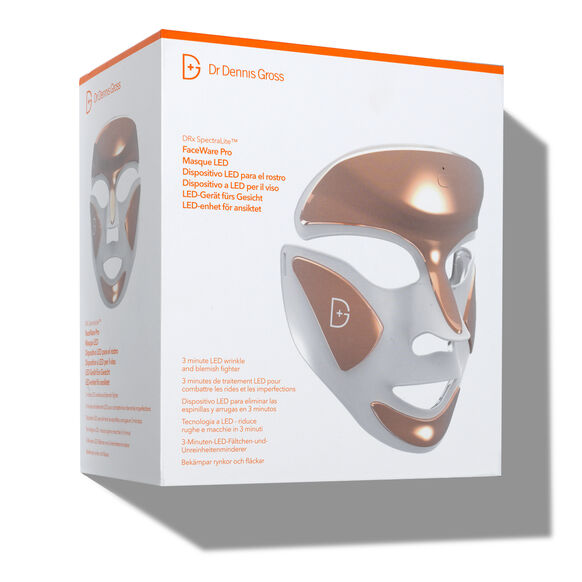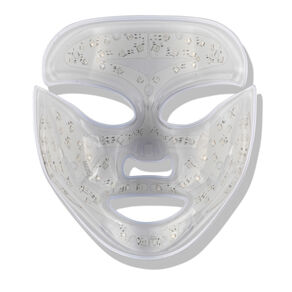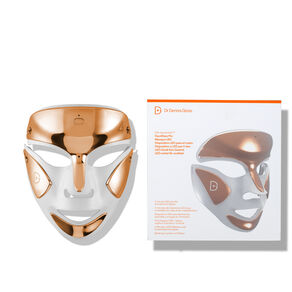 Worth
3,784
NDULGE points
Worth
3,784
NDULGE points
Fast and easy payment with

Nurture acne-prone skin while combatting the look of lines, wrinkles and blemishes with the Dr. Dennis Gross DRx SpectraLite™ Faceware Pro, a medical-grade facial mask that harnesses gentle bursts of red and blue LED light therapy. When used for just three minutes at a time, the mask contributes towards a clearer and calmer complexion.
This innovative mask stimulates natural cell production and restoration, helping to even skin tone and texture while diminishing discoloration caused by environmental aggressors and the natural aging process. Red LED lights support the skin's natural elastin and collagen for firmer, plumper skin. Blue LED lights tackle the bacteria that can cause acne and breakouts. For a customized treatment, choose either red or blue light therapy or select a combination of both for a comprehensive approach to skincare.
For the best results, use the Dr. Dennis Gross DRx SpectraLite™ Faceware Pro on cleansed skin.
Key Benefits
Innovative facial mask that harnesses red and blue LED light therapy
Helps to even skin tone and texture
Contributes towards the diminished look of lines, wrinkles and discoloration
Works to leave skin firmer, clearer and more radiant
Choice of red, blue or combined light therapy
SKU# UK200023150
• After cleansing and Alpha Beta® peel, place device comfortably over the face, securing strap around head.
• Press and hold power button for 2 seconds to turn on device, select light setting (red, blue, red+blue) and use for the programmed treatment time of 3 minutes.
• Remove device and follow with your favorite Dr. Dennis Gross Skincare™ serum and/or moisturizer.
跟踪的:Y50
在7-11个工作日内收到您的订单 消费Y350即可免费
表现:Y130
在3-5个工作日内收到您的订单
这一精致的药妆系列由国际知名的皮肤科医生 Dennis Gross 博士创立,您在舒适的家中就能享受临床级别的效果。
Rated

5

out of

5
by
stuart
from
Absolutely Fantastic
I am in love with Dr Dennis Gross, no need anymore for creams or serums, skin is vitalised, refreshed and looking very healthy, worth every penny, so easy to use, and for such a short time, it is effortless, really over the moon with my purchase thanks you Debs
Date published: 2021-06-28
Rated

5

out of

5
by
JuliaT2
from
Helps with mild acne
I bought this two weeks ago and I've already seen improvements in my acne. It's reduced the overall number of spots and reduced the time it takes for the hyperpigmentation & red marks to go away. I'm a huge fan already, I expect this to become a favorite for my skincare routine!
Date published: 2021-06-27
Rated

1

out of

5
by
Stephanie1
from
Not for me
I had heard great things about this device and was excited to buy it. When I got it the quality as not as good as I had thought it would be. I did not like how bright the light was as I kept eyes shut as felt like the light could damage your eyes. I felt like this product could be damaging to your skin in my opinion but no others may like this product it just was not for me.
Date published: 2021-06-23
Rated

5

out of

5
by
Heavenscent99
from
Worth the Wait
I had been deliberating for many months whether to buy this "gadget". I have been suffering from menopausal breakouts but also ageing so thought this would be a double whammy for my face. I mostly have been using the red and blue light due to both my issues. It very easy to use and very quick-just 3 minutes. I lie down while using it and shut my eyes, so no issues with the less than sturdy straps. I cant comment on the anti ageing effect yet as i think its too soon but i do think my spots have disappeared much quicker than without using it. As its just 3 minutes a day I'm sure it will be used for a long time and not gather dust in a cupboard like a lot of gadgets have done.
Date published: 2021-06-13
Rated

5

out of

5
by
Prelude
from
Be Patient...It Works!
For starters, it makes me take at least 3 mindful minutes...every day. Very therapeutic indeed. As I had menopausal breakouts and also didn't want any cracks, I thought to treat myself to this gadget. Mother's day, Valentine's day, birthday all round into one worthy investment...lol. It had to be the Dr Dennis Gross' LED mask or a better one for me. Nothing less. My skin is already loving it and I will continue to use it daily because it is absolutely easy to use. The charge also lasts a while. I'm impressed and delighted that I got some money off it too. I'm very pleased.
Date published: 2021-06-07
Rated

5

out of

5
by
Esta Gj
from
My favourite thing!
This was a birthday present that I really wanted for a while, there are quite a few LED masks on the market but from doing my research I went with this one because it had both red and blue light and the wavelengths they use have been proven to be affective. I use this once or twice a week now on the 3rd setting and I've really been loving it!
Date published: 2021-06-04
Rated

5

out of

5
by
Happyhayles
from
Love this so much
I received this for Christmas and have used it every week since I opened it. It's great - does exactly what it says it will, isn't complicated to use, can be used whilst watching the TV (as I do) and doesn't make my skin look sensitive after use. It's pricey, but I realised that it's only the same cost as having an LED add on to a facial 5 times (at the salon I go to) so in the end, a worthwhile investment.
Date published: 2021-05-30
Rated

5

out of

5
by
Frank060
from
It works
There are many LED masks on the market but this one definitely looks the part! It is one of the more pricey ones but that's just confirms my trust in the brand dr Dennis gross. I feel like it has definitely improved firmness in my skin. I use blue and red light and I haven't had a breakout in 5 Months! It's amazing!
Date published: 2021-05-06
Rated

5

out of

5
by
LC1990
from
Visibly improved skin
I've been using for 4 weeks and can already see my skin is much smoother, softer and firmer. Blemishes disappear much more quickly than normal too, so overall my skin is the best it's been in years. I have oily skin and am using alongside the Dennis Gross extra strength skin peel wipes every few days, the day after using which my skin is really clear and smooth.
Date published: 2021-05-05
Rated

4

out of

5
by
Pjherts
from
It works
This definitely works, I used It twice weekly for a long time and then sort of forgot about it. My skin was looking stressed and tired. I have started using this again. Only for two weeks and have had some compliments already. It really does work For me.
Date published: 2021-04-30
Rated

4

out of

5
by
funkyfurry
from
I'm convinced it works
I bought this before Christmas but wanted to wait several months before leaving a review in order to be fair - especially as it's *so* expensive... However, after 4+ months of use, I have to say I'm convinced. Prior to purchasing, my skin would regularly break out with cystic acne and more minor blemishes all the time (and especially with hormonal breakouts). However, with regular use of this LED mask, they have significantly reduced. Yes, I still do get some acne - but it's nowhere near as bad as it was previously. Adding this into my skin routine is the only change I've made in regards to lifestyle or skincare, so can only attribute the change in my complexion to this! In fact, when I deliberately stopped using it for a period of a couple of weeks as a test, my skin reverted back to its old acne self. I do find that I have to use it several times a day, every day, in order to see the change - but for me, the confidence of having significantly reduced blemishes after 15+ years of fighting acne, is worth the price.
Date published: 2021-04-25
Rated

4

out of

5
by
VickyMM
from
Great for acne
I've been using this daily for a couple of months and I've really noticed a difference in my skin - I hardly ever breakout now and is definitely clearer. I wouldn't say I've noticed any change in plumpness/collagen though but would still highly recommend for the blue light.
Date published: 2021-04-17
Rated

4

out of

5
by
dezid
from
Great alternative to salon treatments
I got this around Christmas without much hope for visible results. I considered it would simply be a "feel good" product that is part of my evening ritual. I am in my late 20s so can't really comment on the anti-age effect, but I do suffer from occasional hormonal acne and this mask has helped to maintain it. There's a lot of potential placeboes, but I do think I am taking good care of my skin and potentially working on preventing any first wrinkles. Another benefit is that you can share it with a partner/roommate, so it actually pays off really well.
Date published: 2021-03-11
Rated

5

out of

5
by
Fifik1990
from
Wow
I have been wanting to buy this for a few years as i suffer from eczema on my face. Iv been using a gel and steroid cream from the doctor for years neither has helped. I decided i have nothing to lose and bougt the led mask. After a month using my eczema is gone, fully gone. Honestly i am shocked at how great this product is i dont use any steroid creams or gels anymore my face is looking so bright and healthy! I couldnt recomend this product more!
Date published: 2021-03-03
Rated

5

out of

5
by
BSD
from
Game Changer
Expensive, but worth every single penny. This product is the future. I had been debating at buying one for a long time (due to cost), but I'm so glad I did. It requires daily use and is not a 'fix', it has to be used daily (every day) and built into your regimen, but once it's there - it will be there for life!
Date published: 2021-02-27
Rated

3

out of

5
by
Hughs1206
from
STILL UNDECIDED
Ive used this every night for 3 months now and have waited to review the device to give it a fair chance, knowing that its not going to produce results overnight. The tricky thing is, I cant say with any confidence that it actually works. I take good care of my skin and use retinol, vitamin c, peptides and a few other actives (not all at once) and so I mainly attribute any good results to that rather than the device. However I cant honestly say that it hasn't done anything, as perhaps its working at a deeper level? Ive never used the blue light function so cant comment on its use in fitting blemishes and so my comments are based on the anti agin red lights. At the price point I couldn't confidently recommend it based on my own experience, though I'm glad i have it and will continue to use it as there seems to be enough evidence that LED therapy does have benefits.
Date published: 2021-02-22
Rated

5

out of

5
by
ARAE
from
This really works!
I am a mother of two boys in her mid thirties and I have suffered from hormonal acne my entire life. I have a professional job and quite frankly, my teenage skin was becoming an embarrassment. I had put off buying this for a few years because of the price tag but took the plunge when I started getting regular facials that set me back £450 a time. I wish I had bought this sooner. I cannot remember a time when my skin has been more clean and clear. This is the best product I have ever purchased and worth every penny. I would recommend this to everyone.
Date published: 2021-02-10
Rated

5

out of

5
by
Bells13
from
An investment but definitely worth it!
I'd been debating whether or not to buy this for quite some time due to the price and finally decided to take the plunge, and I am so glad I did! I have been using it everyday for the last few weeks on the mixed setting, and I have noticed such a difference to my skin! The occasional breakouts have definitely calmed down and my skin feels brighter and plumper already with products absorbing much better after use. It's an expensive investment but if you can afford it, it is definitely worth it!
Date published: 2021-02-09
Rated

4

out of

5
by
SBI
from
Like it, but too soon to comment on results
Happy I bought this. What's great is it only takes 3 minutes. It is quite heavy so I lie down and combine with a 3 minute relaxation. The head strap has been improved, now similar to swimming goggles, but it's not necessary when lying down. I am using the infrared for first signs of ageing. I've used it for a week and too soon really to tell if it is making any difference. My daughter is using it on the blue setting. She has mild acne and it seems to work much quicker for this, she's been using it every day also. If you are motivated and will use it every day it's worth it. I dealt with adult acne when I was younger and wish this product was available then. Will come back again and update on anti ageing.
Date published: 2021-02-06
Rated

4

out of

5
by
Bristol
from
So easy to use
Having hmmmed and ahhhed for quite some time over which kind of LED mask to purchase, i knew that if I bought anything less than the Dennis Gross one I would always be thinking 'should've got the Dennis Gross one' and I wasn't wrong. I love it! It's so easy to use, no faffing around with wires or timers or instructions just charge up put on and go, 3 mins every day. I'm still working out the best way of using it, but I'm so far impressed with what I see and am excited to see the results.
Date published: 2021-02-03
Rated

5

out of

5
by
shadow2020
from
Great results
This product is definitely from the future, really helps fight wrinkles and sagging. But it is not magic, you need to use this for some time consecutively for it to work. I have been using this product for 4 months with Chantceaille products, really good results.
Date published: 2021-01-04
Rated

2

out of

5
by
Smarta
from
Disappointed you have to lie down to use it
I bought this, because I am in love with the eye-only mask. But for me it fails my favourite point of the eye mask - that you can wear it, while doing something else. For me, if a tool can fit seamlessly into my current routine, it's guaranteed that it would be used, but this mask is far too heavy for the loose strings that are used to attach it to the face and you have to lie down while wearing it.
Date published: 2020-12-30
Rated

4

out of

5
by
Emily5330
from
Investment but worth it
I've been using this mask for several months now. I go through patterns of using it regularly, then will take time off. I don't fully know if it's making a huge difference in my overall skin but I definitely notice that if I have a breakout and I use the blue light setting, it clears it much faster than it would otherwise. I quite like the ritual of using it (if I'm being regular with it) because it forces me to pause and relax...even just for 3 minutes.
Date published: 2020-12-17
Rated

5

out of

5
by
Tanya1414
from
Takes time to make a difference
I've using this mask for around 10 weeks now. I use it on the blue setting every evening for two sessions. I think that it has gradually helped calm my hormonal acne, I still get breakouts, but my skin looks a bit better overall. I think this is something to use long term and not a quick fix.
Date published: 2020-12-16
Rated

5

out of

5
by
Anonymous
from
An investment
This LED mask might be expensive but for me, it's an investment in my skin. I've tried another LED device before and this is far superior. It's the closest I've found to having a professional LED facial in a salon. I picked this over other LED masks on the market as this uses both red and blue LEDs so targets both my acne and anti-aging. I use it daily and have noticed my skin has improved in general, especially my acne. If it's within your budget, I highly recommend it.
Date published: 2020-12-07
Rated

4

out of

5
by
KipHip
from
It's almost excellent...
I had to think long and hard about whether I was going to give this LED light mask 5 stars because yes it's expensive, and yes as previously said, the straps are useless, and I'm still a bit on the fence about just how good it is. I've used it religiously for 6 weeks, there is change in my skin for the positive but it's not a miracle worker. I enjoy using it more than I thought and if I do have any breakout still, it does heal a lot quicker. I'm using it more for the blue light at the moment as facialist has said the red light me be a bit too active for my skin right now so I can't give a comprehensive review, but if you buy this with points or on offer you won't regret it, and it's much better science wise than many others on the market (plus you get the blue light and the red light) just don't spend all that money expecting a miracle, but over time you will see a difference in your skin.
Date published: 2020-11-26
Rated

5

out of

5
by
Lucie101
from
Very impressed
I'd originally looked at this device earlier in the year, as I was curious about the anti-aging benefits it claimed to have. However the price put me off, so I forgot all about it. Fast forward a couple of months and I experienced a huge acne breakout, which I've now been battling with since July. With my upcoming wedding, I was desperately trying all options to improve my skin, particularly when diet changes weren't having any effect (cutting dairy and eggs, as these have been precious acne-causing offenders for me). I was at a point where I didn't know whether my skincare routine was helping or hindering - I'd tried using more retinol, vitamin C, AHAs etc, and then less of them, and then different combinations, all with no success. That's when I came back to this mask, this time for the acne-fighting properties, as opposed to anti-aging. I bought it 10 days ago, and got married yesterday, and honestly it's been the best £430 I've ever spent. My skin is by no means clear yet, but my acne has massively reduced in size, redness, texture and amount, and is no longer painful. I was easily able to cover up any blemishes yesterday, whereas before using this mask, makeup made the acne look even worse. As an added bonus, I think the fine lines on my forehead have reduced and my skin looks brighter and tighter overall. I'm really really happy with this mask, and will continue to use all 3 settings daily. I should add that I used the 3 minute blue setting up to 4 or 5 times a day, every day, over the last 10 days, which may have contributed to the fast results I have seen. Overall a worthy investment, although you must persevere with regular use.
Date published: 2020-10-02
Rated

4

out of

5
by
JZl
from
Surprisingly good
Surprisingly good I received this as a gift and honestly didn't have very high expectations as it seemed like a bit of a gimmick. My skin looks extra glowy after using it and I wasn't expecting this! Think it's a really lovely device to have if you are obsessed with skincare but not a must have given the price.
Date published: 2020-09-24
Rated

5

out of

5
by
Pippa83
from
Great investment
This is an expensive bit of kit but well worth it. I use it every day as recommended and I have experienced a really big difference with my skin. I am very prone to monthly hormonal breakouts but routinely using this device has helped massively to keep my complexion clear.
Date published: 2020-04-09
Rated

5

out of

5
by
Paige
from
the best product I've ever used for my acne
I bought this a few weeks ago and using it everyday as per the instructions. I have tried a wide range of acne skincare including the foreo blue light. It has seriously improved my acne and I saw a difference within a week of using it. I have had acne for about 10 years and while I Sam still getting small hormonal spots here and there, they have reduced by about 90%, which has never happened before! I think this is especially good as it covers your whole face, as opposed to a single spot like the foreo light does. I think it has prevented acne from forming as well as treating what is there. It is very expensive, but in my opinion, if you can afford to get it (I got mine on Klarna and waited for the £15 off every £60 spent offer) it's definitely worth it if you have tried everything else with no luck.
Date published: 2020-02-25
bvseo_sdk, dw_cartridge, 18.2.0, p_sdk_3.2.0
CLOUD, getReviews, 7ms
reviews, product