UK101791304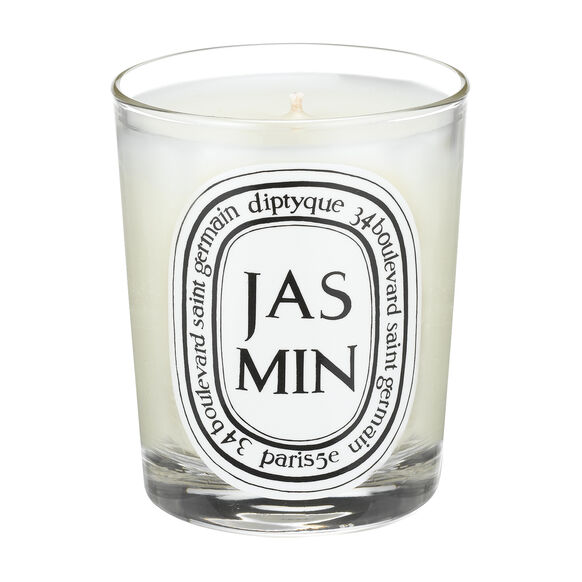 Pinch to zoom Double click to enlarge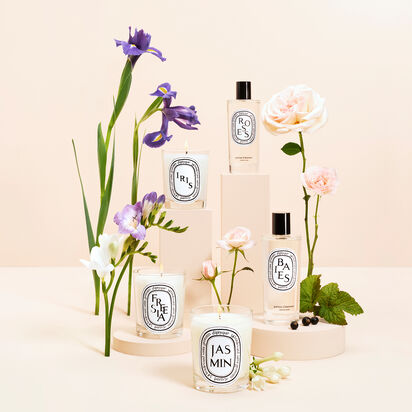 Pinch to zoom Double click to enlarge

Diptyque Jasmin Scented Candle 透着性感、浓郁、清新和芬芳的香气,可增强任何房间内的浪漫氛围。
这款香熏蜡烛点燃后,让人仿若置身于温暖地带的夏日傍晚,身边就是小小的白色茉莉花在夕阳的余晖中,尽情散发着浓郁的香气。Diptyque Jasmin Scented Candle 将这种异国花卉那浓郁、魅惑的香气带入家中,以其性感、浓郁又不失清新的气味让人心情更加愉悦。
Diptyque Jasmin Scented Candle 采用专利配方,将植物蜡和石蜡混合在一起,确保均匀有效地燃烧。由于每款香氛都含有独特的天然成分混合物,因而 Diptyque 采用定制的特定蜡配方,以便让每一根蜡烛的香气得到充分释放。
Key Benefits
让人仿若置身于温暖地带的夏日傍晚
散发出浓郁而诱人的香气
蜡烛可均匀有效地燃烧
有助于改善心情
让任何场合都散发出雅致气息
SKU# UK101791304
A well-cared for Diptyque 190g candle will burn for up to 60 hours. Your candle will burn clean and evenly down to the bottom of the glass if you burn it for at least two hours the first time - or until the whole top is liquid with wax. After blowing out your candle, centre and straighten the wick. Trim the wick to about half a centimetre long before relighting the candle. By shortening the wick you allow it to burn more slowly and avoid unsightly black smoke marks around the edge of the glass. Do not place the candle in a wind draught or directly on a glass or marble surface. Never leave a lit candle unattended. Never move or tip a lit candle. Keep out of reach of children.
这家成立于 1961 年的法国香水屋以优质的香氛、最为精美的香熏蜡烛,以及美体和肌肤护理而闻名于世;卓越的护理服务能刺激人体感官,令您尽享奢华体验。
---
Summary of Customer Ratings & Reviews
CrazeySusanna
Reviews: 12
Staple in my bathroom
Whenever I'm looking to add a touch of luxury to my bathroom, the Diptyque Jasmin Scented Candle is always my go-to. The scent is so soothing and calming, it really helps me unwind after a long day. Plus, the candle itself looks beautiful and adds an elegant vibe to any room. If you're looking for a reliable and high-quality scented candle, I definitely recommend Diptyque's Jasmin Scented Candle.
---
LaurieSC
Location: London
Reviews: 46
Age: 30-45
Recommends this product: Yes
Gorgeous
I adore this candle. I was looking for a really pure jasmine scent for a while and couldn't find anything that seemed 'true' - they were all quite cloying. This is the closest I've found to drinking in the scent of pure jasmine. It's divine. It burns well too and the wick is easy to care for - much more so than competitors.
---
Stace4479
Location: London
Reviews: 1
Age: 30-45
Recommends this product: Yes
Transports you to summer
Definitely another incredible fragrance from Diptyque. This is one of my favourite candles and the scent, which immediately transports you to warm summer evenings, really fills the room. Diptyque is definitely the brand to rely on for great throw and staying power of a home fragrance. They are on the pricey side, but totally worth it if you're thinking of spending a little more to get a great quality candle with unbeatable fragrances.
---
A 7575
Location: High Wycombe
Reviews: 49
Age: 30-45
Nice smell, and that's about it
The smell is very powerful, but that is all that is nice about this candle. the design is not amazing, or at least not my cup of tea anyway. The worst part is that it is very expensive considering it is just a blend of vegetable and paraffin wax. I am not against paying extra, but I would like the price to reflect the quality and not just the brand.
---
Gorgeous Floral Scent
This candle has a gorgeous floral scent. I love this for springtime and even summer when you need a fragrance with freshness and smells of fresh flowers. The throw is excellent and the scent is delicate as well as robust. This is an expensive candle but the quality is excellent. One of my favourites!
---