Hourglass
Hourglass' founder and CEO Carisa Janes created the brand with a strict set of expectations in mind. Having struggled with problem skin, she had a checklist for the perfect foundation: no fragrance or oil, must have SPF, and should help to clear blemish-prone skin. The box-ticking result was Veil Fluid Makeup. And when word got out that Angelina Jolie was using it on the set of Mr. and Mrs. Smith, Hourglass' future success was sealed. Today, distinguished by sensorial textures, modern colour collections, and sleek custom packaging, Hourglass puts the art in state-of-the-art.
SHOP NOW
Hourglass exists at the intersection of science, beauty and luxury.
Even now, unless the team feel a formula is truly innovative, it simply won't release it; a philosophy evident in the brand's texture-transitioning liquid-to-powder foundation, and the mattifying – yet illuminating – No.28 Primer Serum, among many more. With modern colour collections for eyes and lips, as well as illuminating, light-as-air blushers and bronzers, it's hard for us to pick a favourite – but for a product you'll wonder how you lived without, the Veil Mineral Primer is a must-have for making makeup glide on smoothly and last longer.
MEET BRAND FOUNDER, CARISA JANES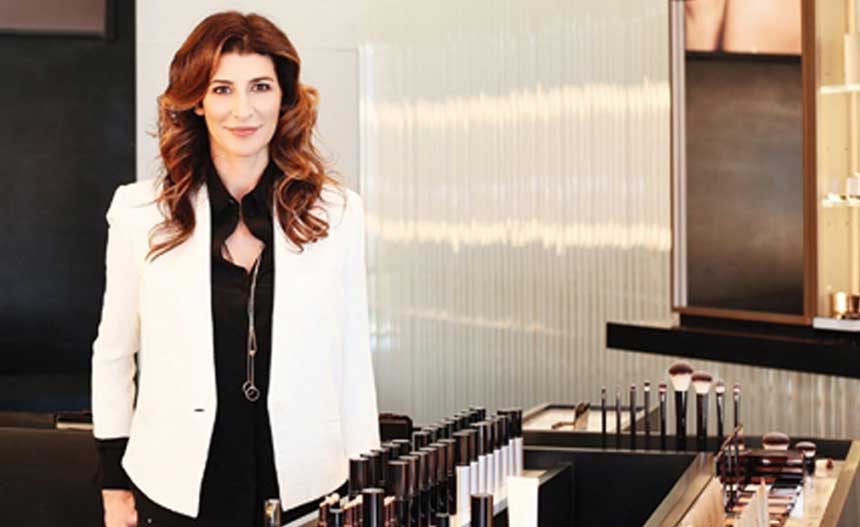 We meet Carisa Janes, founder of inventive and experimental cosmetics brand Hourglass, to discuss her range of revolutionary products.
What's your own most-used product from the range?
My new must have is our Vanish Seamless Finish Foundation Stick and Brush. It's a total game-changer, giving you virtual skin perfection in an instant. It has the coverage of a concealer, the weightlessness of a powder and the fluidity of a liquid.
What's the first product in the range you'd tell everyone to try?
The Ambient Lighting Palette. It was originally introduced as a limited-edition item, but it sold out in just three weeks. We were then inundated with emails, calls and social media posts from women around the world desperate to locate one. It's been a bestseller ever since.
Where do you find inspiration for the range?
Inspiration can come from anywhere! My mother actually inspired our Ambient Lighting Powders. Growing up, she had pink light bulbs in all of the lamps throughout the house, as it's the most flattering shade of light. I wanted to recreate this effect in a powder.