UK200027733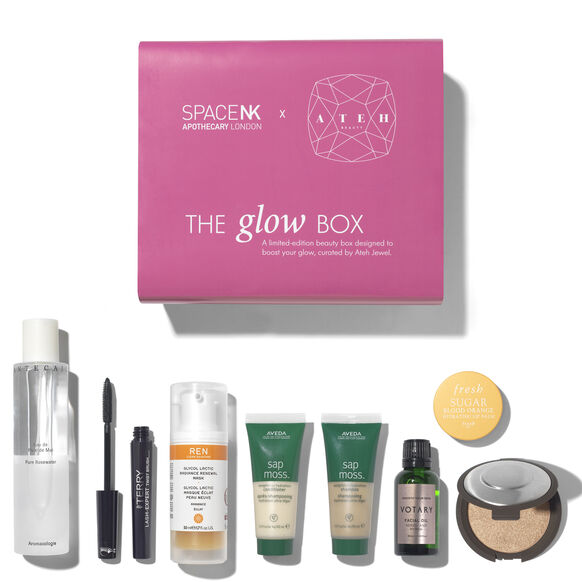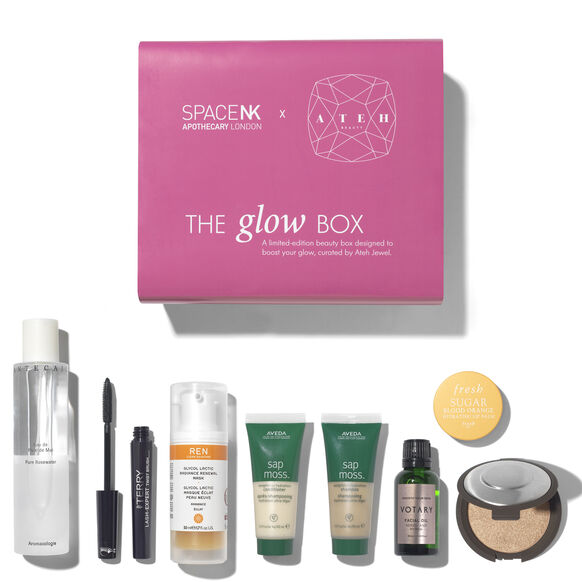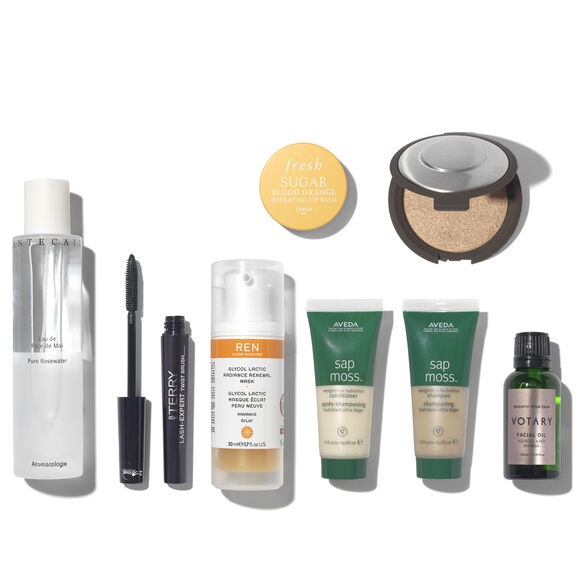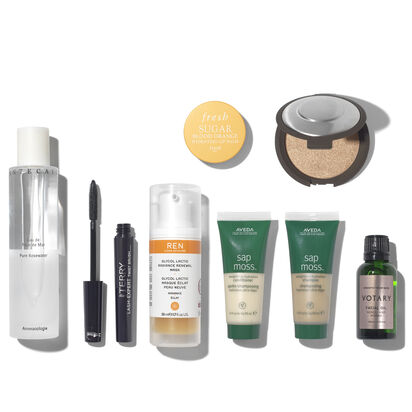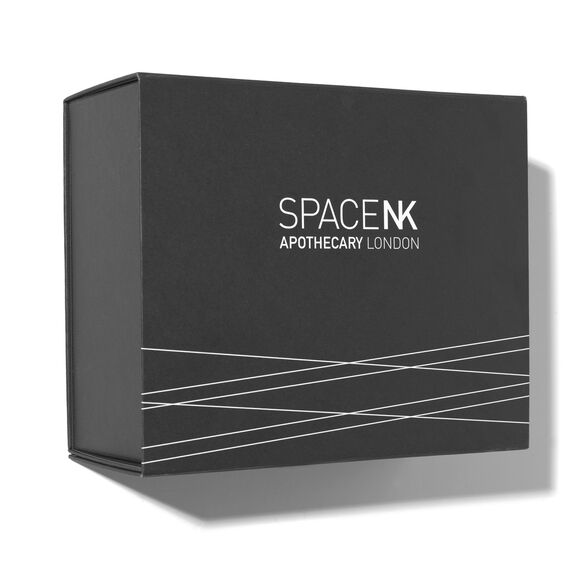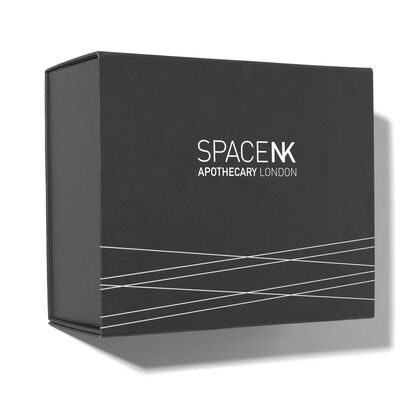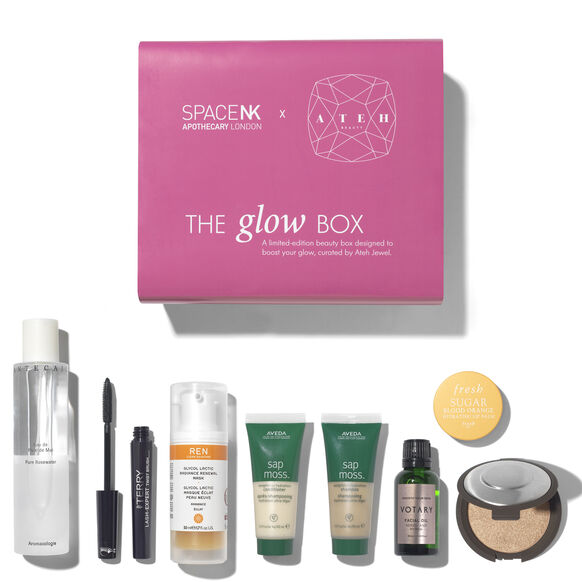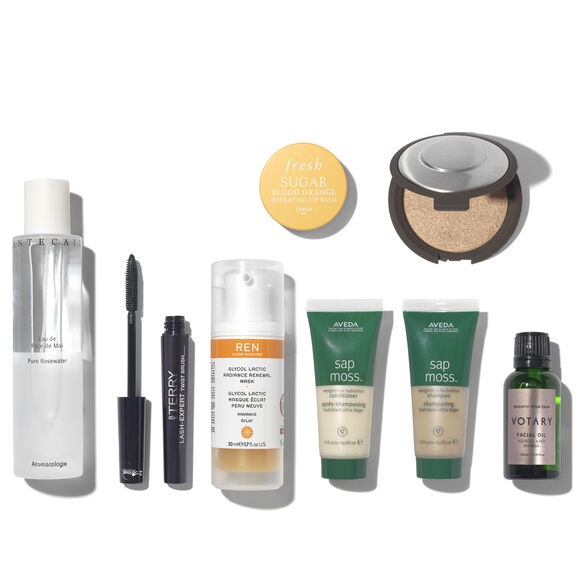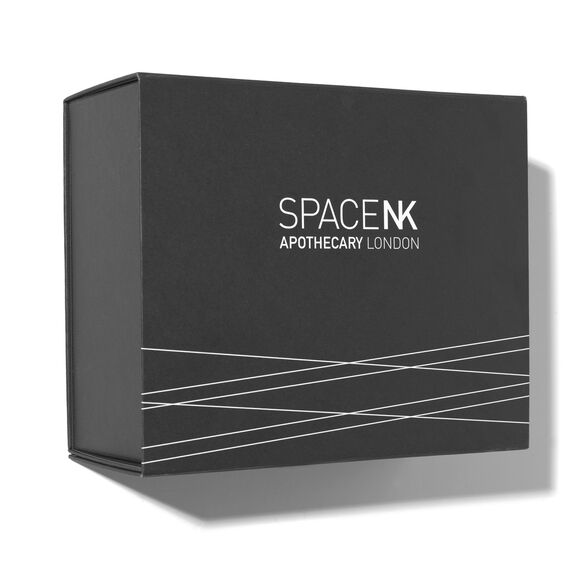 Price reduced from

¥1,100

to
¥550
This item is currently not available
Fast and easy payment with

Curated by the award-winning beauty journalist and diversity advocate Ateh Jewel, this limited-edition box contains eight must-have products to boost your glow. Worth over £250.
"Beauty has always been a fun playground full of ritual and self expression for me. I'm so thrilled to present The Glow Box, which is filled with my favourites from Votary, REN Clean Skincare, By Terry, Aveda, Chantecaille, Becca and Fresh. Pump it up, enjoy and have fun." - Ateh Jewel.
Set Contains:
• Chantecaille Pure Rosewater (full-size, 100ml): An essential part of any skincare routine, this gentle formula invigorates and moisturises with rose petals and mineral water to clear the complexion.
• Becca Shimmering Skin Perfector Pressed Highlighter in Chocolate Geode (full-size, 7g): This award-winning highlighter is enriched with the power of ultra-fine, multi-toned, luminescent pearls to replicate the natural light of the sun.
• REN Clean Skincare Glycol Lactic Radiance Renewal Mask (full-size, 50ml): a deep cleaning exfoliating mask formulated with exotic fruit to soften and repair the skin, nourishing with omega oils and promoting cell turnover for a youthful face.
• Votary Neroli & Myrrh Facial Oil (full-size, 30ml): This dazzling blend of essential oils work to repair, enrich and brighten the complexion.
• Aveda Sap Moss Shampoo (40ml): This gentle, silicone-free shampoo provides moisturising benefits and helps to control frizz-prone locks.
• Aveda Sap Moss Conditioner (40ml): Made from 98% natural botanicals, this detangling and moisturising treatment helps to keep hair soft and more manageable.
• By Terry Lash-Expert Twist Brush Mascara (full-size) This nourishing mascara is designed to give greater length and volume using an innovatively designed brush.
• Fresh Sugar Hydrating Lip Balm in Blood Orange (full-size): An indulgent lip balm infused with a delicious scent to moisturise and protect the lips for a supple and plump pout.
SKU# UK200027733
跟踪的:Y50
在7-11个工作日内收到您的订单 消费Y350即可免费
表现:Y130
在3-5个工作日内收到您的订单
专为世界各地的美容行家和专业人士研制的一系列高品质产品和工具。
Rated

5

out of

5
by
Cindy818
from
Great Value!
I bought this kit when I see it's on sale. The items inside are very attractive to me, especially the Rosewater from Chantecaille! This Rosewater smells good and pure, with great moisturizing ability. Besides, the face oil from Votary caught my eyes too. It feels pure and clean, bringing me comfortable skincare.
Date published: 2021-09-07
Rated

5

out of

5
by
Dee123
from
Great for sale price
I got this box in the sale and it was totally worth the money. The By Terry mascara is my favourite & it was also nice to try some other new products. The box was great value for money because the rose water itself actually costs more. The fresh lip balm is also definitely going to be repurchased!
Date published: 2021-09-06
Rated

5

out of

5
by
Gems1981
from
Amazing value!
So so pleased I finally purchased this box for myself, I wasn't too sure as not sure if the products were for me but how do you know until you try? Amazing value, even before it went into sale. My absolute favourite find is the rose water spray and I use it every day (and more!) the fresh blood orange lip balm smells so good and the Ren mask is super gentle but effective. love it all.
Date published: 2021-09-06
Rated

5

out of

5
by
jlb1919
from
Great value
I still can't get over what incredible value this box is. All the products are brilliant quality. The highlighter wasn't the right shade for me - so I use it as a shimmery eye shadow. The Ren glycolic mask is really underrated. It's works great without a hint of irritation. This box is perfect as a gift or for yourself.
Date published: 2021-09-05
Rated

5

out of

5
by
MELuu
from
The box of goodies
What a great value for this set!!! The price is cheaper than the Chantecaille Rose water which is in the pack. I should order it when I first saw the set on sale. Then it would give me enough time to order the second box. Unfortunately, it's sold out now. Don't be hesitate girls, just get it if it is available. I am sure that you won't regret.
Date published: 2021-09-05
Rated

5

out of

5
by
Gympie Girl
from
I love this box
This is the second time I have purchased Ateh's glow box. It is amazing value and I love all the products - especially the rose water face mist. I will be giving the bronzer to a friend as a gift as I have pale skin, but I have used it as an eye shadow. Ateh is such an inspiration, I will buy anything she puts her name to.
Date published: 2021-08-27
Rated

5

out of

5
by
TCB
from
Great value set
This is my second purchase of this set as it is great products. Love the votary oil and the REN mask, great weekend treatment for your skin. The aveda hair products are great. The fresh lip balm has a lovely scent. The By Terry mascara is full size and a great mascara. Lovely set overall.
Date published: 2021-08-27
Rated

5

out of

5
by
Ruby woo
from
Absolutely fantastic
I wish I could purchase more of these boxes. For the sale prices this was absolutely worth it. I love all the products apart from the Becca as it's shade is too dark. However all the products are fantastic. The votary oil is the plus point for me along with the Rose water mist, I love the scent and feel of the products.
Date published: 2021-08-26
Rated

5

out of

5
by
Shaz80
from
Superb
Bought this for myself as a birthday treat. I'm a huge fan of Votary and was eager to try the neroli oil after having great success with the super seed oil. After trying, i am not dissapointed. This box contains some really lovely items. I especially also love the rose mist.
Date published: 2021-08-26
Rated

5

out of

5
by
Lyn loves
from
Fantastic products
So good I bought two Every product deserves its place and I have been able to try some very expensive items I was longing to use. Brilliant A really good mix of brands and most are full sizes. Love the Chantecaille's rose mist and the makeup was new to me….I loved every item
Date published: 2021-08-25
Rated

5

out of

5
by
KellyW77
from
Seriously good value for money!
This box is wonderful. So much so that after the first one received, I ended up purchasing another because the value for money is incredible. Just the rose water alone makes it worth the money if you base it on the prices of individual items, but then when you consider the range of other products, there is something for everyone. I already use the REN glow AHA toner and glow moisturiser so was very happy to see the mask in here from the same range, in full size. The Votary oil is beautiful. The mascara is great if you want a natural look. The lip balm smells divine and is in a really nice shaped, flat packaging that fits nicely in to your bag. The shampoo and conditioner are travel size but everything else is in its full size version. Beautifully packaged; a real treat. Highly recommended, as a gift either to someone else or to yourself! :-)
Date published: 2021-08-23
Rated

4

out of

5
by
JadeY
from
Good product
I bought it a month ago and I am happy with it. I always use chantecaille pure rose water spray which is included in this package,full size!Also there's avenda shampoo and conditioner samples that I can try cuz my scalp is sensitive better try the shampoo before I buy it.The other products also looks good,worth to get it.
Date published: 2021-08-22
Rated

5

out of

5
by
HelenTilbury
from
Great values at sale
The composition is nice but the pricing was high. I took it during SALE then it comes amazing. The Chanticaille water is devine and relaxing. The Votary oil has good reputation. Fresh lip is always the best. The shade in highlighter is a bit off but ok. The rest I can just try for kind of "free",haha
Date published: 2021-08-17
Rated

4

out of

5
by
bibi29
from
great if half price
I was lucky to get this set on a fifty percent discount, so for that price is great value, forthe price of the chantecaille toner you get all the packed, with some good products but others that did not work for me so, great if half price but not so much otherwise.
Date published: 2021-08-16
Rated

5

out of

5
by
MartaN
from
Excellent value
I really love each of the products, so I think this is brilliant value. My favourite is the rose water. The highlighter isn't my skin tone but I love how it looks like as a blusher topper. The Ren is a cult classic, don't know anyone who doesn't like it.
Date published: 2021-08-14
Rated

5

out of

5
by
Ania 2021
from
Perfect beauty box
I couldn't wait to put my hands on this box. It's a perfect and thoughtfully created set. There are skincare, haircare and make up items that I would use. The most I'm excited about the rose water and face mask. The box inculdes great, luxurious brands for a fraction of the price. Highly recommend it.
Date published: 2021-08-14
Rated

5

out of

5
by
Ami44
from
Gem of a box!
As a a big fan of Ateh and Space NK I was delighted to see this box and what an absolute treat it is! You get a range of eight beautiful cult products all for a brilliant price in a lovely stylish box! I cannot wait to try the blood orange lip balm and the votary oil! This makes for a great pampering gift for your loved ones!
Date published: 2021-08-12
Rated

5

out of

5
by
RuthM
from
Beautiful products, fantastic value
I bought this to try the rose water as I love Chantecaille but they are at the top end of my budget. The rose water is the highlight for me, however the other products are also beautiful to use and feel luxurious, and there isn't a weak link. The Ren mask is quite a star, and the Votary which I've found great in the warm weather. I will probably buy a second box if any are left.
Date published: 2021-08-12
Rated

5

out of

5
by
kikiyoyo
from
Great value
Got this at a sale price and it's amazing value. So many great full size goodies. The Chantecaille rose water is divine and the Ren face mask is a great reviver when my skin is looking dull. The Votary face oil is possibly my favorite as it leaves skin so soft in the morning. Highly recommend!
Date published: 2021-08-12
Rated

5

out of

5
by
Валентина
from
Space NK x Ateh Jewel - Th€ G'low Box
Здравствуйте! Space NK x Ateh Jewel - Th€ G'low Box я заказывала два раза!!! Это замечальная коробка, в ней собраны очень хорошие продукты и по хорошей цене!!! Розовая вода, это лучший мист который я пробовала! Тушь очень хорошо придаёт ресницами объем, и у неё очень интересная кисточка, она регулируется, для объёма и удлинения!!!
Date published: 2021-08-12
Rated

5

out of

5
by
Vaji
from
Great deal
I am so happy to put my hands on this great deal. You will not be dissapointed. The price is so good that you will not make anything wrong to purchase this one. There are almost only full size packages in there. At least I can try a votary product for a good price.
Date published: 2021-08-11
Rated

5

out of

5
by
MazzaRazza
from
Brilliant Value!
Buy this now before it goes out of stock!! Absolutely amazing value in this box with so many high end brands. The Votary is beautiful (as all their products are!) abs the Chantecaille is also stand out winner. Fully recommend this to anyone to give as a gift or keep for yourself!
Date published: 2021-08-11
Rated

5

out of

5
by
LADV
from
Third box I buy!
I will keep buying this box till it is out of stock. The content is great with lots of good products to cover a full routine. The REN mask, the Votary oil and the by Terry mascara are my favourites and the rest are all wonderful products too. I find this box good value for money because those products that last for longer or you don't need or want, can be given to someone else to try and enjoy them. Great to share the joy!
Date published: 2021-08-11
Rated

5

out of

5
by
Jacqmich
from
Fabulous!
Wow! So many great products in this box that I already use and a few new ones that I am more than happy to try. A huge treat for myself and my daughters. The products came all boxed separately in one large box so you can gift them if not everything is to your taste. I am tempted to buy another as this is such a good price .
Date published: 2021-08-10
Rated

5

out of

5
by
Jimmy1
from
Amazing box
I bought this purely because I wanted to try the votary oil and chantecaille Rosewater. Given that they are both around the same retail value of the box... EACH I couldn't not. Both products didn't disappoint. The fresh lip balm is also Fantastic and feels very light but also so moisturising. I'm probably going to buy another box just for the votary oil
Date published: 2021-08-07
Rated

5

out of

5
by
Manda
from
Just get it!
If you're reading this because you're unsure of whether you should buy this, just do it. It costs less than the price of the Rosewater alone which even though I'm not a fan of rose scents, this is divine. Being a light skinned girl I wasn't sure about the Becca product but it is such a beautiful colour I'm going to wear it on my eyes
Date published: 2021-08-06
Rated

5

out of

5
by
KNP
from
Great mix!
Not only is it a great price for the products but they all work so well and I'm impressed with the amount of full sizes! I wanted a mix of products to try and I've noticed a difference in my skin since I've started to include the products into my morning routine. The rose water is also a great way to feel refreshed throughout the day.
Date published: 2021-08-05
Rated

5

out of

5
by
Kazakhgirl
from
Another great value box worth every penny
I was initially not sure whether this box was for me. But (full sized) Ren glycolactic mask is wonderful and makes my skin smooth and glowing every time, its my favourite product by Ren. I thought the rose water was originally overpriced so this was a good opportunity to try it out.I found Votary facial oil super hydrating with a very pleasant scent. All other products are great too, it's definitely worth the sale price.
Date published: 2021-08-05
Rated

5

out of

5
by
Ash H
from
Incredible price for great items
This is an amazing value beauty box. Just the Chantecaille Rose Water has an RRP of £65 and my daughter absolutely loves it, so that item alone was worth the sale price of £62.50. Then there's the Ren cleanser which my wife loves, and the Votary Neroli and Myrrh oil which is superb for my face roller. This really is an amazing value box, so get it while it lasts!
Date published: 2021-08-01
Rated

5

out of

5
by
LexD
from
Excellent gift
I bought this on sale so was excellent value for money. I was so impressed with it, I ended up buying another one as a gift. It makes a wonderful looking present and the products are all as good as each other. I was really happy to try the Chantecaille rose water which I have wanted to purchase for a while, but was waiting to find it at a more affordable price. I'm really happy I got to try it within other products that definitely do enhance your glow. Amazing box set.
Date published: 2021-08-01
bvseo_sdk, dw_cartridge, 18.2.0, p_sdk_3.2.0
CLOUD, getReviews, 35ms
reviews, product