UK200012142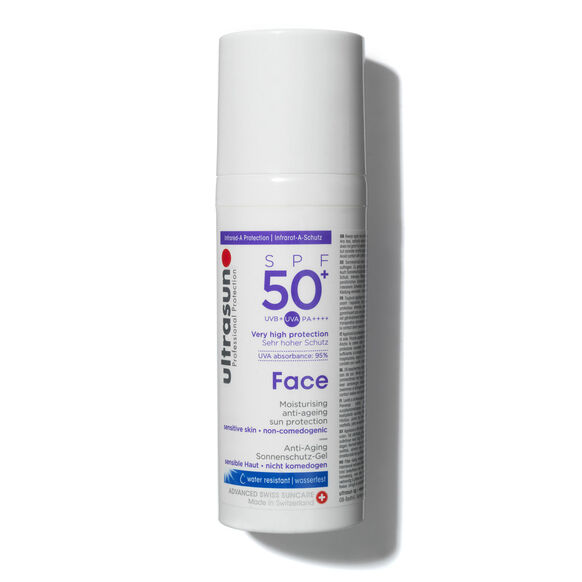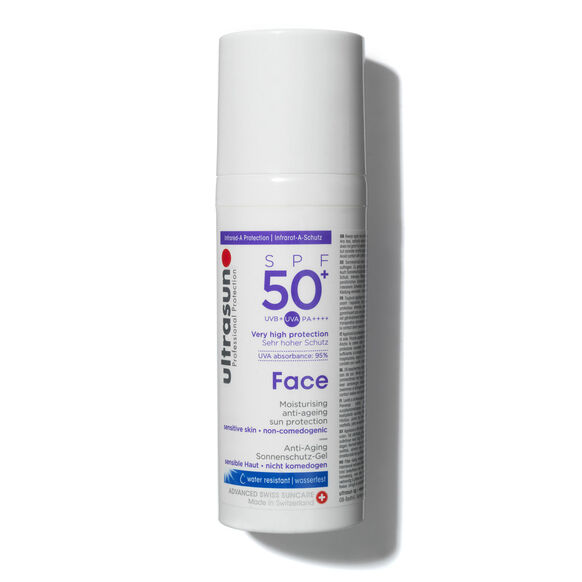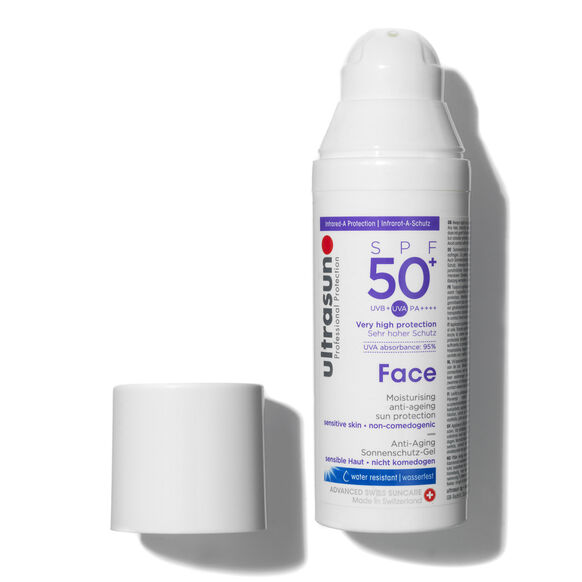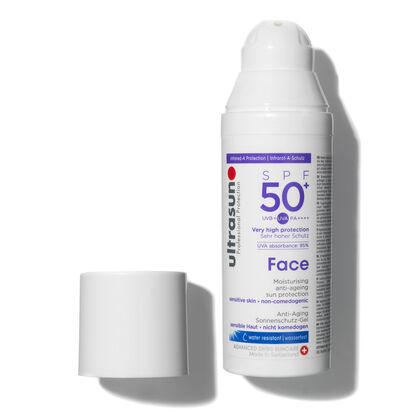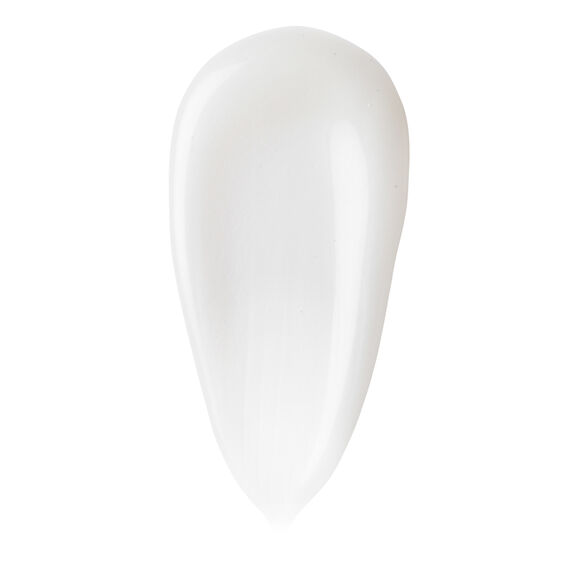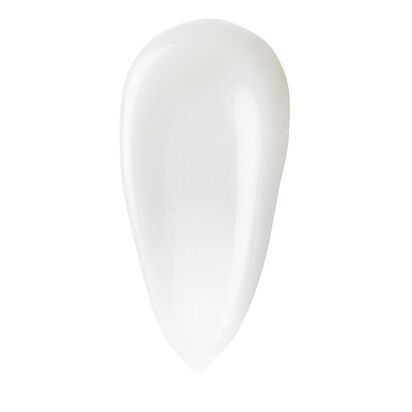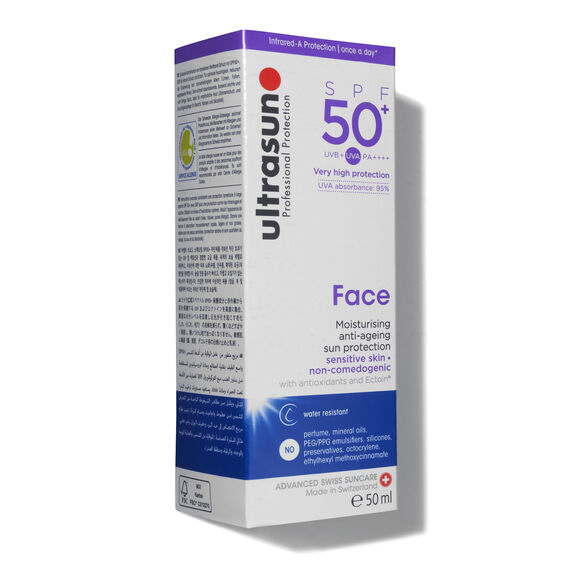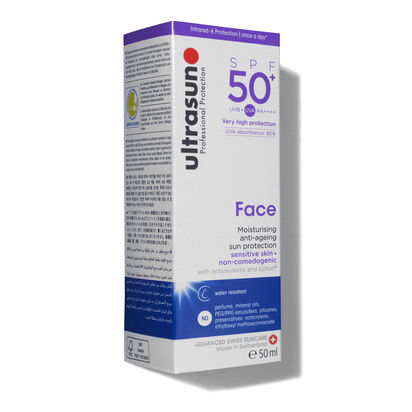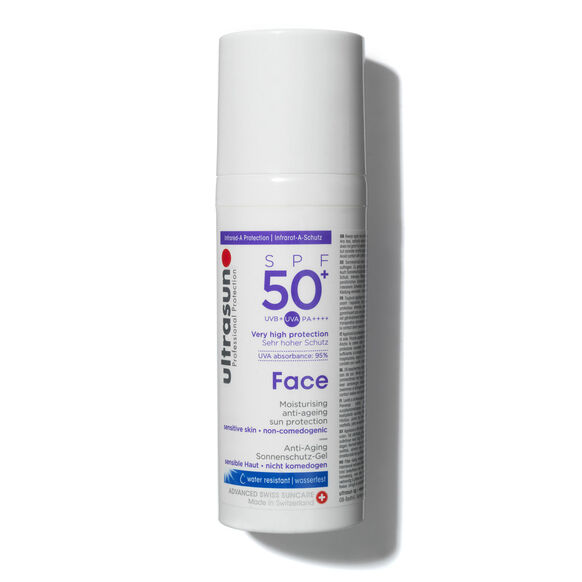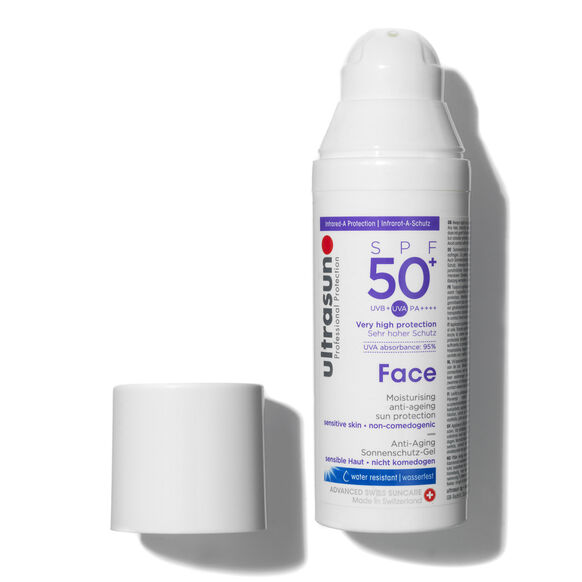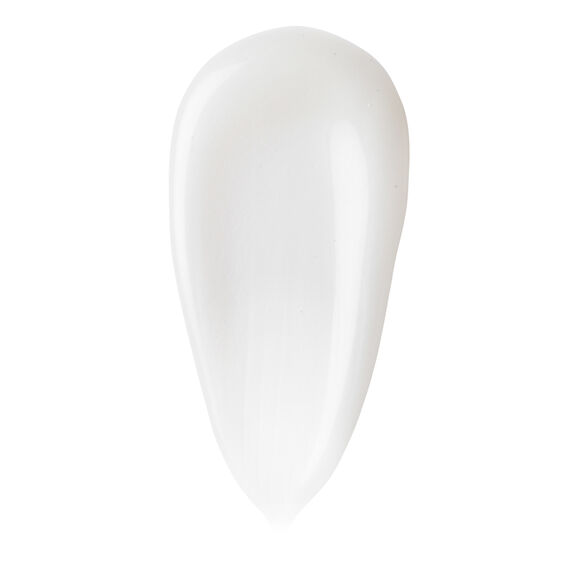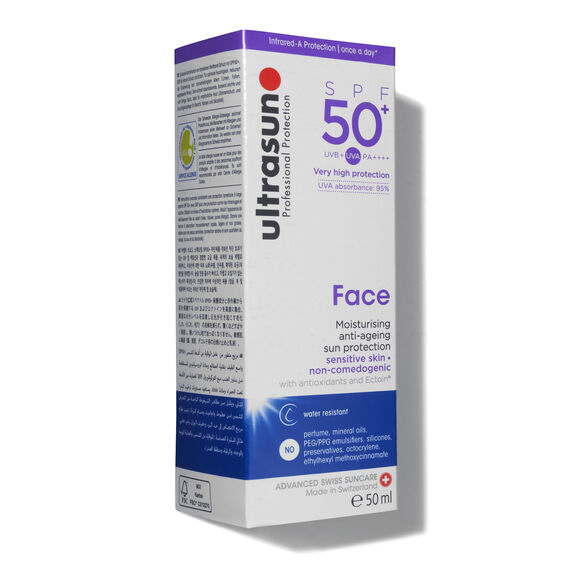 Fast and easy payment with

Provide sun protection while also fighting the signs of ageing and hydrating the skin with a face sun cream that acts as a moisturiser, primer and sun cream all in one thanks to Ultrasun Anti-Ageing 50+ SPF Face.
Formulated to be used even on sensitive skin, this Ultrasun product is non-greasy and ultra absorbent, as well as free from oils, emulsifiers and perfumes.
As an anti-ageing moisturiser, this sun cream also includes ectoin for cell protection, a liposome formula that provides hydration and reduces the appearance of fine lines and wrinkles, and S.O.D. which is an enzyme that neutralises the damage done by free radicals as caused by sun exposure.
Key Benefits
A lightweight, non-greasy, fast absorbing, water resistant sun cream
Contains anti-ageing properties
Acts as a moisturiser and primer as well as a sun cream
Suitable for sensitive skin
Provides UVA and UVB protection
SKU# UK200012142
INGREDIENTS: AQUA, CAPRYLIC/CAPRIC TRIGLYCERIDE, PENTYLENE GLYCOL, METHYLENE BIS-BENZOTRIAZOLYL TETRAMETHYLBUTYLPHENOL (NANO), TITANIUM DIOXIDE (NANO), ETHYLHEXYL SALICYLATE, BIS-ETHYLHEXYLOXYPHENOL METHOXYPHENYL TRIAZINE, C12-15 ALKYL BENZOATE, DIETHYLAMINO HYDROXYBENZOYL HEXYL BENZOATE, ETHYLHEXYL TRIAZONE, GLYCERIN, SQUALANE, COCOGLYCERIDES, HYDROGENATED PHOSPHATIDYLCHOLINE, C8-22 ALKYL ACRYLATES/METHACRYLIC ACID CROSSPOLYMER, ECTOIN, DECYL GLUCOSIDE, SILICA, VITIS VINIFERA SEED EXTRACT, POLYACRYLATE CROSSPOLYMER-6, PROPYL ALCOHOL, ALCOHOL, CETYL PHOSPHATE, XANTHAN GUM, PROPYLENE GLYCOL, LECITHIN, T-BUTYL ALCOHOL, TOCOPHERYL ACETATE, ASCORBYL TETRAISOPALMITATE, TOCOPHEROL, DIISOPROPYL ADIPATE, UBIQUINONE.
Apply to clean, dry skin at least 15 minutes before going out into the sun. Ultrasun Face can be used daily in place of a daily moisturiser and primer.
跟踪的:Y50
在7-11个工作日内收到您的订单 消费Y350即可免费
表现:Y130
在3-5个工作日内收到您的订单
由瑞士防晒专家设计和打造,采用与众不同的独特革命性配方。Ultrasun 采用荣获专利的脂质体技术,每天使用一次即可确保皮肤免受长波紫外线(衰老和细胞损害)和中波紫外线(灼伤)的伤害,提供长效、高水平的防水保护。
Rated

5

out of

5
by
Eagles1
from
Love this
I received a 7ml sample of this in one of the recent gift packs with purchase. It is very lightweight and absorbs easily. It wasn't at all greasy, and didn't irritate my eyes at all (which a lot of face sunscreens have). Great that it's SPF 50 (I use vitamin C serum in the morning and A in the eve so high protection is important). I also mixed this with a tinted BB cream which worked really well. Will definitely purchase. Good price also.
Date published: 2021-06-11
Rated

5

out of

5
by
Stylista69
from
Love this!
I received a sample tube of this and was slightly wary as it's SPF 50 and I like to get a bit of a tan on my face in the summer. However as I have grown older I prefer to fake it and use something protective to stop my skin aging. The main thing I love about this is the formulation, it's lightweight and doesn't feel cloggy. That's a real bonus for a high SPF. When I'm eventually able to travel abroad again I will definitely buy this for hot climates.
Date published: 2021-06-09
Rated

5

out of

5
by
KA94
from
Great sunscreen!
I've been using this religiously for the past month and so far I really like it. The texture is great and I can wear it under makeup with no issues. I didn't notice any pigmentation appear, so I assume that it does it's job well in terms of protection. Overall very happy with it and I will repurchase.
Date published: 2021-05-26
Rated

4

out of

5
by
SpaceNKFan
from
Invisible Protection
I had a sample tube in a SaceNK gift box, and have been using it for the last week. I like to wear foundation and eyeshadow, even in summer, so need a sunscreen that can be added to the daily routine without rolling or clogging. This ticks all those boxes. It is gentle enough for my rather oversensitive skin. Altogether a front runner for my next purchase.
Date published: 2021-05-04
Rated

5

out of

5
by
Ashli123
from
worth it
As a beauty junkie, I've tried all the cult suncream from Clarins, Caudalie, Thank you farmer; although this suncream is really expensive but it's worth every penny. It's lightweight, doesn't make you feel heavy or stickiness, also I don't see any whitest at all compared with previous reviews. The best thing I like about this is the statement of once time applying only. So I don't have to layer my suncream after every 3-4 hours anymore.
Date published: 2021-05-03
Rated

5

out of

5
by
PhoenixRising
from
A truly excellent facial SPF 50
I'm on my third bottle of Ultrasun 50. I use a vitamin C serum daily and retinol cream every night, so an spf 50 sunblock - and often a big hat - is a must for me. Plus I grew up in California, and love the warm sun, so I do have a tendency towards hyperpigmentation. This product leaves a fairly matte finish and is, on my normal skin, not greasy. I also use it on my neck, tops of ears, and decolletage. There's a handy guide of how much to use in the box instructions. No particular fragrance, and probably not an intended one, which is appreciated. I use an spf 30 in the dark UK winters. So the only thing I found is that when I used the end bit of last summer's bottle this year, it was a little white and greasy on my face, but when I opened and used a new bottle, it was non greasy, no white cast. So definitely use within the time specified.
Date published: 2021-04-30
Rated

4

out of

5
by
Kitty81
from
Everyday sun screen
This is a nice lotion texture which sinks well into the skin. It's hard to build up though so I'm not sure I'm using enough to give myself the full sun protection. No white cast which is good but sometimes pills, depending on the moisturiser I have on underneath.
Date published: 2021-04-05
Rated

5

out of

5
by
batseli
from
Fabulous
I really like this sun cream because it absorbs quickly and easily into my skin without leaving a white-cast! It did feel a little bit greasy on my skin, but you get that with almost every sun cream. It feels very lightweight on my skin and it sits nicely under my makeup.
Date published: 2021-03-28
Rated

2

out of

5
by
NishaU
from
Disappointing - white cast
I was very excited to try this deluxe sample which I received from a GWP offer. I am someone who wears SPF50 most days and am always on the look out for a good value option. Sadly, this isn't it. It felt greasy on my combination skin and left a rather visible white cast which was extremely disappointing. I don't wear make up these days so it was very visible on my Asian skin. Not a good look! I have found some great alternatives via Space NK and will stick to those.
Date published: 2021-03-26
Rated

5

out of

5
by
cc1990
from
Protective and Non-Irritating
I really trust Ultra Sun products and I rebuy them every summer. The facial suncreams are non-irritating and I've never burned when using them. I really appreciate the texture of this cream as it is easily pumped out of the bottle and spreads easily which is not sticky. It's also good for throwing in your bag as the packaging is really sturdy.
Date published: 2021-03-17
Rated

5

out of

5
by
Skkk22
from
Best one
I initially tried this on a deluxe sample size and i have since repurchased several times. It sits perfectly under my foundation and doesn't flake like some other suncream have done. I will definitely continue to repurchase this product again once mine is finished.
Date published: 2021-03-02
Rated

5

out of

5
by
Xxtishxx
from
Nice product and inexpensive
I received this in the summer refresh box from space NK with my purchase. I use SPF everyday so was keen to try a different brand. I love the ISclinical brand, so this is my usual. This was also very good, lightweight and no white residue. I have sensitive skin and this worked well with my skin type.
Date published: 2021-02-25
Rated

5

out of

5
by
SabineT
from
Excellent for sensitive skin and glasses wearers.
Used up my sample and instantly repurchasing. This is a lightweight fluid formula but that does not affect how well it works. Sits well under foundation and does not flake. It can't be used on the eyes but did not run into my eyes, which I've had problems with in the past. It's a no brainer, this is brilliant.
Date published: 2021-02-17
Rated

4

out of

5
by
LadyViolet
from
Not keen
Finding the right balance of protection and correct consistency of an SPF is difficult. I wasn't keen on this Ultra sun 50. I felt it left my skin a bit too greasy, however my skin in dry/combination so can handle a little bit of grease without causing too many problems. I received this as a GWP and I will use it as I get through lots of SPF. Skinceuticals is far and away my favourite SPF ever.
Date published: 2020-12-07
Rated

5

out of

5
by
MariaMyLove
from
I have warn everyday for the past 5 years!
This is the best facial sunscreen on the market - in my humble opinion! Ok so I have not tried them all but I have tried many and honestly Ultrasun just do it best. I trust them and I trust their formulas. This doesnt have a white cast, sinks into skin nicely and doesnt cause breakouts (and site lovely under make up) Truly brilliant product
Date published: 2020-11-10
Rated

4

out of

5
by
lipstickaddict
from
lovely texture
I really enjoyed using this - I received a fairly small sample which I got through very quickly but would definitely buy more. For such a high SPF the texture is really good and it sinks in easily without the annoying chalky feeling you often get from an SPF - really good!
Date published: 2020-10-29
Rated

5

out of

5
by
Hanna 86
from
Great!
Ultrasun as a brand are my favourite for SPF and sun protection. Their formulas are great and don't need constant reapplication. I've not noticed any sunburn since using their products, which can happen quite easily for me. I've also not noticed any damage since using the face products. The only feedback would be to leave less of a sheen but I think that can be quite difficult to do when trying to have enough protection
Date published: 2020-10-19
Rated

4

out of

5
by
MitchScott
from
Effective
As a face sunscreen, this is effective. You need to be careful how much you use if you don't want to be left with a slight white caste. Received a delux sample as part of the summer GWP so it was a perfect time to try it. I really don't like the feeling of sunscreen on my face but grin and bear as I know how necessary it is. Face SPF 50+ provided the necessary protection over the summer but ended up using it only on make-up free days. I've oily skin and found applying make-up over just didn't work (I don't even wear a lot of make-up). My skin felt oilier and the make-up slid off. When it was really hot and humid, putting it on made me sweat immediately so had to resort to a fan to cool my face down and that seemed to work. I'm still struggling to find the perfect face sunscreen for me but on the whole this was good.
Date published: 2020-10-08
Rated

5

out of

5
by
AmyJo
from
Reliable protection with one application
I have struggled finding an spf I really like, it's essential for me as I'm fair and use retinol. I really trust ultra sun and have never had any sign of redness or burning from it even with just one application. It dispenses the right amount which seems a lot but it does soak in. It's very slightly sticky but I feel this happens with sun protection. It's doesn't sting my eyes or smell horrible which is a bonus. My concealer goes on well over the top and doesn't pill, I also mix in a bit of liquid bronzer which just gives a hint of colour and avoids a white cast which sun protection can give.
Date published: 2020-09-22
Rated

4

out of

5
by
AlexandraS
from
Really good SPF if you can handle a white cast
I really loved the texture of this SPF, it is very lightweight and you can soread it thin enough. It is not at all greasy, however it does leave a (temporary) white/roseish cast on the skin, so take that as you will. It dissappears after a short while and it is recommended to wait, as it might also pill a bit if you add other products after it. I do consider repurchasing it.
Date published: 2020-09-09
Rated

5

out of

5
by
Anonymous
from
Wonderful for my skin
I get terrible pigmentation so had to start wearing a really strong sun screen which i was worried about on my already oily skin, but this stuff is great, it can be worn under or over foundation, doesnt gather and run off and is non oily its a really great SPF and well worth it.
Date published: 2020-09-03
Rated

5

out of

5
by
jojocora
from
Great Suncream
I have really enjoyed using this sun cream over the last few weeks. I find that this sun cream absorbs easily into my skin without leaving a white cast and it feels very light-weight on my face. I also enjoyed that this sun cream sat well under make up.
Date published: 2020-09-03
Rated

4

out of

5
by
Swsw
from
Underwhelming
I'm not sure if the version I have is slightly old (I think sunscreens are more effective the fresher they are) but I don't like the texture of this cream as it doesn't sink into the skin that well. It also has a white cast, which isn't awful but is still slightly noticeable. It's not so bad I wouldn't use this until it's finished but I probably won't repurchase.
Date published: 2020-09-01
Rated

4

out of

5
by
Star27
from
Great Facial Sunscreen!
I got a deluxe sample size of this with a recent GWP from Space NK. This is a really good SPF for face, being factor 50 I was expecting it too feel really thick or sticky. This sits really well under make up. I'm quite fair but I use acne treatments, chemical exfoliants, retinoids and vitamin C which can make the skin sensitive to sun so I like to use a highly spf as part of my everyday skincare routine. I think this a great price point too.
Date published: 2020-08-31
Rated

5

out of

5
by
Vi82
from
Great, high factor spf
I've used the factor 30 version about this for ages. Given that I've got very fair skin I know I should always use factor 50 but it usually makes me break out and leaves my skin looking horrible. I was really surprised that this didn't at all. It's still a great, liquid texture that protects without clogging up the skin. Make up sits nicely on top and I didn't burn once while using this. Would buy again and would recommend.
Date published: 2020-08-24
Rated

5

out of

5
by
KarlaLou3
from
as good as the spf 30
I love the sof 30 face sun tan lotion and have been using it for a while but i was a bit wary about trying the higher factor but given the weather I thought i should use a higher factor. This sinks in well, doesn't clog pores, doesn't make skin look greasy and make up sits well on top of it.
Date published: 2020-08-02
Rated

5

out of

5
by
London Girl 27
from
Exactly what I need over the summer
I have fair sensitive skin and the sun usually just burns me so I need something to protect me that i can rely on. This is exactly what I need and take the smaller size on holidays and leave in my bag for day to day and use the full size at home every morning. This is great, doesn't leave a greasy feeling and smells good too! It's a must!
Date published: 2020-07-31
Rated

4

out of

5
by
Jen81
from
Sensitive Skin Safe
I got a deluxe size of this recently and used for my morning walks. It applies easily, no white caste that needs a load of rubbing in. I have combo skin and applied to freshly cleansed skin and it felt hydrated for the 1 - 2 hours that it was left on my skin. I have seen more issues with causing sensitivity which is the main thing I look for and its really much lighter texture wise than other SPF50's This is definitely one I will pick up in the future, at a really good price point too
Date published: 2020-07-29
Rated

4

out of

5
by
smarta
from
Good sunscreen, leaves a slight white cast on me though
I recently got a deluxe size of this in a Beauty Bag. I quite like it, it dries quickly and sits well under make up, but could not replace my favourite from the Ultrasun brand, which is Face SPF30. It leaves a slight white cast on me though, probably wouldn't purchase on my own.
Date published: 2020-07-28
Rated

5

out of

5
by
julia84
from
Super
Perfect sun protection for my sensitive skin! The light texture is quickly absorbed, leaving no stickiness. You can use it as a base for makeup. It moisturizes well, provides long-term protection from the sun and protects the skin from aging. I recommend it!
Date published: 2020-07-25
bvseo_sdk, dw_cartridge, 18.2.0, p_sdk_3.2.0
CLOUD, getReviews, 84ms
reviews, product