IN FOCUS
The Complete Guide To Niacinamide Skin Benefits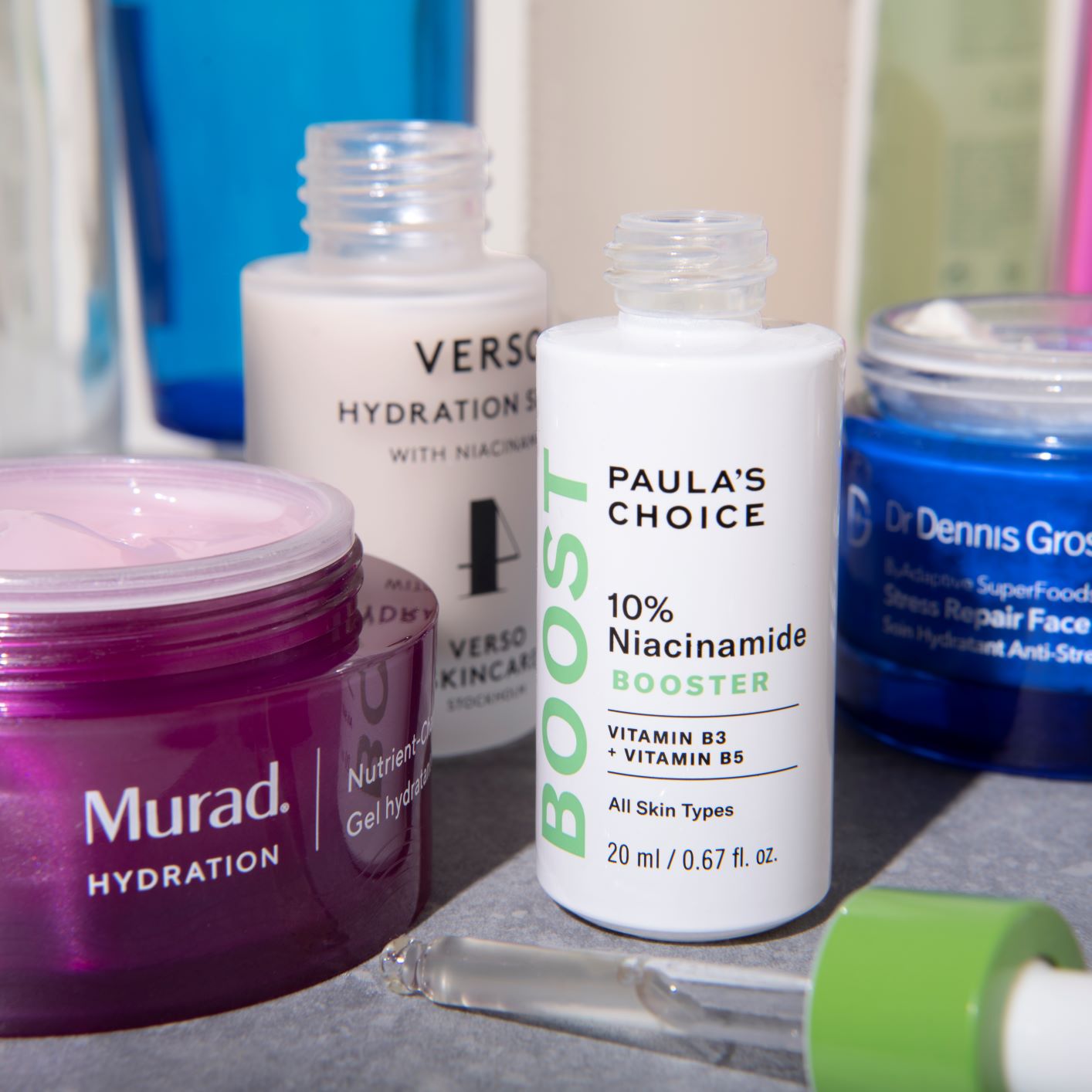 When it comes to shopping for new skincare, most of us will consider our skin type and concern, our budget (there are plenty of fabulous beauty products under £15 these days), and increasingly, specific ingredients that we've heard about from friends and colleagues. Roll back a few years and almost no one talked about niacinamide, let alone asked 'what does niacinamide do?'. Our intrigue was largely focused on the hydrating powers
hyaluronic acid
, the brightening benefits
vitamin C
and of course, the skin-smoothing results
retinol
can offer.
While niacinamide might not have been on our radars, plenty of cosmetic scientists have been busy adding the ingredient into creams and serums and it's very likely that you've been reaping the rewards without realising. If you battle with breakouts or have sensitive skin, your dermatologist might have briefly mentioned it. For most of us though it wasn't until The Ordinary burst onto the skincare scene in 2016 with a range of ingredient-focused serums, one of which was
Niacinamide 10% + Zinc 1%
, that we started to pay attention to the ingredient's skin strengthening and pore perfecting potential. Since then, skinfluencers on YouTube, including
Hyram Yarbro
, and dermatologists have been waxing lyric about niacinamide skin benefits. If you want to know what it is and how often you should use niacinamide, read on…
WHAT IS NIACINAMIDE?
Niacinamide is a derivative of niacin (vitamin B3). "Niacinamide is a vital part of your diet, required throughout life to maintain health. It's found in foods such as grains, fish, meat, and beans in the form of niacin and is then converted into niacinamide," explains Paula Begoun, founder of Paula's Choice. "Not much of the niacinamide we consume from foods or supplements makes its way to our skin. Therefore, topical application is a great way to get its numerous skin benefits."
BENEFITS OF NIACINAMIDE FOR SKIN
"When applied topically, niacinamide enhances moisture levels, improves texture and helps to strengthen and repair your skin barrier," says Dr. Murad, dermatologist and founder of Murad Skincare. It's the latter that gives niacinamide serious kudos among dermatologists.
"The stress of modern living combined with the environmental aggressors around us can play havoc on our skin. This leads to premature ageing, pigmentation, irritation and breakouts," explains Dr. Murad. Studies have shown that niacinamide helps to ease fine lines and wrinkles over time. "It also has the ability to soothe skin by strengthening the barrier," adds Dr. Murad A strong, healthy barrier helps to lock-in moisture and keep bad bacteria out. It also helps to minimise inflammation, which is often an underlying cause of many skin issues. If you regularly battle with breakouts niacinamide's anti-bacterial benefits will help to rebalance your oil production, ease congestion and refine your pores.
SIDE EFFECTS OF NIACINAMIDE
Niacinamide is one of the very few ingredients that has next-to-no side effects and really is a universal crowd-pleaser. "Everyone can achieve great results whether they have dry skin, oily skin, acne, signs of aging, skin discolorations, or clogged pores," Paula confirms. "Personally, I use the water-light Paula's Choice 10% Niacinamide Booster, £46. It can be mixed in with other products without noticing you've added an extra step to your routine."
HOW TO USE NIACINAMIDE IN YOUR SKINCARE ROUTINE
As we mentioned, niacinamide is likely to feature somewhere in your routine already. For example, contains it to help boost moisture levels, but niacinamide isn't mentioned in the product name. Check the ingredients list on the back of your products for niacinamide or vitamin B3.
There is a rumour that niacinamide and vitamin C shouldn't be used together, but BeautyStat founder Ron Robinson dispelled this skincare myth for us and IT Cosmetics Bye Bye Dark Spots Niacinamide Serum, £21 blends 4% niacinamide with 1% vitamin C to lift pigmentation. In terms of where niacinamide slots into your routine, we recommend using it after cleansing and toning before your usual treatments. Wait until the formula has fully absorbed before using your moisturiser or SPF.
Our Favourite Niacinamide Products
Not sure which niacinamide serum or cream to opt for? We asked the team to outline the three formulas that they recommend to their friends...
You've heard about the benefits and now you want the maximum dose of niacinamide available? Don't ponder this purchase for too long as Paula's Choice Niacinamide 20% Treatment regularly sells out. It's a fantastic option for anyone who is concerned about the appearance of pores, sun damage or sagging.
Allies of Skin is a brand that rarely launches a new product, so when it does you know its going to be good. This prebiotic and niacinamide booster is brimming with nourishing and rebalancing ingredients that help to strengthen your skin barrier, refine pores and ease pigmentation. You can use it as part of your morning and evening routine.
The Ordinary Niacinamide 10% + Zinc 1% serum was always going to be in our edit of the best niacinamide products. Blended with zinc salts, this serum is a very good at calming inflammation and rebalancing oily skin to squash impending breakouts. Our head of editorial, Liz Hambleton has tried plenty of products in her time at Space NK and previously when she worked as beauty director at Grazia and swears by this particular niacinamide serum.
Verdict On Niacinamide Skin Benefits
The chat around niacinamide skin benefits is largely focused on curbing oily skin and refining pores, but we would recommend almost everyone incorporates it into their routine. A strong skin barrier is essential for a healthy, radiant complexion and using a niacinamide serum regularly can help strengthen yours. For us, it's up there with hyaluronic acid and we all remember the first time with used a HA serum and were blown away with the smooth, soft results.
Read More:
• The Amazing Benefits Of Castor Oil For Skin
• What Is Witch Hazel And How Should I Use It?
• Clay Mask Benefits And How To Find The One For You
• What Does Azelaic Acid Do And How Should I Use It?
• Rosehip Oil Skin Benefits Explained