SPACE SESSIONS
Tiffany Masterson On Her Overnight Problem Solvers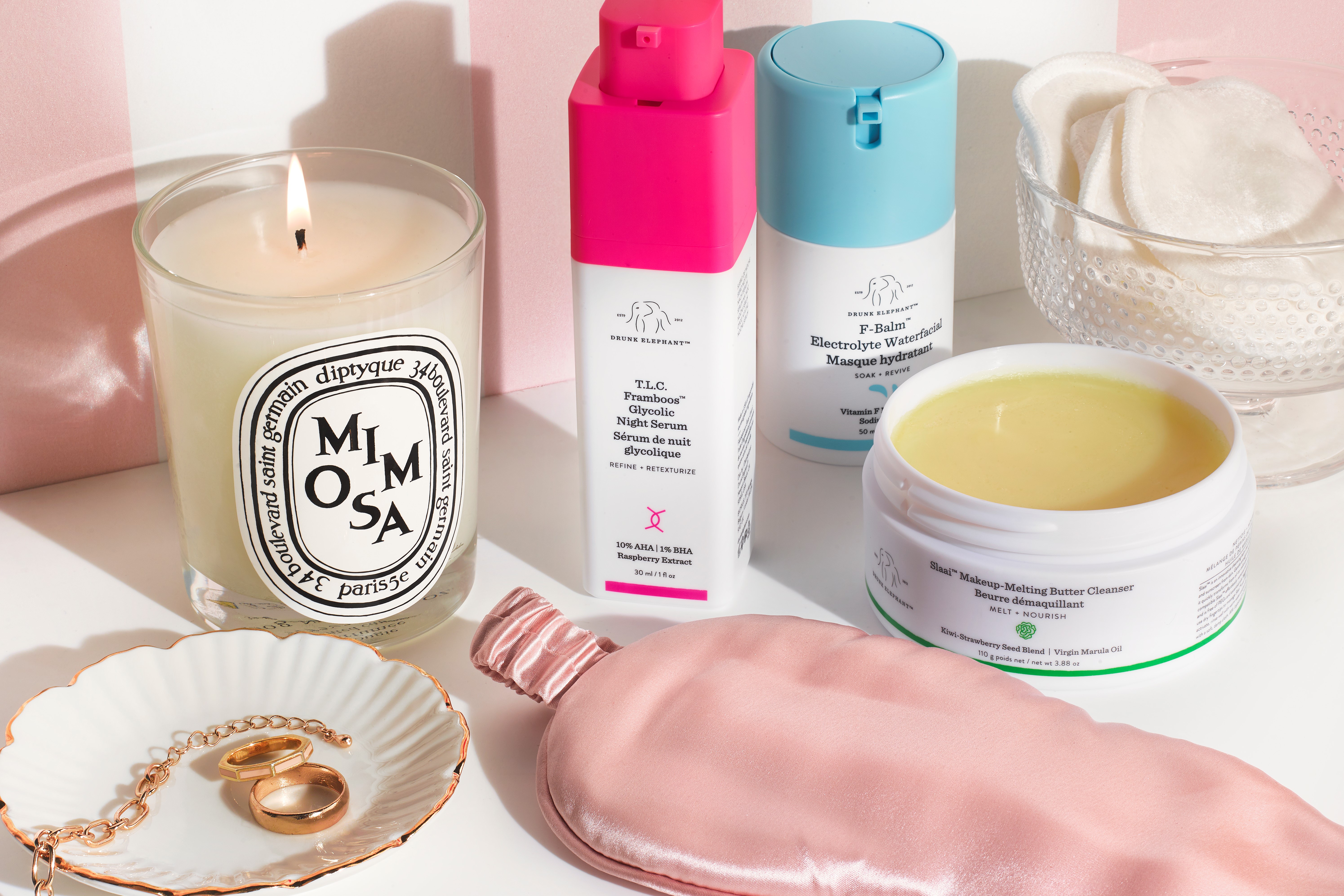 She's the woman behind one of the most successful skincare brands of the moment, so who better to ask about night-time skin routines than Drunk Elephant founder, Tiffany Masterson?
In 2012, Tiffany changed the skincare landscape when she launched a handful of hard-working formulas encased in punchy packaging. Over the past nine years, Drunk Elephant has gone from strength to strength and you'd be hard-pressed to find a beauty expert or editor who doesn't use at least one Drunk Elephant product in their daily routine. What is the brand's secret? Tiffany says it's down to ruling out the 'Suspicious Six' ingredients, including essential oils, drying alcohols, chemical screens, fragrances/dyes, silicones and SLS. To celebrate the launch of the , we caught up with Tiffany to find out more about her overnight skincare routine.
My Evening Skincare Staples
At night I cleanse with Drunk Elephant Slaai Makeup Melting Butter Cleanser, £ 34,00 if I'm wearing eye makeup, or Beste No. 9 Jelly Cleanser if not. After I've cleansed, I apply a mix of , Protini Polypeptide Cream, Drunk Elephant F-Balm Electrolyte Waterfacial Hydrating Mask, £ 47,00 and our Drunk Elephant Virgin Marula Luxury Facial Oil, £ 35,00. I always customise based on my skin's mood. Some days my skin feels dryer than others, so I listen to it and tweak my moisturiser depending on what my complexion needs.
Skincare Smoothies Save You Time
My overall skincare goal (morning or evening) is to keep it short and efficient. I get so tired and when it's time, I just want to get to bed. Drunk Elephant fans will know that my go-to technique is to make skincare smoothies! Because there are no silicones, heavy oils or waxes to interfere with absorption, you can mix any of the Drunk Elephant serums, moisturisers or oils and apply them all at the same time, similar to the way we combine ingredients for a morning smoothie. They're all going the same place so there's no need to layer any of the products. Plus, after a long day, mixing several formulas together saves you so much time too. It's so easy and effective to do it this way. Try it this evening and you'll never look back, I promise.
My Overnight Skincare Fixes
If your skin is feeling dry and tired, I highly recommend combining Drunk Elephant Virgin Marula Luxury Facial Oil, £ 35,00 with Drunk Elephant A-Passioni Retinol Cream, £ 26,00 to give your skin a nourishing, renewing boost. For those who can feel a breakout pending, Drunk Elephant F-Balm Electrolyte Waterfacial Hydrating Mask, £ 47,00 and can be game-changing. The balance of acids in T.L.C. Framboos helps to ease congestion and brighten, while the hyaluronic acid in F-Balm keeps your skin hydrated. If it's a stress-induced breakout, I recommend a hot bath and cup of tea with lemon too!