UK200036293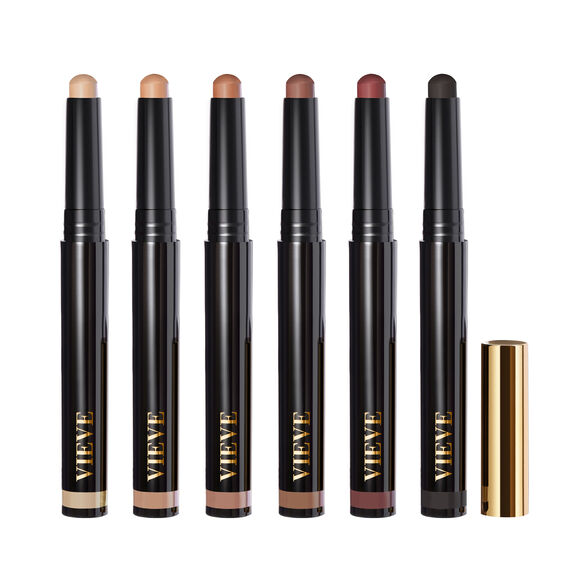 Pinch to zoom Double click to enlarge
Pinch to zoom Double click to enlarge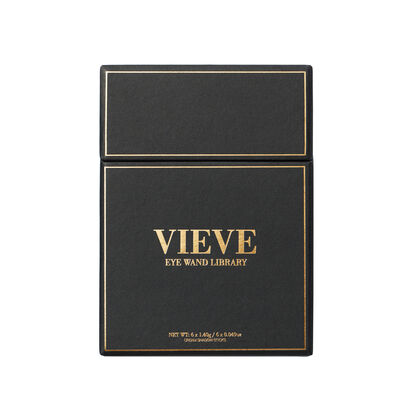 Pinch to zoom Double click to enlarge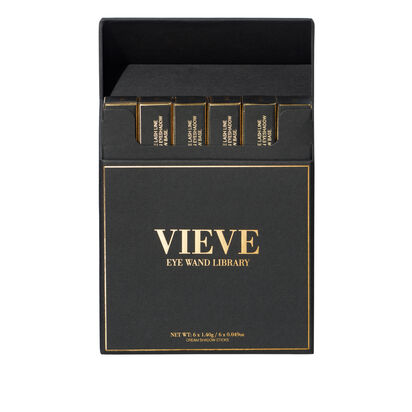 Pinch to zoom Double click to enlarge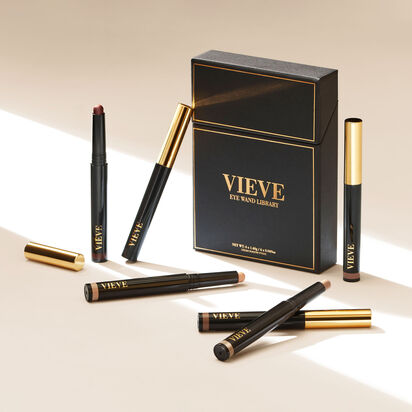 Pinch to zoom Double click to enlarge





Transform the eyes in moments with the VIEVE Eye Wand Library, a collection of multi-tasking eyeshadows that is easy to apply, helping to effortlessly create an endless variety of looks.
This innovative makeup product acts as a primer as well as an eyeshadow to colour and shape the eyes. The highly pigmented formula comes in a selection of neutral tones that can be worn alone, blended together or paired with other eyeshadows to create looks varying from a subtle, natural appearance to a glamourous smoky eye.
The creamy formula of this vegan-friendly eyeshadow stick glides easily over the skin, helping even a makeup novice apply it with the effortless flare of a pro. Providing time to blend for the desired effect, it dries to a long-lasting matte finish.
The set includes all six full-size Eye Wands:
VANILLA: The creamiest of vanilla shades, consider this the perfect blank canvas for fair skin or to add brightness to deeper skin tones.
SAND: A sandy pink, that when worn alone, creates a subtle shadow on fairer skin or can be used as a base on deeper skin tones where the pinky undertone will prevent an ashy finish.
CAMEL: This deep desert beige is the perfect one-and-done hero for all skin tones.
HAZELNUT: A mauve-tinted brown that will flatter any eye colour, giving depth and warmth when worn alone, or a more sumptuous smoky eye when layered up.
MAHOGANY: With rich reddish-brown undertones, this is the perfect base shade for deeper skin tones and can be used to contour and shape the eye on fairer tones.
RAVEN: A true black that's perfect for smoky eyes or used with a brush for a winged liner.
Key Benefits
Innovative creamy formula
Provides time to blend before drying
Leaves a smooth matte finish
Versatile product for creating a myriad of effects
Primes, colours and shapes the eyes
Highly pigmented neutral tones
SKU# UK200036293
ALL VIEVE PRODUCTS ARE 100% VEGAN AND CRUELTY FREE. VANILLA EYE WAND INGREDIENTS: CYCLOPENTASILOXANE, TRIMETHYLSILOXYSILICATE, POLYETHYLENE, OCTYLDODECANOL, OZOKERITE, SYNTHETIC BEESWAX, METHYL METHACRYLATE CROSSPOLYMER, STEARALKONIUM HECTORITE, ALUMINUM HYDROXIDE, PHENOXYETHANOL, TOCOPHEROL, ROSA CANINA FRUIT OIL, BUTYROSPERMUM PARKII (SHEA) BUTTER, SILICA, THEOBROMA CACAO (COCOA) SEED BUTTER, TRIETHOXYCAPRYLYLSILANE, WATER, BUTYLENE GLYCOL, ANTHEMISNOBILIS FLOWER EXTRACT, MICA [+/-] TITANIUM DIOXIDE (CI 77891), IRON OXIDES (CI 77492, CI77491, CI 77499), MANGANESE VIOLET (CI 77742), ULTRAMARINES (CI 77007). SAND EYE WAND INGREDIENTS: CYCLOPENTASILOXANE, TRIMETHYLSILOXYSILICATE, POLYETHYLENE, OCTYLDODECANOL, OZOKERITE, SYNTHETIC BEESWAX, METHYL METHACRYLATE CROSSPOLYMER, STEARALKONIUM HECTORITE, ALUMINUM HYDROXIDE, PHENOXYETHANOL, TOCOPHEROL, ROSA CANINA FRUIT OIL, BUTYROSPERMUM PARKII (SHEA) BUTTER, SILICA, THEOBROMA CACAO (COCOA) SEED BUTTER, TRIETHOXYCAPRYLYLSILANE, WATER, BUTYLENE GLYCOL, ANTHEMISNOBILIS FLOWER EXTRACT, MICA [+/-] TITANIUM DIOXIDE (CI 77891), IRON OXIDES (CI 77492, CI77491, CI 77499), MANGANESE VIOLET (CI 77742), ULTRAMARINES (CI 77007). CAMEL EYE WAND INGREDIENTS: CYCLOPENTASILOXANE, TRIMETHYLSILOXYSILICATE, POLYETHYLENE, OCTYLDODECANOL, OZOKERITE, SYNTHETIC BEESWAX, METHYL METHACRYLATE CROSSPOLYMER, STEARALKONIUM HECTORITE, ALUMINUM HYDROXIDE, PHENOXYETHANOL, TOCOPHEROL, ROSA CANINA FRUIT OIL, BUTYROSPERMUM PARKII (SHEA) BUTTER, SILICA, THEOBROMA CACAO (COCOA) SEED BUTTER, TRIETHOXYCAPRYLYLSILANE, WATER, BUTYLENE GLYCOL, ANTHEMISNOBILIS FLOWER EXTRACT, MICA [+/-] TITANIUM DIOXIDE (CI 77891), IRON OXIDES (CI 77492, CI77491, CI 77499), MANGANESE VIOLET (CI 77742), ULTRAMARINES (CI 77007). HAZELNUT EYE WAND INGREDIENTS: CYCLOPENTASILOXANE, TRIMETHYLSILOXYSILICATE, POLYETHYLENE, OCTYLDODECANOL, OZOKERITE, SYNTHETIC BEESWAX, METHYL METHACRYLATE CROSSPOLYMER, STEARALKONIUM HECTORITE, ALUMINUM HYDROXIDE, PHENOXYETHANOL, TOCOPHEROL, ROSA CANINA FRUIT OIL, BUTYROSPERMUM PARKII (SHEA) BUTTER, SILICA, THEOBROMA CACAO (COCOA) SEED BUTTER, TRIETHOXYCAPRYLYLSILANE, WATER, BUTYLENE GLYCOL, ANTHEMISNOBILIS FLOWER EXTRACT, MICA [+/-] TITANIUM DIOXIDE (CI 77891), IRON OXIDES (CI 77492, CI77491, CI 77499), MANGANESE VIOLET (CI 77742), ULTRAMARINES (CI 77007). MAHOGANY EYE WAND INGREDIENTS: CYCLOPENTASILOXANE, TRIMETHYLSILOXYSILICATE, POLYETHYLENE, OCTYLDODECANOL, OZOKERITE, SYNTHETIC BEESWAX, METHYL METHACRYLATE CROSSPOLYMER, STEARALKONIUM HECTORITE, ALUMINUM HYDROXIDE, PHENOXYETHANOL, TOCOPHEROL, ROSA CANINA FRUIT OIL, BUTYROSPERMUM PARKII (SHEA) BUTTER, SILICA, THEOBROMA CACAO (COCOA) SEED BUTTER, TRIETHOXYCAPRYLYLSILANE, WATER, BUTYLENE GLYCOL, ANTHEMISNOBILIS FLOWER EXTRACT, MICA [+/-] TITANIUM DIOXIDE (CI 77891), IRON OXIDES (CI 77492, CI77491, CI 77499), MANGANESE VIOLET (CI 77742), ULTRAMARINES (CI 77007). COFFEE EYE WAND INGREDIENTS: CYCLOPENTASILOXANE, TRIMETHYLSILOXYSILICATE, SYNTHETIC FLUORPHLOGOPITE, POLYETHYLENE, OCTYLDODECANOL, OZOKERITE, SYNTHETIC BEESWAX, METHYL METHACRYLATE CROSSPOLYMER, STEARALKONIUM HECTORITE, TRIETHOXYCAPRYLYLSILANE, PHENOXYETHANOL, TOCOPHEROL, ROSA CANINA FRUIT OIL, BUTYROSPERMUM PARKII (SHEA) BUTTER, SILICA, THEOBROMA CACAO (COCOA) SEED BUTTER, ALUMINUM HYDROXIDE, AQUA/WATER/EAU, BUTYLENE GLYCOL, ANTHEMIS NOBILIS FLOWER EXTRACT, [+/- TITANIUM DIOXIDE (CI 77891), IRON OXIDES (CI 77491, CI77492, CI 77499)]. ESPRESSO EYE WAND INGREDIENTS: CYCLOPENTASILOXANE, TRIMETHYLSILOXYSILICATE, POLYETHYLENE, OCTYLDODECANOL, OZOKERITE, SYNTHETIC FLUORPHLOGOPITE, SYNTHETIC BEESWAX, METHYL METHACRYLATE CROSSPOLYMER, STEARALKONIUM HECTORITE, TRIETHOXYCAPRYLYLSILANE, PHENOXYETHANOL, TOCOPHEROL, ROSA CANINA FRUIT OIL, BUTYROSPERMUM PARKII (SHEA) BUTTER, SILICA, THEOBROMA CACAO (COCOA) SEED BUTTER, AQUA/WATER/EAU, BUTYLENE GLYCOL, ANTHEMIS NOBILIS FLOWER EXTRACT, [+/- IRON OXIDES (CI 77491, CI77492, CI 77499)]. RAVEN EYE WAND INGREDIENTS: CYCLOPENTASILOXANE, TRIMETHYLSILOXYSILICATE, POLYETHYLENE, OCTYLDODECANOL, OZOKERITE, SYNTHETIC BEESWAX, METHYL METHACRYLATE CROSSPOLYMER, STEARALKONIUM HECTORITE, ALUMINUM HYDROXIDE, PHENOXYETHANOL, TOCOPHEROL, ROSA CANINA FRUIT OIL, BUTYROSPERMUM PARKII (SHEA) BUTTER, SILICA, THEOBROMA CACAO (COCOA) SEED BUTTER, TRIETHOXYCAPRYLYLSILANE, WATER, BUTYLENE GLYCOL, ANTHEMISNOBILIS FLOWER EXTRACT, MICA [+/-] TITANIUM DIOXIDE (CI 77891), IRON OXIDES (CI 77492, CI77491, CI77499), MANGANESE VIOLET (CI 77742), ULTRAMARINES (CI 77007). FILL WEIGHT: 1.40G / 0.049OZ