IN FOCUS
4 Easy Swaps To Make Your Beauty Routine More Sustainable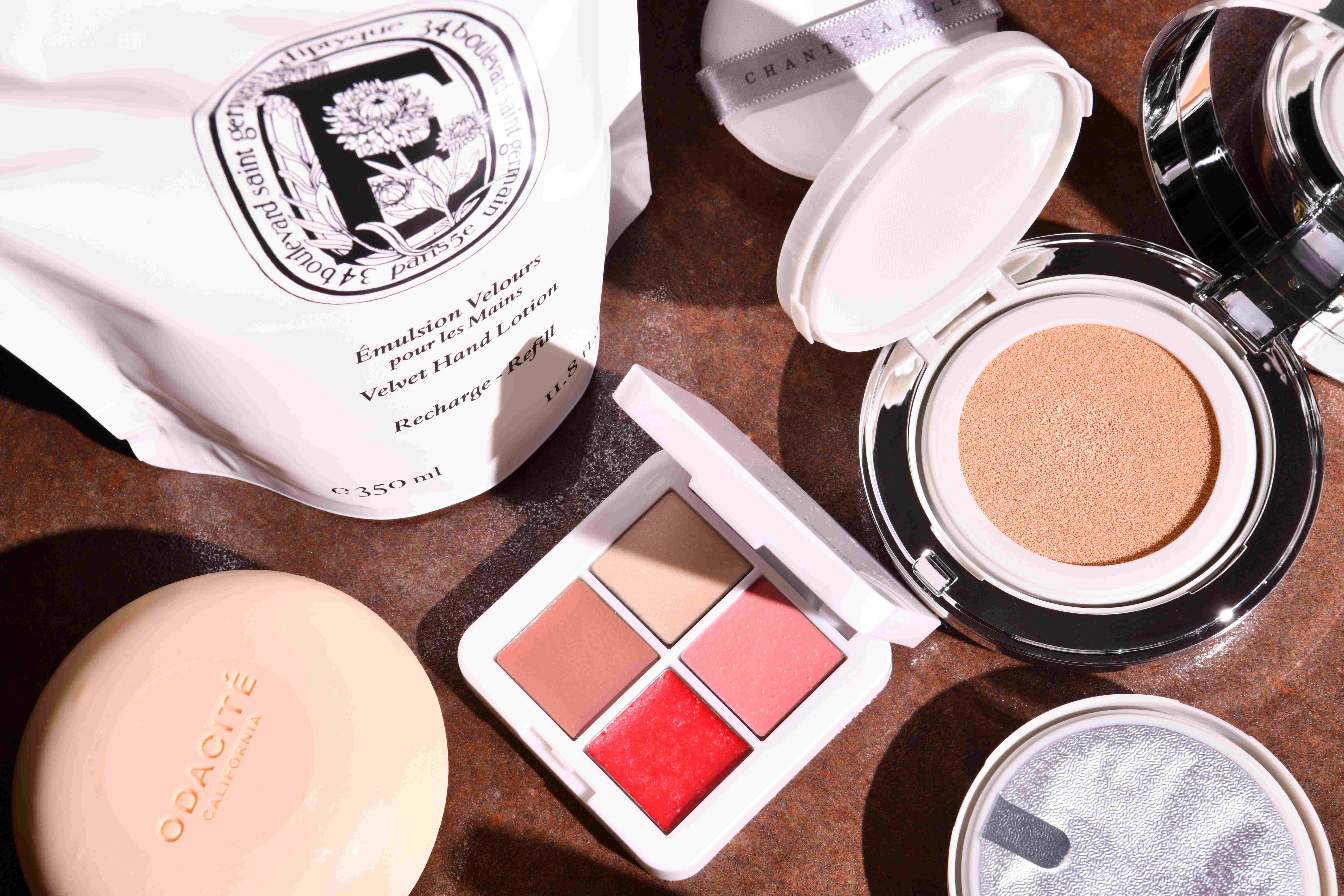 With so many planet-friendly beauty options available to us, it's easier than ever to practise conscious consumption and do what we can to act sustainably. And with many eco beauty products, it doesn't even feel like we're compromising. From solid, package-free shampoos that leave our hair in its best condition yet, to refillable options for our favourite day and night creams these eco swaps really do deserve a place in our beauty cabinets.
Now, we all have our cannot-live-without products, and for those who searched high and low for a favourite, only to discover its packaging is less than desirable for the planet. Here's Jayn Sterland, Chair of the Sustainable Beauty Coalition's advice: reduce, reuse, return. Either "don't buy it in the first place (reduce), re-use the packaging, or return to the industry through the instore recycling services," she tells us.
As part of our Better Space initiative we've teamed up with
Handle
help you with the 'return' part. It's an eco-first initiative which saves your product packaging from landfill and turns it into timeless beauty pieces. Want to get involved? Simply pop your empties into a Handle recycling bin (located at Space NK stores) and feel comforted knowing you've made a kind move. The best bit? You can still buy that favourite product, guilt free.
Ready to take a sustainable beauty step further? These simple tips from Jayn will help you on the path to eco-consciousness.
1. Go waterless
"Solid formulations like shampoo bars and shower soaps last longer, come in minimal packaging and have a much reduced carbon footprint," says Jayn. But if you're worried a switch to waterless beauty products will affect the quality, think again. For most products, it's literally a case of removing the water. "Solid products are just dense and concentrated versions of a liquid." Jayn explains. In fact, with more and more premium beauty brands choosing to switch to solids, you could see this eco swap as a chance to step up your routine.
Take Drunk Elephant Pekee Bar, £25.00 for instance - a perfectly ph-balanced sustainable skincare option, free from soap and artificial fragrances and loaded with natural nourishers like marula oil, blueberry extract and honey to leave skin feeling thoroughly cleansed and comfortable. What's not to love? Still wondering what really makes waterless such a sustainable beauty choice? Jayn explains it: "the great thing about solid products is we don't transport the water from manufacturer to home – just the sold ingredients themselves which saves on packaging and carbon," she tells us. "It costs a lot of money and carbon to transport water around the globe," Jayn adds.
2. Try refillables
Should you have a beloved bottle or two lying around, why not refill them? It's a must for that fancy soap dispenser in your guest bathroom, and everything from your shampoo bottles to cleansers, and even fragrances can get in on the refill action. Jayn approves. "Refill as and where you can," she says. "It seems crazy these days to buy a plastic bottle full of product and then throw the bottle away which almost certainly will end up in landfill. Not only has the bottle cost you money but it has a huge impact on the planet, nature and our health as the plastic becomes embedded into our eco-systems," she warns.
Here are just a few of the refillables we're loving right now.
3. Know your packaging
We assume that if it's plastic, it can be recycled. But that's not always true. In fact, "any item under 4mm cannot be recycled in the UK – as this is deemed too small and will drop through the recycling machinery," Jayn reveals. "Pumps cannot be recycled either, or refill pouch plastic currently cannot be recycled." So, what's a beauty lover to do? "Choose products packaged in aluminium tubes and glass," Jayne recommends. "These will get recycled as there is value in the materials – so it is economically viable to do this," she tells us.
Rose-Marie, founder of RMS Beauty agrees, "Since the brand's inception we have meaningfully packaged many of our products in recyclable glass jars," she tells us. It's also useful to know that "paper and cardboard can be composted too," adds Jayn.
Looking for an eco-friendly beauty alternative that chooses conscious packaging? Try these.
4. Buy less and buy better
It may seem obvious, but by being savvy about what we buy and why we buy it is an eco-step we should all be taking. That's where multitasking products come in. Combining the uses of our products can reduce our need for a product entirely. As Rose-Marie puts it, "they require you to have fewer products which in turn means less packaging." Take RMS Beauty Signature Set for example - its quad of colours and bar of balm can be used to nourish skin, add a pop of pink to lips, cheeks and eyes, and even highlight high points of the face, all in one palette. Don't be fooled by the name of a product either, makeup artists often repurpose the lipstick in their kit to create a creamy eyeshadow or blush, or even use eyeshadow to create a custom lip shade (when mixed with a balm or gloss), so why not get creative!
Here are some multitasking options to get you started.
READ MORE
• What Is Sensitive Skin?
• Morning Skincare Essentials • Latest New Beauty Product Launches
• How To Treat Hormonal Acne • How To Recycle With Handle