IN FOCUS
Bronzing vs Contouring: What's The Difference?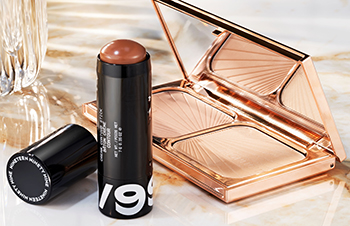 Chiselled cheekbones and a sun-kissed look are two of the most popular looks in the makeup world. A lot of the time, bronzing and contouring work hand in hand (or should we say cheek to cheek), complementing and overlapping each other.
But if you're one of the many people who find the lines between these two makeup techniques a little blurry, fear not, we've spoken to Space NK's Head Of Education Niamh Butler to help you understand the difference between contouring and bronzing, as well as some top tips for nailing each look.
What is bronzer?
Bronzer adds warmth to your complexion. Not sure where to apply bronzer? "It's simple – just think of where the sun would hit first on the face," says Niamh. "Apply on your cheekbones, blending up to the temples in a C shape to create a little dimension. Brush gently over the nose and down the neck. Start with less and build if needed." Worried you'll go overboard with your bronzing powder? Opt for a matte bronzer or bronzer stick, start slow and blend, blend, blend.
If you're using a bronzing powder, add a small amount of product to the brush (we love Laura Mercier Angled Cheek Contour Brush, £38.00) and lightly brush upwards onto your skin, building the your bronzed glow up slowly. If you're using a cream bronzer, try Chantecaille Sculpt Brush, £38.00, or the sponge of all sponges, the Beautyblender The Original Beauty Blender, £17.00.
What is contour?
Contouring is a way to add definition and structure to the face. "It's placed in areas we want to appear receded, therefore making facial structure appear sharper," explains Niamh. "The most common areas are under the cheekbones, down each side of the nose and under and along the jawline. The shade should be 1-2 shades darker than your skin tone and in a cool tone. This, and thorough blending, are key to making it look natural.
Contouring can also be done on your temples and forehead, but in this case consider your face shape. If you have a narrow face, applying contour to the temples emphasises this. If you have a small forehead, avoid using too much contour along the top, as this will make it look smaller."
Cream vs powder bronzer and contour
Choosing cream or powder bronzers and contours is entirely down to your personal preference and skin type. If you have oily skin, your complexion might respond better to powder formulas – but you can start with a cream formula and secure it with powder. If you have dry skin, you'll likely love both a cream contour and bronzer. And if your skin sits in the middle, a cream contour and powdered bronzer will work a treat.
What shade and tone is right for you?
While contouring products are usually cool-toned to appear as 'shadow' on the skin and create definition, bronzers should typically be warm-toned and, for a natural effect, one or two shades darker than your skin tone. But, as Niamh says, "there are no hard and fast rules in makeup, so a cool toned, matte bronzer also works."
"Bronzer is designed to warm the skin, but the undertones should still complement your skin tone. If we move too far away from our own shade, it will appear to sit on the skin rather than blending into the skin," explains Niamh. "Once you find the correct shade, blend, and blend again!"
Our final thoughts on bronzer vs contour
Bronzing and contouring are two great makeup techniques to sculpt and define, each serving their own purpose and working wonders together for a striking effect. So, don't feel like one is better than the other or that they're out of reach. "They work for everyone," says Niamh.
And to shake things up, why not try 'brontouring'? For those not on TikTok, it's contouring with your bronzer. "It's less precise and specific, so quicker to do and easier to achieve." says Niamh. "If you contour regularly, it's a great way to lighten your look this summer."
Read More
• Best Bronzers
• Is Cream Bronzer Better Than Powder? • The Best Highlighters For Every Skin Tone
• The Best Foundations for All Skin Types • Best BB and CC Creams