IN FOCUS
Why 'Barrier Building' Is The Biggest Skin Trend Right Now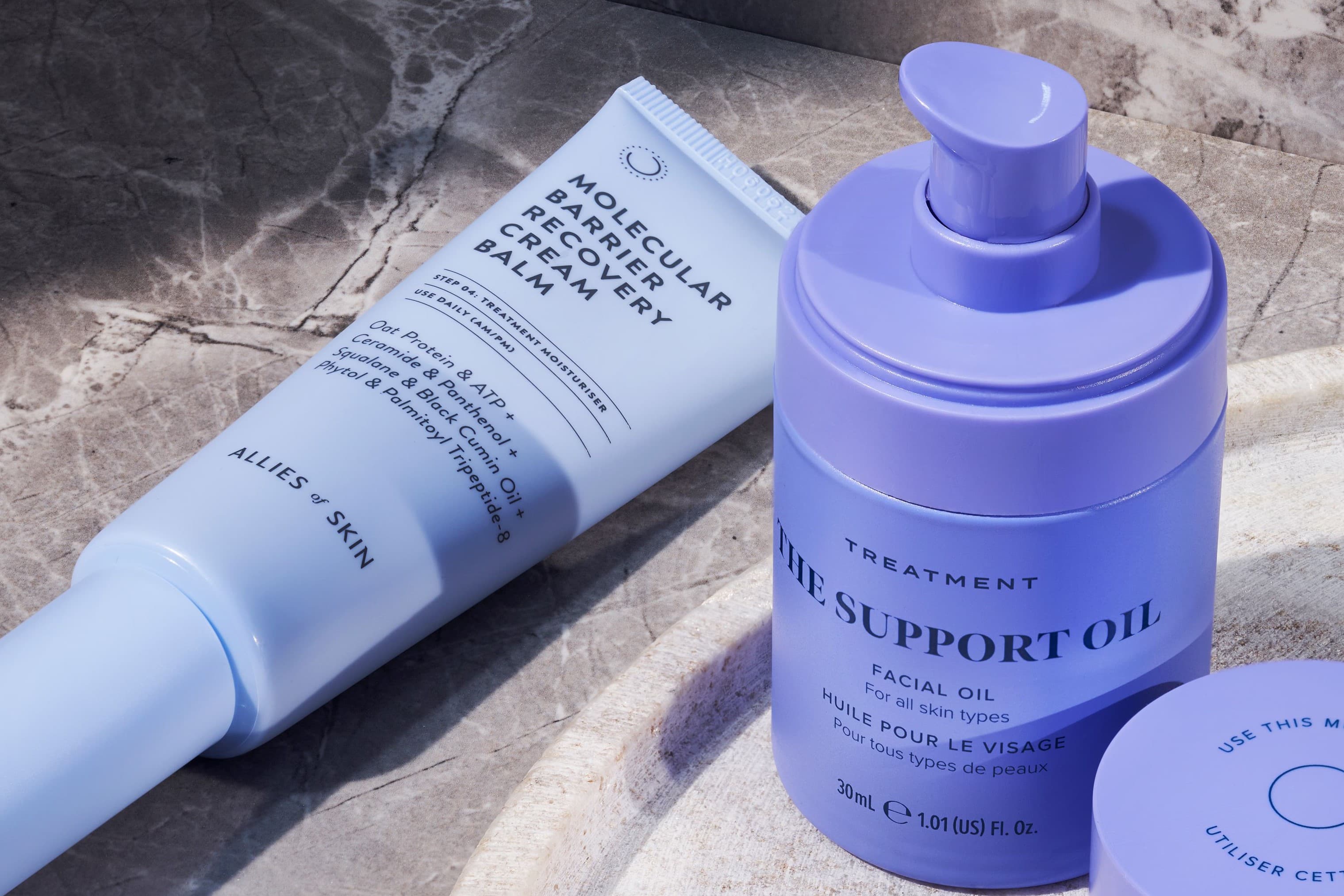 If you're thinking, "is it me, or has everyone become obsessed with skin barriers lately?" Well, you're not imagining it. The term skin barrier health has been catapulted into the beauty lexicon, and for good reason. You see it all started with the dreaded lockdown.
A time where, instead of twiddling our thumbs, we whittled away the evenings with Netflix and a 12-step skincare routine involving acids, scrubs and
retinoids
. The outcome? Your skin barrier, the outermost layer of the skin that's responsible for giving you a healthy glow, was suddenly peppered with dryness, fine lines and constellation of spots reminiscent of your teens.
"Even now, product overuse is a huge issue," believes consultant dermatologist
Dr Anjali Mahto
. Cue, not only a spark in conversation around damaged skin barriers, but also an influx of impressive barrier building skincare products. Here's everything you need to know about skincare's biggest skincare trend for 2023.
What is your skin barrier?
Let's get into it. First off, the technical term for your skin barrier is the stratum corneum. Secondly, "it's the outermost layer of your skin and the first layer of the epidermis. It's made of hardened dead skin cells that protect the skin cells below from environmental aggressors as well as keeping your skin hydrated," explains Caroline Hirons, founder of Skin Rocks.
Think of your skin barrier as formed in the same way as a gorgeous, tiled bathroom you've spotted on the gram. The skin cells (tiles) are held together by lipids (the grout) and together, "they do a stellar job at keeping out irritants such as free-radicals, bacteria and pollution as well as preventing water loss so that skin stays hydrated," explains Dr Thivi Maruthappu, consultant dermatologist and nutritionist.
What affects your skin barrier?
"The skin barrier is affected by active ingredients such as acids and retinol. They work to dissolve the dead skin cells and speed up cell turnover, revealing the healthy, cells underneath," says Dr Maruthappu. This is good news for those who are on quest to dial up their glow and minimise fine lines. However, if you're overenthusiastic with these ingredients, then you run the risk of corroding your skin barrier to such an extent that' its unable to do its job properly. When it becomes disrupted, external irritants enter and water loss increases, leaving you with an irritated, dehydrated, and sensitive complexion.
There are also other ingredients that can potentially lead to skin barrier damage, reveals aesthetic doctor, Dr Sophie Shotter: "overuse of vitamin C, fragranced products as well as essential oils can also impact skin barrier health and even skipping your moisturiser can be problematic." Finally, external factors can also play their role. Pollution, UV rays and dry climates can all cause damage to your skin barrier, as well as lack of sleep and stress.
How do you know if your skin barrier is damaged?
Tell-tale signs of a damaged skin barrier include redness, breakouts dryness or dullness. Dr Maruthappu adds that "if skin feels tight after cleansing, or stings when new skincare products are applied, that's a sure sign of damage. If you suffer from skin conditions such as rosacea or eczema, then flare-ups may become more frequent."
How can you repair a damaged skin barrier?
The good news is that repairing your damaged skin barrier is easily achievable. First up, strip your routine back, using only the basics and swerving the acids and retinols for the time being.
You know the brick wall we talked about earlier? Well, you need put some of the grout (lipids) back into your skin, in order to reinforce your barrier. "Focus on gentle cleansers and seek out moisturisers with barrier boosting ingredients such as glycerin, ceramides, hyaluronic acid and niacinamide to help replenish the skin barrier," advises Dr Maruthappu.
What are the best products to repair your skin barrier?
"The Skin Rocks The Support Oil, £ 60,00 is my go-to when my barrier is compromised, as it instantly calms, soothes and nourishes. The Skin Rocks Moisturiser is also available in fragrance free, so you can use this on top of The Support Oil for a double hit of hydration, and to condition the skin,' says Caroline.
Medik8 Clarity Peptides, £ 45,00 is a milky serum contains 10% niacinamide, which is a brilliant barrier supporting active, as well as zinc and peptides. It's a winner for those who have acne or skin that's prone to redness.
Kate Somerville DeliKate Recovery Serum, £ 80,00 is a cult product among skintellectuals, thanks to a blend of omegas ceramides that lock in moisture. Added cucumber seed oil also works to soothe and calm and irritated complexion.
A perfect addition to your morning routine, Paula's Choice Calm Repairing Serum, £ 36,00 is laced with hyaluronic acid to hydrate while beta glucan and ceramides nourish the skin barrier. Ideal for very dry skin skin types.
How long does it take to repair your skin barrier?
"It takes roughly 3-4 weeks for your skin barrier to recuperate," says Dr Maruthappu. You'll know because redness and breakouts will have abated and your skin will feel comfortable and soft to touch, rather than dry and tight.
Read More
• The Benefits of Peptides
• Can You Use Vitamin C With Retinol? • Everything You Need To Know About SPF
• Everything You Need To Know About Skin Flooding • What Is Sensitive Skin?