MOST WANTED
What Space NK's Flourish Hand Cream Smells Like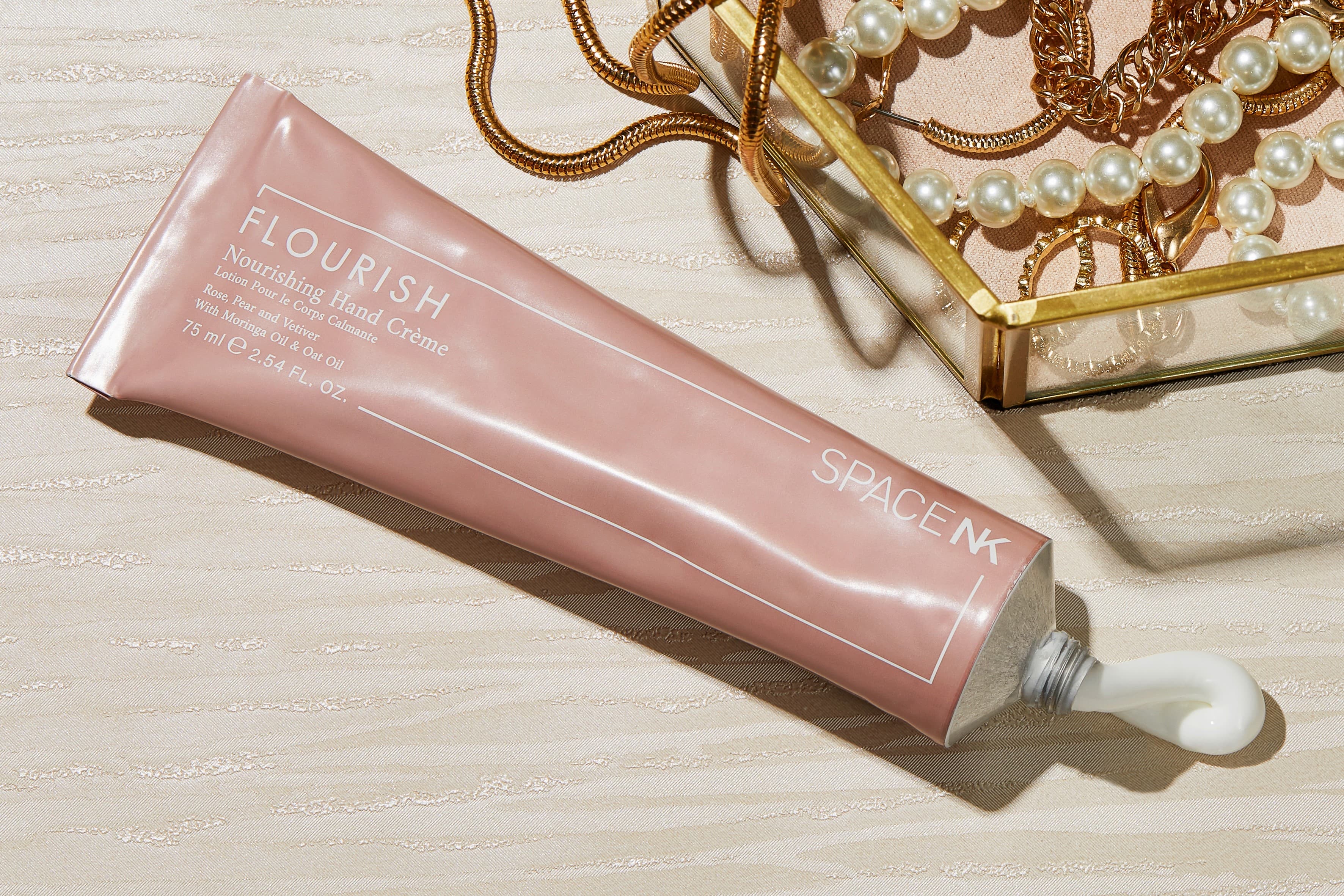 A good hand cream was a beauty essential long before March 2020, but post-pandemic it has become imperative to have one in your bag or by the sink. The
best hand creams
hydrate and nourish without leaving a greasy, slippery film. For the majority of us, they also come complete with an uplifting scent to take the angst out of stressful moments.
Having worked in the buying team at Space NK for a couple of years now, I am fully aware of the demand for hand cream, but even I was surprised by the success of
Rewild Hand Lotion, £14
and
Voyage Hand Lotion, £14
when we launched them last autumn. And the demand has continued to grow. As a result, Space NK's chief commercial officer, Margaret Mitchell decided to launch a hand crème as part of the newest addition to our hand and body range.
Having not been privy to the top-secret launch, I put my hand up to road test the new Flourish collection, in particular the
Enriching Hand Crème, £10
. Here is everything you need to know about the hand crème, including what Flourish really smells like, and the rest of the range…
Top Line On Space NK Flourish Enriching Hand Crème
With a fusion of rose, pear and vetiver notes, the Enriching Hand Crème smells delightfully fresh and floral. The scent is wrapped up in a rich moisturising formula that's neither sticky nor greasy. In a nutshell, if you are looking for serious hydration and love floral scents, you need this hand cream in your life. It also looks very chic in its pink, recyclable aluminium tube!
What Does Flourish Hand Crème Smell Like?
First and foremost, what does Flourish actually smell like? Well, I'd say it's like walking through a British garden in full bloom; think bountiful pink and white roses at their absolute peak with a whiff of pears ripe for the picking and just the slightest touch of earthiness courtesy of vetiver. Other Flourish formulas, such as , have a hint of elderflower extract to give you a refreshing burst of summer.
The Ingredients In Flourish Hand Crème
Flourish Enriching Hand Crème has more than just a pretty scent. Margaret wanted to ensure the formula hydrated and softened hands without leaving a greasy film and she succeeded with a little help from oat oil and shea butter. The two ingredients combined create a rich, moisturising hand cream is ideal that is ideal dry and sensitive skin types. I'd say it's particularly good for anyone who works with their hands and is looking to soothe dry, chapped skin.
Similar to the Space NK hand and body collection, the Nourish line-up contains adaptogenic ingredients that work on multiple levels. Moringa oil is the star ingredient in this formula and is rich in antioxidants, amino acids and vitamins to help hydrate and protect skin. It also helps to increase your resistance to stress, so it's a great one to have deskside.
Who Is Flourish Hand Crème Good For?
This has a slightly richer texture than the OG Space NK Hand Lotions, which makes it ideal for drier skin types, or anyone who spends a lot of time outside in the garden. Make no mistake, Flourish is very much a floral scent, so if you're not a fan of roses you might be better looking to Rewild or Voyage.
More On The Space NK Flourish Range
There is more than just the Enriching Hand Crème to this range. There is a , and so if Flourish is the floral scent of your dreams, you can embrace it from head to toe. Just like the rest of Space NK's hand and body range, the formulas are available as refills and the Body Crème comes in a sustainable aluminium tube.
Read More
• Latest New Beauty Product Launches
• What Is Sensitive Skin? • What Is Retinol?
• How To Treat Hormonal Acne • How To Recycle With Handle