MOST WANTED
Space NK's Verdict On The Fresh Serum Everyone's Talking About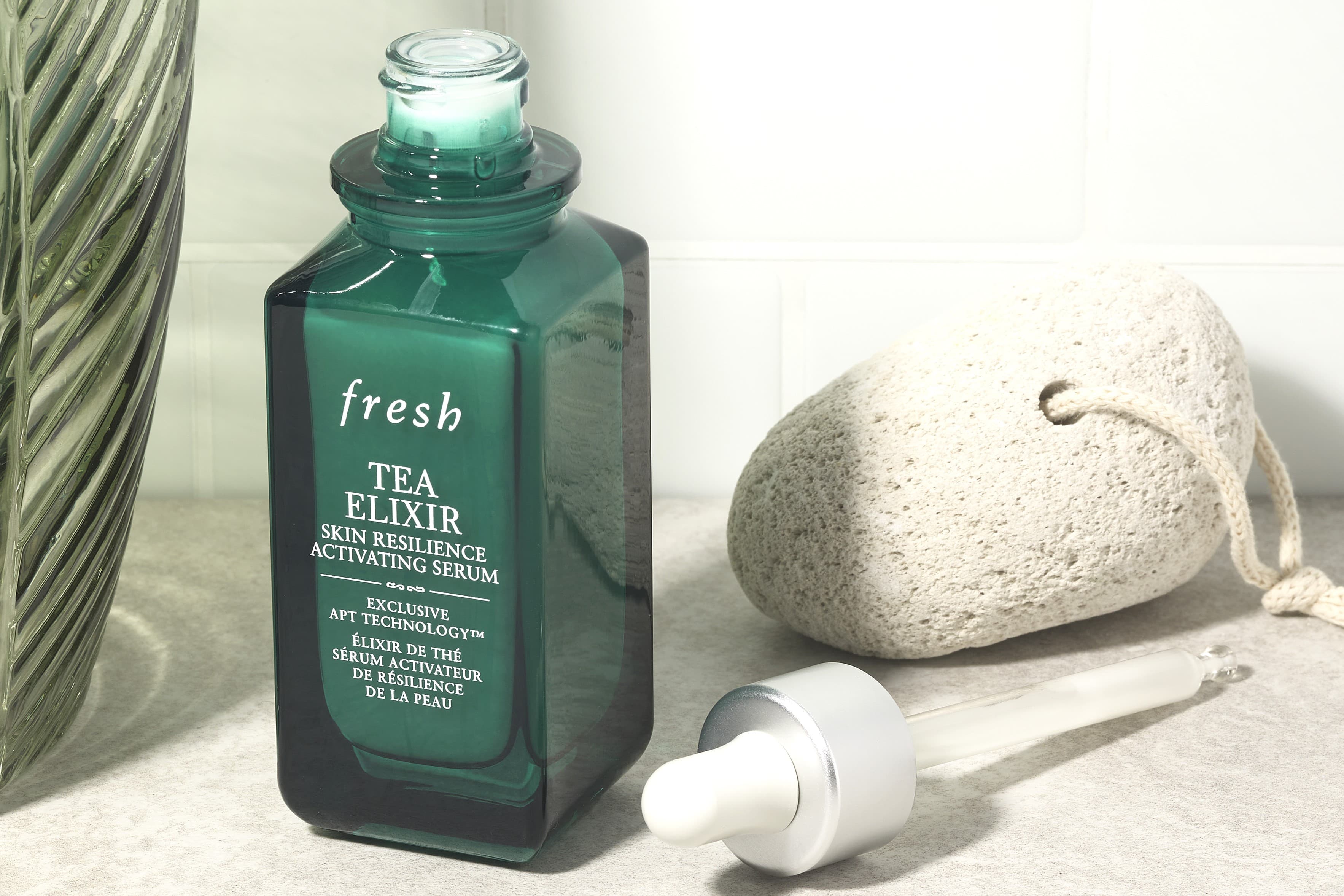 Whether you're devastated by an unexpected break up or just missed out on your dream job, whatever the problem is someone will often offer to put the kettle on. A good cup of tea has the power to solve many problems. According to
Fresh
, this power stretches to easing our skincare woes too.
Central to
Fresh Tea Elixir Skin Resilience Activating Serum
is a specific tea plant found in Mauritius that not only survived but thrived in volcanic soil in the country's tropical climate. Using over 30 years of plant genetics research, the scientists at Fresh were able to capture the resilience of the tea plant and incorporate it into the new serum, along with
niacinamide
,
hyaluronic acid
and ceramides. "For 15 years I've immersed myself in the world of tea researching this 'immortal health elixir' to untap its potential," explains Fresh co-founder Lev Glazman. "This obsession led to the discovery of an adaptive tea plant growing in unlikely conditions on the island of Mauritius. With a patented extraction process, we're able to extract its adaptive phytocompounds for our exclusive APT Technology™. This serum captures the resilient power of this plant in a modern, silky texture, with a scent that evokes the air and the ocean."
Most of us are likely to choose words like 'brighter', 'smoother' or 'plumper' rather than 'resilient' when describing our dream skin state,
but
resilience helps to fend off fine lines, wrinkles, blemishes and plenty more undesirable concerns. As Fresh has proved in its clinical studies. Over an eight-week period, clinical studies noted a 75% increase in skin radiance and a 41% decrease in the appearance of fine lines and wrinkles.
What is Fresh Tea Elixir Skin Resilience Activating Serum like to use? The Space NK team tried and tested the serum for a month…
What Our Beauty Editor Thought…
Most dermatologists and facialists will recommend adding an antioxidant serum into your routine. Antioxidants help to fend off unwanted free radicals caused by everything and anything from pollution to stress. The problem with most antioxidant serums is they don't offer instant reward. They're not like a tingly vitamin C serum, or a bouncy hyaluronic acid, antioxidant serums are far more discreet. You don't realise how effective a serum like Fresh Tea Elixir Skin Resilience Activating Serum, £ 68,00 is until you go cold turkey.
So, after two weeks of enjoying the delicate cucumber scent and lightweight texture, I stopped using Fresh's serum. Within a couple of days my skin felt slightly tighter and the pores on my cheeks were more visible. For me, this is testimony of a great serum.
What Our Brand Copywriter Thought…
Fresh to me is one of those trusty beauty brands you can always rely on when your skin is going through a rough patch. I've tried many Fresh products throughout the years, and what's always stood out to me is how gentle and soothing they've felt – hence my immediate interest when hearing about this new serum. Firstly, it's a formula that's been years in the making and was tested on 400 people ahead of its launch. Secondly, the use of an unusual tea plant that has thrived in the midst of Mauritian volcanic soil? Of course I would want that in my skin regime!
The first thing I noticed, and loved, about this serum was the scent. Personally, I've never minded a fragranced product, and I'd go as far as saying it elevates the experience and makes it even more enjoyable. But tea scents aside, the milky texture feels lovely on the skin and sinks in speedily – I love how easy it is to spread across my face and neck and how seamlessly it blends with my other skincare products. Sometimes I find skincare tedious, but this has become a part of my routine that I actually look forward to because of how pleasant the scent and texture are.
Moreover, I notice an immediate glow straight after putting it on. And while it's still early days to notice a difference in my skin texture, I'm pleased to see that the formula is getting on well with my combination-oily complexion.
Our Verdict On The Fresh Tea Elixir Skin Resilience Activating Serum
The fascinating thing about this Fresh Tea Elixir serum is its mission to help skin become more resilient. Just like the tea plant that has risen from Mauritius' volcanic ashes, this carefully crafted serum is designed to boost skin's resistance against life stressors that lead to irritated skin and early signs of ageing. It's a serum made for all skin types and ages, and considering it's enriched with other power ingredients such as niacinamide and hyaluronic acid, it's unsurprisingly got the potential to be an absolute crowd pleaser. The texture might be especially satisfying for drier skin types, and while you're likely to notice – and love – an instant glow and overall plumpness, it may take time before more apparent results come through. Having said that, you're likely to get instantly hooked…
More on Fresh
Alongside this serum, there are many skin heroes from Fresh you may or may not have had the pleasure of experiencing (what are you waiting for?!), such as the bestselling Fresh Soy Face Cleanser, £ 15,00, which gently removes daily impurities while maintaining skin's pH balance. We also love the Fresh Black Tea Kombucha Facial Treatment Essence, £ 29,00, known for delivering antioxidant protection and boosting luminosity. There's the Fresh Black Tea Age-Delay Eye Concentrate, £ 58,00, a sight for sore (well, tired) eyes, and the Fresh Lotus Youth Preserve Moisturiser, £ 19,50, which smooths the appearance of fine lines and enhances radiance.
Read More Reviews
• Drunk Elephant Ceramighty AF Eye Balm Review
• Tatcha The Liquid Silk Canvas Review • Ultra Violette Daydream Screen SPF 50 Review
• Hourglass Ambiant Soft Glow Foundation • Review of Drunk Elephant A-Gloei Maretinol Oil