MOST WANTED
We Put Selena Gomez's Liquid Blush To The Test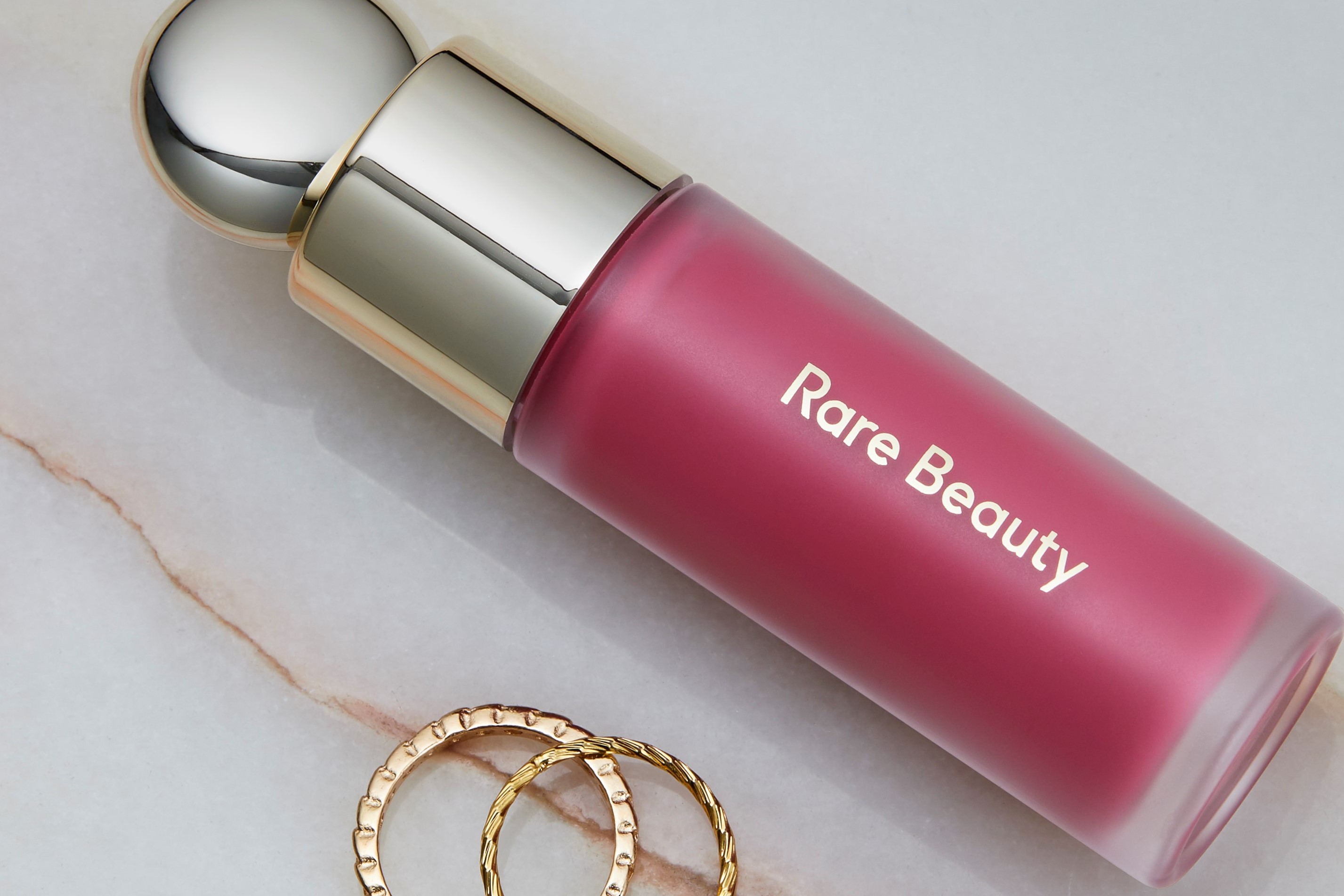 There has been a lot of excitement around the UK launch of Selena Gomez's makeup brand, Rare Beauty. If you're not a Selenator (a die-hard fan) and haven't followed the actress, singer and producer's career, you might be inclined to discount Rare Beauty as just another celebrity beauty brand.
But, having tried and tested the majority of the products, including the Rare Beauty Stay Vulnerable Liquid Eyeshadow, £ 19,00 and the much talked about Rare Beauty Liquid Touch Weightless Foundation, £ 29,00, we can safely say Selena Gomez makeup buys are worth exploring. Inclusivity is one of the main pillars behind Rare Beauty and all of the products across the range cater for all skin tones. The foundation and concealer are available in 44 shades, while there are five shades of the Stay Vulnerable Melting Blush and 11 of the Rare Beauty liquid blush. It's the latter that, alongside the Rare Beauty foundation, has received rave reviews across TikTok and Instagram. Is the Rare Beauty Soft Pinch Liquid Blush, £ 22,00 worth the hype?
Rare Beauty Soft Pinch Liquid Blush Summary
With a shade range that spans soft, peachy nudes to richer, purply berry shades, it's clear that the brand has worked hard to cover not just skin tones, but the all-important undertones too. Rare Beauty has also considered finishes with shades divided into dewy and matte looks. In keeping with the rest of the range, the Rare Beauty liquid blush is cruelty-free and vegan.
Everything you need to know about Rare Beauty's Soft Pinch Liquid Blush
There's been a lot of chatter around two Rare Beauty blush formulas, but the liquid formula has had the most amount of interest. The 7.5ml tube with the signature Rare Beauty round lid could be mistaken for a lip gloss at first glance. While TikTokker @phithegoldenskin uses it on her lips, it is very much a liquid blush and a very good one at that.
I'm not even going to string it out, the texture of this formula is next level. There is none of the sticky, gloopy, or even greasiness that you get with some liquid blushers, Rare Beauty's feels almost like a primer as it goes on and then it feels completely weightless. If you didn't catch yourself in the mirror, you'd forget you were wearing it.
I have pale skin and opted for Bliss, a soft pink that sits in the matte finish family. For me, one dot on each cheekbone and blended out with my finger is more than enough and gives me a natural-looking flush. The pigment is strong though and you can easily layer it up for a bolder look. While I use my fingers, TikTokker and makeup artist, @mikaylanogueira, loves the shade Encourage (an everyday neutral pink) and uses a makeup sponge to blend the dot of blush onto her cheekbones.
What I love most about the Rare Beauty liquid blush versus other liquid and cream formulas, is that it dries and stays in place. While cream blushers can move when you apply other makeup on top or fade throughout the day, this one stays put for the majority of the day and doesn't leave my highlighter stick with a pink tinge. While I wouldn't say this is a formula that will see you through from 7.30am to 10pm, you won't need to top it up unless you're heading out in the evening and are giving your makeup a quick a refresh.
The Takeaway Point
[copy]Whether you have dry or oily skin, if you're looking for a blusher that will give your skin a fresh, healthy-looking glow in a flash without feeling heavy, sticky or greasy, Rare Beauty's Soft Pinch Liquid Blush is a good investment and we don't recommend waiting around. The lightweight packaging looks slick and the formula is non-comedogenic and vegan-friendly.
More on Selena Gomez' Makeup Line, Rare Beauty
This isn't the only Rare Beauty product that ticks a lot of boxes. If the launch of Selena Gomez' beauty line has bypassed you, there are at least 8 Rare Beauty Products We Really Rate, including the aforementioned foundation that everyone's talking about.