MOST WANTED
Is The Ordinary's Multi Peptide Lash and Brow Serum Transformative?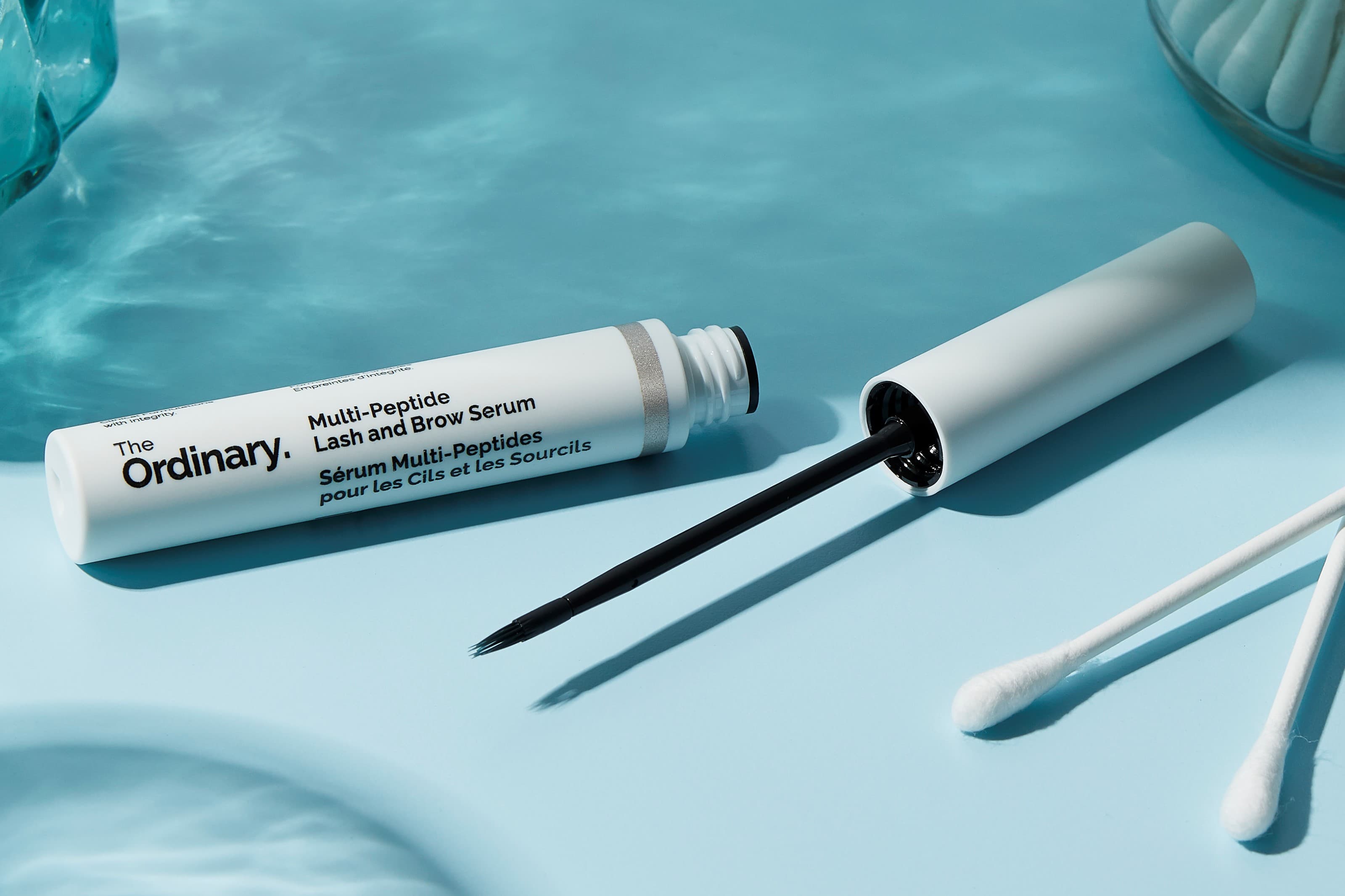 It's fair to say that, despite only having launched in 2016,
The Ordinary
has taken the beauty world by storm. What started with a small but perfectly formed collection of key skincare products presented in lab-inspired packaging has steadily evolved into an avid beauty selection including skin tints and, more recently, haircare.
The truth is, we owe a lot to The Ordinary. It's thanks to this brand that many of us learnt about the efficacy of stripped back ingredients and that great skincare doesn't necessarily have to cost the earth – it's about finding out which doses and percentages that work for each and every one of us. The Ordinary, has essentially, become one of those trusty skincare lines with purse-pleasing products we can always rely on (my favourites in particular are the AHA 30% + BHA 2% Peeling Solution, Squalane Cleanser and Niacinamide 10% + Zinc 1%).
Seeing what The Ordinary does next is like watching one of your favourite sportspeople in a competition: exciting, intriguing and queue-forming. A most recent example is
The Ordinary's Multi-Peptide Lash and Brow Serum
– my beauty curiosity peaked when it was revealed that The Ordinary would be bringing out its very own lash and brow serum.
Top Line On The Ordinary's Multi Peptide Lash and Brow Serum
With a relatively narrow range of options available, lash and brow serums are still, for the most part, a niche and unexplored territory for a lot of us. Hence my enthusiasm when it came to testing this new-to-the-market product. Following the footsteps of the brand's acclaimed Multi-Peptide Serum for Hair Density, this new serum's premise is simple – it promotes the look of thicker, fuller and healthier lashes and brows.
Everything You Need To Know About The Ordinary Multi Peptide Lash and Brow Serum
As expected, The Ordinary Multi-Peptide Lash and Brow Serum delivers when it comes to a solid ingredient breakdown. Some of the formula's key ingredients are (and breathe) Camellia Sinensis Leaf (Tea Tree) Extract, Larix Europaea (Larch) Wood Extract, zinc chloride and caffeine.
Packaging wise, the purse-sized tube comes with a wand applicator that resembles an eyeliner brush. Applying this product is straightforward – it's a water-like serum that dries quickly and hasn't irritated my eyes in the slightest (big sigh of relief). I don't use any brow product, but I suspect it wouldn't interfere. I am however a regular eyeliner wearer, so I apply it along my lash line and wait about one minute before applying any eyeliner. If you're concerned about any product interference, you can always use this serum solely in the evening – although The Ordinary does recommend morning and evening use for eight weeks.
The Verdict On The Ordinary Multi Peptide Lash and Brow Serum
For context, I was most looking forward to seeing whether The Ordinary Multi-Peptide Lash and Brow Serum, £ 12,40 would work on my brows. I am a victim of one of the nineties' most crucial beauty trends: thin, wispy eyebrows. In fact, it wasn't a trend – it was a way of life. I was born with eyebrows that would have given Cara Delevingne a run for her money, and yet I plucked away incessantly for over a decade. Basically, my eyebrows need all the help they can get – and if The Ordinary can come to the rescue while keeping my bank balance happy and lend a helping hand to my eyelashes, we're onto something.
The brand states users will be able to notice an improvement within eight weeks. I've yet to hit a full eight weeks since I started using this product, but I do think my brows are looking pleasantly defined. Have they returned to their glorious pre-nineties state? No, and it's unrealistic to expect that – but they're in the best place they've been in a while. As for my lashes, I'm fortunate to have been blessed with reasonably dense lashes (and thankfully there was never any fashion to get rid of these). However, I did check my lash line the other day and it looked like there were smaller hairs growing away.
I wouldn't hesitate to recommend this lash and brow serum – it's so easy to slip into your beauty routine, is purse-friendly and the formula seems gentle enough to not irritate eyes. It might be a while before you see any difference, but if you combine this serum with minimal plucking / threading / hair removal of your choice, it could become your new favourite step in your beauty routine.
More On The Ordinary
As well as now catering to brows, lashes and haircare, The Ordinary has a plethora of must-try skincare heroes. There's The Ordinary Hyaluronic Acid 2% + B5, £ 7,90 for unprecedented hydration, The Ordinary Niacinamide 10% + Zinc 1%, £ 5,00, which helps battle skin congestion, pores and blemishes, or The Ordinary Retinol 0.2% in Squalane, £ 6,90, a gentle formula to treat signs of ageing and uneven skin texture. In short, The Ordinary's offering is anything but ordinary.
Read More
• Charlotte Tilbury Collagen Superfusion Face Oil Review
• Tatcha The Rice Polish Deep Review • Rare Beauty Liquid Touch Foundation Review
• Review of Drunk Elephant A-Gloei Maretinol Oil • The Ordinary Skincare Routine