SPACE SESSIONS
Hannah Martin On Glowy Makeup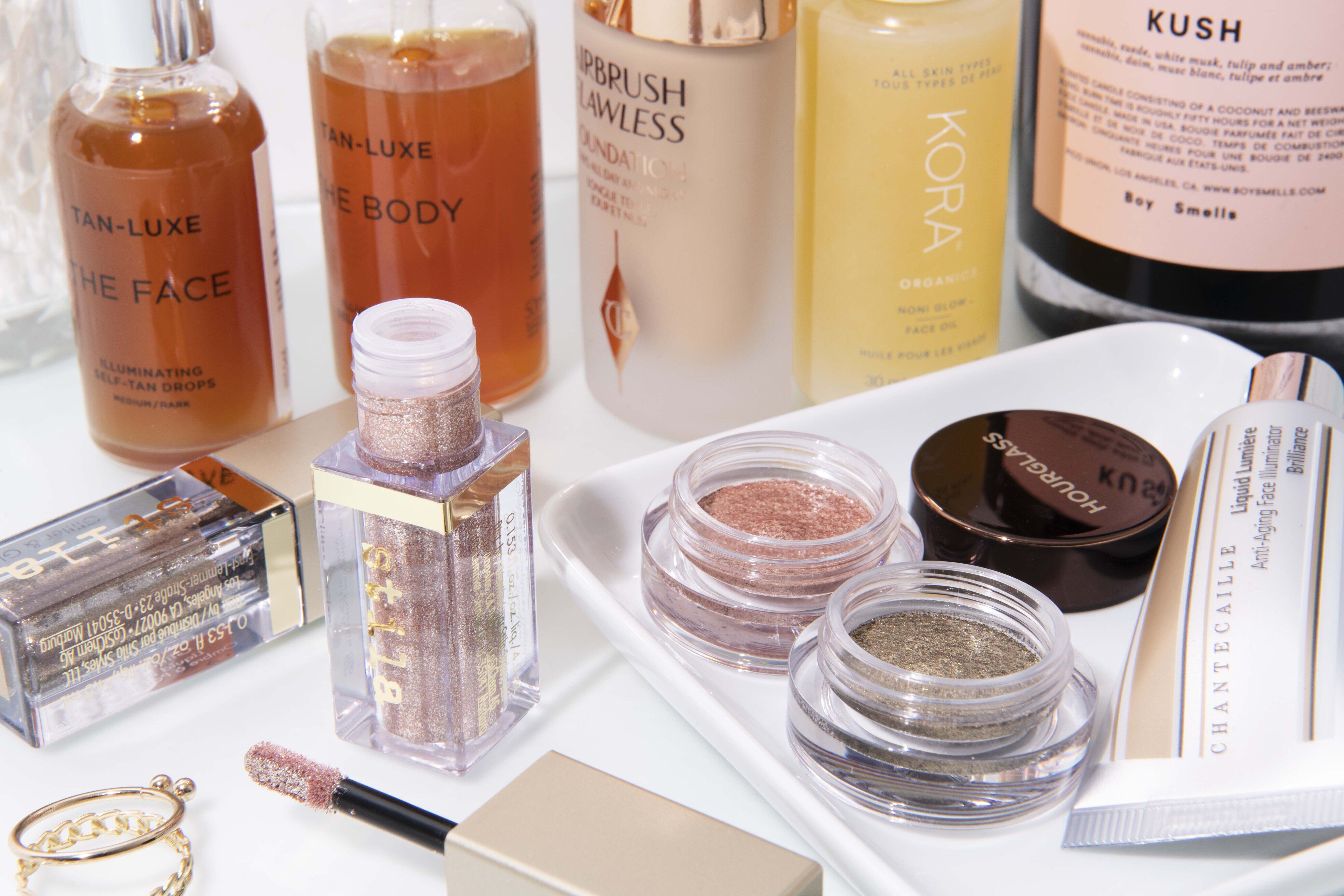 With the party season likely to be more subdued this year, we could all do with a pop of sparkle to lift our spirits. Even if the party is in your sitting room via Zoom.
Fresh, dewy, plump looking skin, AKA the kind that we all want, is what Hannah Martin is famous for. The makeup artist is renowned for giving you that healthy post-facial glow at the flick of a brush. She's also a dab hand at ensuring shimmery makeup accents look chic and never veer towards gaudy. "Shimmery or glittery eyeshadow never fails to put me in a good mood," says Hannah. "There's something so festive about the light catching it on the eye. It really helps to get you in the party mood (even if there isn't a party to go to!)" With this in mind, we asked Hannah for her top tips on mastering grown-up glitter…
Tip 1: Decide On Your Focus
My biggest tip is to start small and to focus on one element. Is it an eye you want to glimmer? Or a highlighted cheekbone? A glittering lip perhaps? Attempting everything glitter might be a bit too much, but you can always add more as you grow in confidence.
Tip 2: Prep Your Base
Moisturised skin is key before creating any makeup look, including glitter. My standard routine includes a cleanser, essence, eye cream, serum, moisturiser and SPF. Usually I'll apply something like the Becca Backlight Priming Filter, £ 7,50. It gives skin the most incredible glow, which is the perfect first step to getting your glitter on!
Tip 3: Warm Up Your Complexion
If it's been a long time since you've tried anything sparkly, I recommend opting for an illuminating base. Warm up your complexion with some Tan-Luxe The Face Illuminating Tan Drops, £ 36,00. Just add one to five drops to your moisturiser or serum and you're good to go. These drops are the easiest way to customise your base.
Tip 4: Choose Your Glitter Wisely
A soft glitter can be very flattering on all ages. Opt for a finely milled formula that won't sit in any creases or fine lines. Hourglass and Stila make gorgeous eyeshadows that catch the light in the way that a bauble would on a Christmas tree. I'm not suggesting you should aim to look like a bauble, but each to their own!
Tip 5: Save Your Powder 'Til Last
If you plan on using a glittery eyeshadow and are worried that the formula will drop, do your eyes first. Leave your powder until the very end, so if anything does drop you can clean it up with a cotton bud, reapply your foundation or concealer if necessary, and then set the makeup.
Tip 6: It's Not Just About The Eyes
If you don't like a glittery eye or just aren't a fan of eyeshadow in general, then there are other ways you can add some sparkle to your look. A great highlighter dusted over the higher points of the face can give you that ethereal glow, while a sparkling gloss can help your lips look fuller. I'm also a huge fan of a glimmering body oil. If you don't fancy glitter on your face then try spritzing the Tom Ford Soleil Blanc Shimmering Body Oil, £ 34,00 over your shoulders and décolletage or even your legs. It is a brilliant way to elevate your look.