SPACE SESSIONS
Stella Maxwell On Her Skin-Boosting Morning Routine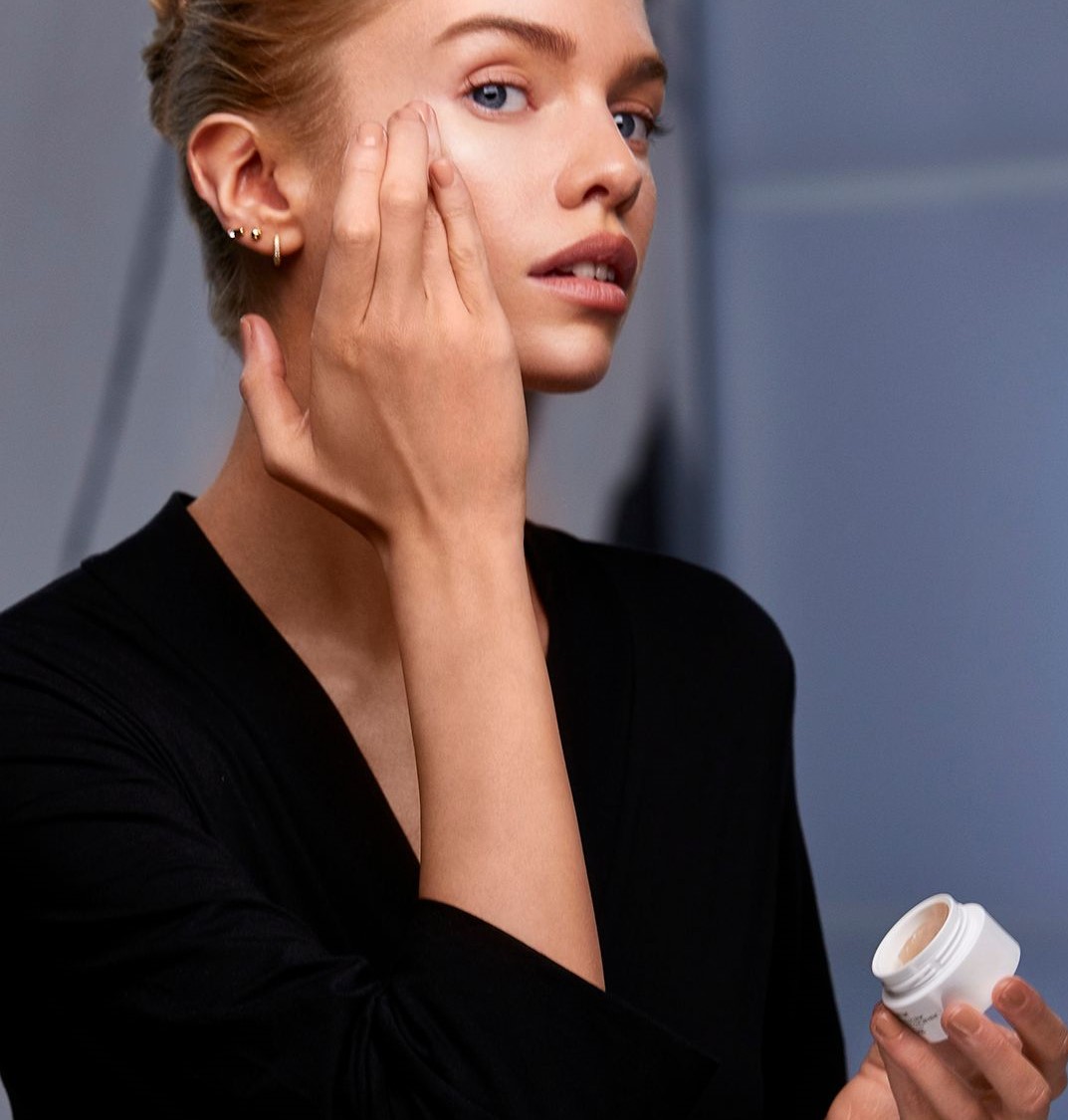 Having modelled for some of the iconic fashion houses, including Alexander McQueen, Fendi and Versace, Stella Maxwell has had access to the crème de la crème of beauty experts. This week, the model shares the insider tricks she's picked up along the way that help wake up her skin every morning.
From 7.30am to 8am
If I'm not working, I usually wake up around 7.30am without setting an alarm. On the days when I have to work or travel, I often have to be up at 4 or 5am. Hence why I like to wake up naturally on my days off. Usually the first thing I do is say hi to my dog, Trip and take him outside, before getting his breakfast ready. I like to do a yoga sequence and then shower. Yoga is a really important part of my morning routine because I strongly believe the mind and body are one.
Between 8am and 8.30am
Before getting dressed, I take the time every morning to properly wash, cleanse and hydrate my skin before getting into whatever is going on that day. My morning routine usually takes about 30 minutes. I start by cleansing my face with the Hourglass Equilibrium Rebalancing Cream Cleanser. It's a very quick and easy-to-use cream-based cleanser that really cleans my pores. Cleansing is another key part of my routine because it serves to refresh my skin and wake me up! It's so important to find a formula that cleans and balances your skin. Next step (because I have naturally dry skin), I use the Hourglass Equilibrium Restoring Essence – it tops up my skin's hydration levels before I apply moisturiser.
If I've had a bad night's sleep, Hourglass Equilibrium Intensive Hydrating Eye Balm is my ultimate secret weapon. It immediately smoothes, soothes and plumps – it's a life saver! Sometimes I'll also use a face roller as it helps to depuff and get my blood flowing. I've been told that sleeping with a silk pillowcase and sleep mask helps to keep your skins hydrated and prevent fine lines and wrinkles.
From 8.30am Onwards
Usually by this point in the morning I've already had water with lemon as I've pottered about. I honestly believe water and pH balance are so important to everything to do with our body. Once I'm washed and dressed, it's time for breakfast. Most of the time I have an oat milk latte, scrambled eggs, half a toasted bagel and an avocado with lemon, salt and olive oil. It helps set me up for the day ahead.