SPACE SESSIONS
Inside Tatcha's Victoria Tsai's Japanese Healing Ritual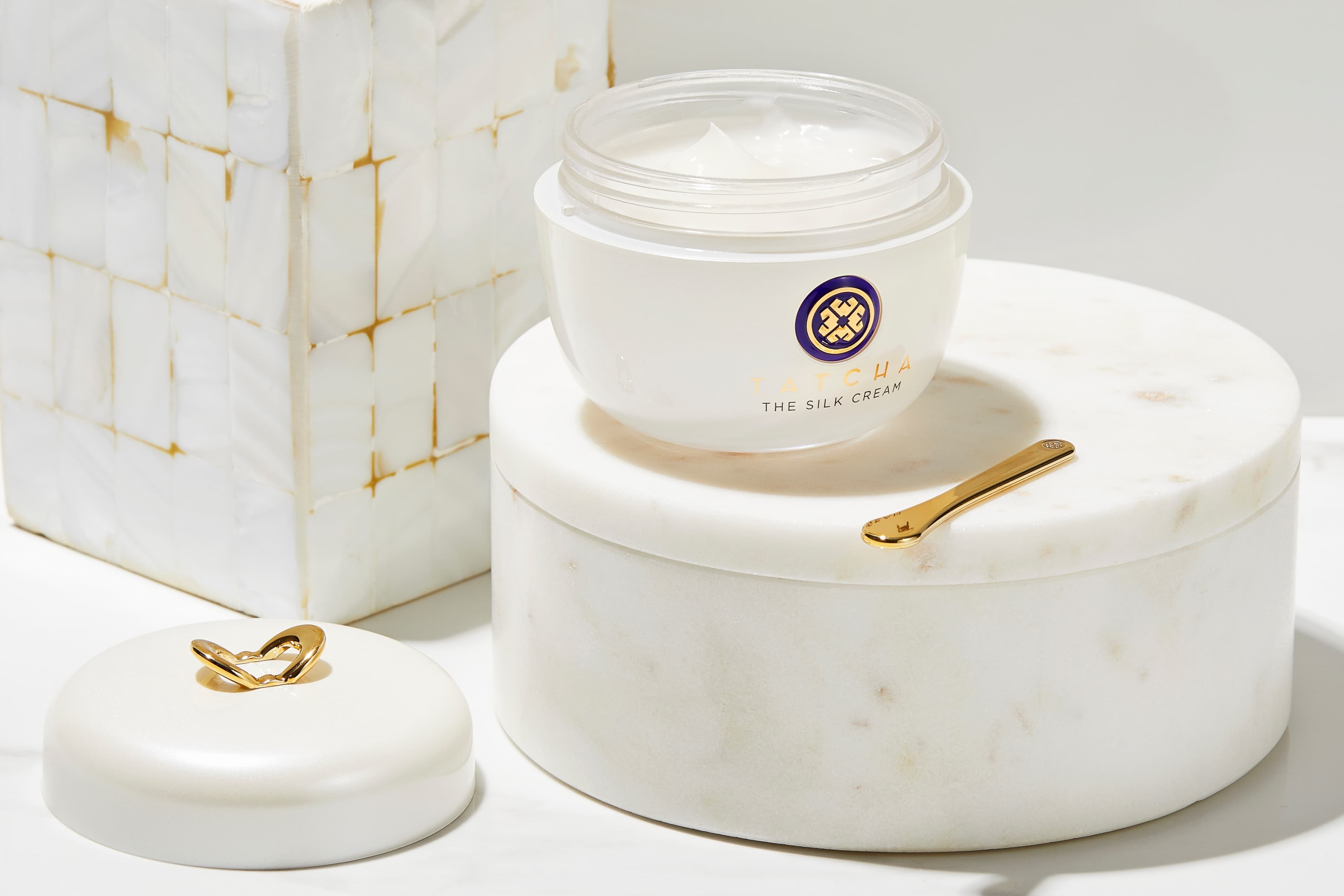 While most brands organise their products into routines,
Tatcha
advocates rituals. Whether you have dry or oily skin, there is a Tatcha ritual to help restore and revive your skin while also helping to calm and centre your mind. For the brand's founder, Victoria Tsai it is imperative that Tatcha's formulas work on multiple levels. Each and every product, from
The Dewy Skin Cream, £63
to the
The Clarifying Clay Mask, £65
, is packed with nourishing ingredients and has the lightest, dreamiest texture. So much so, we challenge anyone to use
The Rice Polish: Deep, £60
and not get hooked on the soft, silky feeling it leaves in its wake.
With each product feeding into the various rituals, we were intrigued to know which formulas Victoria uses on a regular basis and if she had a can't-live-without
Tatcha
buy? "My desert island pick is always
The Essence, £95
. It's pure, 100% Hadasei-3, our proprietary complex of double-fermented rice, green tea, and algae," Victoria tells us. "It floods the skin's aquaporin channels with hydration. When aquapore channels are hydrated, active ingredients can get where they need to be. And when they can penetrate deeper, they can do their best work." Where does The Essence slot into Victoria's daily beauty ritual? Well, we asked Tatcha's founder that too. Read on to learn why Victoria chose rituals over routines and how she tweaks the setting if her stress levels are higher than usual…
Why Rituals Are Better Than Routines
To me, rituals are not about repeating steps over and over and going through the motions. Instead, I think of it as a grounding practice where I try to be fully present, and I use that time to reconnect with myself. I think what many people have found, as a result of the pandemic, is how essential self-care is for our well-being. My evening ritual is perhaps my most important because of how it helps me process the day — I try to let go of whatever doesn't serve me, and end the day with gratitude.
My Evening Beauty Ritual
Mindfulness is present in every step of my skincare, and it's easy and more intuitive than it sounds. As I massage Tatcha The Camellia Cleansing Oil, £ 48,00 onto my skin and melt away my makeup, I let go of whatever isn't serving me, whether it's anger or worry. It all goes down the drain with the day's mascara and sunscreen.
Next up, I use Tatcha The Rice Polish: Classic, £ 64,00 onto to gently exfoliate my skin, which reminds me that we can always begin again. I reset my mind, welcoming a new start and new skin. After that, I use The Essence, which floods the skin with hydration. As women, we give so much of ourselves throughout the day, and so with this step, I think of replenishing myself so that I can show up for others.
Finally, I lock in all the hydration and nutrients with Tatcha The Silk Cream, £ 123,00. As it veils my skin, I think of all the people I love in my life, cocooning me in their care and support. When I'm done, I feel nourished and cared-for from skin to soul—and it only takes about four minutes. I truly believe small steps make a big difference.
My Healing Ritual
Whenever I feel stressed, I try to pause for a moment with nature. During lockdown, I found myself going outside any time I needed to be grounded. Whether by the ocean or some trees, or even just the stars, it reminds me that I'm part of something much larger than myself. I incorporate breathing exercises to bring me back into the moment.
For me personally, stress builds over the course of the day so before bed, I focus on turning my skincare ritual into a calming ritual by engaging my senses. I'll turn on some relaxing music, or even some nature sounds, put some lavender essential oils in a diffuser, and drink some calming tea while I perform each step of my skincare. This way, I'm not just caring for my skin but also my well-being, from skin to soul.