IN FOCUS
How To Reapply Sunscreen Over Your Makeup (Without Ruining It!)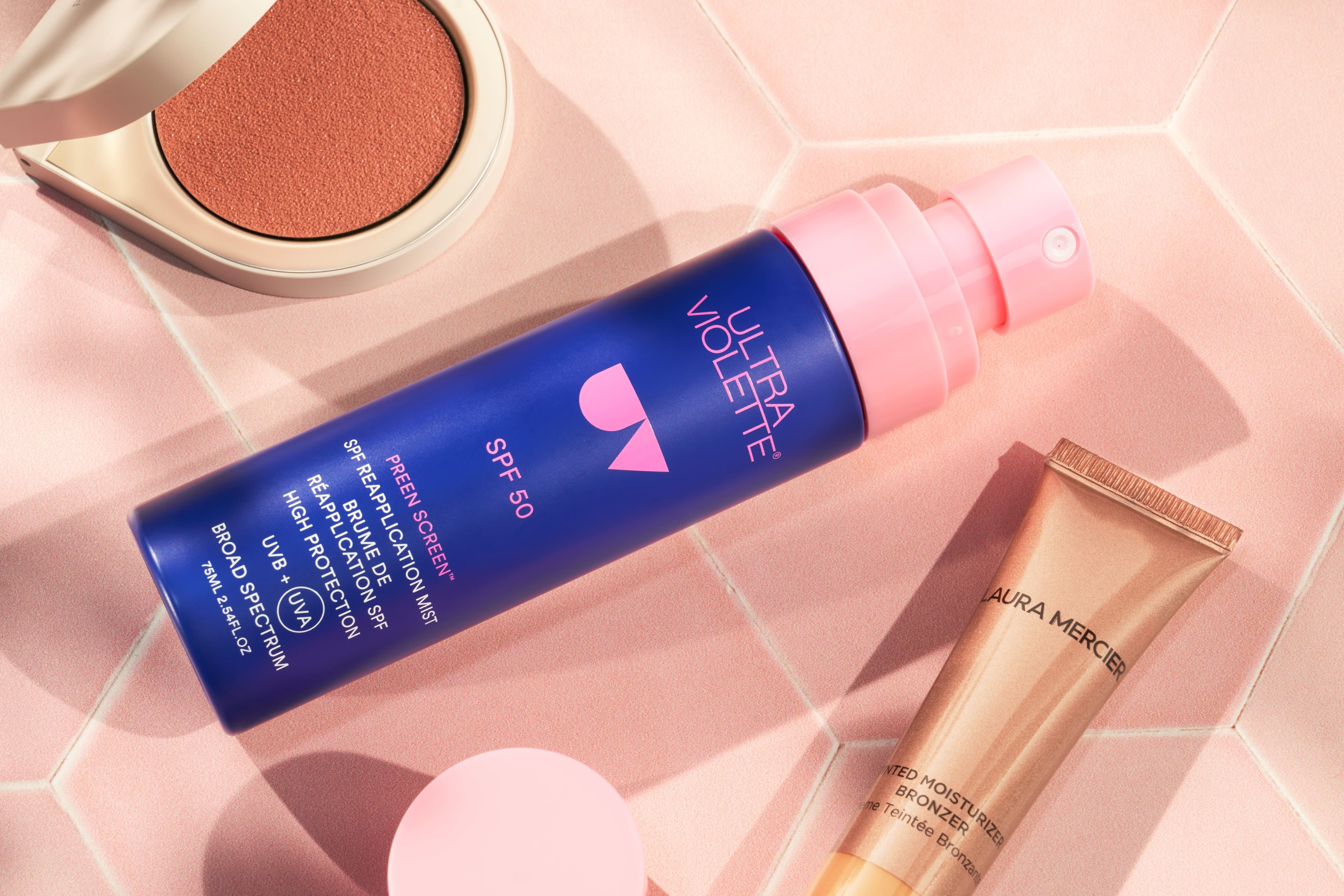 You applied your
SPF
before you left the house this morning. It was a generous layer of Ultra Violette's dreamy Supreme Screen Hydrating SPF 50 so your skin will be protected from UVA and UVB rays for the rest of the day, right? No. The
British Skin Foundation
recommends reapplying sunscreen every two hours for maximum protection.
While most of us use our
favourite face sunscreen
every morning, we're not so good at reapplying it generously throughout the day.
Don't want to ruin your makeup? We hear you. Reapplying your sunscreen over makeup has the potential to dull the dewiness of your
cream blusher
or make your
tinted moisturiser
look ashy. We decided to speak to the experts, explore our options and create a handy guide to reapplying your sunscreen over makeup without ruining it. Keep reading for our top tips.
Do you put sunscreen on before or after makeup?
"Adding sun protection to your skincare routine is fairly simple. But I often get asked if you should apply sunscreen before or after makeup," says Sapna Valenzuela, Brand Director at Coola. The last step to your skincare routine should always be sunscreen, even if you're about to apply makeup that contains SPF. The reason for this is none of us wear a thick enough layer of makeup to protect our skin from the sun's rays. That's not to say you should avoid makeup with SPF, you just need to consider it as a bonus rather than solid sun protection.
With this cleared up, what's the best way to reapply SPF throughout the day without ruining your makeup?
What's the best way to reapply sunscreen over makeup?
1. Use a sunscreen spray
One of our favourite ways to reapply sunscreen over your makeup is to use an SPF spray. It's an easy and quick way to reapply your SPF without having to touch up your makeup. The key is to find one with an even mist like Ultra Violette Preen Screen SPF50 Reapplication Mist Skinscreen™, £32.00, it's lighter than lightweight and keeps your skin protected.
2. Use an SPF Powder
On a hot summer day, chances are that your skin is looking a little oily. A powder SPF is a great way to kill two birds with one stone. Get rid of the shine while topping up your SPF, it feels light on the skin and helps refresh your makeup in the middle of the day. We love this one from Supergoop!, which recently launched at Space NK.
4. Use An SPF Stick
Let's start by saying that this only works if you're wearing light makeup. If you have a full face on, there will be transfer. That being said, sunscreen sticks are one of the easiest ways to reapply sunscreen. You have total control over how much product we're applying and we know exactly where we are applying it. If you spending the day at the beach or you know you'll be running around all day, this a great way to reapply a generous amount of sunscreen on-the-go.
How often should I reapply sunscreen?
"Don't forget to reapply sunscreen, generally every 2 to 4 hours," advises Sapna. With the days being longer and the sun shining brighter, we obviously want to make sure we're protecting our skin until the sun goes down. If you're out all day and directly in the sun, reapply more often and consider investing in a hat!
How much sunscreen should I use on my face?
When you first apply your sunscreen in the morning, "You should apply up to half a tablespoon on your face and decolletage," says Sapna. When it comes to reapplying throughout the day always make sure you're covering your entire face and neck. For full efficiency, "Remember to apply sunscreen at least 15 minutes before going outside," Sapna adds.
Our final words on reapplying sunscreen over makeup
If you take away just one tip from this SPF guide, make sure you apply your sunscreen under your makeup every single day. Then remember to reapply regularly throughout the day. To make remembering easier, find the formula that works best your skin and your makeup. If you're out and about all day, keep your face out of the sun as much as possible, grab your favourite hat and seek out shade, especially between 12-2pm.
Read More
• The Best Sunscreens For All Skin Types
• Everything You Need To Know About SPF • How To Fix A Patchy Tan
• Best Self Tan Products • The Best Beauty Minis To Travel With