MOST WANTED
Is Byoma Creamy Jelly Cleanser The Key To A Strong Skin Barrier?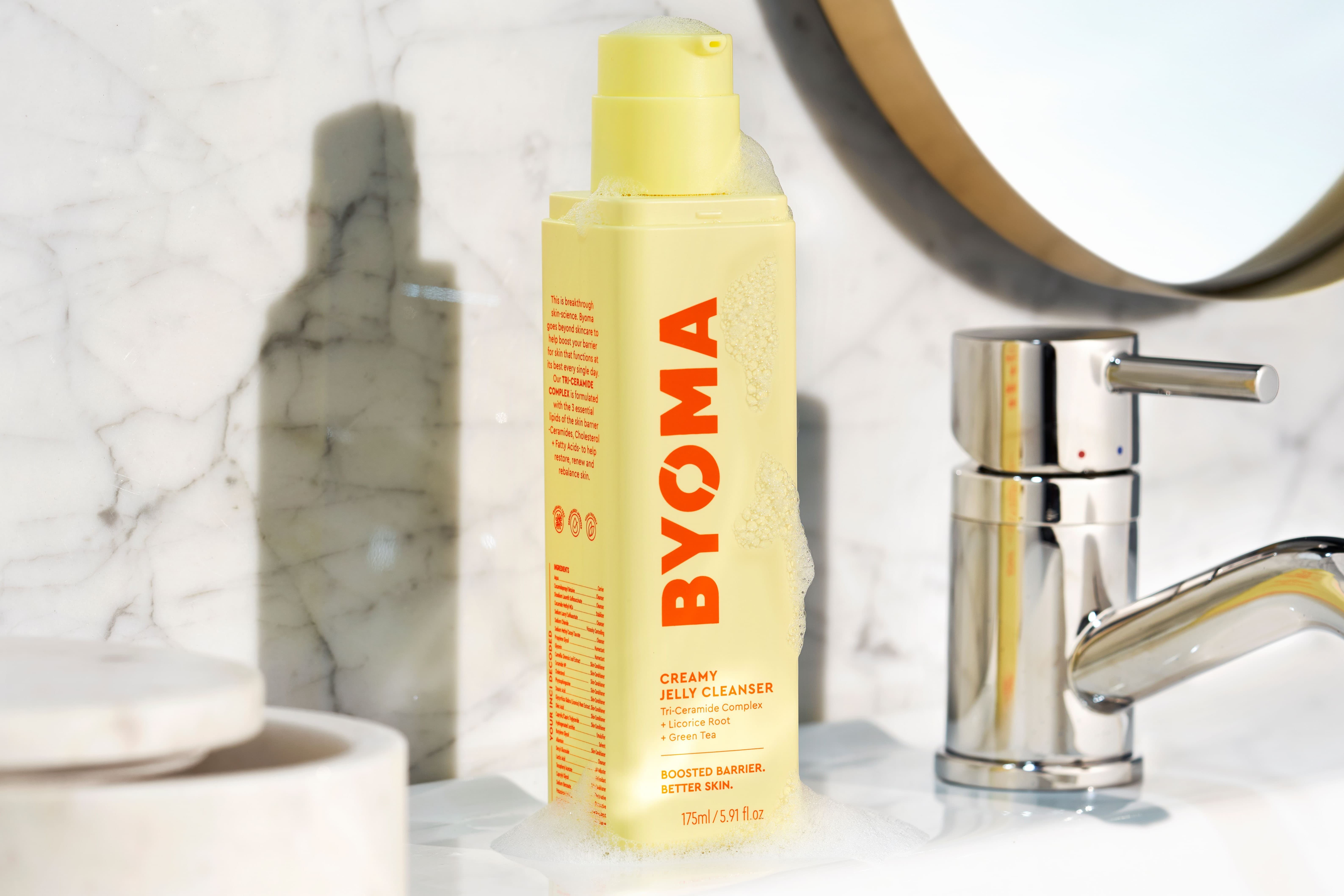 The difference between a good cleanser and a bad one is huge. The best cleansers rinse away dirt and pollution, some remove makeup too, without leaving your skin feeling tight, itchy or dry. To mark the launch of
Byoma
at Space NK, we decided to put the brand's bestselling Creamy Jelly Cleanser to the test for three weeks.
Byoma is all about strengthening and supporting a healthy skin barrier with straightforward but effective formulas packed full of nourishing ingredients including
niacinamide
and hyaluronic acid. What is your
skin barrier
? It's the outer layer of your skin, also known as your stratum corneum, and acts as a protective shield to defend against pollution and environmental aggressors, as well as lock in hydration and nutrients.
Can Byoma Creamy Jelly Cleanser help maintain your skin barrier? Especially with a price tag of £9.99. We put it to the test…
Top Line On Byoma Creamy Jelly Cleanser
BYOMA Creamy Jelly Cleanser, £10.00 starts as a gel and lathers up into a gentle foam as it's massaged into your skin with water. Formulated with Byoma's signature Tri-Ceramide Complex which contains ceramides, cholesterol and fatty acids, this clever cleanser is designed to help restore your skin barrier and top up moisture levels. Importantly, the formula is pH balanced to suit all skin types and prevent any irritation. It's also alcohol and fragrance free.
Hanitra's Verdict On Byoma Creamy Jelly Cleanser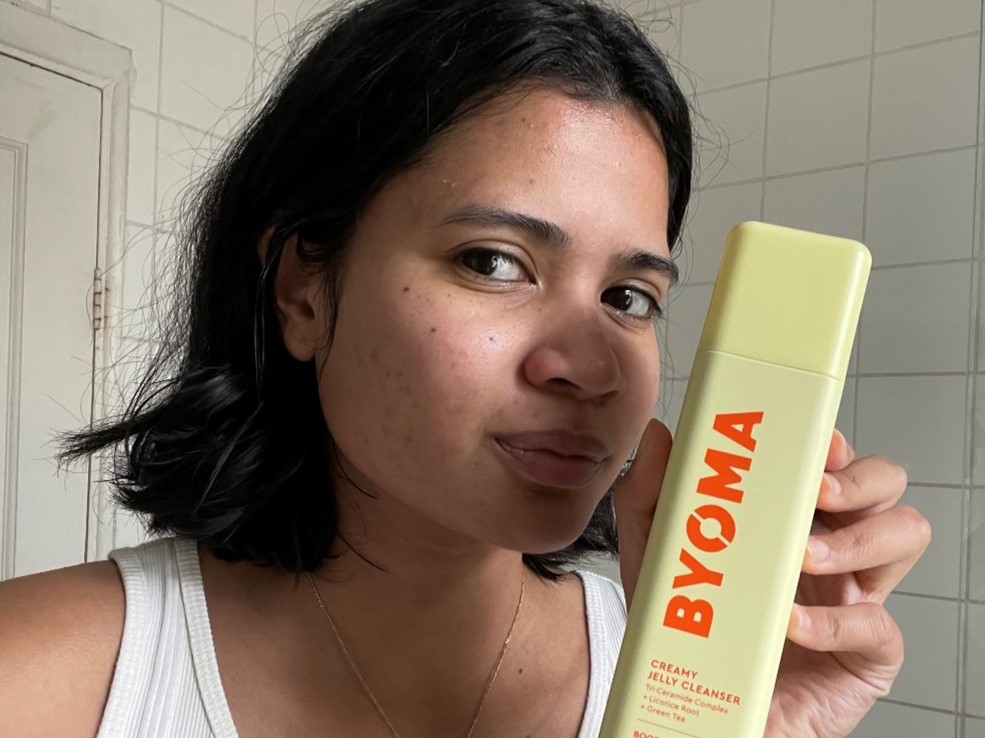 When I found out we were launching Byoma at Space NK, I was very excited because I love the brand's focus on a healthy skin barrier. As someone who tends to go overboard with the strong actives, Byoma has the type of products my skin needs. I've been using the Creamy Jelly Cleanser for about three weeks now and I really like the soft, jelly texture that nicely lathers onto the skin.
In the evening, I double cleanse starting with Sarah Chapman Skinesis Ultimate Cleanse, £54.00 to remove my makeup and any dirt and grime that's accumulated on my skin. I slotted the Byoma cleanser in as my second cleanser and used 3-4 pumps to cover my face. When working it into my skin, the cleanser felt very gentle and my skin felt soft after rinsing. I've included a photo of Byoma's cleanser on my face so you can see the texture.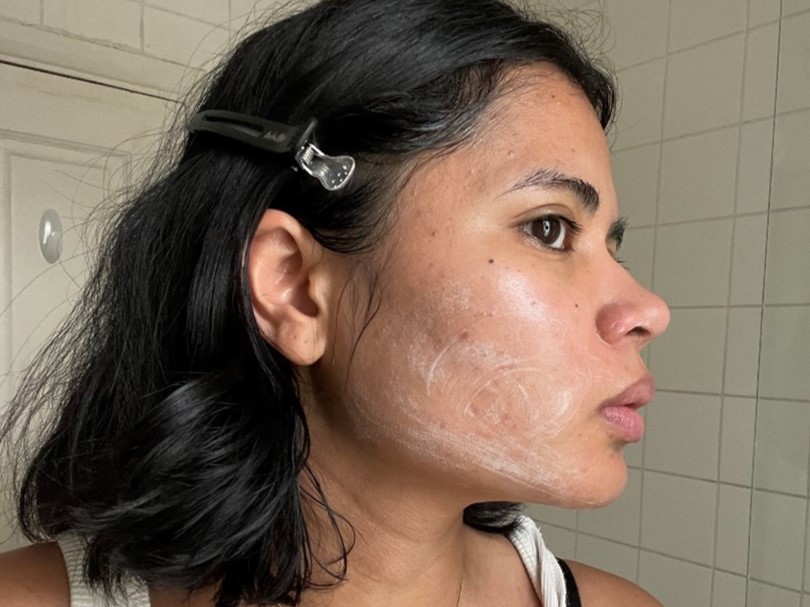 As someone with oily skin, I felt like I still had some excess oil on my skin after cleansing, so sadly I don't think this is a cleanser that would work for me in the evening. I like a formula with stronger ingredients including AHAs and BHAs to prevent any potential breakouts. However, I've been enjoying using it in the morning to remove anything from the night before and prep my skin for the day ahead.
I think this is a great cleanser for anyone on the dry/combination side, as well as anyone with more sensitive skin. When winter approaches and my skin starts to feel dry, I might revisit this formula.
Victoria's Verdict On Byoma Creamy Jelly Cleanser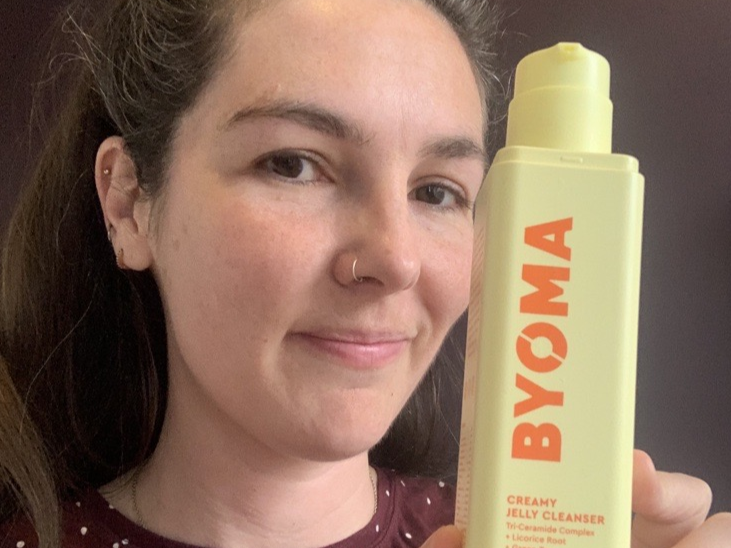 Cleanser used to be the product that I would scrimp on so I could put the majority of my money towards active serums that would deliver results. I saw the first step of my skincare routine as a vehicle for removing dirt, makeup and SPF that built up throughout the day. About six months ago I met Tatcha's brand founder, Vicky Tsai, for the launch of Tatcha Silk Serum and she talked about the importance of cleansing as a ritual and something clicked for me.
Cleansing is one of the only times of the day when we consciously touch our face, so spending a minute or so massaging in a dreamy formula and loosening any tension can improve not just our skin, but our mood too. Unsurprisingly, I am a huge fan of Tatcha Rice Wash Cleanser – it's rich, creamy and luxurious. I was a sceptical and snobby about the Byoma Creamy Jelly Cleanser. Could a £9.99 formula compete?
The texture isn't as luxe, but it's not bad either. You need a few pumps, I use at least six (you can see the amount below and the texture pre-water). The lightweight gel is quite runny and lathers up nicely. The texture change encourages you to really massage it into your skin, lifting away makeup and SPF. What blew my mind was how soft my skin felt after using Byoma's cleanser. My skin wasn't the slightest bit tight or dry, it felt clean and smooth without any leftover SPF or makeup. Full disclosure: I use a flannel to remove my cleanser and very rarely double cleanse.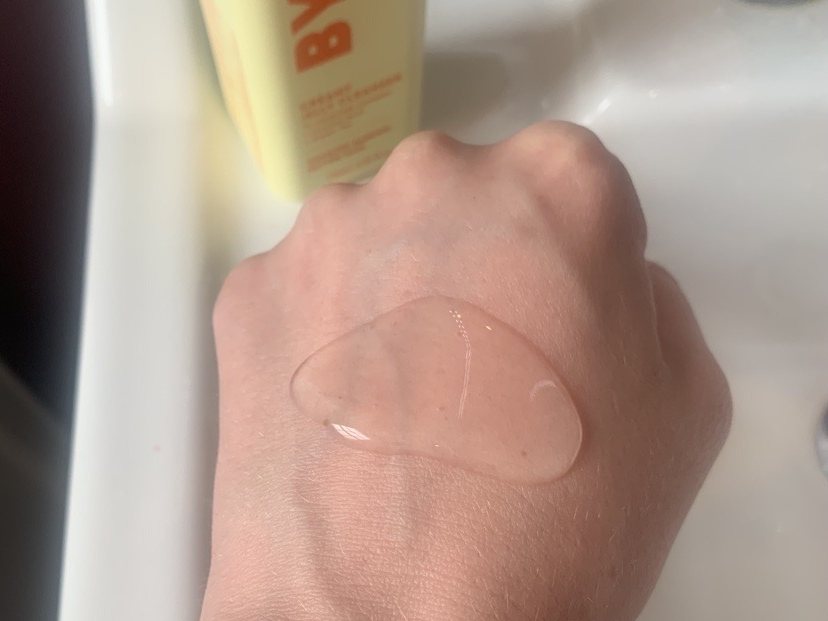 Over the past few weeks I've used Byoma's formula and my skin has felt healthier and more resilient - even with the use of retinol and AHAs. Plus, I haven't had the usual hormonal breakouts around my chin or dry patches across my forehead, which is a sign of a stronger skin barrier. I can't put this down solely to Byoma, but I would say my skin feels good. BYOMA Creamy Jelly Cleanser, £10.00 hasn't replaced Tatcha for me, it is impossible to compare the two. I use the former in the morning and the latter in the evening.
Byoma has proved that affordable skincare brands are putting a lot of care and attention into every step of our skincare routines and I shouldn't be such a snob. If you're looking for skincare on a budget, shop Byoma, you won't be disappointed – by the cleanser at least.
More From Byoma
Byoma is easily one of the best affordable skincare brands we've come across. The formulas are geared around strengthening your skin barrier to ensure all the hydration and nutrients are locked in. Aside from the Creamy Jelly Cleanser, there's also the BYOMA Melting Balm Cleanser, £15.00, which is ideal for anyone who likes to double cleanse in the evening as your makeup and SPF really does just melt off.
The brand also has a range of results driven serums, all for under £15 and available as refills. It is easily one of the best affordable skincare brands on the market today.
Read More
• How Many Serums Should I Use?
• Best Skincare for Sensitive Skin • Everything You Need To Know About Skin Cycling
• The Best Retinol Products • What is Double Cleansing?