SPACE SESSIONS
Rose Gallagher On Living With Rosacea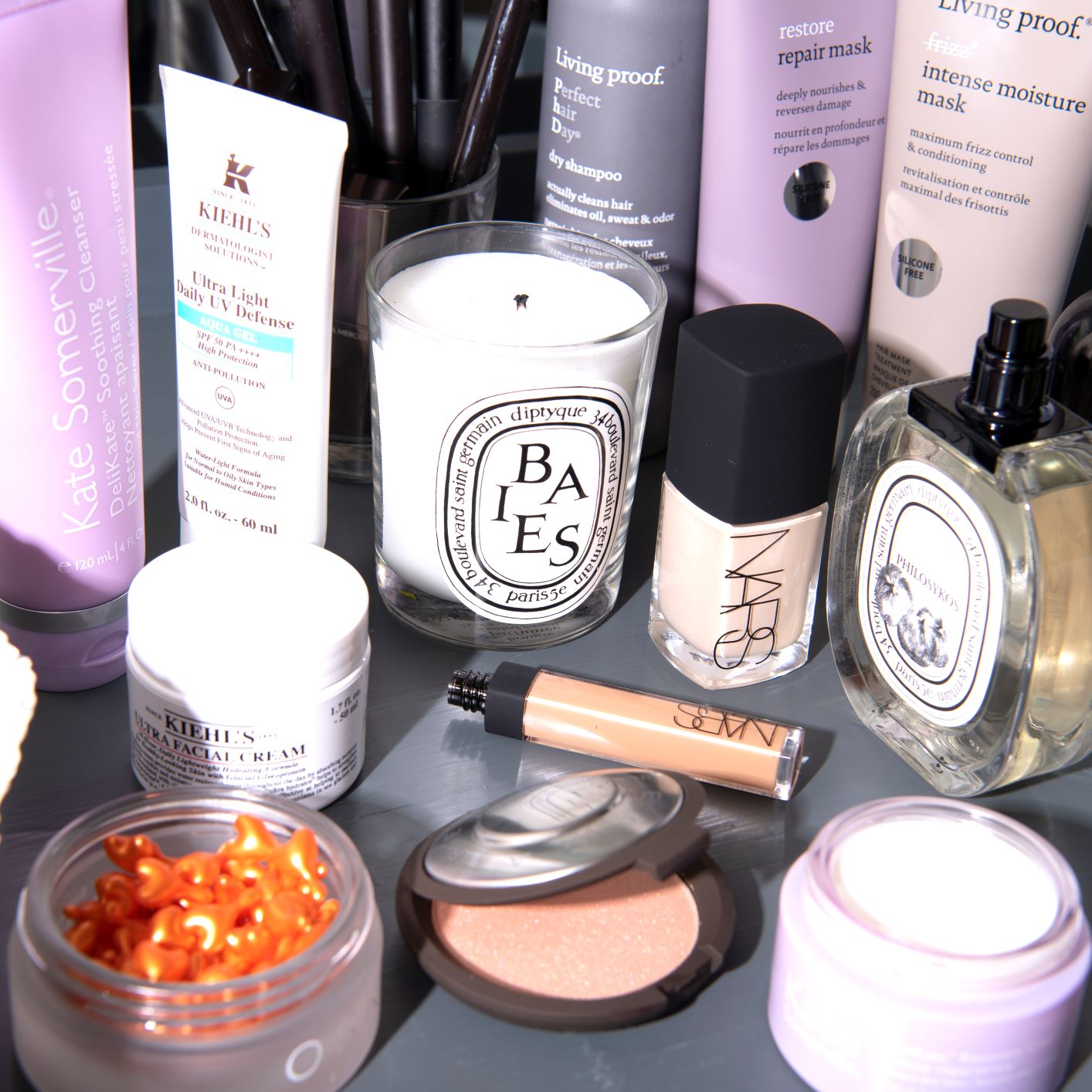 The beauty influencer Rose Gallagher shares her skincare tips for calming rosacea flare ups and the makeup she uses to conceal redness.
Alongside her Beauty from the Heart podcast, Rose Gallagher has been documenting her journey with rosacea for the past two years on both her Instagram and her blog (if you don't subscribe, you should). As a self-confessed beauty addict, Rose loves trying the latest skincare and makeup formulas, but this can result in a flare up.
With rosacea affecting one in 10 people in the UK, we asked Rose to share the tips and tricks she's learnt so far that help to calm and soothe the skin condition…
It's A Marathon Not A Sprint…
Two years ago I was diagnosed with rosacea, and in truth the process of getting it under control is still underway. I initially saw a dermatologist and incorporated a couple of prescription creams with a fragrance-free skincare regimen. At the moment, I'm in between prescription treatments. My skincare routine consists of cleansing, moisturising and applying SPF. These are my main priorities.
If My Rosacea Flares Up…
I simply cleanse and moisturise twice a day and use my SPF in the morning. That's it. As soon as I was diagnosed with rosacea I totally overhauled my cupboards. I used to have various skincare textures and scents at my disposal, but truthfully managing rosacea requires quite a simple, consistent routine.
When My Skin Is Behaving Itself…
I'll work in a few more steps to really maximise my glow. I massage in a cream cleanser patiently to remove my makeuo – I love Kate Somerville Goat Milk Moisturizing Cleanser, £38.00. No, this isn't as quick as a handy balm, but it works for my skin.
In the mornings, I may follow up with a vitamin C serum of some description to add glow to my skin. My moisturiser is ideally as inoffensive as possible – something like is pure and simple and sits beautifully under makeup.
If my skin is feeling particularly dry, which can happen a lot when managing rosacea, I'll switch to the Kate Somerville Dry Skin Saver, £43.00. I've never known such a deeply moisturising repair balm be so easy to wear and genuinely absorb. It is one of the most effective products I've used. In the evenings, I'll slot in a hyaluronic acid serum, like Dr. Dennis Gross Hyaluronic Marine Hydration Booster, £74.00 underneath my moisturiser.
Wearing SPF Is Crucial For Rosacea…
Every single day, despite wearing a CC cream with a built in SPF, I use a separate sunscreen. Kiehl's Ultra Light Daily UV Defense Aqua Gel, £30.00 is almost undetectable under makeup and offers reliable sun protection. Rosacea-prone skin is so impacted by the elements; hot and cold weather can both result in a flare-up of redness. SPF is crucial in helping to keep everything calm.
Be Selective With Your Ingredients…
Ceramides are a real go-to for me in managing rosacea. Kate Somerville's NEW DeliKate range is packed full of them. Ceramides help to repair the skin's barrier, and strengthen sensitised or sensitive skin or. This serum is especially great if you want to soothe and repair any damage without over-stimulating your skin.
If you tread carefully you can also add a little glow to your skin with the right vitamin C. I like Oskia Super C Smart Nutrient Beauty Capsules, £70.00 because they make a difference, but don't irritate my skin.
My Makeup Tip For Concealing Redness…
You can't go wrong with anything from NARS; apply all over to give the illusion of a fresh base, and pat on some in any areas where you need to build coverage. Always set your base in place with a powder – adds radiance and bounce and lasts all day.
I'm all about cheating the illusion of less makeup, so add a dusting of the Becca Shimmering Skin Perfector Pressed Highlighter, £9.00 for a seamless, radiant finish.
Less Doesn't Always Mean More With Rosacea…
Your skin is likely to be hot to the touch, so unfortunately your makeup will be more prone to melting away. With this in mind, use a little more! What may feel a bit overpowering at first will, in an hour's time, soften to a gentle coverage and crucially still be in place come lunchtime.