IN FOCUS
Do Natural Deodorants Work For Everyone?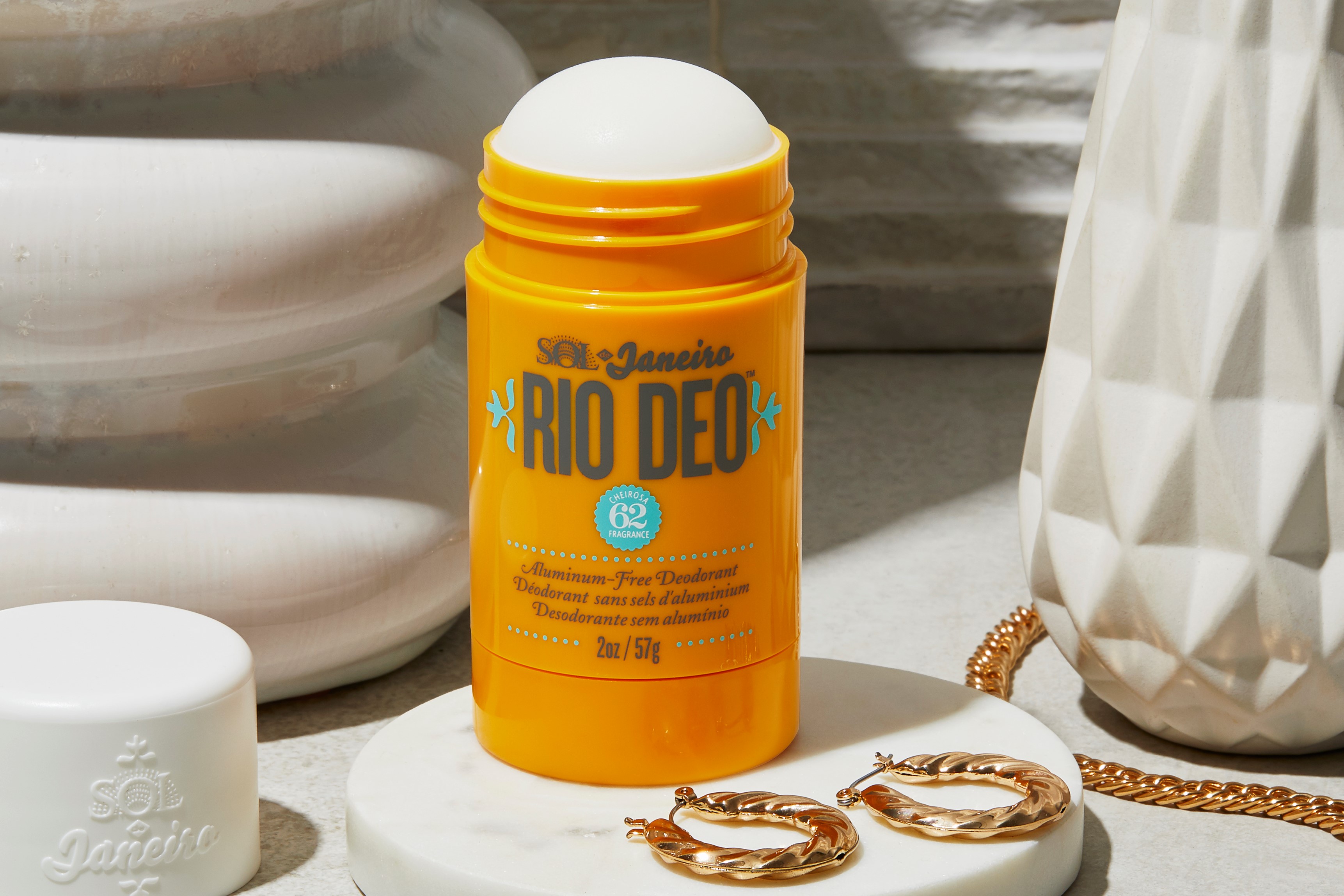 Natural deodorants have always had a reputation for not quite hitting the mark when it comes to keeping our underarms dry and fresh. While most of us are gradually shifting towards natural body and skincare formulas, it's often a different story with deodorants. Few of us are brave enough to risk a HIIT workout armed with botanical underarm protection.
From Drunk Elephant to Malin + Goetz, more than a handful of our favourite beauty brands have created natural deodorants to tempt us though and this month Sol de Janeiro joined the team with its Rio Deo. If the allure of the Brazilian brand's summery scent wasn't enough to give a natural deodorant a go, nothing will. So, we've taken a closer look at what makes a deodorant natural, how it effective they are compared to perspirants and of course, which formulas are worth investing in.
What Is Natural Deodorant?
Well, there isn't a set definition of what makes a deodorant natural and the term 'natural' is quite vague in the realms of cosmetic and personal hygiene products. "Generally speaking, natural skincare products are free or parabens, added fragrance, phthalates, dyes, and sulfates. When it comes to deodorants, natural products usually refer to those that are aluminium-free," says Director of Cosmetic and Clinical Research at The Mount Sinai Hospital in New York, Joshua Zeichner. "Traditional antiperspirants contain aluminium salts that form a plug within the sweat gland preventing wetness from reaching the surface of the skin." While natural, or aluminum-free products might not reduce the wetness, they can help get rid of odour.
How Do Natural Deodorants Limit Odour?
"Sweat itself is odourless, but when normal skin bacteria breakdown that sweat it leads to a foul smell," says Joshua. "A lot of natural deodorants are packed full of ingredients, such as silver or charcoal to help reduce bacteria levels and therefore, help ease the odour." The Aurelia Probiotic Skincare Botanical Cream Deodorant, £ 19,00 contains kaolin clay, antimicrobial arrowroot, sodium bicarbonate, shea butter and a blend of high quality essential oils. "This combination of ingredients fights odour-causing bacteria, absorbs natural perspiration and helps to condition the skin under the arms," says Aurelia's Brand Manager and Product Expert, Antonia Knox.
Why Should I Swap To A Natural Deodorant?
Natural deodorants have come a long way in recent years. The waxy, sticky balms of the past have been replaced with sophisticated balms that dry completely with a scent that lasts for hours. "There is no data showing that natural deodorants are any safer or more effective than traditional deodorants," says Joshua. Some people don't like the idea of blocking their sweat glands, albeit temporarily, while others feel more comfortable wearing an aluminium-based formula.
What Are The Best Natural Deodorants?
We mentioned them above, but Malin + Goetz and Drunk Elephant both offer natural formulas that have received rave reviews in the Space NK office. Malin + Goetz Botanical Deodorant, £ 19,00 infuses notes of geranium, orange peel, grapefruit and spearmint to give a uplifting and refreshing scent to your underarms. Not only is it great for those with sensitive skin, but the non-sticky formula also doesn't leave tell-take marks on your clothes either. If you're after a sweeter scent, Drunk Elephant Sweet Pitti Deodorant Cream, £ 18,00 is perfect. Drunk Elephant put a lot of work into creating a formula that offered unrivalled protection and kept arms feeling dry and smelling fresh.
Aurelia Probiotic Skincare Botanical Cream Deodorant, £ 19,00 divides opinion as some people can't get over the idea of applying deodorant with your fingers. Those who can and have used this natural deodorant all have the same verdict; it leaves your underarms feeling seriously soft and smooth.
And, what about the NEW Sol de Janeiro Rio Deo Aluminium-Free Deodorant, £ 16,00? The aluminium-free deodorant includes papaya enzyme to gently exfoliate your underarms, while starch, Brazilian bacuri butter and mango seed butter absorbs moisture and leaves you feeling pleasantly dry. Fans of Sol de Janeiro will also be pleased to know that Rio Deo features the signature Cheirosa '82 scent.