IN FOCUS
Selena Gomez On Her Feel-Good Lip Look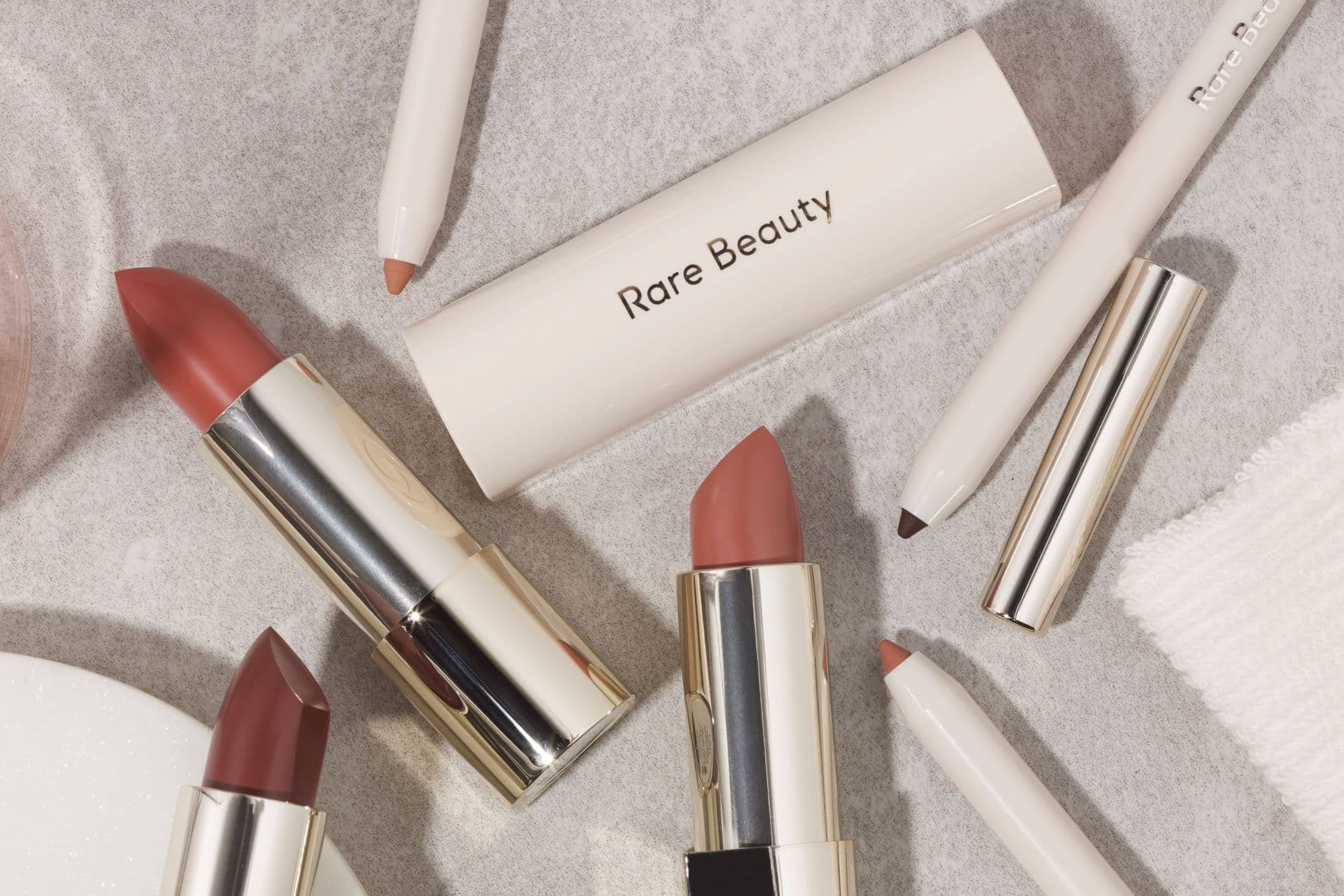 Selena Gomez understands the power of
finding the perfect lipstick
for the occasion. Back in 2019, she used a striking, matte red to dial up the glamour at Cannes Film Festival, and earlier this year she employed a nude hue to exude elegance. It's no surprise there was mild shock among some selenators, AKA Selena Gomez fans, that while her makeup brand
Rare Beauty
did have a couple of lip products, none were lipsticks in the traditional sense.
The
With Gratitude Dewy Lip Balm
gives lips a hydration hit with a wash of colour, while the
Stay Vulnerable Glossy Lip Balm
ramps up the shine without the sticky finish.
Lip Souffle Matte Lip Cream
is the go-to for anyone wanting to channel a matte finish with Rare Beauty, or at least it was until the brand unveiled
Kind Words Lipstick
and the matching cream lip liners.
The creamy matte lipsticks come in 10 flattering shades designed to suit all skin tones. From peachy nude (Lively) to rich, vampy red (Strong), the shades are designed to be wearable without shying away from a strong lip look. Kind Words lipsticks promise to impart high-pigment colour that lasts without drying out your lips. We caught up with Selena Gomez to find out more…
The Difference Between Rare Beauty Kind Words And Other Lipsticks
Matte lipstick is a statement look and is known for not being the most forgiving, especially if your lips are on the drier side. "What I love about the Kind Words lipstick formula is how comfortable it is," Selena tells us. There's a reason why this line up wasn't included in the initial launch; it's taken years to get it just right. It was imperative that the formula, "is super creamy and goes on smoothly," she says.
Selena Gomez's Favourite Lipstick
While most of us own three, four, or more lipsticks, we all have a favourite go-to shade. How easy is that decision when you've created your own lip line? "It's impossible to choose!" admits Selena. "So many of my favourites are in this line – I love how wearable the shades are. I've been playing favourites with Worthy for every day but Gifted for a night out."
There's a reason why Selena created a matching liner for each lipstick: "I use the matching shades of Worthy Lipstick and lip liner, but there are also some beautiful ways to mix and match," she reveals. "Kind Words Lip Liner in Fun works really well with Kind Words Lipstick in Lively."
Her Insider Trick For Applying Lipstick
"I like to enhance my natural lip shape," she tells us. "I often use a darker lip liner with a slightly lighter lipstick to add definition. Rare Beauty Kind Words Lipstick, £ 21,00 in Fun and Rare Beauty Kind Words Lip Liner, £ 15,00 in Talented is a good combination for this trick!"
Read More
• The Best No-Makeup Makeup Products
• Rare Beauty Liquid Blush Review • Best Sweat Proof Makeup Products
• How to Wear Nude Blush • Best Summer Makeup Products