MOST WANTED
We Tried Kate Somerville's Mega-C Brightening Facial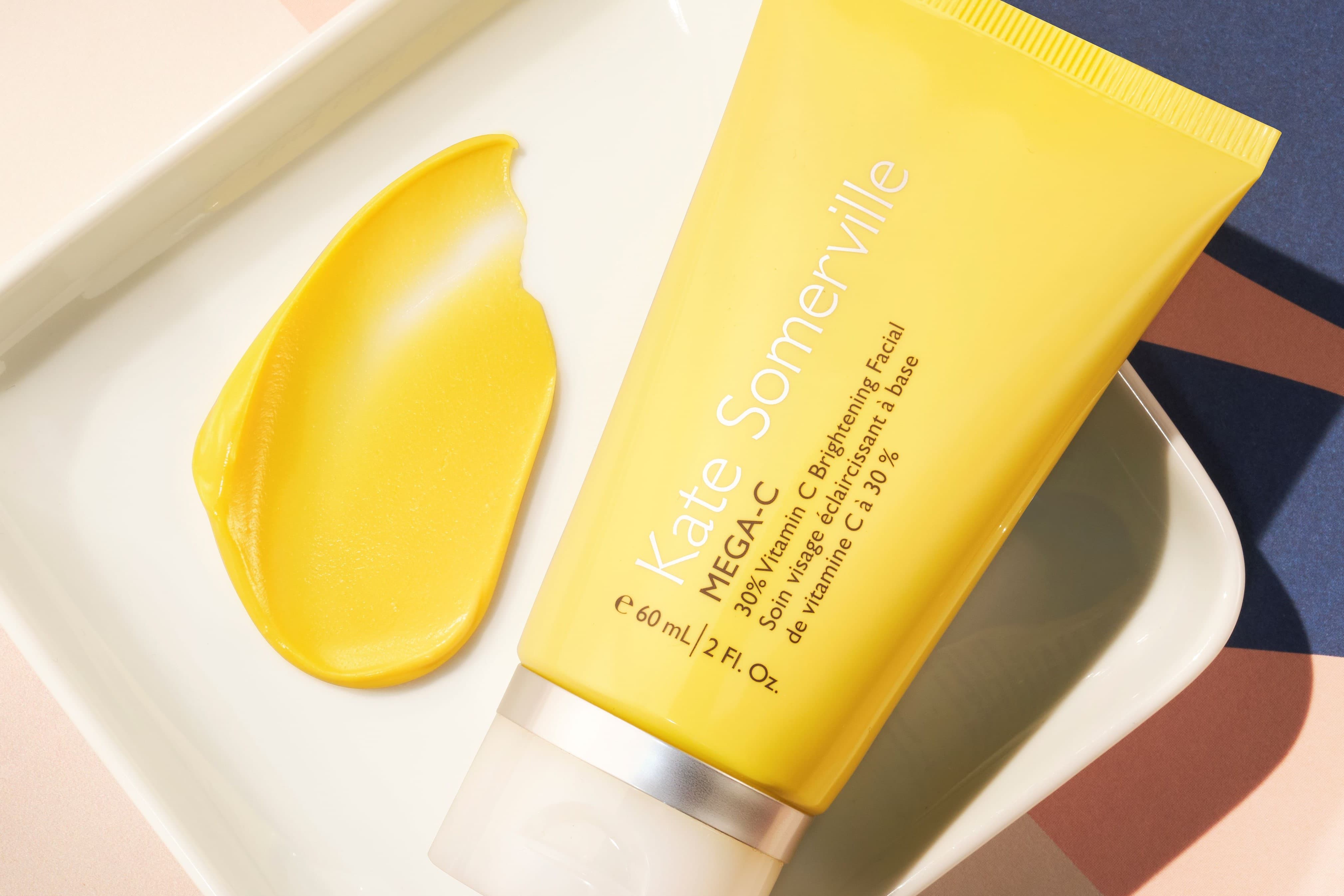 Vitamin C is the most searched for skincare ingredient on Space NK and our beauty experts are regularly asked what the
best vitamin C product
is in store. While we have plenty of creams and serums, there aren't many vitamin C face masks, so there was quite a bit of intrigue in the office when Kate Somerville announced the launch of the Mega-C Brightening Facial.
From the soothing
Goat Milk Moisturizing Cleanser
to the smoothing
ExfoliKate Intensive Exfoliating Treatment
, Kate Somerville is known for results-driven skincare, catering for all skin types and concerns. The brand's latest offering is all about evening out skin tone and dialling up the glow.
As someone concerned with pigmentation, dark spots and radiance, I regularly use the ingredient in my skincare routine, and I was keen to see if Kate Somerville's vitamin C face mask delivered results in the promised two uses. Here's everything you need to know about the Mega-C Brightening Facial.
Top Line On Kate Somerville Mega-C Brightening Facial
Kate Somerville Mega-C™ 30% Vitamin C Brightening Facial, £ 62,00 is a 20-minute wash-off treatment with 30% pure vitamin C (ascorbic acid) that's been encapsulated to maximise its potency. This kind of dose of vitamin C shouldn't be sniffed this, this is clinical grade stuff and Kate Somerville has included soothing sea buckthorn oil, ceramides and niacinamide to help support your skin barrier. The promise? Brighter, smoother looking skin in just two uses.
Everything You Need To Know About Kate Somerville's Vitamin C Face Mask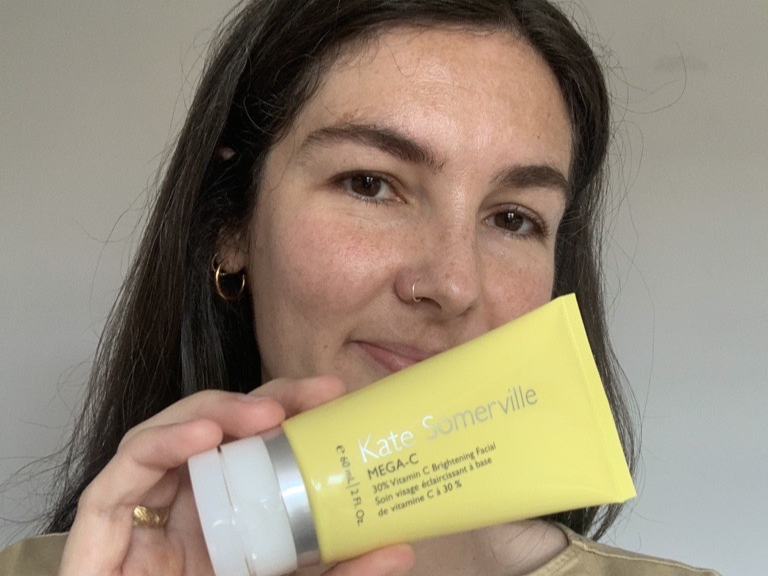 I've used a vitamin C serum as part of my morning routine for years and have my favourite serums (BeautyStat Universal Vitamin C is one of the best out there). During the two weeks of trying out Kate Somerville's Mega-C Mask, I continued to use my current vitamin C serum on the days I didn't apply the face mask and I used Augustinus Bader The Retinol Serum twice a week as part of my evening routine.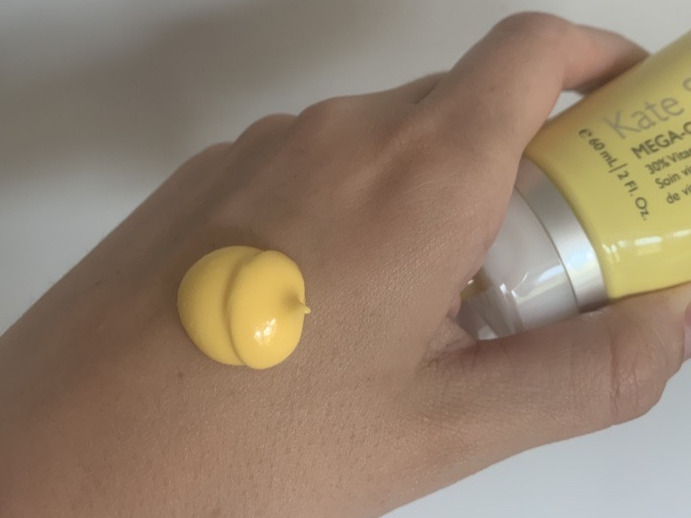 My initial thoughts were focused almost solely on the appearance of the cream; I don't think I've ever seen a skincare product so yellow. While it might look like egg yolk, the consistency is super creamy and luxe. The instructions suggest a thin layer and given the 30% potency, I don't recommend being heavy handed. With a primer-like texture, it's easy to spread onto your skin. You apply to dry, cleansed skin and the brand instructs you to leave it on for 20 minutes, I set a timer both times I used it. The yellow tone isn't as bold on your skin, but it does make you look slightly jaundice (as you can see from the image below!).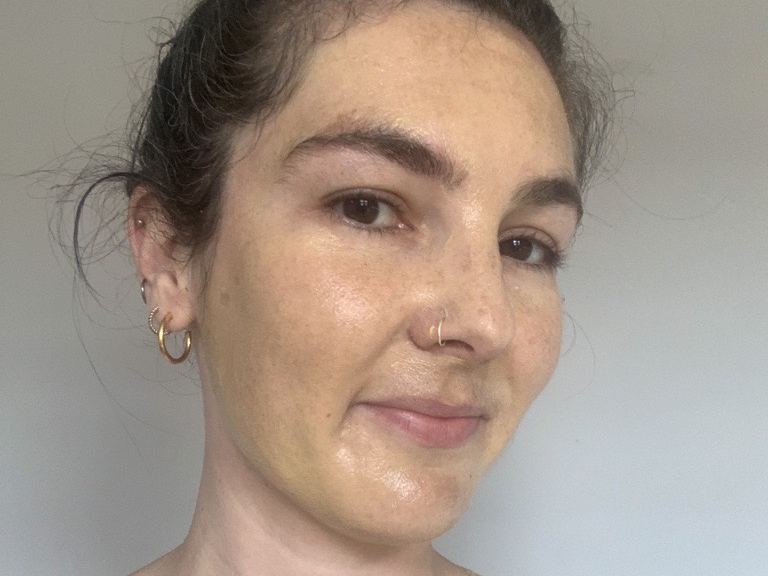 Throughout the 20 minutes I didn't notice any tingling, itchiness or discomfort. If you have sensitive skin, you might want to rinse it off after 10 minutes though due to the strength of vitamin C. I used a flannel and warm water to remove Kate Somerville's Mega-C Mask and applied a fragrance-free moisturiser and SPF straight away. Even after one use I noticed my skin felt softer and had more of a glow to it. This was emphasised after the second time I used this vitamin C face mask – I've included a photo of my skin post-Kate Somerville's mask and pre-moisturiser.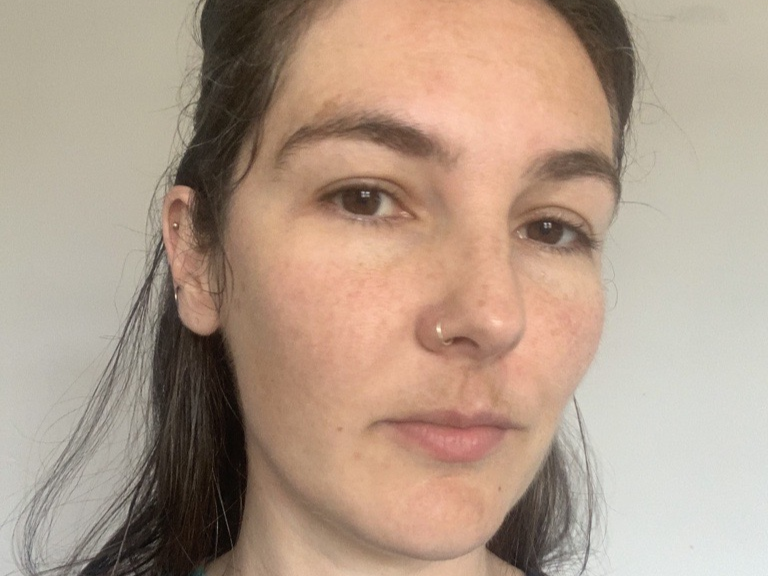 The Verdict On Kate Somerville Mega-C Brightening Facial
I've used a lot of vitamin C serums and creams, but I've never noticed instant results like this. While the dark spots and pigmentation weren't eased, the glow from Kate Somerville Mega-C™ 30% Vitamin C Brightening Facial, £ 62,00 was enough to seal the deal for me. I think this vitamin C face mask is a really good option for anyone looking for a pre-event treatment they can do at home, as well as anyone wanting to give their skin a boost after a long week. It is a great skincare product to help with dullness.
We always recommend doing a patch test and if you have sensitive skin, you might want to reduce the amount of time you leave this vitamin C face mask on for. A 30% dose of vitamin C is potent, so make sure you follow up with a gentle moisturiser and SPF. I'm very excited to keep using this product each week and will share the results over time.
Read More Honest Reviews
• Review of the Ultra Violette Preen Screen Reapplication Mist
• Review of the Laneige Sleeping Lip Mask • Review of the Olaplex Lashbond Lash Growth Serum
• Review of the NARS Soft Matte Advanced Perfecting Powder • Review of the Kosas Revealer Concealer
• Review of the Naturium The Smoother Glycolic Acid Exfoliating Body Wash • Review of The Ordinary Moisturizing Factors + Beta Glucan