MOST WANTED
The Kosas Concealer That Might Make Your Eye Cream Redundant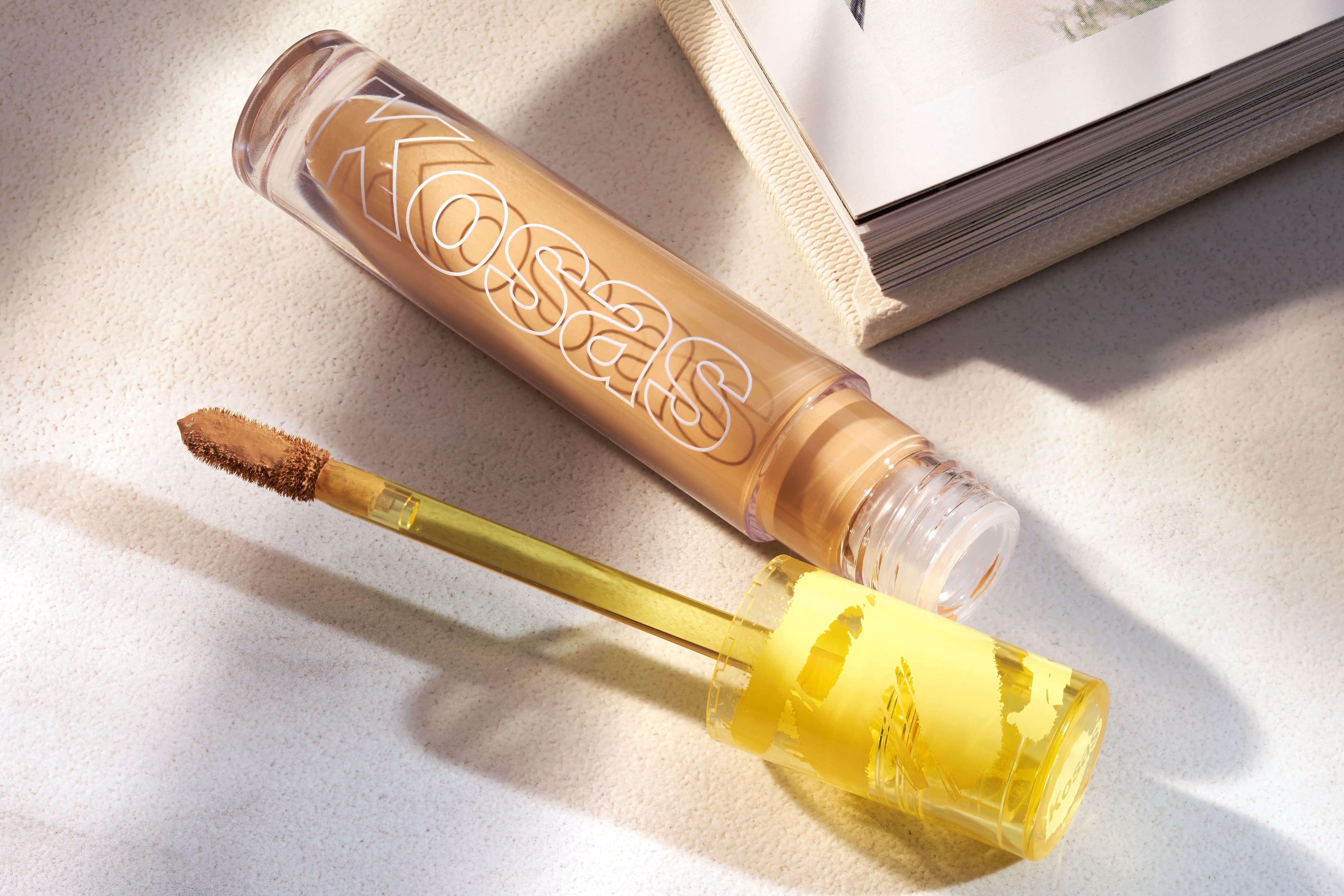 Makeup with skincare benefits isn't new. In fact, most foundations, concealers, lipstick you name, now come with the promise of plumper, firmer, smoother looking skin thanks to the inclusion of
hyaluronic acid
,
squalane
, peptides and more.
Kosas
is a beauty brand that has managed to cut through the noise with its skin-boosting makeup formulas. The brand has amassed an impressive 400k followers on Instagram and over 102k on TikTok with 67.6M views on #kosasconcealer in particular since it launched in 2015.
Despite the hype we were still a little sceptical – can a concealer really be that good?! – so we decided to ask two Space NK team members to trial the bestselling Kosas Revealer Concealer rather than just one person. Our Head of PR Jini Sanassy and PR Coordinator Matilda Sanders tried and tested the concealer for the six weeks leading up to Kosas' launch at Space NK. Here's everything you need to know about Kosas Revealer Concealer and their verdicts.
Top Line On Kosas Revealer Concealer
KOSAS Revealer Concealer, £25.00 is a medium coverage concealer available in 28 shades. Packed full of hyaluronic acid, peptides, caffeine and arnica, this concealer promises to help plump, soothe and brighten skin while it camouflages dark circles, blemishes and uneven tone. There's a lot of hype online about the super lightweight, creamy texture.
What Jini Thought…
"Kosas Revealer Super Creamy + Brightening Concealer is unlike anything I have tried and now I get the hype – it looks like skin but covers imperfections seamlessly. I'm using the shade 3.2 (swatch shot below so you can see it on real skin) and the creamy texture gives good coverage without feeling heavy.
I use it on my entire face and enlist the help of my Beautyblender The Original Beauty Blender, £17.00. What I like most of Kosas' Revealer Concealer is that it doesn't accentuate the fine lines around my eyes. I'm 45 years old and using concealer around my eyes doesn't always end well (if you know, you know), but this formula is honestly flawless.
Will I keep using it? I'm currently backing up a lorry to our warehouse to take a bulk delivery – I cannot be without it!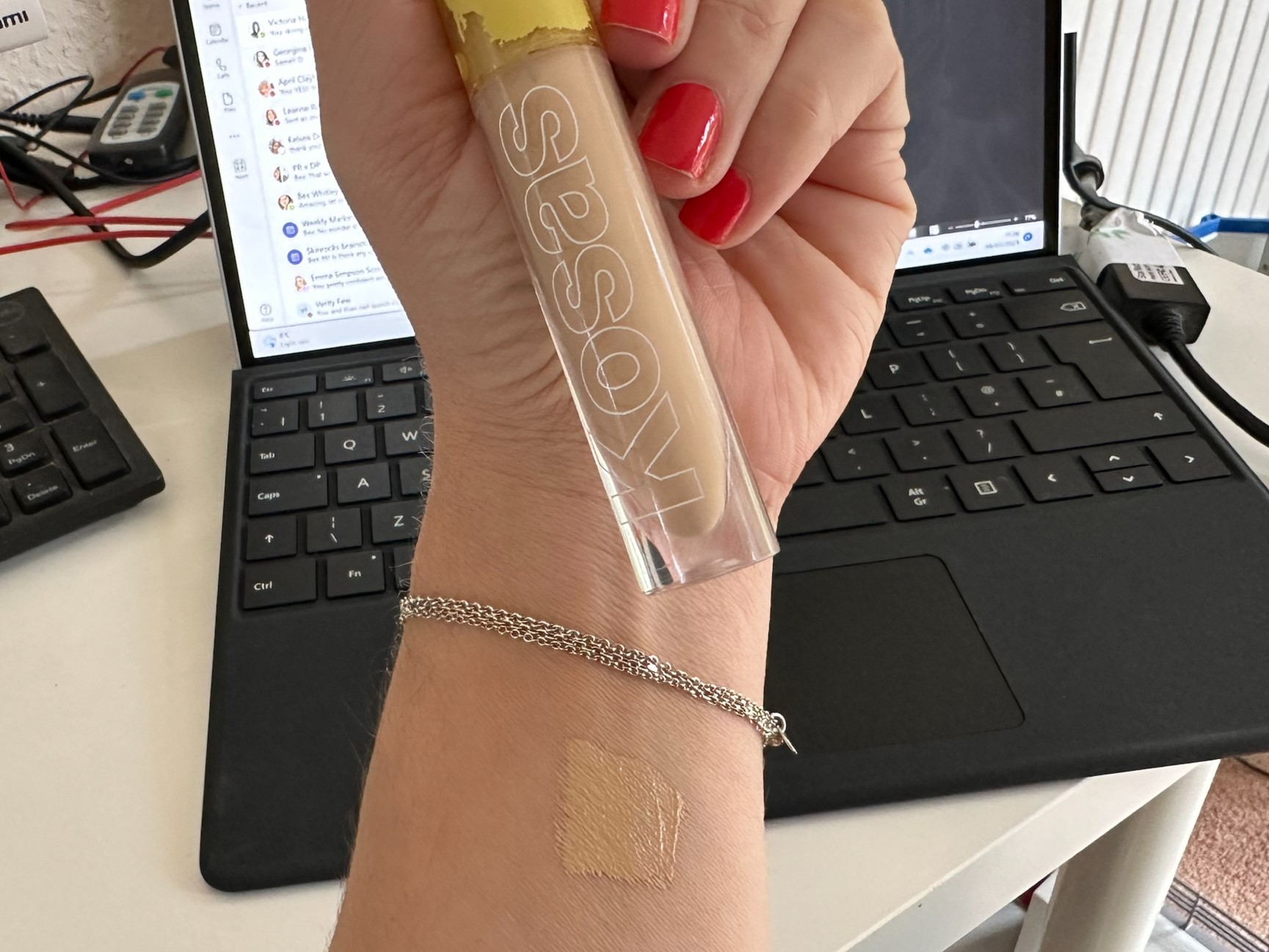 What Matilda Thought…
I'm paler than Jini and have been using the 02w shade (swatch shot below). It's very lightweight and you only need a small amount to cover your whole eye area. Once I've applied the concealer and dusted my under-eye area with setting powder, it looks bright, hydrated and stays that way until I get home with little to no creasing.
I've also been using Kosas' concealer on top of my light coverage base to touch up any uneven skin tone. The formula works really well around my nose where I want to smooth out the uneven tone, but I need to use a couple of layers to conceal any blemishes. If you have acne or rosacea, this concealer might be too light on coverage.
Kosas Revealer Super Creamy + Brightening Concealer will definitely be staying in my makeup bag. I really like the creamy texture and the natural-looking finish it leaves.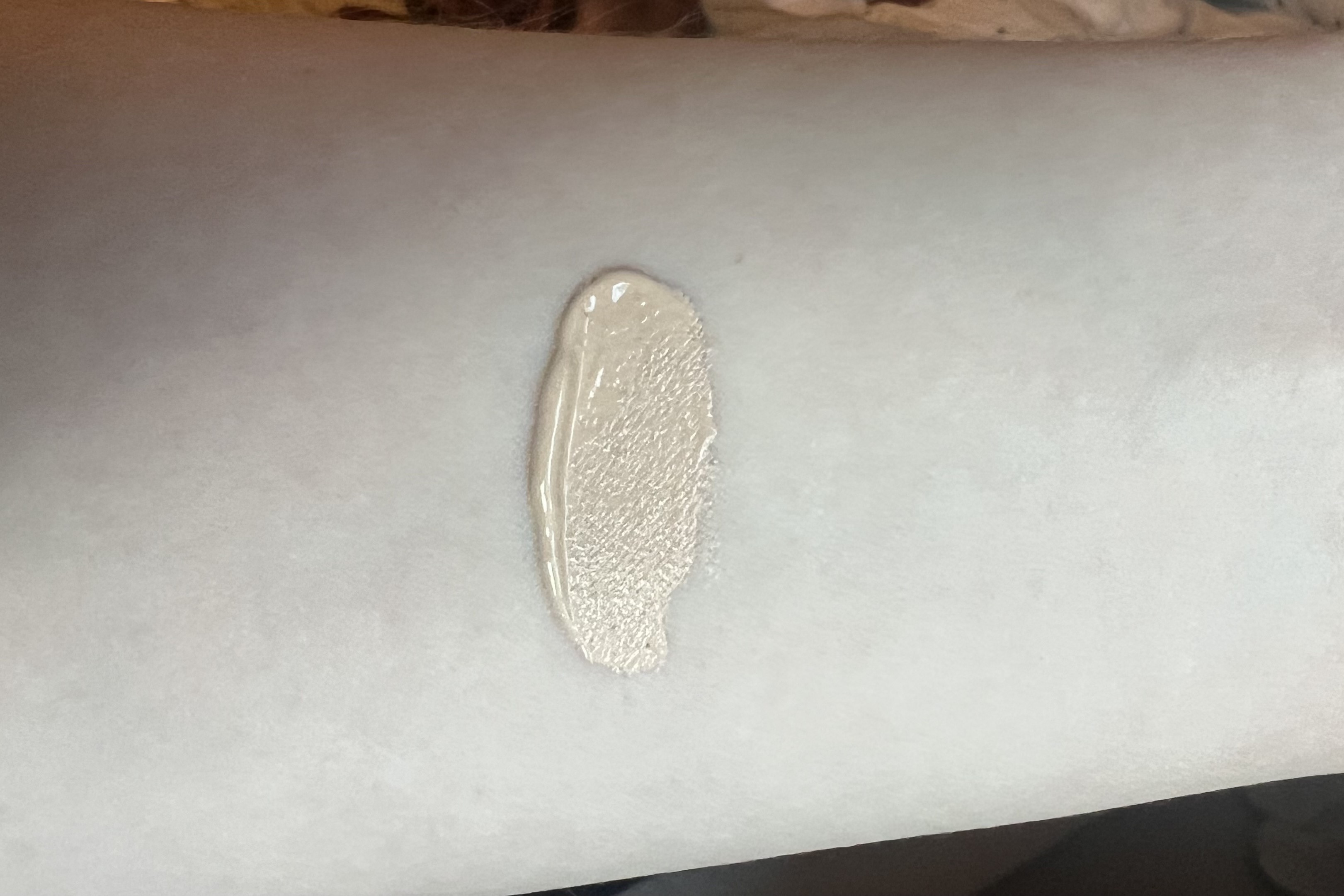 The Verdict On Kosas Revealer Super Creamy + Brightening Concealer
From the lightweight texture to the super-natural finish, it's safe to say both Jini and Matilda agree with the internet and love KOSAS Revealer Concealer, £25.00. Whether you're concealing redness or brightening dark circles, this is one of the best concealers on the market. Can it replace your eye cream? If you don't use an eye cream already using the Kosas concealer will be an improvement thanks to the abundance of skincare ingredients. However, if you are looking to smooth out crow's feet or ease puffiness and already use a good eye cream, we don't recommend this as a replacement.
More From Kosas
KOSAS Cloud Set Setting Powder, £30.00 is one of the brand's top selling products alongside the Revealer Concealer. Fans love the feather-light texture that eradicates shine within seconds without piling. If you're looking for fuller-looking lips with a hint of colour, KOSAS Wet Lip Oil Gloss, £20.00 should be on your shopping list too.
While Kosas makeup gets a lot of attention, we have it on good authority that the founder, Sheena Yaitanes uses KOSAS Plump & Juicy Vegan Collagen Spray-on Serum, £40.00 every day as part of her skincare routine. The lightweight spray doesn't have a gloopy texture or leave your skin feeling tacky. It's next on our list to review!
Read More
• The Best Foundations for All Skin Types
• Why You Should Use A Tubing Mascara • How To Remove Your Eye Makeup
• The TikTok Makeup Trends To Recreate • How to Make Your Makeup Last Longer