IN FOCUS
The Benefits of Squalane Oil for Skin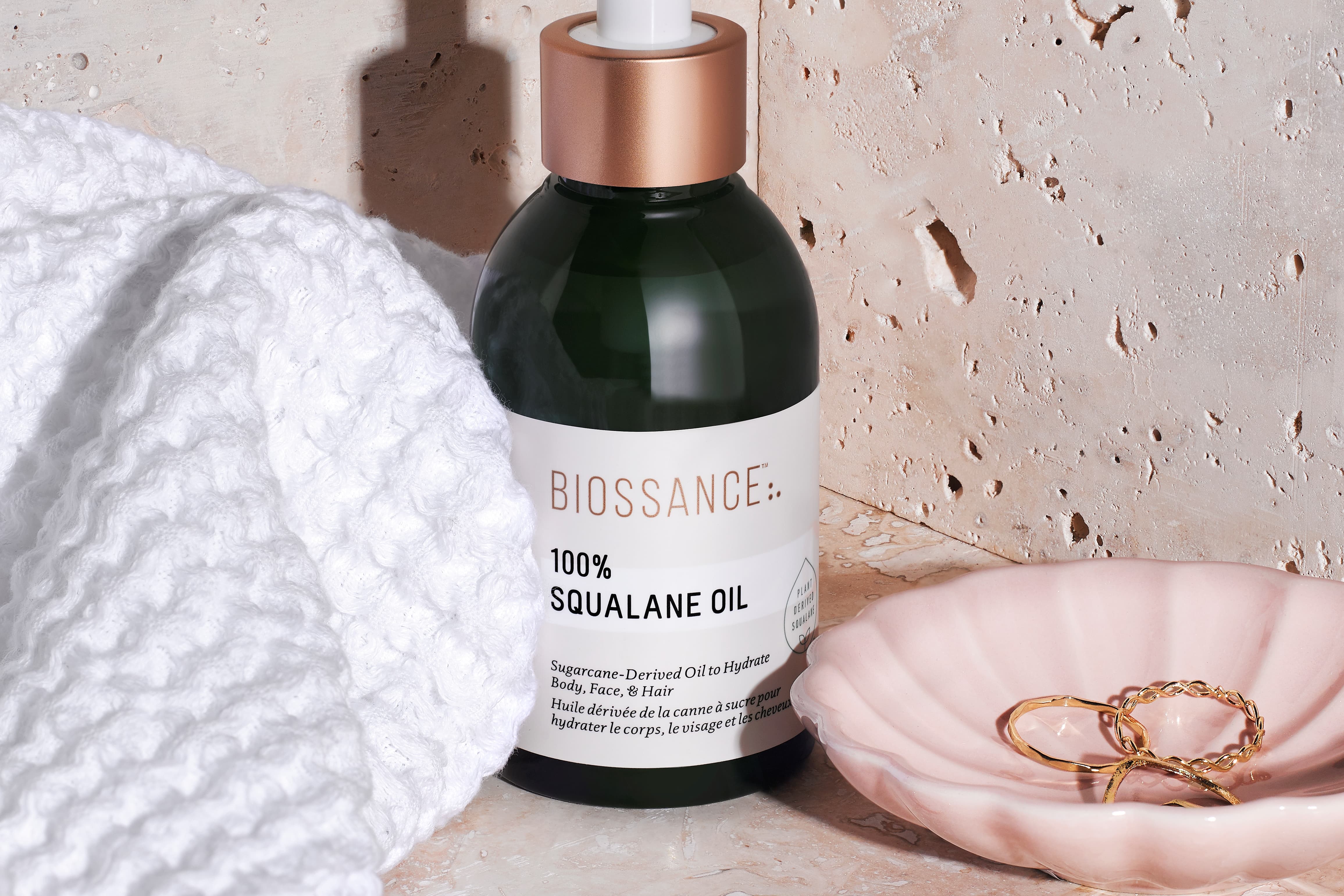 From
hyaluronic acid
to
glycerin
, we love a good hydrating ingredient we can use daily to nourish and protect our skin. Squalane sits comfortably in the same camp and is having quite the moment across social media right now – and for good reason.
Quenching the thirst of dry, dehydrated skin can be difficult as not all hydrating skincare ingredients are made equal. In a nutshell, squalane is similar to our skin's natural oils, helps to strengthen our barrier, and everyone can use it. "Due to its lightweight texture, squalane is suitable for all skin types. It's also non-comedogenic, so it won't block your pores, making it ideal for oily and acne-prone skin," says the aesthetics doctor and brand founder,
Dr. Barbara Sturm
.
Squalane can be used as a pure oil or incorporated into creams and serums. It can also be used multiple ways so it's easy to slot into your existing routine. Read on to get the lowdown on this dreamy ingredient.
What is Squalane?
Squalane is a powerhouse ingredient when it comes to nourishing the skin. If you have dry skin, we definitely recommend adding it into your skincare routine. What makes it so special? Squalane is similar to the oil our body produces, which means it's more easily absorbed.
Originally, squalane used to be harvested from shark livers, but science has advanced, and beauty brands tend to use more sustainable, vegan alternatives, derived from olives and sugarcane. If you lean towards vegan skincare usually, make sure you give the INCI list a read to double check the origin.
What is the difference between Squalane and Squalene
No, this is not a typo, squalene and squalane both exist, but what's the difference? To put it simply, squalene is squalane in its purest, raw form before being transformed into the active skincare ingredient. "In order to make plant-derived squalene stable for use in skincare products, it is hydrogenated (hydrogen is added to make the lipid stable) to become squalane," explains Paula Begoun, founder of Paula's Choice. Squalane is the synthetic ingredient that's being added to skin, body and haircare products as an emollient.
The Benefits of Squalane for Skin
• Hydrates the Skin
Squalane oil is one of the best moisturising ingredients for your skin. The fine oil texture is a great last step in your evening skincare routine to lock in all of your serums and creams, and create a protective barrier around your skin. Unlike other oils, this one won't leave an oily or greasy finish but rather give it a natural sheen.
• Reduces the appearance of fine lines and wrinkles
If you're on the hunt for a new anti-ageing ingredient, squalane should be on your radar. The olive oil-derived ingredient helps smooth out skin texture and any fine lines and wrinkles that might be starting to appear. Adding this moisture into your skin also allows for more elasticity and will give your face a more bouncy and supple look.
• Antioxidant
Squalane is also a great antioxidant and will help your skin fight daily free radicals and protect your skin barrier. "It is well known that this amazing skin-friendly lipid helps to maintain hydration and repair the skin's barrier. When your oil glands don't make enough, it is extremely helpful to give it more," says Paula.
• Hydrates your Hair
We talk a lot about using squalane oil in skincare, but it is also a good ingredient to have in your haircare routine, especially in conditioners and treatments. Squalane is actually one of the hero ingredients in JVN's Nurture Hydrating line. This versatile ingredient will help lock in and retain moisture in your beautiful tresses. And just like it does your skin, it's also going to create a barrier around your hair to prevent it from drying out.
How to Use Squalane Oil in your Routine
Squalane can easily be incorporated into your skincare routine, morning and evening. "Generally, it will work effectively in a face cream, eye cream or a serum; it's a dependable moisturising ingredient," says Dr. Sturm.
Squalane can be a solo rider with a good squalane oil at the end of your skincare routine to really seal in the moisture of your serums and moisturiser. But, just like other skincare ingredients, it can do wonders when combined with other skincare ingredients, we have two combos we think you'd love.
Squalane and retinol: If you're new to retinol and trying to incorporate it into your skincare routine, applying squalane with it will help with any potential irritation the retinol can cause.
Squalane and vitamin C: If skin texture and discoloration are two of your skin concerns, then you've found your match made in heaven. Biossance Squalane + Vitamin C Rose Oil is a clever blend of active ingredients that will simultaneously work on easing fine lines, wrinkles and inflammation, as well as any discoloration you might be dealing with from acne.
Our Favourite Squalane Products
You can find squalane in a lot of hydrating formulations, from skincare to haircare. Whether you use pure squalane oil or turn to a more advanced formulas, you can reap the benefits of this dreamy ingredient daily.
Squalane oil in Skincare: The Takeaway
From hydrating to smoothing texture, you're missing out if squalane isn't part of your skincare routine yet. Incorporating a new ingredient in your routine can be daunting at times because of the potential side effects, we love that squalane is a natural ingredient that works for every skin type and simply nourishes your skin.
Read More
• Tatcha Dewy Skin Cream Review
• The Benefits of Rosehip Oil • How to Get Glass Skin
• The Skinification of Hair • A Guide to Hair Oils