IN FOCUS
Hyaluronic Acid: Everything You Need To Know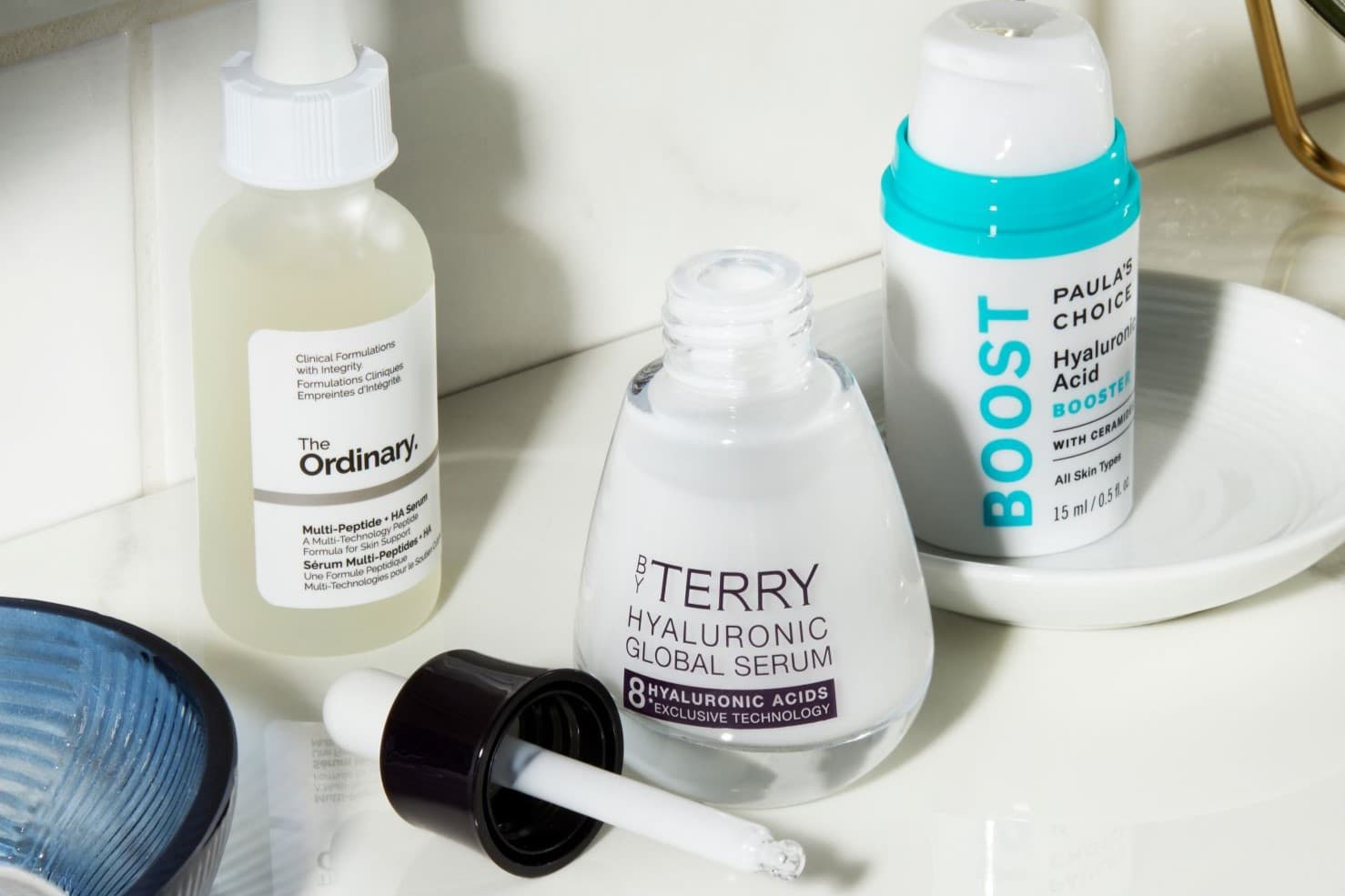 Hyaluronic acid is easily one of the most talked about skincare ingredients, along with vitamin C and retinol. This powerhouse ingredient, like
squalane
and
ceramides
, helps to maintain good hydration levels, strengthen our
skin barrier
and leave us with a plump, healthy looking complexion.
From light serums to rich, hydrating moisturisers, hyaluronic acid can be found in all types of products and is one of the few that can be used by all skin types. Whether you're trying to achieve the glazed-donut,
glass skin
look or you just want to boost hydration, hyaluronic acid should be in your skincare routine. Read on for our expert guide to hyaluronic acid.
What is Hyaluronic Acid?
Simply put, hyaluronic acid is a super hydrator. It's a sugar molecule that retains 1,000 times its weight in water, which is why – in its natural form – our bodies use it to keep tissues and joints lubricated. As for our skin? It moisturises like nothing else. "Hyaluronic acid is intensely hydrating and makes lines fade," says Dr. Barbara Sturm. "Studies have shown that it even stimulates collagen and assists in sun damage repair.
What are the Benefits of Hyaluronic Acid?
The main benefit of hyaluronic acid for skin lies in its ability to keep our skin hydrated. Adding hyaluronic acid into your skincare routine will help attract and retain moisture into the skin, which will keep your skin barrier happy. "Low molecular weight – or short-chain molecules – penetrate deep into the skin and replenishes moisture reservoirs for the long term," explains Dr. Sturm. "Long-chain hyaluronic acid – or high molecular weight hyaluronic acid – immediately hydrates the surface layers and protects against dryness."
Additionally, using hyaluronic acid for skin can work to reduce the appearance of fine lines and wrinkles when used on a regular basis. The super hydrator will help plump up the skin and boost collagen production, which will ultimately make those fines lines less visible.
How To Use Hyaluronic Acid In Your Skincare Routine
With every skincare ingredient comes a cheat sheet, and the best way to use it in your skincare routine to reap the benefits. Here's how to use hyaluronic acid in your skincare routine.
When Should I use Hyaluronic Acid In My Skincare Routine?
In your skincare routine, it's best to use after your cleanser, ideally when your skin is still a bit damp. If your skin is dry, apply a light layer of toner and essence to create that damp feel. It's not recommended to apply hyaluronic acid on dry skin, as it might make dry it out rather than hydrate it. Follow up with your other treatment and creams, while your skin is still damp.
How Much Hyaluronic Acid Should I Use?
One of the most frequently asked questions when it comes to serums or any other treatments. The key here is to use the right amount of product to avoid wasting any or to make sure we're not using too little. With hyaluronic acid, we tend to use more than our skin need. You just need to apply 5-10 drops and pat it in to make sure your skin absorbs it well.
Can You Use Hyaluronic Acid When Pregnant?
Yes, you can use hyaluronic acid throughout pregnancy. When it comes to skincare during pregnancy, some ingredients can be deemed unsafe but hyaluronic acid is not on the list. If you're using a moisturiser or a face mask with hyaluronic acid, make sure that the other ingredients are pregnancy-safe and that you can use them.
Final thoughts on Hyaluronic Acid
Hyaluronic acid is a skincare ingredient that works well for all skin types, tones and concerns. If you're looking for a hydrating ingredient that will smooth out fine lines and give your skin a plumper, healthier glow, hyaluronic acid is definitely worth adding into your skincare routine.
Read More
• A Simple Skincare Routine for Beginners
• What Are Retinoids And How To Choose The Right One For Your Skin? • What is Double Cleansing?
• The Best Hydrating Face Masks • The Benefits of Turmeric