IN FOCUS
The Skinification Of Hair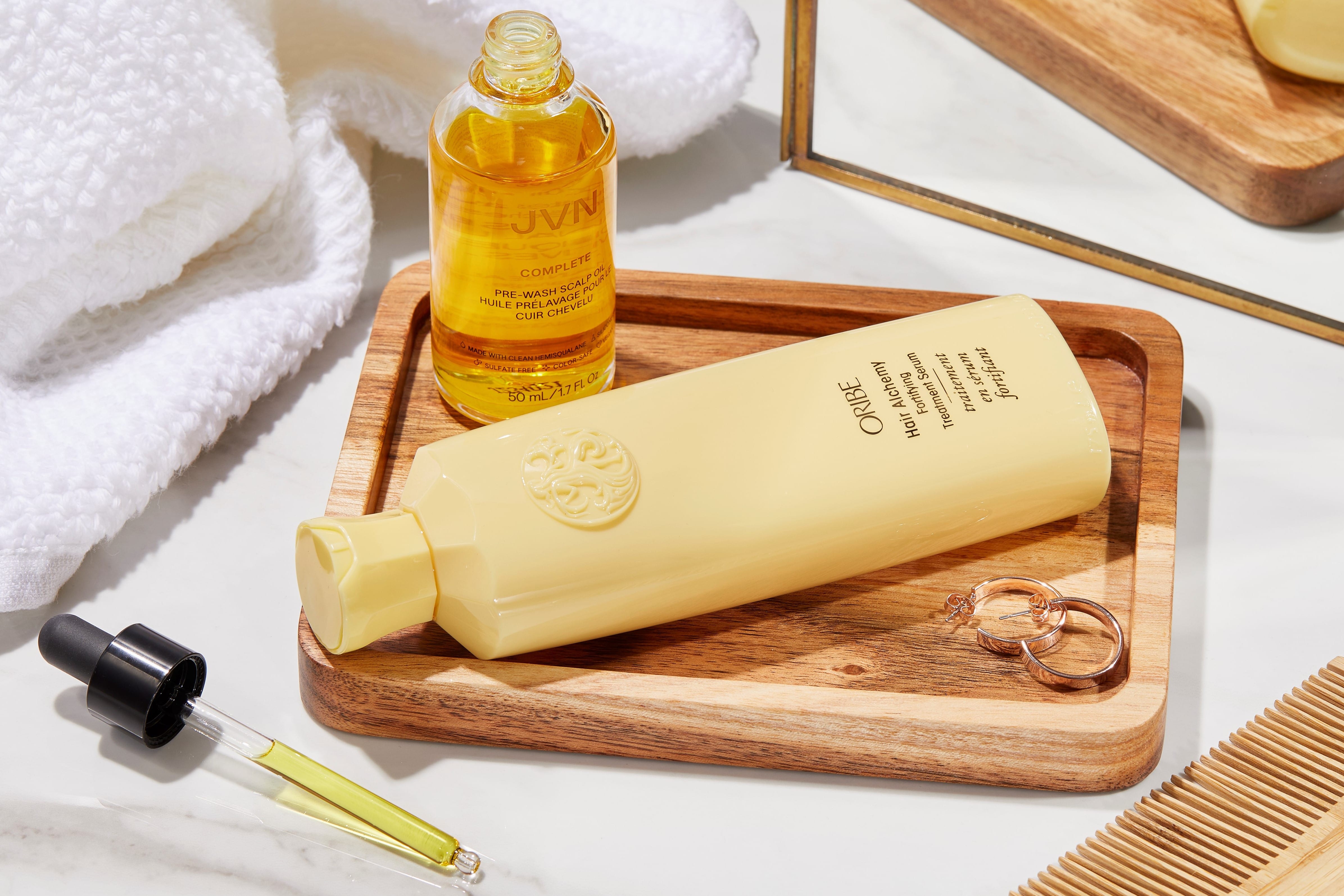 It's pretty clear that general knowledge around skincare and ingredients has changed over the past few years. With the rise of skinfluencers and skintellectuals sharing their knowledge on ingredients and their benefits, we have access to a lot of easy-to-digest content to perfect our skincare routine. This wave has expended to
bodycare
with most of us realising that taking care of our skin below our neck can be just as beneficial. Brands like
Necessaire
are at the forefront of this movement with dreamy formulas jam-packed with active ingredients.
It was only a matter of time before our haircare products were given the same treatment. Enter the skinification of hair. Skincare brands like
Drunk Elephant
and
The Ordinary
are tapping into this movement by releasing hair products with the same potent and effective ingredients they have been using in their stellar skincare products.
Let's delve into what the skinification of hair means for your haircare routine and how you can implement it to achieve your healthiest hair yet.
What is the Skinification of Hair?
The skinification of hair is about getting healthy hair using hero skincare ingredients in your shampoos, conditioners, treatments and styling products. The era of everyone using the same shampoo and conditioner is far behind us. Just like in skincare, there is no one product that works for everyone. There are so many different hair types and textures that it only makes sense to tailor your hair products. "Women have long understood the benefit of high-quality ingredients in their skincare regimes and have been willing to spend more for that quality. Now they're starting to understand that what you put on your hair and scalp really matters too," says Melisse Shaban, CEO and founder of Virtue. The skinification of hair means elevating your hair routine to nourish and treat your locks with ingredients and products made for them.
What are the Best Skincare Ingredients for your Hair
Glycerin is one of the best humectants and is found in a lot of hydrating skincare serums and creams – it has amazing benefits for your hair too. Glycerin attracts moistures and locks it into your skin or your hair. It's an amazing ingredient for anyone who has coily, afro hair and needs all of the moisture they can get.
Squalane is a hero ingredient when it comes to hydrating the skin. In haircaire, squalane helps retain moisture and boost shine, which we all want. Squalane also helps your hair from breaking, which you'll know all too well if you have dry or fine hair. This hydrating ingredient is also non-comedogenic, which means it doesn't clog pores and is very scalp friendly. You can usually find squalane is hair and scalp oils, or in finishing treatments to give a boost of shine.
Niacinamide is often used for its calming properties when we deal with skin inflammation. But in haircare, niacinamide boosts the production of keratin, which is one of the essential components of our hair and nails. With more keratin, our hair is fortified and can grow faster than it naturally would. If you suffer from hair shedding, implementing niacinamide could definitely help with this problem.
Hyaluronic acid is one of the holy grails of anyone's skincare routine. The same way it hydrates the skin, hyaluronic acid also has amazing hydrating properties for your hair, especially if you have frizzy hair this ingredient can help tame the mane.
The Rise of Scalp Treatments
Our hair is literally rooted in our scalp and yet most of us have been guilty of neglecting it. Ever had an itchy scalp or an excessive amount of dandruff? That might have to do with the lack of care you've given your scalp. Because after all, your scalp is a part of your skin and should be getting the same care you give to your face."Scalps deserve the same level of attention and care as your skin so I always recommend that people think of the scalp as an extension of your face," says brand founder Christophe Robin .
In K-Beauty, it is a common practice to get professional scalp treatments where you get to see your scalp up close and personal. At-home scalp care are now on the rise, from pre-wash to finishing treatments, it's time to give our scalps the care they deserve.
Our Favourite Products for the Healthiest Hair
Best scalp oil: JVN Hair Complete Pre-wash Scalp Oil, £25.00
Before you hop into the shower, apply this oil to your scalp to nourish it and cleanse it properly before you apply your shampoo. When used regularly, this scalp oil will promote healthier and stronger-looking hair.
Best nourishing shampoo: Drunk Elephant Cocomino Glossing Shampoo, £24.00
This coconut-based shampoo with glycerin does wonders for dry, thirsty hair in need of some deep hydration. Drunk Elephant formulated this product to perfectly cleanse while still giving your hair the hydration it needs.
Best Hair Serum: Oribe Hair Alchemy Fortifying Treatment Serum, £56.00
The same way we use serums after cleansing our skin, using a hair serum is just as important. This fortifying serum with hyaluronic acid is perfect for those with fine hair prone to breakage. If this is one of your hair concerns, the Alchemy line is great to fight breakage and keep your hair from being damaged.
We also love the JVN Hair Complete Instant Recovery Serum, £12.00 to not only protect, but also repair damaged hair. Whether it's from over styling or too much sun exposure, this hair serum is packed with niacinamide to help repair and strengthen your hair. Actress Drew Barrymore says this is the product that has saved her heat-damaged hair, if you can relate, this one is for you!
Best Superfood Conditioner: Briogeo Be Gentle, Be Kind Banana + Coconut Nourishing Superfood Conditioner, £25.00
Superfoods are good for your hair! Sometimes your hair doesn't need the most intricate ingredients, it just needs to get back to bascis. Briogeo are making it easy for you with this extremely nourishing conditioner with ingredients that will simply boost your hair's health after only a few uses.
Our Final Thoughts on the Skinification of Hair
The bottom line is that taking care of our hair is just as important as taking care of our skin. It is time to pay closer attention to the ingredients we're using in our haircare and get the healthy hair that we deserve. The same goes for our scalp, let's keep in mind that it is part of our skin.
Read More
• The Ultimate Routine for Textured Hair
• How to Achieve the Glass Hair Look • Best Products for Curly Hair
• A Guide to JVN Hair Products • Review of JVN Complete Air Dry Cream