MOST WANTED
Why Monika Blunder Cover Is The Only Base Product You Need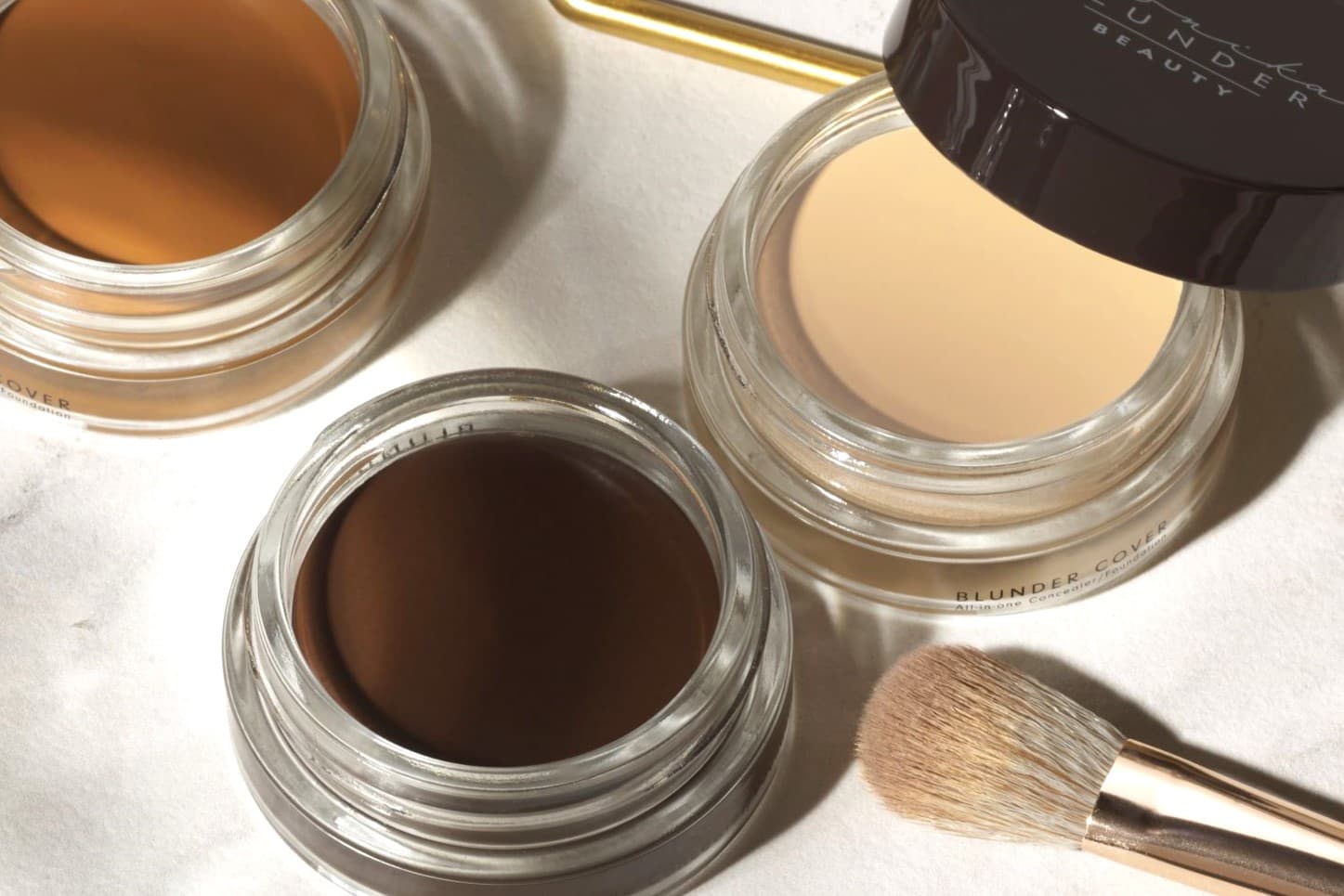 We need to talk about the Monika Blunder foundation, or the
Monika Blunder Beauty
Blunder Cover as it's more formally known. The brand has finally launched at Space NK, and this is the product everyone talks about. It's pitched somewhere between a foundation and concealer and was the brainchild of celebrity makeup artist Monika Blunder.
"I had a really clear vision as to what I wanted, so creating the formula itself only took a few tries to perfect," founder and makeup artist Monika Blunder told me. "The colours, however, took such a long time to get right! We had five or six versions of some colours before we approved them. I'm so happy with our range though, I know it was worth it." So, is the
Monika Blunder Beauty Blunder Cover
worth the hype? I put it to test to find out…
Top Line On Monika Blunder Beauty Blunder Cover
The Monika Blunder Cover sits comfortably between a foundation and concealer. With a creamy texture, buildable coverage and 20 shades, it's a flexible base product that works for all skin tones and camouflages everything from breakouts and blemishes to uneven skin tone and dark spots. Keep reading if you like multitasking products that requires minimal effort and can be applied using a makeup brush or fingers.
Everything You Need To Know About The Monika Blunder Foundation
Despite being a beauty editor, I don't wear a lot of makeup and I almost never wear base products. I hate the feeling of lots of product on my face, so I usually stick to concealer and occasionally I'll opt for a tinted moisturiser. While I'd read about the Blunder Cover a couple of years ago, I assumed it would feel heavy and cloying. I'll hold my hands up now, I was wrong. This foundation-concealer hybrid is a phenomenal product. It's light, creamy and easy to blend. The first layer offers a sheer-to-light coverage, but it's a buildable foundation that you can tailor to your skin.
Monika Blunder foundation comes in 20 shades, taking into consideration your skin tone and undertone. "Skin varies widely — undertones can be green, pink, yellow, red or even blue sometimes — so choosing complexion products that suit your specific undertones is an important thing to consider," Monika told me. I've been using Zwei 2.5, which is a fair shade with neutral undertones. I've hastily swatched Zwei 2.5, Vier 4.5 and Sechs 6.5 on my arm so you see the smallest selection of the neutral shades. If you can, I recommend going into your local Space NK store so a beauty expert can colour match you.
A few people have asked how it differs to a concealer when I've raved about the Monika Blunder Beauty Blunder Cover to them. It's much lighter. I use it under and around my eyes if they're looking red, and I have to use two layers. You can use the Monika Blunder Beauty Foundation and Blush Brush, £ 31,00 which will give you a smooth, slightly heavier coverage, but I prefer using my fingers.
What I like most about the Monika Blunder foundation is the ease in which it goes on. It's creamy and super smooth, and even if you applied five layers it doesn't feel heavy or sit your lines and pores. I'm putting this down to the fact it's packed full of nourishing ingredients, including soothing chamomile, rosemary and arnica. There's also edelweiss and sunflower extract, which are both rich in antioxidants to help protect skin. While this foundation in no way competes with my skincare, I appreciate the addition of ingredients that will help to soothe, calm and protect.
The Verdict On Monika Blunder Beauty Blunder Cover
Should you buy the Monika Blunder Beauty Blunder Cover? Yes. Whether you're like me and prefer a very minimal makeup look, or you love to embrace your base, I guarantee you'll find yourself dipping into this formula. It's a flexible product that will slot into your routine depending on what your skin needs that day and how you feel. Some days I just use a tiny amount to take out any pinkness in the outer corner of my eyes, other times I use on my cheeks and jawline to conceal dark spots. It's more expensive than some foundations and concealers, but considerably more affordable than others and it lasts a very long time.
More On Monika Blunder
While a lot of people probably find the brand via the Blunder Cover, Monika Blunder offers more than foundation. There's the equally lightweight Monika Blunder Beauty Liquid Flush Cheek Tint, £ 25,00, which is also packed with nourishing ingredients and quite literally glides on, and the mood-boosting Monika Blunder Beauty Kissen Lush Lipstick Crayon, £ 28,00 that looks like a lipstick but feels like a balm. If you have dry skin, Monika Blunder Beauty Undercover Face Crème, £ 85,00 may be of interest. Rosehip oil, shea butter and squalane take centre stage in this rich, buttery moisturiser to help keep skin feeling soothed and hydrated.
Read More
• How to Make Your Makeup Last Longer
• Tula Rose Glow & Get It Cooling and Brighteming Eye Balm Review • Rose Inc Blush Divine Radiant Lip & Cheek Review
• The Ordinary Multi Peptide Lash and Brow Serum Review • Charlotte Tilbury Airbrush Flawless Setting Spray Review