IN FOCUS
Are Essences The Skincare Step You're Missing?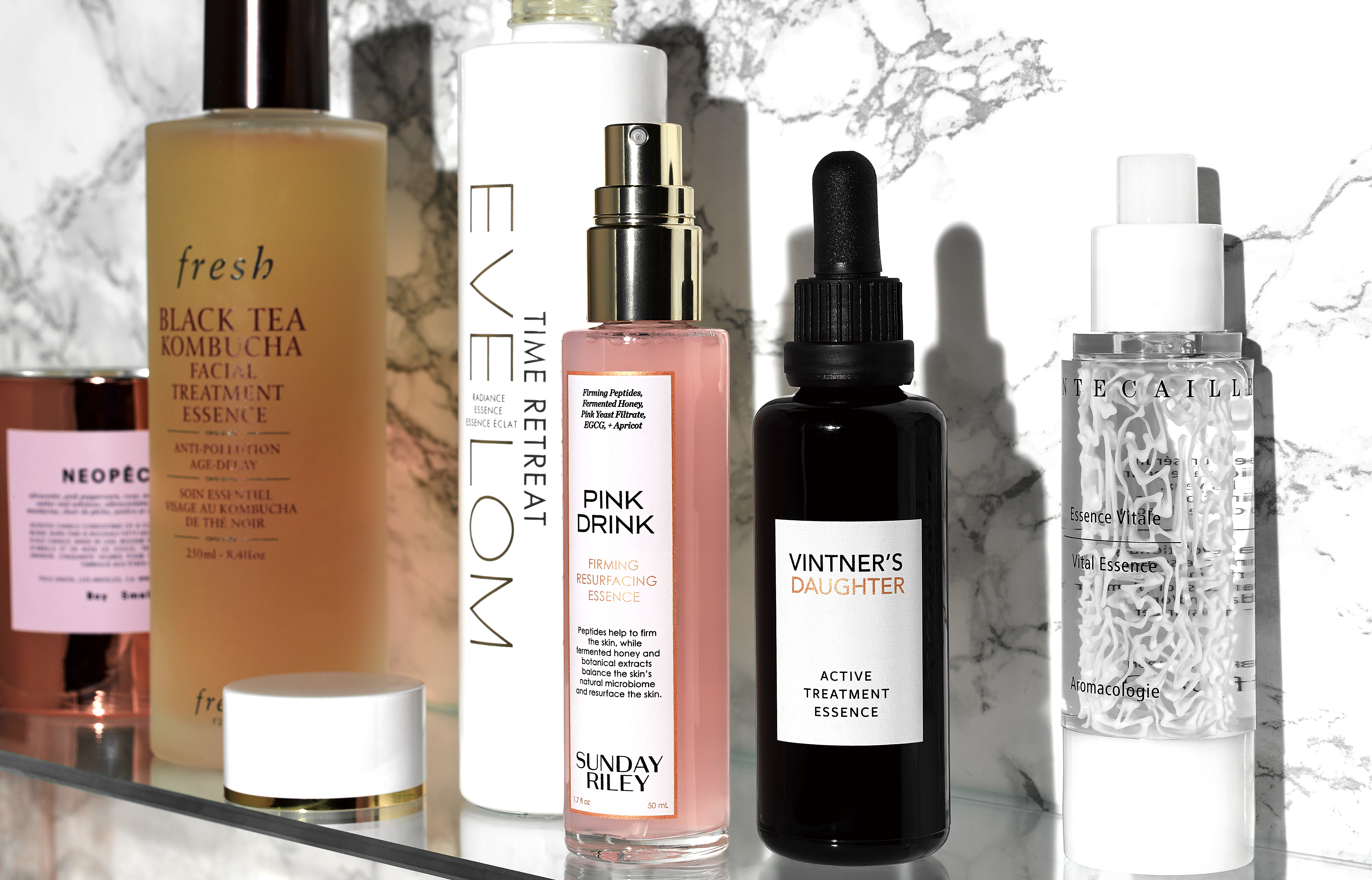 A popular skincare step in Eastern beauty routines, essences are often overlooked or left out of Western routines. Once you make time for them however, you'll realise incorporating this step into your daily routine will result in maximum payoff. Find out how this skincare sensation paves the way for following products, helping to improve efficacy and give better results. Plus, we point you in the direction for finding the right essence to suit your skin type…
What Is An Essence?
"An essence essence is a lightweight, transparent liquid that sinks into skin in seconds," explains Erica Maccallum, Master Aesthetician at Eve Lom. Not to be confused with toners, typically used to clarify oily skin, an essence is infused with active ingredients such as hyaluronic acid to hydrate and prepare skin for following skincare products, such as serum and face cream.
What Are The Benefits Of Using One?
The main benefit of an essence is that it helps to make the rest of your regime more efficient. Think of an essence as a primer for skincare, once applied to skin, this damp layer makes it easier for skin to absorb other products, so while it may seem like an unnecessary, additional stage, it will really benefit skin in the long run. Loaded with high concentrations of active ingredients, vitamins and minerals, essences are able to penetrate on a deep cellular level while serums and oils tend to only nourish the layers of the skin closest to the surface. "By treating the different layers, you guarantee long term hydration and plumper, more radiant skin," Erica explains.
How Do I Use a Facial Essence?
The most efficient way to apply skincare is to start with the thinnest textures first and build up to the thickest. Always apply an essence straight after cleansing but before serum or moisturiser. You can either moisten a cotton pad and sweep the essence across your face and neck or alternatively dispense a couple of drops directly into your hands and press into cleansed skin using the pads of your fingers. "When applied after cleansing, an essence will immediately hydrate and calm the skin whilst encouraging cell turnover," says Erica.
What Are The Best Essences?
Essences always target a specific skin need, from treating pigmentation to warding off wrinkles or brightening up a dull complexion, making it really easy to select one to suit your skin. Think about what you want to get out of your skincare routine and use an essence as a first port of call.
For A Brightness Boost
Sunday Riley's NEW Pink Drink Firming Resurfacing Essence is packed full of peptides to firm and plump your skin, while fermented honey helps to rebalance and resurface your skin. The result? Brighter, smoother looking skin.
For A More Youthful Complexion
Look to Vintner's Daughter Active Treatment Essence, £210.00. It's infused with more than 30 powerful botanicals including vitamin B3 and lactic acid which help to combat fine lines and loss of elasticity for a noticeably firmer complexion.
For A Hydration Hit
If you want to boost skin's hydration levels, try . It's packed full of antioxidants and hyaluronic acid to really quench thirsty skin and help it to retain moisture.
For Daily Protection
If you want to protect skin against environmental stresses, try Anti Pollution Essence by Chantecaille. Formulated with a network of botanical sugars, this lightweight skin treatment works to provide an instant barrier against the harmful effects of pollution.