MOST WANTED
We Put Drunk Elephant O-Bloos Rosi Drops To The Test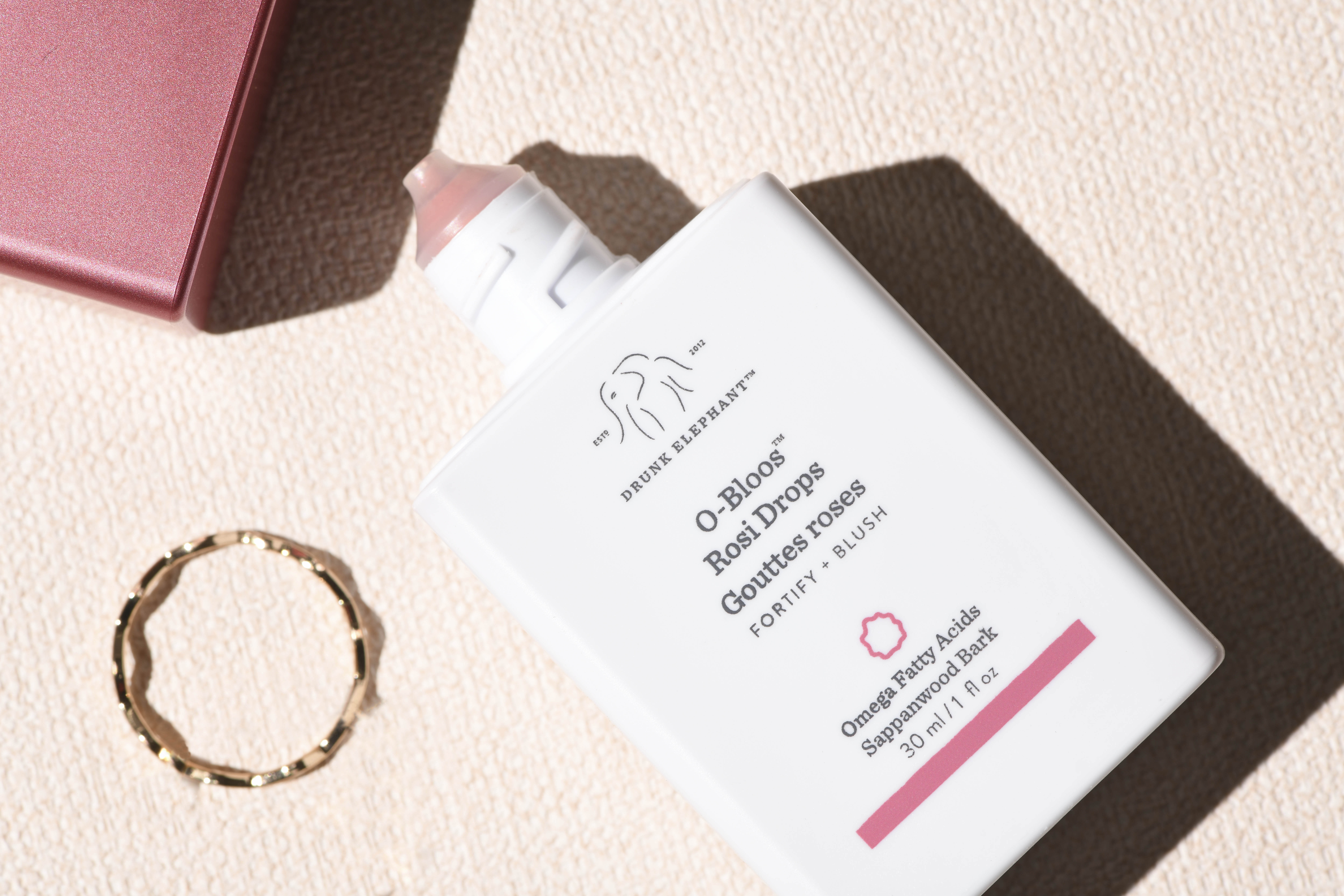 Drunk Elephant might be known for its hard-working skincare, including the Prontini Polypeptide Cream and C-Firma Day Serum, but avid fans will also be well acquainted with its glow-boosting D-Bronzi Antipollution Drops. The brand has added to its makeup offering with the new O-Bloos Rosi Drops, which I've been trying for the past few weeks. Here is everything you need to know…
What Are They?
Drunk Elephant O-Bloos Rosi Drops, £33.00 are liquid blusher droplets that give you free rein to create a bespoke finish. Using sappanwood bark, a vegan-friendly pigment, you can achieve a fresh, healthy flush in seconds using your fingers or a brush. In keeping with the brand's strict approach to ingredients, the drops don't contain any of the six suspicious, including essential oils, silicones and drying alcohols. Instead, they're packed with omega oils and essential fatty acids to keep your skin looking and feeling soft and radiant.
How Do You Use O-Bloos Rosi Drops?
Drunk Elephant recommends adding a few drops to your serum or moisturiser for an all-over rosy glow. Drunk Elephant D-Bronzi Anti-Pollution Drops, £33.00 fans can also combine their liquid bronzer with O-Bloos Rosi Drops before mixing into their moisturiser for a warmer finish. While these drops definitely can lift your complexion when used all-over, I prefer taking a more strategic approach to my blusher placement.

For me, the best results are achieved when you use O-Bloos Rosi Drops on the apples of your cheeks. I dispense around three drops onto the back of my hand and press onto my cheeks before blending very gently with a brush for a seamless finish (sans fingerprints!). If you like a subtle wash of colour, this will probably be just the right amount, but if you want a stronger pop of colour you might want to repeat this.
My Insider Trick
What I've enjoyed most about Drunk Elephant's O-Bloos Rosi Drops is the buildability. The soft, watercolour finish flatters almost every skin tone and is just enough for the office, but if you want a bolder look you can add another layer or two. With this flexibility I've been more playful with where I've placed my blusher too. While the apples of my cheeks are still my go-to, I've also tried a slightly higher placement on the tops of my cheeks, closer to my hairline. Applying the liquid blusher higher lifts and opens your face in a very subtle but flattering way and I highly recommend giving it a go.