SPACE SESSIONS
Why Bread Beauty Supply's Maeva Heim Wants Us To Rethink Hair Oil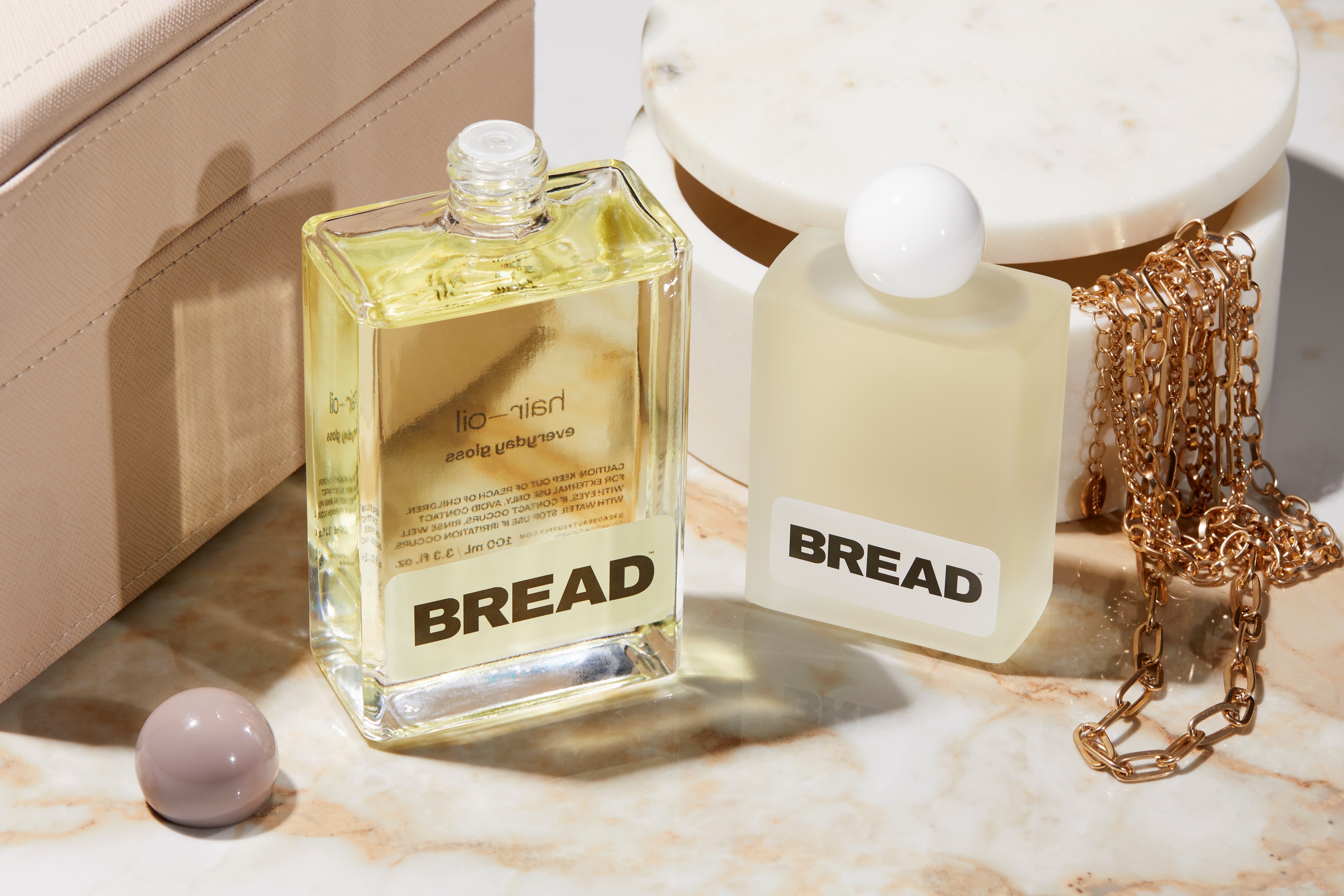 Having grown up in Australia, where her mother owned the first African hair braiding salon in Perth, Maeva Heim was all too aware of the lack of products for textured hair available. Things didn't improve when she went to university or when she worked at some of the big beauty conglomerates in Singapore in her twenties. Finally in 2020, in her early thirties Maeva took things into her own hands and
Bread Beauty Supply
was born. With the collection of carefully curated, easy to use products, Maeva wanted black women to have the option of embracing a lower maintenance routine.
Central to the range are two oils: the
Macadamia Oil: Do-All Oil For Hair, £26,
and the
Hair-Oil: Everyday Gloss, from £13
. Hair oil is a bit of a Marmite product. You either love it and use it weekly, if not daily, or you avoid it like the plague for fear that it will leave your hair feeling limp and greasy. For Maeva is a non-negotiable haircare essential. We caught up with her to find out why, and her top tips for using hair oils in your routine…
My Hair Type and Routine
I actually have a few different curl types in my hair - which is very common. The front of my hair is tightly coiled, but a little looser than the back of my head which is super super tightly coiled. Some would say my hair 'type' is 4C, but I think that curl typing system has become a bit outdated, so I now like to just say it's tightly coiled. My strands are medium in thickness, and I have a lot of them! So, my hair is very dense.
Where possible I like to keep my routine casual and minimal, washing my hair once a week with Bread Beauty Supply Hair-Wash: Gentle Milky Hair Cleanser, £12.00 and Bread Beauty Supply Hair-Mask: Creamy Deep Conditioner, £14.00. It's the only combination that keeps my tightly packed curls soft, beautifully conditioned, and easy to detangle.
Then I move onto the all-important oil, and I like to add a few drops of Bread Beauty Supply Hair-Oil to my wet or damp freshly washed hair, followed by the Bread Beauty Supply Hair-Cream (coming soon!). I like to apply that in sections, and then do two to four cornrows, then head to bed. In the morning, I take out the cornrows and have super supple, soft hair that has little more stretch and length to it compared to when I just let it air dry without braiding it.
That's my perfect no-fuss routine. If I've left it a little too long between wash days or have been manipulating my hair a lot and it needs something a little bit more, I'll do a pre-wash treatment with the Bread Beauty Supply Macadamia-Oil by applying it all over my hair, leaving it in for a few hours or overnight before my wash routine.
Why I Love Hair Oils
Natural and curly hair tends to try out more quickly because the natural sebum (read: oil) we produce from our scalp has a hard time making its way down the shaft of the hair. The dips and dives of the curls in the hair means that sebum gets stuck part way down and can't coat the rest of the strand. Correctly formulated oils that are balanced to deliver shine and softness without heavily weighing the hair down can be super beneficial for textured hair.
How To Use Bread Beauty Supply's Hair Oils For Maximum Results
Look to Bread Beauty Supply Hair-Oil: Everyday Gloss, £13.00 as your best styling oil and the last step in your routine AKA the final 'swish' that you glide down your locks to give you super shiny, pliable softness all day long. I personally love to apply this oil to my wet hair straight after I've washed and masked, which is another way it can be used. It gives my usually very dry hair an incredible softness once it's dry.
Bread Beauty Supply Macadamia-Oil: Do-all Oil For Hair, And Everywhere, £26.00 on the other hand is a completely pure oil. It's 100% cold-pressed, without any added fragrance. Although it's slightly heavier than our original hair-oil, it's still super lightweight and dries down soft, not oily. I like to use macadamia-oil as a "slugging" oil i.e. apply it all over my hair as a pre-treatment before going to bed, then wash it out the next day. You can also add a few drops of Macadamia-Oil to your conditioner or hair-mask for an added boost of fatty acids. Lastly, macadamia-oil is also the perfect body oil. It glides on the body like an oil, but it sits on the skin like a moisturiser, so you get a superb glow and soft skin effect, without the oiliness of stickiness…
My Top Tip For Using Hair Oils
The key is to make sure to use the appropriate amount of oil for your hair type; many people use too much which leaves their hair to feel weighed down or greasy. If you have finer hair, we recommend only using a few (2-3) drops to the ends of your hair. If you have thicker hair, feel free to use a bit more (3-4) drops and see how your hair feels. It's better to start with less and then add more if necessary.
If You're Hesitant About Hair Oils, Remember…
Finding the right oil is key and knowing what you're trying to achieve with your hair oil is super important too. I think often people can go in too heavy handed, leaving them with a bad result. Remember to start small, with a little amount, and work your way up from there to find the perfect amount for your hair type. Once you've hit that sweet spot, you'll love what oils can do for you.
Read More
• Best Routine for Textured Hair
• The Skinification of Hair • Best Products for Curly Hair
• The Lowdown on Sulphates • How to Achieve the Glass Hair Look