SPACE SESSIONS
Tory Burch Talks Us Through Her Fragrance Line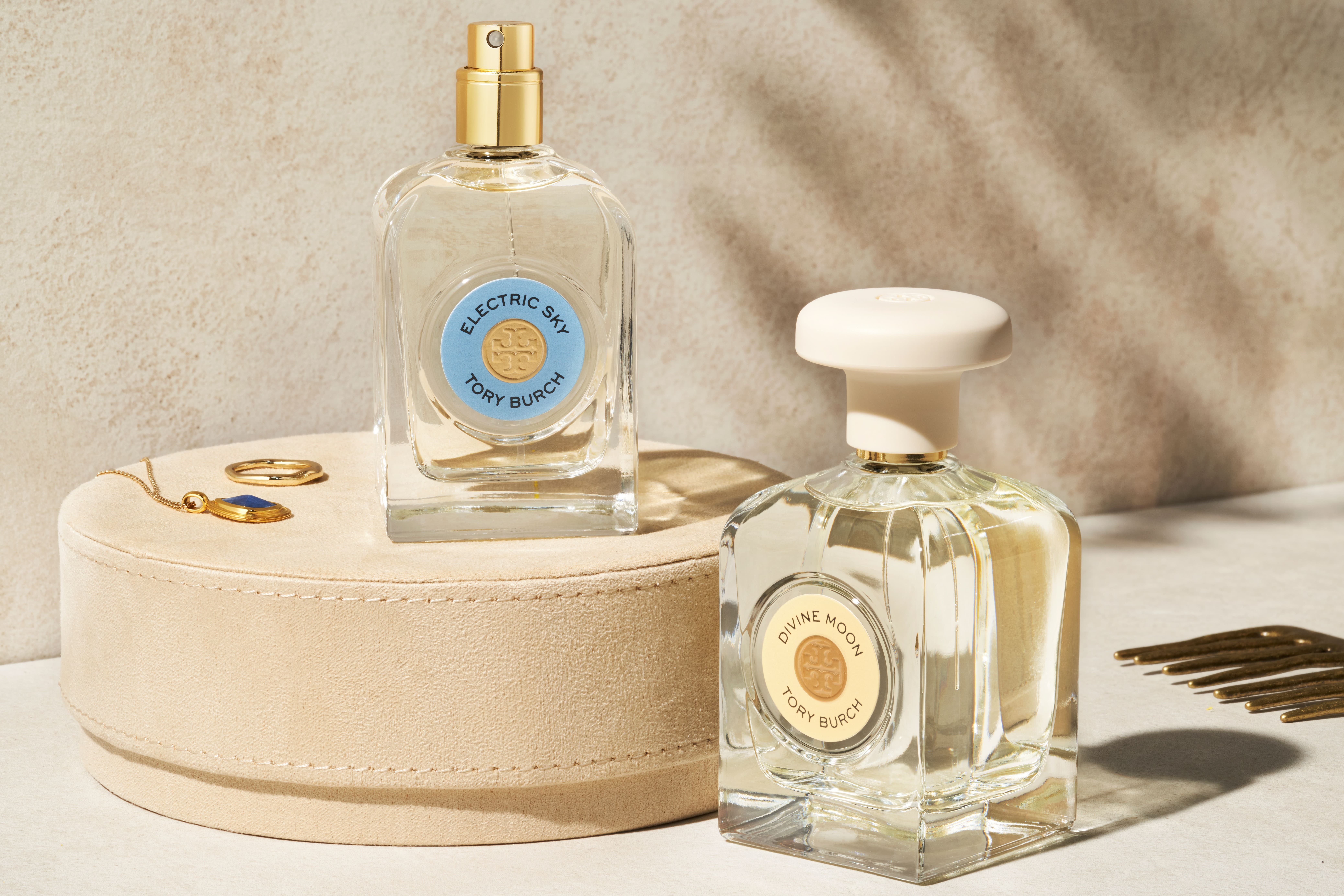 It's not the first time Tory Burch has delved into the world of fragrance, but this collection of five scents feels much more personal. "In a chaotic world, I wanted to create beautiful, uplifting fragrances that inspire us to visualise a brighter future — one with more love, joy, freedom, magic, and peace," Tory tells us.
While the collection is inspired by dreams, Tory took a very practical approach to the range. "I don't think women are wearing just one fragrance anymore — they're collecting them and becoming their own alchemists," she says. "I wear fragrance based on my mood, so it was important to create a full collection."
Fans of Tory Burch's accessories and ready to wear collections will be pleased to see the signature gold T medallion on each of the bottles, but that's not the only crossover, as Tory explains…
The Difference Between Fashion & Fragrance
"My tastes are eclectic, and I designed these fragrances the same way I design our collections: they are tools for self-expression," she says. There is a fragrance to suit your mood, but each one comes with its own twist. "I have always been interested in putting things together that aren't predictable, whether it's colours, textures, or notes in a fragrance," Tory reveals. "We blended familiar scents like rose, jasmine, and vetiver with elements drawn from nature — honey, wood, saltwater, and spices." [/copy]
What Each Tory Burch Perfume Smells Like
"We spent a lot of time thinking about the dreams and emotions each fragrance would evoke. Tory Burch Divine Moon Eau de Parfum, £75.00 transports me to Antigua, where I feel an overwhelming sense of peace," says Tory. "It is laced with honey and Lady of the Night flower, which wafts over the entire island in the evening." Alongside the base notes of sandalwood and almond milk, we can confirm this scent encompasses that relaxed evening vibe that can usually only ever be created on holiday.
"Tory Burch Sublime Rose Eau de Parfum, £75.00 is a modern take on a classic rose fragrance with notes of wood and freesia," explains Tory. "It is the essence of love and reminds me of the rose garden in Paris where my husband proposed."
"Tory Burch Electric Sky Eau de Parfum, £75.00 is an energising and vibrant mix of cactus flower, lavender, and blue sage, channelling absolute freedom," says Tory. "Tory Burch Mystic Geranium Eau de Parfum, £75.00 instills joy with a blend of bergamot, geranium, and cedarwood, and Tory Burch Cosmic Wood Eau de Parfum, £75.00feels optimistic and magical. It has spicy cardamom, jasmine, and vetiver." The latter was inspired by Tory's father who favoured green notes.
Tory's Favourite Fragrance From The Range
"My favorite changes constantly — I wear them all, and we designed them to be mixed and layered," admits Tory.
Read More
• Spring Beauty Essentials
• The Best Cream Blushes • Best BB and CC Creams
• The Difference Between Contour And Bronzer • Why You Should Use A Tubing Mascara