IN FOCUS
Augustinus Bader vs. La Mer: Which Is Best For You?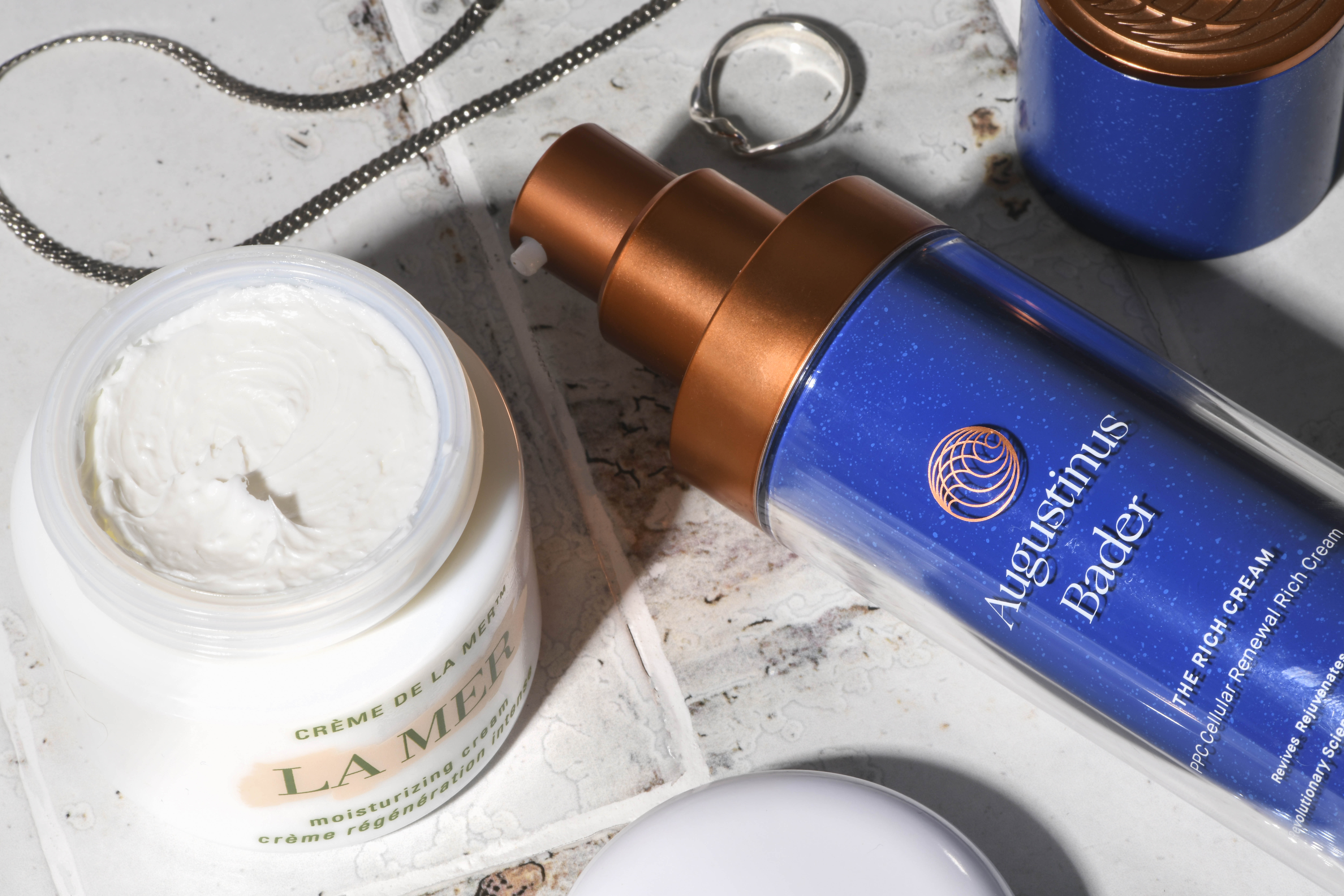 Augustinus Bader and La Mer are synonymous with luxury. Both brands are renowned for their velvety smooth textures, sumptuous packaging and skin-boosting results. If you're planning on spending upwards of £200 on a moisturiser, it's likely that you'll have come across both Augustinus Bader and La Mer, and wondered which one would work best for your skin.
While our Head of Creative, Copy and Editorial Liz Hambleton will tell you that Augustinus Bader's minimalist approach is the future of skincare, our Head of PR Jini Sanassy can wax lyrical about La Mer's soothing moisturiser. We decided to ask them both to outline why their chosen skincare brand is worth it.
Why La Mer Is The Best Skincare Brand
Behind The Brand: Founded in 1994 by physicist Dr. Max Huber, La Mer is steeped in both history and mystery. While the sea kelp and antioxidant-rich Miracle Broth is central to every formula, to this day only a handful of people know the exact recipe. The Crème de la Mer Moisturizing Cream is easily the most renowned product, but the brand has introduced different textures to suit all skin types and preferences, as well as bodycare and makeup. Over the years, La Mer has become a firm favourite among beauty editors, skinfluencers and celebrities thanks to its brightening and nourishing formulas.
Why I Love It: Find someone who loves La Mer and they will go to great lengths describing the soothing, transformative powers of the iconic Crème de la Mer Moisturizing Cream. I'm 43 years old and I have been a devoted to the cream and the The Renewal Oil for years. Massage three drops of the oil into your face and neck every evening and I promise your skin will look fresher, smoother and plumper when you wake up. The brand's creams are incredible at easing scars and calming sunburn too. Expensive, yes, but worth every single penny I promise.
La Mer's Hero Product: The Crème de La Mer Moisturizing Cream is the jewel in the brand's crown and promises to soothe and illuminate your skin. A little goes a long way, so you can expect a 60ml pot to last longer than your other creams.
The Formula You Should Try First: While some skin types might find the OG a bit too rich, La Mer The Moisturizing Soft Cream is a crowd-pleaser. It offers all the same benefits in a lighter texture and is ideal if you have dry and sensitive skin or a slightly oiler/combination complexion. It hydrates, firms and creates the perfect base for your makeup. Try it once and you'll never look back.
Why Augustinus Is The Best Skincare Brand
Behind The Brand: When professor Augustinus Bader unveiled The Cream and The Rich Cream in 2018 he seriously shook up the skincare industry. Thanks to the game-changing, breakthrough science of the TFC8® (Trigger Factor Complex), which helps to power your skin's ability to heal and repair, the need for several serums and treatments was replaced with just one cream.
Why I Love It: Time is a luxury for most of us these days and Augustinus Bader The Rich Cream is quick and easy to apply. With two horses to look after and a busy 9-to-5, I don't have time to indulge in a six-step-plus routine. When I've tried to cut back on the serums and moisturisers previously, my skin has suffered, but The Cream really does help to brighten and hydrate without causing any breakouts. My morning routine consists of three steps (cleanse, The Rich Cream and SPF) and my evening regimen is just cleanse and The Rich Cream. Honestly, I don't think I could go back to using multiple products now.
Augustinus Bader's Hero Product: The range has expanded since I started using Augustinus Bader over 18 months ago and now includes a face oil, lip balm, body cream, body oil and more. The bestseller is still The Rich Cream, which is slightly richer than The Cream. Both are jam-packed with omega-6 fatty acids and antioxidants to nourish and repair your skin.
The Formula You Should Try First: The Discovery Duo gives you the option of trying both The Cream and The Rich Cream to decide which texture works best for your skin. It's the product I recommend to all of my friends as it offers the best of both worlds.
The Verdict
So, which brand is best for your skin? Both brands offer results-driven skincare, so as with most things in the beauty world it's about your personal preference. If you like the ritual of layering different textures and having multiple steps, La Mer has a more extensive line-up. However, if you're looking for simplicity, then Augustinus Bader is undoubtedly the brand for you. Whether you opt for The Cream, The Rich Cream or The Face Oil, all three provide a concentrated dose of the acclaimed TFC8® complex.