IN FOCUS
Behind The Brand: Charlotte Tilbury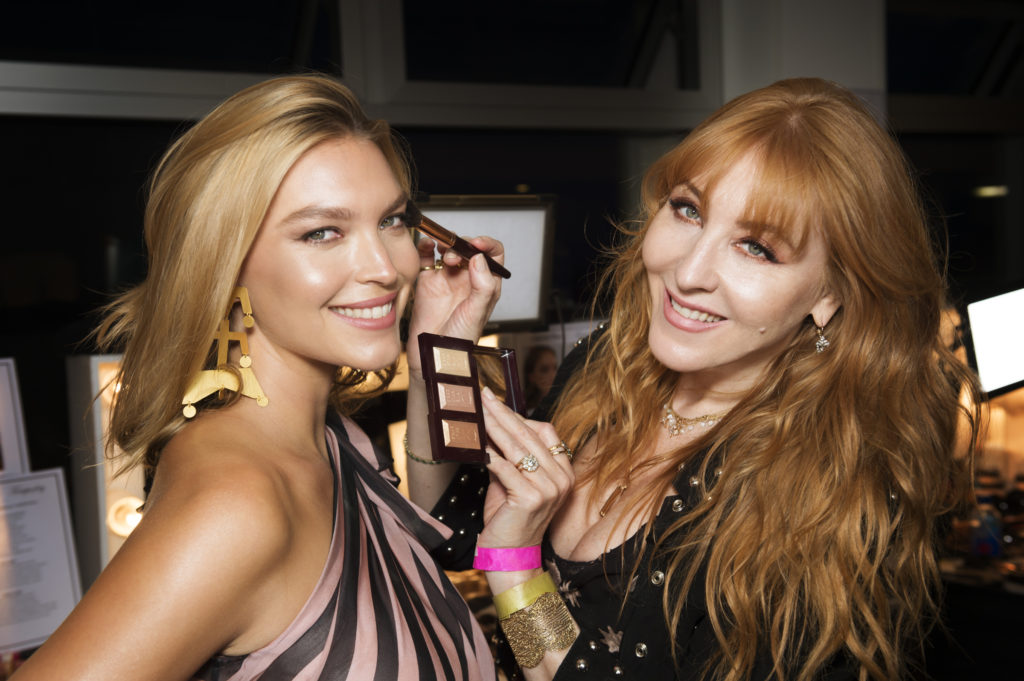 From creating cover looks for the world's biggest fashion magazines, to developing cosmetics for designer beauty brands and working with supermodels, British makeup artist, Charlotte Tilbury MBE, is one of the most influential makeup artists of all time. Here, we discover the secrets to her success and the story behind the creation of her own beauty collection, Charlotte Tilbury Beauty.
The Beginning
Charlotte's journey as a makeup artist began as she was growing up in Ibiza. "It's such a magical, bohemian place and I was constantly surrounded by a melting pot of creatives and visionaries who sparked my own creativity," she said. One of those people, makeup legend Mary Greenwell, particularly struck a chord with Charlotte and years later, she would give friends makeovers, advising them on the colours that suited their hair and eye colour. Charlotte went on to attend the Glauca Rossi School of Makeup and afterwards, assisted Mary with editorial work. "As a determined young makeup artist, I was persistent. I was constantly building my network of professional peers including photographers, models and stylists," Charlotte said. Over the next 27 years, Charlotte went on to create cover looks and campaigns for some of the world's biggest fashion magazines, including British, French and Italian Vogue and worked on hundreds of catwalk shows and beauty campaigns.
Creative Collaborations
Throughout her career, Charlotte's makeup has graced over 180 magazine covers and over 600 editorial and advertising campaigns. Charlotte has also acted as Creative Director for several large beauty companies and in 2007, collaborated with MAC cosmetics and designer Alexander McQueen to create an exclusive, 16-piece collection called 'MAC for McQueen.' The range included a dirty pink rose lipstick, a white gold lip gloss and creamy yellow-green and sea-blue eye colours – all with an Egyptian influence (McQueen's 2007 collection too its inspiration from Elizabeth Taylor in the movie Cleopatra). Charlotte also developed the exclusive Tom Ford Beauty range in collaboration with the designer – it was rumoured she even personally trained the beauty advisors at every one of his counters worldwide. "While I was creating lines of makeup for Armani, MAC or Tom Ford, I always knew that I'd create my own line. I was practicing my skills working with other people," she said.
Celebrities and Shows
Inspiring beauty editors, makeup artists and beauty brands alike, Charlotte's work on the runways of New York, Milan, Paris and London is always one-to-watch, whether she's creating a bold, matte red lip at Temperley or an exaggerated cat eye at Versace. And as show makeup director for brands such as Prada, Miu Miu and Chloe, it's no surprise that she's been the inspiration behind countless beauty trends. She's also collaborated with the industry's most well-regarded photographers, racking up a rather impressive client list. "From working with Kate Moss when I was starting out in the industry at 19, to kickstarting my career during the amazing supermodel era of the '80s and '90s and working with all the biggest names – Naomi Campbell, Christy Turlington, Cindy Crawford and Linda Evangelista – it's been a dream," she says. Since then, Charlotte has also worked with everyone from Amal Clooney, Salma Hayek, Kim Kardashian-West and Sienna Miller to Jennifer Aniston, Nicole Kidman, Cara Delevingne and Kendall Jenner – the list is endless.
Charlotte Tilbury Beauty
Charlotte launched her YouTube channel and blog in 2012, offering everything from makeup tutorials and industry tips to celebrity looks. Her tutorial 'The Feline Flick – Cat Eye Makeup Tutorial,' (which has since become her trademark style), has been viewed an incredible five million times, and though it was created six years ago, it's still her most watched video. And the 'Amal Clooney's Wedding Makeup' tutorial , which demonstrates the makeup look she created for Amal at her Venice wedding five years ago, is still hugely popular – it's has been viewed over two million times.
Passionate about giving everybody access to the beauty knowledge, tips and tricks she has acquired over her two decades of working in the industry and keen to translate her brand experience into her own collection, Charlotte created Charlotte Tilbury Beauty in September 2013. "I believe that every woman wants to feel beautiful, powerful and sexy and makeup is a great way to achieve this," Charlotte said. Launching with a 200-strong product line and offering a wide range of skincare and makeup items, suitable for all skin tones, shades and types, Charlotte's aim was to beautify and improve skin with high quality formulas that didn't just look amazing – but also gave skincare benefits with ingredients you might usually only find in your moisturiser or anti-aging serum.
Charlotte's Most Wanted
Uniquely for a makeup artist, Charlotte has managed to achieve extraordinary success across both skincare and cosmetics, with many of her products, including the iconic Charlotte Tilbury Charlotte's Magic Cream Moisturiser, £29.4, Charlotte Tilbury Full Fat Lashes Mascara, £26 and all achieving cult status. Her latest launch, , instantly became every blogger's favourite because of its multitude of multi-tasking benefits. From its full coverage yet lightweight formula and natural effect finish, to its anti-ageing ingredients (and 40 plus shades), it's set to be this year's most successful foundation launch.