IN FOCUS
How To Create Your Best Haircare Routine In Just 5 Steps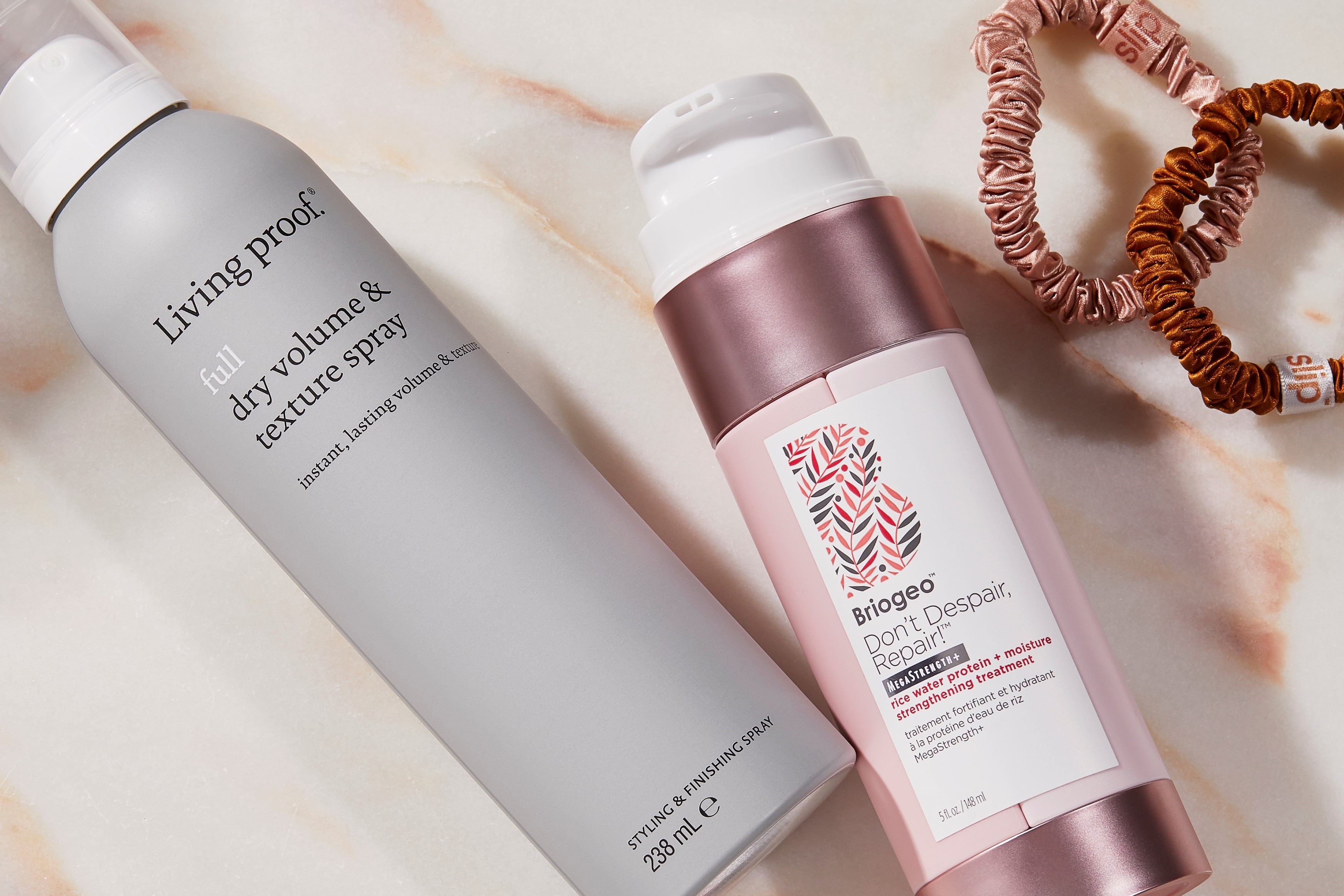 Shopping for new haircare can feel like a bit of a chore. If you use the wrong shampoo your scalp could be left feeling dry, flaky and itchy, while using an unsuitable styling product can mean you end washing your hair all over again. Recommendations from friends and colleagues don't always help either. While a nourishing hair mask might work wonders on a friend, it could be too rich for your locks, or have no impact at all.
The trick is to find the haircare products that cater to your hair type and target your key concerns. For example, if you have thick,
textured hair
you might want nourishing formulas, while finer locks might opt for lightweight volumising products. "A solid at-home hair routine is just as important as regular salon visits. Particularly if your hair has been colour processed," says Carly Smith, senior stylist at FOUR London. "Everyone needs a good quality shampoo and conditioner is a must. If you regularly dye your hair, these will help prevent colour fade and stop your hair from looking dull."
If you're wondering 'what hair products should I use?', fear not. We've have outlined the best haircare routine to help you achieve your best hair yet. We've thrown in some expert haircare tips and browsed the hundreds of haircare products at Space NK to cherry pick the ones that really are worth investing in. First though…
Why should you switch up your haircare routine?
There's a common myth that your hair can get used to a shampoo or conditioner. We've yet to find an expert to corroborate this rumour. However, you should consider switching up your hair routine depending on the season. In the winter months your hair will almost certainly need some extra hydration and a nourishing hair mask twice a week can be game-changing, while you might consider adding in an anti-humidity mist or SPF spray from May to September.
Our lifestyle can have as much of an impact on our hair as it can our skin. Your hair, skin and nails are the last areas to receive nutrients from your body, so if you're feeling particularly stressed or not eating as healthily as normal, you might want to consider adding in a supplement and a hair-strengthening treatment. A lot of experts also recommend tweaking your haircare routine if you're pregnant or going through the menopause as the change in hormones can impact your hair and scalp.
We'd also recommend keeping your eye on the new-in haircare products as brands regularly update their formulas or launch new additions to much-loved lines to make achieving your best hair yet even easier at home. Don't worry, we'll keep you updated with the ones to look out and regularly update our favourite hair products for 2022 list below.
How to take care of your hair in 5 steps
Whether you've got textured hair or fine locks, here are the five fundamental steps to strong, healthy hair, AKA the best haircare routine. If you wash your hair more than once a week you won't need to use all five steps every time, but it's worth creating a consistent haircare routine to ensure your locks are getting the right balance of exfoliation and moisturisation. What hair products should I use? Well, we've also included some of our favourite formulas for different hair types and concerns to help here too.
Step 1. Scalp Scrub
Almost every trichologist we speak to gives us the same advice 'a healthy scalp is the foundation to healthy hair'. You might have thick, dry hair or finer locks that require a blitz of volumising spray every morning. Using a scalp scrub once a week helps to wash away excess oil, dead skin and any product build-up. Virtue Scalp Exfoliating Scrub, £48 is infused with coconut and jojoba oils, as well physical and chemical exfoliators, to ensure your scalp deeply cleansed without being stripped completely. Drunk Elephant T.L.C. Happi Scalp Scrub, £33 is a much-loved formula at Space NK HQ with almost all of the buying team using this particular scrub as part of their regular hair routines.
Expect your hair to feel lighter and softer after using a scalp scrub, but remember it's sensitive and should be treated with care, so only exfoliate it once a week maximum.
Step 2. Shampoo
Essentially you want your shampoo to clean your hair and remove dirt, excess oil and leftover product. The trick is to find the right texture for your hair – one that will cleanse thoroughly without leaving your hair feeling claggy. The A-list hairstylist and founder of Ouai, Jen Atkins has made this fool-proof by creating shampoos depending on your hair thickness with Ouai Fine Hair Shampoo, £28, Ouai Medium Hair Shampoo, £28 and Ouai Thick Hair Shampoo, £28.
If you want to tap into the skinification of hair trend, look to Ouai Thick Hair Shampoo, £28. The formula is infused with Augustinus Bader's signature TFC8 ® to help support stronger, healthier hair growth. For faux blondes, our training team highly recommend using Olaplex 4p Purple Shampoo at least once a week to lift brassy tones.
In terms of technique, massaging your shampoo into the roots of your hair is as important as rinsing thoroughly. While double shampooing isn't seen as essential as its skincare equivalent, double cleansing, if you use a lot of styling products, we recommend it.
Step 3. Condition
Even the most basic of haircare routines should always include shampoo and conditioner. The job of the latter is to replenish any moisture lost during the cleansing process and most brands formulate them to work in tandem. We're not being lazy by saying this, but as a general rule of thumb we recommend choosing the conditioner that work with your shampoo for this reason. If you're concerned with dry ends, you can swap in a richly moisturising conditioner such as Oribe Gold Lust Repair & Restore Conditioner, £16.
Step 4. Hair Mask
The best haircare routine includes a weekly hair mask, even if you have the finest hair known to mankind. "Hair masks can add moisture or protein to your hair, depending on what it needs," says Carly.
"For thicker hair, at FOUR we recommend Olaplex No.8 Bond Intense Moisture Mask, £28 – it's fabulous for treating damaged, thick, dry hair," advises Carly. Don't be tempted to skip this step if you have finer hair, instead Carly recommends opting for a lighter formula and applying from mid-lengths to ends. We love as the formula also boosts shine without feeling gloopy or heavy.
It's worthwhile keeping a comb in the shower to ensure you get an even coverage with your mask and leaving the formula on for as long as possible for maximum results.
Step 5. Style
For some people, a texturising spray like Oribe Dry Texturizing Spray, £19.5 is a can't-leave-the-house-without products, others give little if any attention to styling sprays unless it's a special occasion. For us, a smoothing and shine-boosting heat protectant spray is non-negotiable if you blow-dry, straighten or curl your hair. The best formulas, such as , are so lightweight you almost forget you've applied anything to your hair at all.
Finding the right hair styling product for your hair, you need to consider what you want to achieve. If you have thick, frizzy hair, massaging a couple of drop of IGK Hair Best Life Hair Oil, £24 into the mid-lengths and ends can help lock-in hydration and smooth frizz. Virtue Volumizing Styler, £40 pumps up the volume and gives the illusion of fuller bodied hair if yours is thinning. Amika The Shield Anti-Humidity Spray, £26 is a summer must-have to prevent humid temperatures expanding your hair.
Our Favourite Hair Products For 2022
It can be hard to keep on top of the newest haircare launches, so we've outlined the latest shampoos, treatments and styling products that we've road-tested and rate.
The Deep Conditioner
The Briogeo Don't Despair, Repair! range is renowned for hydrating and nourishing dry, damaged hair of all thicknesses and if you thought the bestselling hair mask couldn't get any better, think again. Introducing Briogeo Don't Despair, Repair!™ Strength + Repair Solutions Set featuring Don't Despair, Repair!™, £66, a super-strength treatment to help repair dry, damaged hair. We love this product mostly because of the smoothing effect it has on our hair, but also because the pump dispenser makes it fuss-free to apply. For an seriously intensive treatment, we recommend you shampoo and rinse your hair, squeeze out as much excess water, apply the mask and leave it on for around 60 minutes (if not overnight) before rinsing. It's worth it, we promise.
The Effortless Texturiser
If you want to create that effortless, next-day texture in seconds with minimal effort required, Living Proof Full Dry Volume & Texture Spray, £15 is a must-have. Offering volume and texture without leaving your hair feeling gritty, we're predicting Living Proof's newest offering will become a bestseller before summer arrives.
The Overnight Hair Accessory
One of the best haircare tips we've ever heard is to invest in a silk pillowcase. Silk helps to minimise friction, keep frizz at bay and protect curls and coils. If you prefer your bedsheets to match, Slip Slip Pure Silk Hair Wrap, £70 is a worthwhile investment.
The Strengthening Serum
Oribe Hair Alchemy Fortifying Treatment Serum, £56 won't eradicate split ends completely, but it does help to strengthen dry, damaged hair. While the brand says you can use it on damp and dry hair, we recommend using it on the former as much as possible as you achieve smoother results. If you have thick hair or are trying to grow it, this serum helps to prevent breakages. Also, in true Oribe fashion, it leaves your hair smelling absolutely incredible.
The Crowd-Pleasing Shampoo
If you're looking for a shampoo that cleanses hair, foams up gently and smells delicious, look no further than Aesop Shampoo, £13. While it might not be a formula for dry and sensitive scalps due to essential oils, almost everyone else will benefit both physically and mentally from the blend of bergamot, cedar and frankincense, which cleanse and scent hair effortlessly.