IN FOCUS
Discover This Month's NDULGE Birthday Treats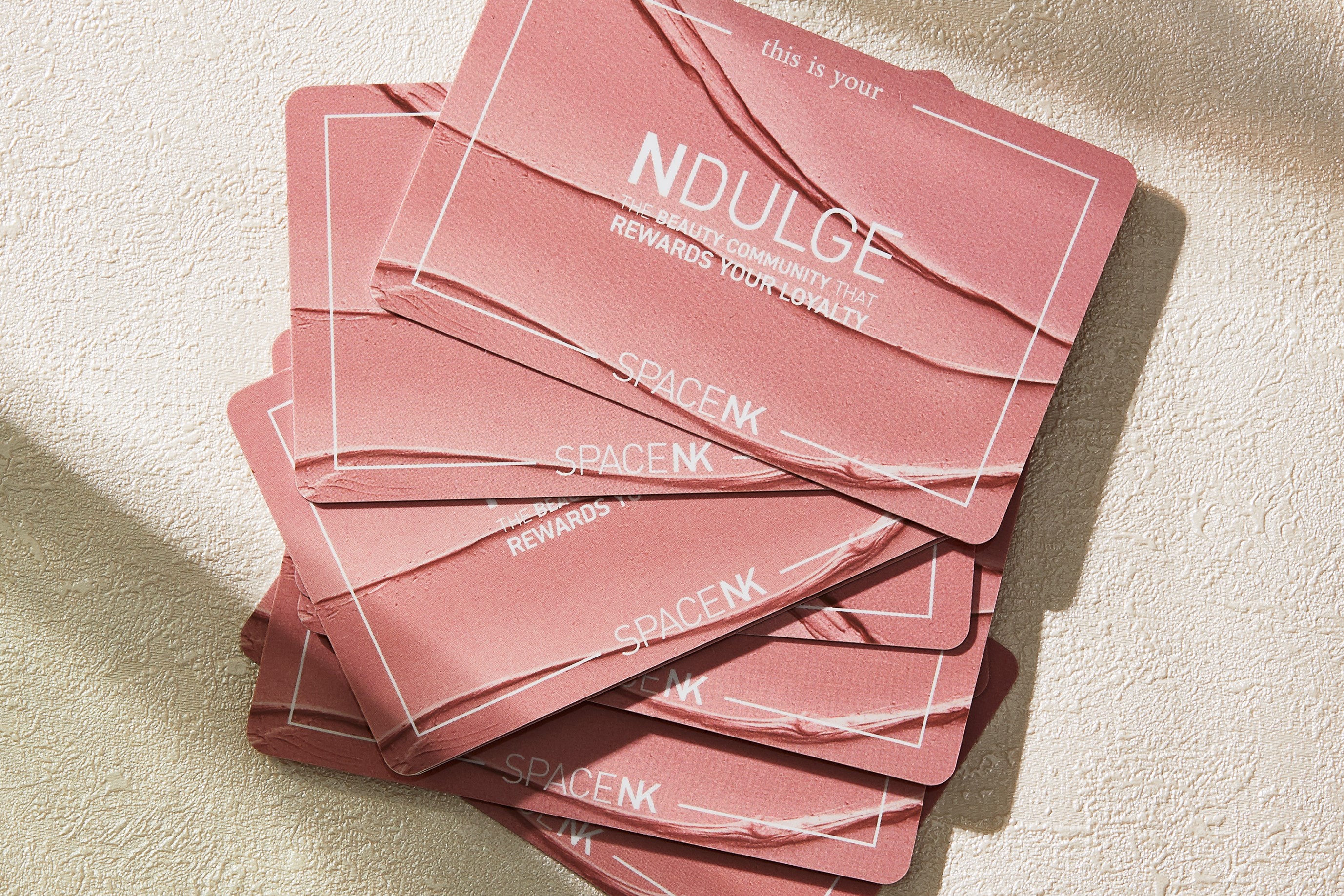 Whether you're shopping for food or makeup, most stores now offer some kind of loyalty scheme. At Space NK, we take loyalty very seriously – so much so, we're convinced that you won't a beauty rewards programme as good as NDULGE. While you will receive points for every purchase you make, there are plenty of other benefits to joining NDULGE, including exclusive access to our brand events where you'll have the opportunity to meet founders and industry renowned experts.
What is NDULGE and how does it work?
There are many reasons to join NDULGE, our beauty loyalty scheme. Not only do you earn 1 point for every £1 you spend and enjoy early access to the sales and exclusive brand events, but you also receive a complimentary birthday beauty treat. These change month by month and include some of our favourite beauty brands carefully selected by our buying team. It's worth noting that when you reach 100 points, you'll receive a £5 reward to spend on your next beauty purchase too.
NDULGE vs NDULGE Deluxe
The two-tiered system has been curated specifically to celebrate and reward loyalty. Everyone in the beauty community starts as an NDULGE member and receives all of the benefits mentioned above. Any NDULGE customers who spent £1000 or more within a 12-month period will automatically be upgraded to NUDLGE Deluxe.
NDULGE Deluxe members collect double the rewards and receive £10 for every 100 points earned, which is double the points standard NDULGE customers receive for every 100 points.
This month's NDULGE birthday gift: November 2023
If you're an NDULGE member and are celebrating another spin around the sun this month, you'll receive a birthday gift on us. The trio of hydrating treats for October 2023 includes a travel-size Ouai Fine/Medium Hair Treatment Masque, £34 to give your hair some TLC and tame frizz. If your skin is starting to feel a little lacklustre now that winter has arrived, you'll love the 4ml sample of Kiehl's Retinol Skin-Renewing Daily Micro-Dose Serum, £49, as well as a 10ml sample of LANEIGE Water Bank Blue Hyaluronic Cream Moisturizer, £33.
NDULGE Deluxe customers have the tricky task of choosing one full size product from the buying team's favourite four products, which include:
• LANEIGE Cream Skin Cerapeptide™ Toner & Moisturizer, £29.5: This peptide-packed formula acts as a two-in-one toner and moisturiser, making it ideal for all skin types looking for lightweight hydration.
• Diptyque Baies Scented Candle (70g), £35: Is there anything more luxurious than having a fresh Diptyque Baies Scented Candle burning in the background? This is our bestselling scented candle for a reason. • Amika Hydro Rush Intense Hydration Mask, £33: With squalane and hyaluronic acid, this hydrating hair mask promises to leave your hair five times more hydrated.
• Aurelia Probiotic Skincare Balance and Glow Day Oil, £42: It is that time of year when face oils really come into their own. Aurelia Probiotic Skincare is one of our favourites as the rich texture leaves our skin feeling nourished and bouncy.
How to become an NDULGE member today
All new customers are automatically enrolled into the loyalty scheme, but if you're not an NDULGE member yet, simply sign-up here and start reaping the rewards today.
Looking For Beauty Tips?
• Everything You Need To Know About Skin Flooding
• Best Hand Creams For Dry Hands • How To Use A Gua Sha
• Why You Should Use A Tubing Mascara • Everything You Need To Know About Hair Slugging