MOST WANTED
Why Our Buyer Is Obsessed With This Non-Acid Acid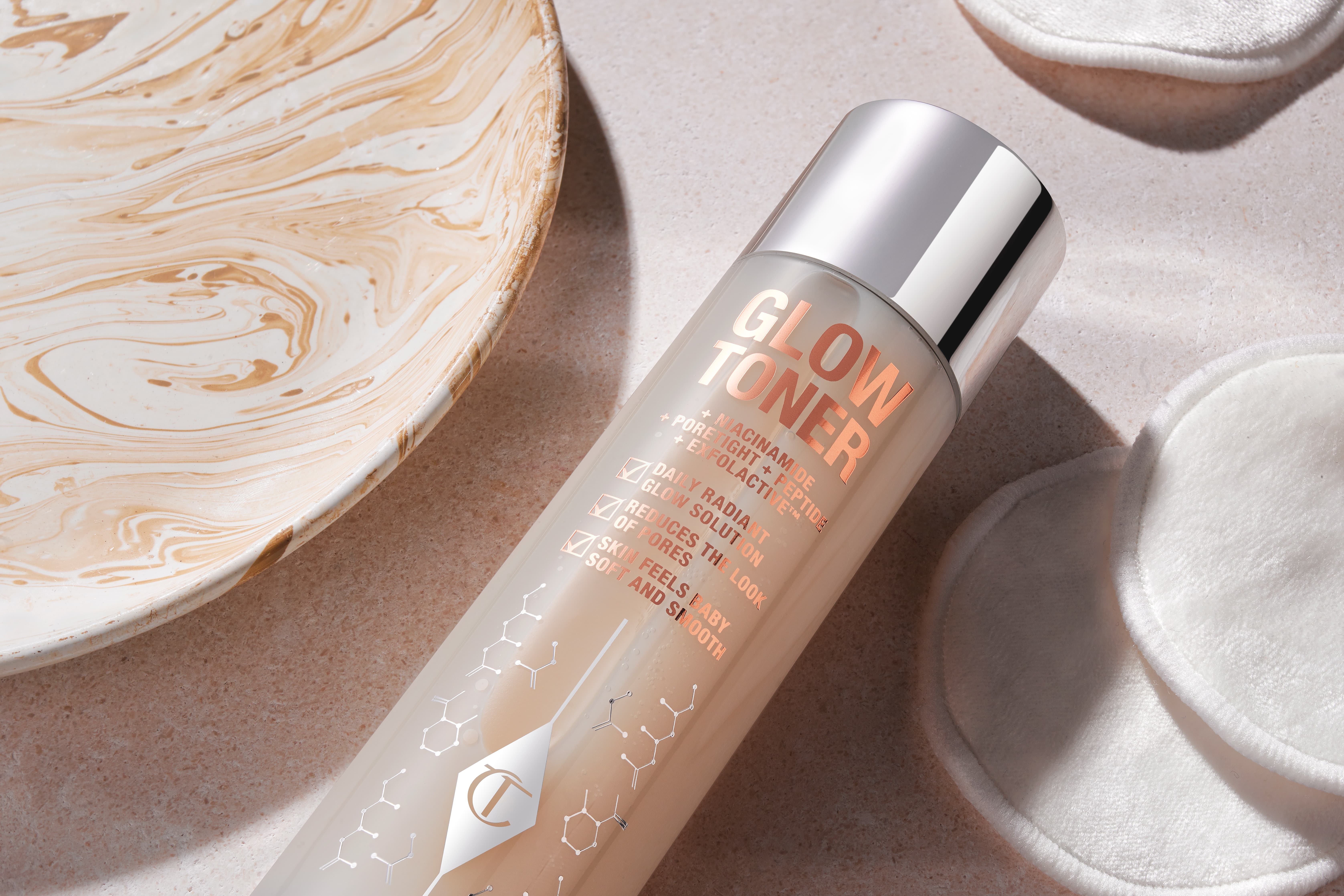 Our
Charlotte Tilbury
obsession doesn't seem to be stopping any time soon. And who can blame us? We mean, not many brands have managed to spread their expertise across both cosmetics and skincare and top the charts for both. The makeup-artist founded brand is loved for its looks-like-you-but-better approach to colour products and was the first of its kind to willingly spill the beans on insider tricks of the trade, along with the products to achieve them.
But let's not forget it all started with Magic Cream - Tilbury's lauded backstage secret to getting skin supermodel ready in an instant. Since then, Tilbury has gone on to smash the skincare world, giving us everything we need to get skin glowing (because to get the best out of our makeup, we have to first focus on the base). And we mean everything. From cleansers to moisturisers, serums, oils, masks and more, these Tilbury skincare gems are quickly becoming our reach-to products. And now we have the new Charlotte Tilbury Glow Toner. Is the brand spoiling us once again? Let's find out.
Charlotte Tilbury Glow Toner Summary
A pore-refining, hydrating toner that focuses on the fact it's completely acid free. That means, resurfacing action without the side concern of a compromised skin barrier. How does it work? By calling on the pore-refining properties of niacinamide, resurfacing acid-alternatives, plus an extract from the Red Clover Flower which the brand calls Poretight.
Everything you need to know about Charlotte Tilbury's latest toner
Exfoliating acids have become the go-to in skincare resurfacing and pore refining. Want to restore that glow and slough away any signs of dullness (along with blackheads)? salicylic, glycolic, lactic, citric and malic acids are the ones you'll be directed too. Problem is, not every skin type can tolerate them, especially when we're looking to incorporate daily glow into our skincare regime. That's where Charlotte Tilbury's Glow Toner offers us an alternative. Packed full of natural extracts to help boost skin's natural exfoliation process, reduce the appearance of enlarged pores and uneven skin texture, all while plumping skin with hydration, this sweep-on product really does make a difference.
The verdict on Charlotte Tilbury Glow Toner
After just one month of use, I can confirm my skin is glowing more than ever. And I love that fact I can use it daily without worrying about overdoing it (as I sometimes do with acid exfoliation). In fact, thanks to barrier strengthening niacinamide in the formula, my skin actually feels healthier as well. It's another big tick for Tilbury from me.
More from Charlotte Tilbury
Looking to go whole hog on your Charlotte Tilbury skincare regime and really restore that glow every evening? Start with a double cleanse, courtesy of the Charlotte Tilbury Goddess Cleansing Ritual, £35. After that, sweep on your new Glow Toner, followed by a few hydrating drops of either Charlotte Tilbury Magic Serum Crystal Elixir, £27, or Charlotte Tilbury Collagen Superfusion Facial Oil, £27 (depending on your serum vs oil preferences). Don't forget the eye hydration - Charlotte Tilbury Cryo-Recovery Eye Serum, £47 is our choice for tighter, brighter-looking eyes. And our final pre-pillow step? Charlotte Tilbury Magic Night Cream, £35 of course. Glow bless you, Charlotte Tilbury.
Read More Reviews
• Charlotte Tilbury Collagen Superfusion Face Oil Review
• Charlotte Tilbury Airbrush Flawless Setting Spray Review • NARS vs Charlotte Tilbury Foundations
• Review of Charlotte Tilbury Beautiful Skin Foundation • Tatcha Dewy Skin Cream Review