MOST WANTED
We Used Olaplex Lashbond For 4 Weeks, Here's What Happened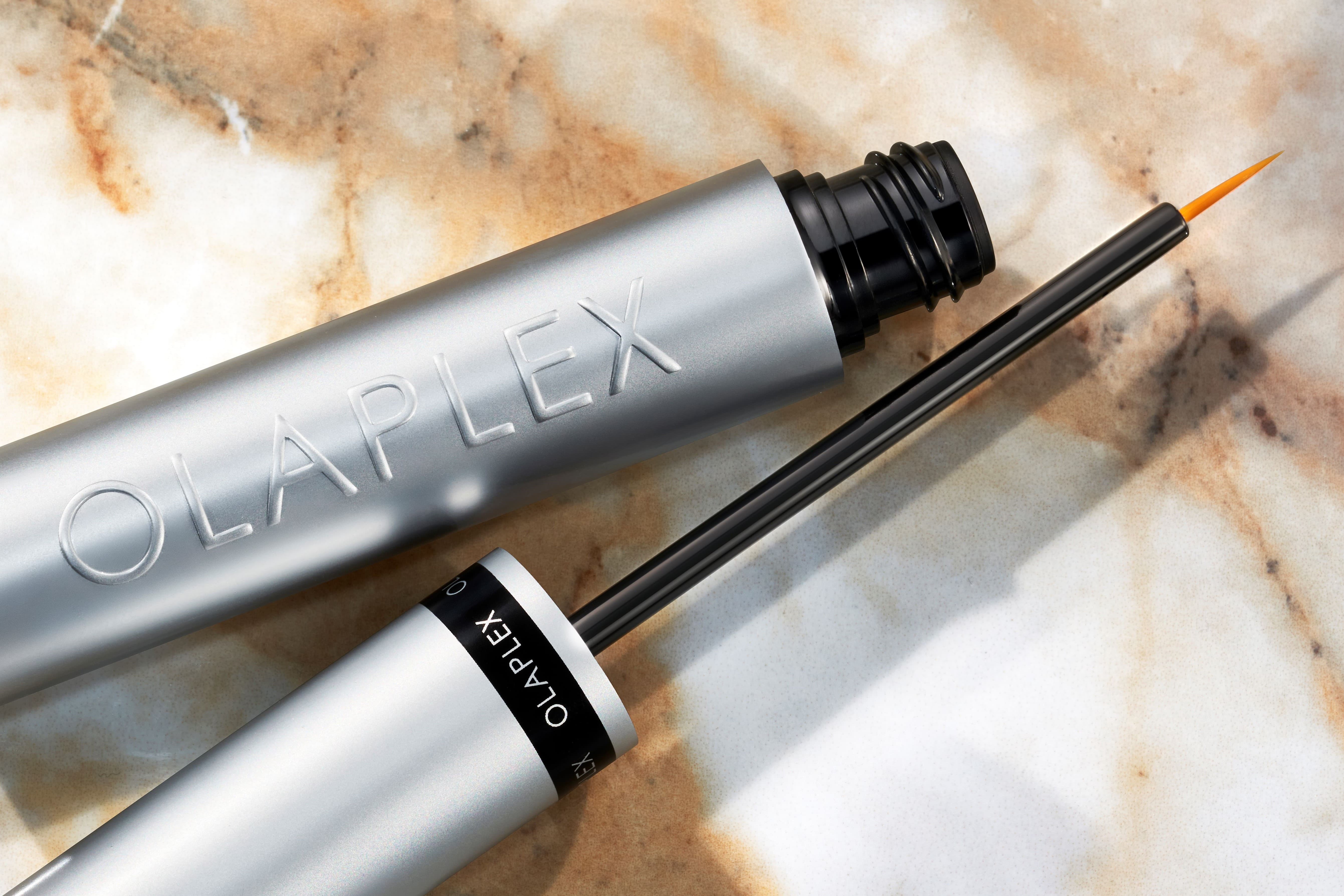 I'd never used a lash growth serum before I signed myself up to review Olaplex Lashbond Building Serum. As a newbie, I wasn't sure what an eyelash serum could do for my lashes. Full disclaimer: I have been blessed with fairly long lashes. While
mascara
is a daily essential, I've never been tempted by lash extensions, and I don't use false lashes. In my mind both seem like a lot of effort and maintenance. That being said, I would never say no to the offer of thicker, fuller, healthier lashes.
There is a lot of support for lash serums in the Space NK office and no shortage of positive testimonies about the game-changing results that eyelash growth serums can provide. I was intrigued to see what Olaplex's new lash serum would do for me. Could this slender tube be the answer to my eyelash strengthening, lengthening dreams? I used
Olaplex Lashbond Building Serum
for four weeks, here's everything you need to know…
Top Line On Olaplex Lashbond Building Serum
Having conquered the world of haircare, Olaplex has turned its attention to lash growth serums. Olaplex Lashbond Building Serum contains the brand's signature Bond Building Technology™ alongside a new Peptide Complex Technology™, which conditions and strengthens your lashes. Together they help create the right environment for your hair follicle to work properly and support natural lash growth for longer. The result? Stronger, longer eyelashes in weeks – the brand has clinicals that promise results in four weeks no less. The lightweight, clear serum is gluten, paraben, phosphate and phthalate free and vegan-friendly.
Everything You Need To Know About Olaplex's Lash Growth Serum
Olaplex worked on its debut eyelash growth serum for three years and ensured that the formula was tested for both safety and efficacy. Having never used an eyelash serum before, I had no idea how it would feel on my eyes, whether it would tingle, itch or irritate. For anyone who has similar concerns, rest assured, I can confirm all was fine and I didn't experience any irritation or side effects across the full month I used Olaplex Lashbond Building Serum.
I used the lash serum morning and night and was generally pretty good at remembering to apply it – bar a couple of late nights at the weekends. How do you apply the lash serum? There's a super soft, slim brush that you dip into the product once, swipe across each upper lash line morning and night and you are good to go.
As someone who uses mascara every day, I was a bit concerned that Olaplex's lash serum would interfere with the finish; it didn't. Olaplex's Lashbond Building Serum is a clear, super lightweight serum that feels and looks invisible. I would say I probably left about 90 seconds in between applying the eyelash serum and my mascara.
I took before and after photos of my lashes while I was reviewing Olaplex Lashbond Building Serum. I'm not wearing mascara in any of the images.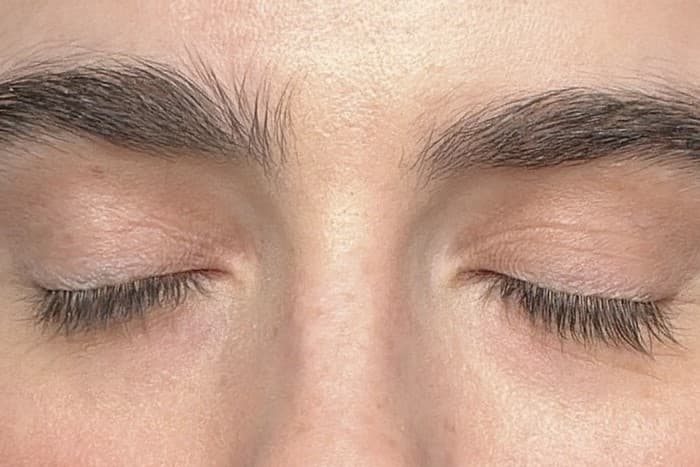 What I Noticed After Using Olaplex's Lash Serum For Two Weeks
After the first two weeks, I started noticing a difference in length and curl. I was looking in the mirror, and the light from the mirror on the side caught my lashes and I noticed the tips of my eyelashes curling which I didn't have below – my lashes were long but straight.
Around the same time I started receiving comments from friends about the length of my lashes. Admittedly, some knew I was trialling Olaplex Lashbond Building Serum, but there were some who didn't. With that I became obsessed with checking my lashes and kept catching myself stroking them and thinking 'wow, they really are feeling longer'. I think the biggest difference I saw around the two-week mark was that my lashes looked darker and thicker.
Here's a photo of how my lashes looked after two weeks of using Olaplex Lashbond Building Serum.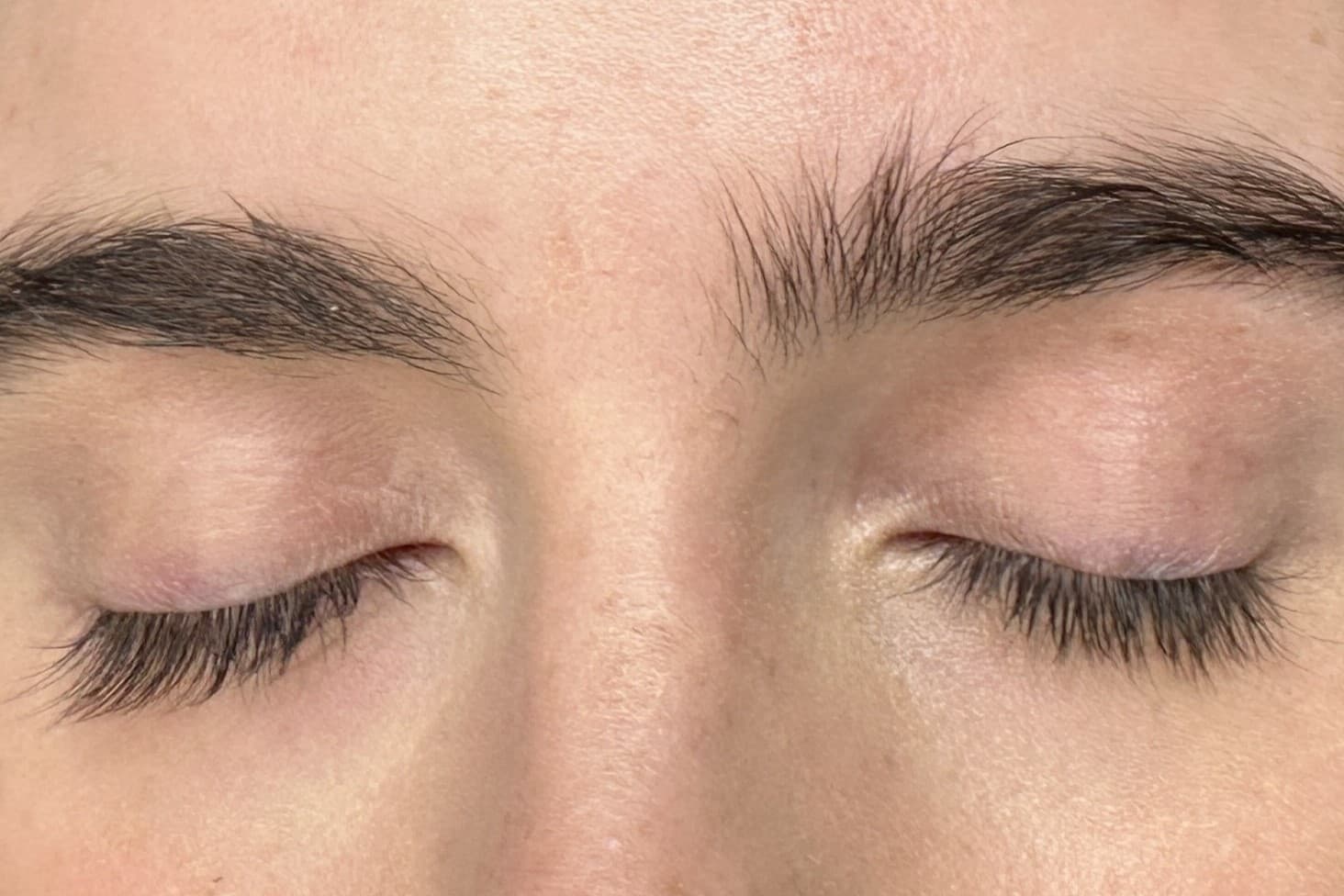 What I Noticed After Using Olaplex's Lash Serum For Four Weeks
My lashes definitely looked and felt longer and fuller after using Olaplex Lashbond Building Serum for a month. It was subtler than the difference between before using it and two weeks, but it was an improvement. After a month my lashes look darker and fuller, and they also have more of a curl, which isn't necessarily as visible in the photo but you can see the full curl when I'm wearing mascara.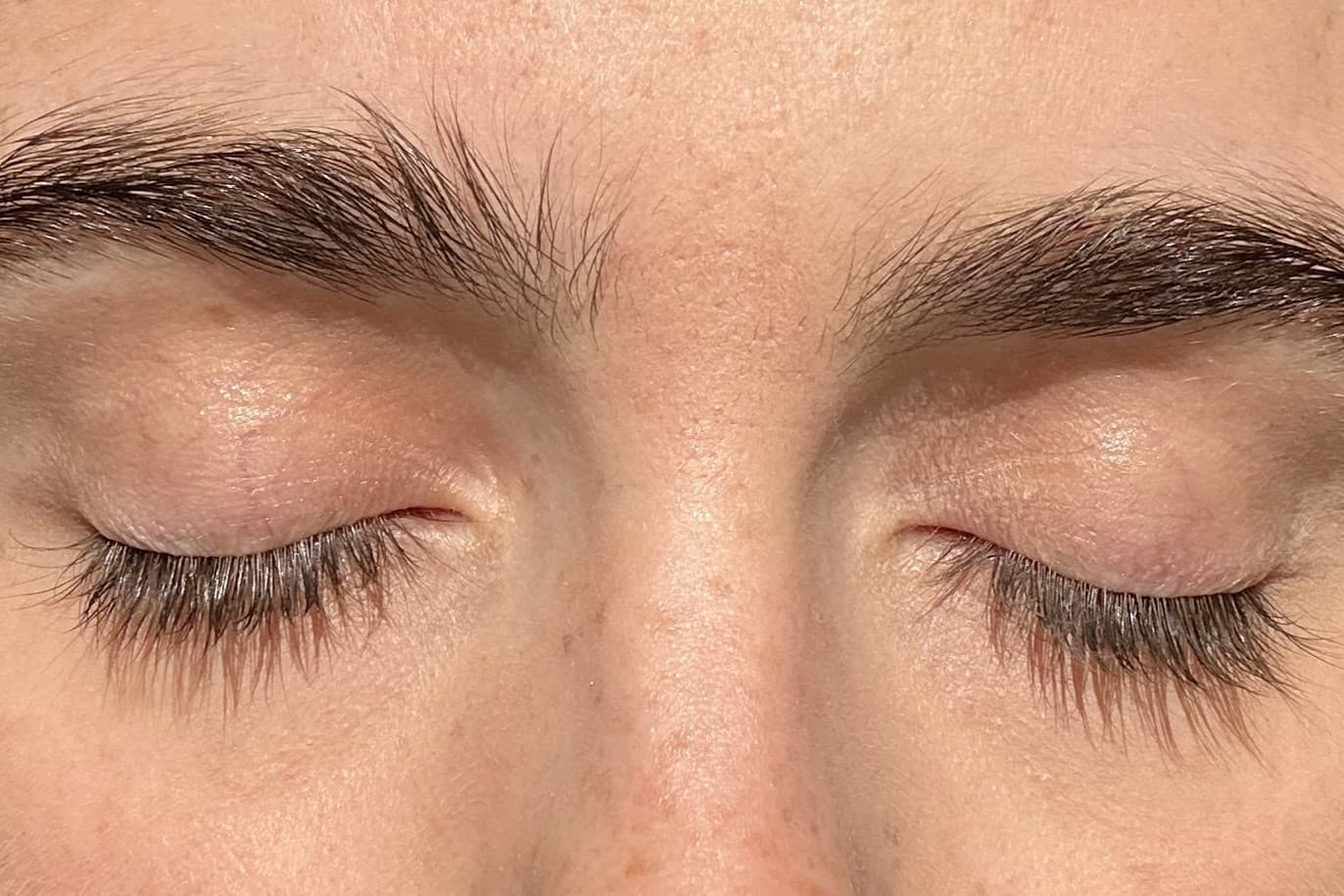 The Verdict On Olaplex Lashbond Building Serum
I've been impressed with what I've seen so far from the Olaplex Lashbond™ Building Serum, £64. The two-week mark was when I first noticed a difference in how my lashes looked and felt. I wouldn't say the difference was dramatic and definitely not comparable to false lashes, but the subtle change was enough to ensure I kept applying the lash serum every day.
I'm definitely going to keep using the eyelash serum for the full 12 weeks and I've recommended it to quite a few friends. The price of this eyelash serum and the improvement I've seen makes this a great product for anyone looking for longer, stronger lashes, in my opinion.
More From Olaplex
Haircare is where Olaplex started and the brand has three products that regularly make the bestsellers list at Space NK, including the iconic Olaplex No.3 Hair Perfector, £28. The brand's Bond Building Technology™ is game-changing for anyone who won't be parted from their heated styling tools or loves bleaching their hair as it helps to repair and protect broken bonds. If you have unruly frizzy hair, Olaplex No.8 Bond Intense Moisture Mask, £28 could be revolutionary as it helps to smooth without weighing hair down. You can't go wrong with any Olaplex product though.
Read More
• Why You Should Use A Tubing Mascara
• How To Enhance Your Natural Lashes • The Best Mascaras For Every Effect