MOST WANTED
Will Olaplex Volumizing Mist Work For Your Hair?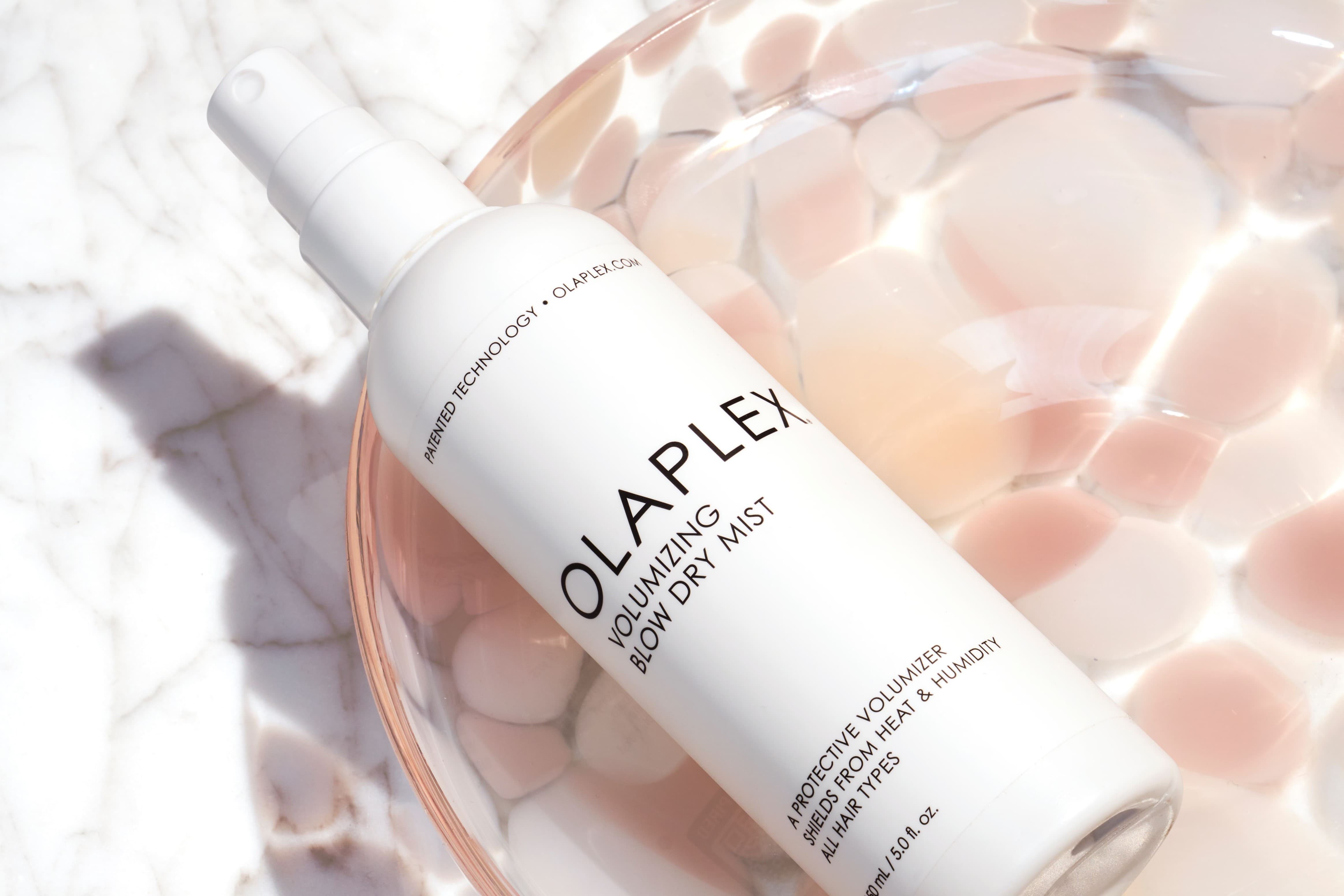 The opportunity to give our hair some extra volume is something few of us would turn down. A quick scroll of BeautyTok will provide you with various hacks to help boost volume, including the brush and blow-dry hack, but the difficulty is ensuring it lasts. There are plenty of products on the market promising full-bodied, volumised hair, but a lot of them leave our locks feeling stiff and crispy. This might be about to change though as
Olaplex
enters the arena with its Volumizing Blow Dry Mist.
The haircare brand's latest product promises lasting volume and heat protection alongside repairing and strengthening hair. We've yet to try an Olaplex product that we don't like, so we were very intrigued by its take on a volumising product. Space NK's social media manager and coordinator both decided to put it to the test. Here's their honest review of Olaplex Volumizing Blow Dry Mist.
Top Line On Olaplex Volumizing Blow Dry Mist
• Lightweight mist offering lasting volume
• Touchably soft and shiny rather than crispy • Repairs and protects for healthier looking hair
• Promises heat protection up to 225°C
April's Verdict On Olaplex Volumizing Blow Dry Mist
The ultimate goal would be thick, bouncy, voluminous hair. The reality is my hair is quite fine, so I'm always on the hunt for products to help thicken and provide more volume. I love Olaplex products so, even though my hair is very fine, I had high expectations for the Volumizing Mist.
I washed my hair with my usual shampoo and conditioner and then went in with a conditioning mist to brush out any knots. Before I used Olaplex's Volumizing Blow Dry Mist, I applied a frizz-smoothing treatment to get rid of my flyaways and halo of frizz. I liberally spritzed the mist all over my hair, concentrating on my roots. Then I blow dried and tonged my hair to achieve a smooth curl.
It was only when I started to apply some heat that I could see and feel the volume (you can see the photo above of my hair with Olaplex). If I was going to give Olaplex Volumizing Blow Dry Mist a rating out of 10, I'd say eight which is pretty good. I much preferred this lightweight spray over using a mousse as it wasn't messy or sticky. I will definitely use this styling product again.
Olivia's Verdict On Olaplex Volumizing Blow Dry Mist
I'd describe my hair as fine, but as there's quite a lot it doesn't appear too thin. My biggest bugbear is that despite my hair having a slight curl to it, whenever I use a curling tong the carefully curated wave drops out quickly. I was hoping the Olaplex Volumizing Mist will help hold the curl for longer as my dream hair would be healthy and shiny with a lovely bounce to it.
Before using Olaplex's volumising spray, I washed my hair using a scalp scrub, shampoo and conditioner. The brand recommends using the formula on damp hair, so I towel-dried to ensure it wasn't dripping wet and left it to air dry until it was about 70% wet. I then spritzed the Olaplex mist onto the roots of my hair before working down to the mid-lengths and ends.
When I blow dried my hair, I tipped my hair upside down directing the heat up into my roots and then sectioned my hair and used a round brush. I wanted to stick to my usual routine to give Olaplex Volumizing Blow Dry Mist a fair review, so I put rollers in as my hair cooled.
If I'm honest I wasn't expecting to notice much as I always find volumising products underwhelming, but my hair definitely did have more volume at the roots and I feel like my curl held for longer. I also liked that the formula was a nice, light, fine mist and it didn't feel sticky or leave my hair feeling crispy. The photo above is pre-Olaplex and the image below is using Olaplex, so you can see what I mean.
My only reservation was that my hair wasn't as curly as I would have liked, but I think this is down to my blow-drying technique. As a result, I will be using Olaplex Volumizing Blow Dry Mist again, but I'm keen to understand how other people use it and how best to use it for my hair – following tutorials of people using it once it launches.
More From Olaplex
Olaplex is famous for its Olaplex No.3 Hair Perfector, £28. Hairstylists and colourists regularly recommend it to their clients as the unique bond-building technology helps to repair and strengthen your hair after bleaching, colouring and heated styling.
More recently, the bestselling haircare brand has moved into styling products and perhaps even more excitingly, into lash growth serums. Olaplex Lashbond™ Building Serum, £64 launched earlier this year and received incredible reviews – including one from Olivia which you can read, here.
Read More Honest Reviews
• Review of the Sol Janeiro Bum Bum Cream
• Review of the Charlotte Tilbury Lip Blur • Review of the Kate Somerville Mega-C Brightening Facial
• Review of the Ultra Violette Preen Screen Reapplication Mist • Review of the Laneige Sleeping Lip Mask