IN FOCUS
How To Achieve The No Makeup Makeup Look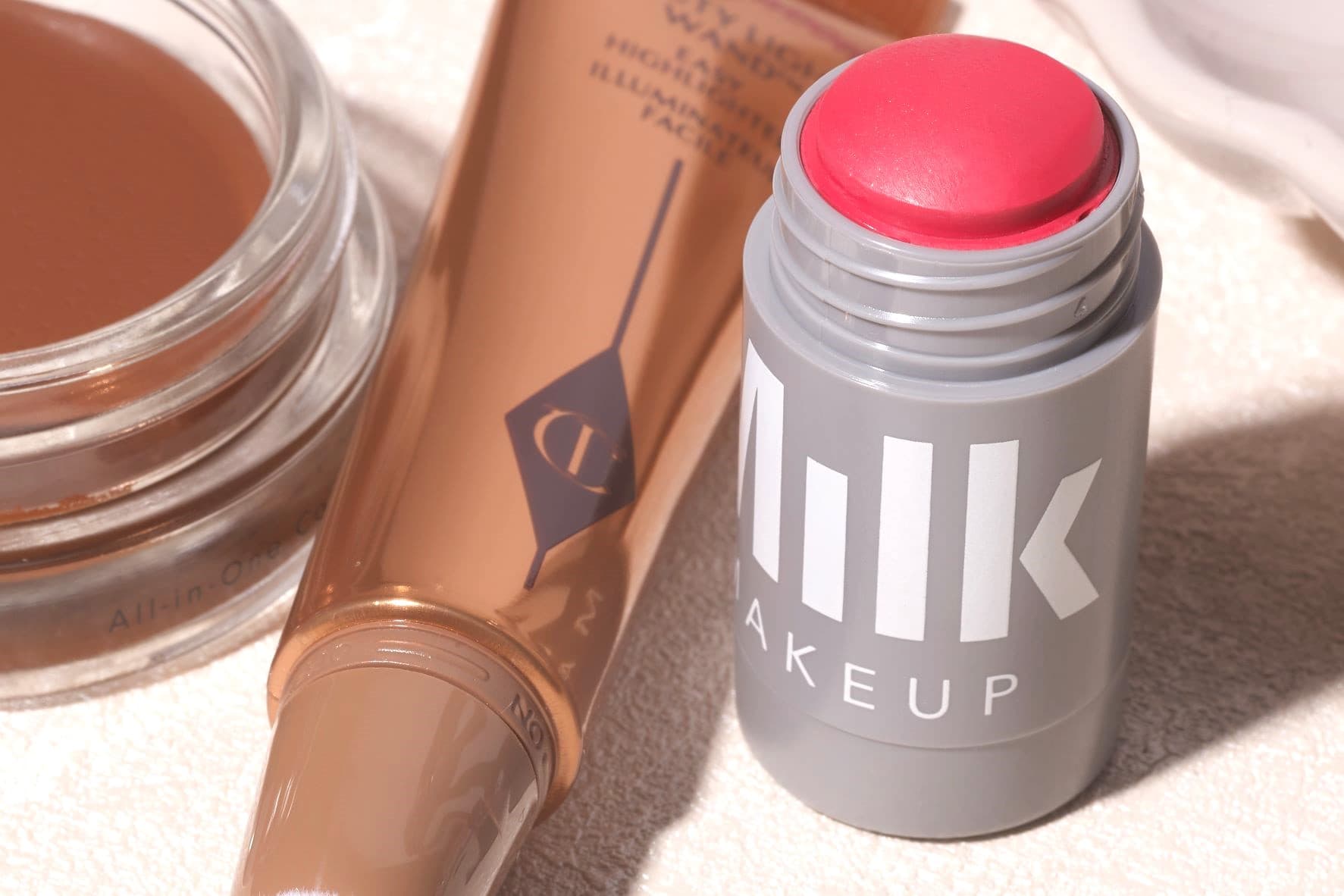 TikTok might be banging out makeup moment after makeup moment, but we always revert back to the
no-makeup makeup look
. We see your glazed doughnut skin and iridescent mermaid cheeks and raise you. No makeup makeup is the perfect vibe to channel when you want to put minimal effort in but still want to look pulled together. The result: a fresh and natural look that can take minutes to create. Here are some tips for mastering the no-makeup makeup look right now...
What is the No-makeup Makeup Look?
The clean girl aesthetic, barely-there, no-makeup makeup… call it what you want, it's all about creating a natural makeup look. Showcased by celebrities like Maddison Beer and Hailey Bieber, the no-makeup makeup look is all about highlighting your natural features and making you look healthy. The key points of this viral makeup trend are: glowy skin, a good blush and brows on fleek.
Your Skincare Routine Matters
Skincare is the foundation (no pun intended) of any natural makeup look, but even more so with the no-makeup makeup look, since you're more likely to skip foundation, you want your skin to look its best. For this type of look, make sure you exfoliate – ideally the night before to get rid of any unwanted skin texture. Then you can proceed with your usual skincare routine, we would lean towards dewy products such as Tatcha The Dewy Skin Cream, £ 23,00 for that natural, glass skin look, but whatever works best for your skin will do.
Don't forget to apply your SPF, regardless of the time of year. We love Hello Sunday The One That's A Serum - Face Drops: SPF 45, £ 20,00 because they blend seamlessly into skin and leave no cast. Once you're done with your skincare, it's time to start your makeup.
How we Create the No-Makeup Makeup Look
Step 1: Don't Skip Primer
Priming your skin will help blur out pores and create a clean looking base. For this type of look, we'd recommend going for a dewy primer to create a naturally glowy base. If dewy products scare you because your skin is on the oilier side, a matte primer will help control oil and shine and create a perfect canvas for makeup.
Step 2: Foundation is Optional
If you can, stay away from foundation to create a natural skin look. This puts your skin on show and allows it to breathe, especially when it's hot outside. We recommend sticking to concealer or a BB cream – a tinted moisturiser if you need a base to even out your complexion. It totally depends on where you are on your skin journey and what you feel the most comfortable with.
We love Rare Beauty Positive Light Tinted Moisturiser, £ 29,00 because it blends in perfectly and leaves a no-makeup finish. Pro tip: "Warm your complexion products and apply with hands to ensure they melt more evenly into the skin," says makeup artist, Anna Priadka. Apply the product on areas that need some coverage and dab a little powder to make it stay longer.
Step 3: Choose a Liquid or Cream Blush and Bronzer
Liquid and cream products will be your best allies for any minimal, light makeup looks. "Keep your base simple and use cream or liquid products," says Rebecca Clarke, director of artistry at Kevyn Aucoin. These textures blend into your skin more seamlessly and allow for a naturally flushed and bronzed look. Powders usually sit on top of the skin and can create some unwanted texture, plus they don't really get along with warm weather.
The cult-favourite Rare Beauty Soft Pinch Liquid Blush, £ 22,00 is a favourite of ours, and we love the shade Joy for a soft coral tint. Our top tip would be to go for the shade that's the closest to your natural flush to keep that skin-like look.
Step 4: Brows on Fleek
Whether you're going for a full glam or a clean girl makeup look, brows are always a staple. Fluffy, laminated, thin, you name it… we're in an era where all eyebrow styles are in, so go with what you're the most comfortable with. The main thing is you want your brows to stay in place all day. A clear or tinted gel should help create that effect, like the soap brows look.
Step 5: Keep it Simple for your Eye Makeup
Your eye makeup should be the least time-consuming part of your natural makeup look. No eyeliner or bold eyeshadow required, and ideally no mascara either. Or at least, let's stay away from the spider lashes and keep lashes looking as natural as possible.
If you want to add a little colour, you can use either your liquid blush or bronzer across your eyelids. This will help enhance that natural flush since you're using the same colour you also have on your cheeks. We like to keep the lashes a natural as possible by curling them and leaving them bare, or with an ultra-thin coat of mascara.
Step 6: Your Blush is your Lipstick
Using your lipstick as your blush is a trick we all learned from our mums, but what about wearing your blush as your lipstick? Minimalist looks not only require minimal effort and time but also products. Multitaskers are your best friends.
Start with well-exfoliated and hydrated lips courtesy of your favourite lip balm, then apply a little bit of blush. The shade-matching will give a healthy flushed, sun-kissed look. If you want to go the extra mile, apply a thin layer of clear lip gloss, then you'll tap into the glossy lips trend too. The key is to make it look easy breezy.
Step 7: Lock it in with a Setting Spray
Throughout the summer, setting sprays are an absolute life saver, and are the perfect alternative to finishing powders. There are two reasons why you should wear a setting spray. First point: it stops your makeup from moving and melting away in the summer heat. Second point: you can choose a setting spray with a dewy finish and enhance that no-makeup makeup look.
Keep in mind that if you have oilier skin, your makeup will settle in and naturally look dewy, you want to ensure you're not looking too oily by the end of the day.
Final thoughts
It looks like the clean girl aesthetic is here to stay, and we're here for it. While we love a full face of makeup, we all have those days when we just don't have the time or the energy to put that much effort into our beauty routine and the no-makeup makeup look works perfectly. It's the ideal mix of a good skincare routine and a barely-there makeup look.
Read More
• The TikTok Makeup Trends to Recreate
• The Best Mascaras for Every Effect • How To Enhance Your Natural Lashes
• How to Choose the Right Lipstick for You • How to Make Your Makeup Last Longer