MOST WANTED
Our Buying Coordinator's Verdict On Hourglass ​Ambient Soft Glow Foundation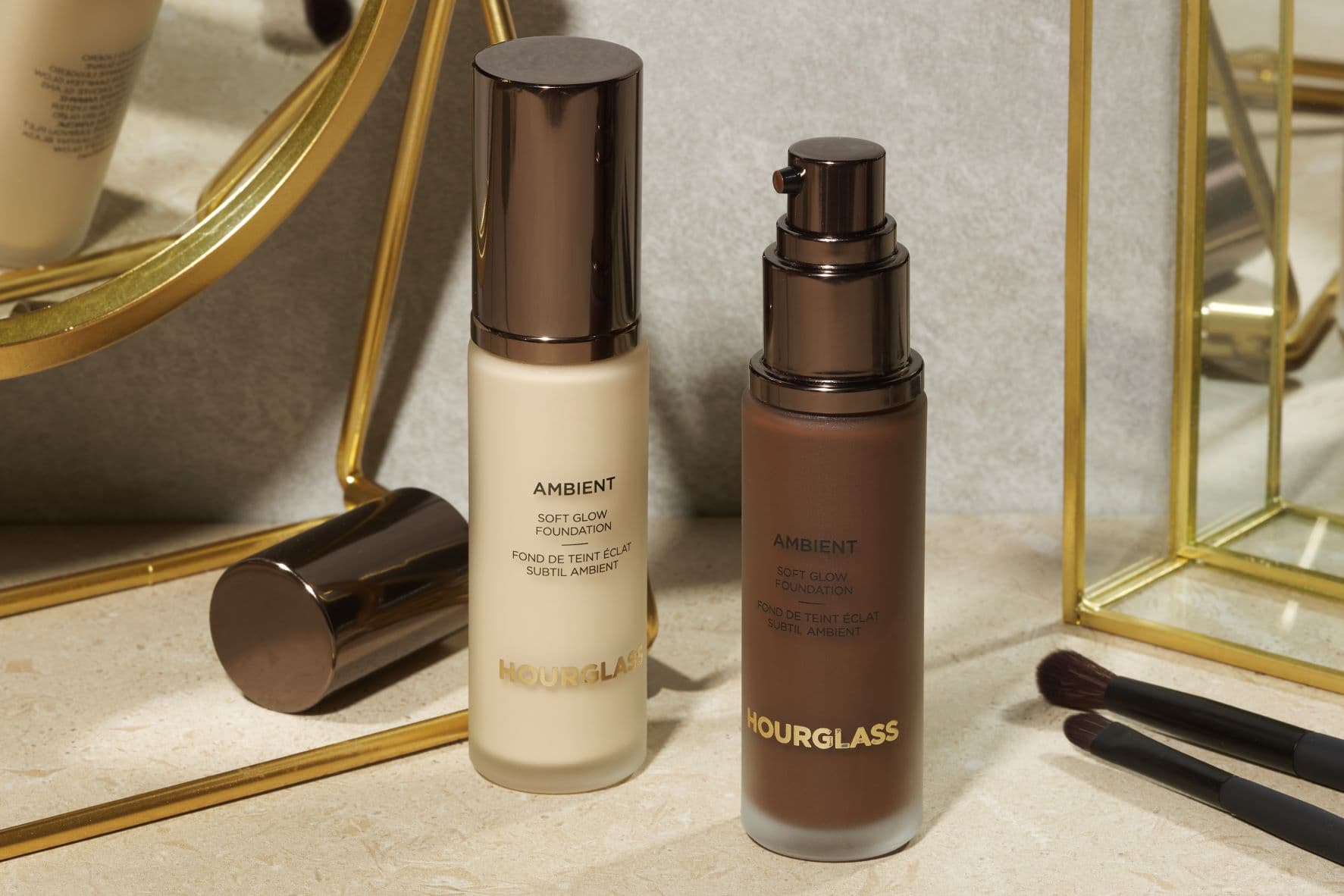 Do you even like makeup if you haven't tried
Hourglass Ambient Lighting Powder
? The brand's iconic light-reflecting powder is a serious game-changer and was the real-life filter everyone needed before filters were even a thing. Hourglass' founder,
Carisa Janes
created the lightweight powder in bid to cheat the effects of flattering lighting. Dusting it across your brow and cheekbones leaves you with the subtlest glow.
The Ambient Lighting Powders come in a range of shades and are so popular,
Hourglass
has created a palette with a trio of hues to cover all bases. It was only a matter of time before the brand released a foundation to give you that feel-good glow all over. Enter,
Hourglass Ambient Soft Glow Foundation
.
Foundation is a staple part of my makeup routine, especially during the week. I like a base that blends easily and offers buildable coverage, so I've got the flexibility to dial it up or down. Over the past few years, I've fallen back in love with
tinted moisturisers
because of the ease they give. You can slap it on quickly with your fingers if you're in a rush or use a brush for a more precise finish. It goes without saying that
Illusion Hyaluronic Skin Tint SPF 15
is in my bathroom arsenal. I was intrigued by the idea of the Ambient Soft Glow Foundation, even more so when I found out that the incredible Julianne Moore was fronting the campaign, so I decided to road test it…
Top Line On Hourglass Ambient Soft Glow Foundation
Hourglass has a handful of popular bases, but its newest offering provides a weightless texture infused with light-diffusing pigment and blurring spheres to minimise imperfections. The medium coverage foundation is sweat-proof and promises to stay in place all day. Like the rest of Hourglass' products, the Ambient Soft Glow Foundation is vegan and non-comedogenic, so you don't have to worry about your pores.
Everything You Need To Know About Hourglass Ambient Soft Glow Foundation
If you haven't tried the Ambient Lighting Powders, you might assume that this foundation was going to offer you a radiant glow, however the finish is more matte. It is very much a healthy matte rather than a flat one though and it catches the light in all the right places to give you that natural lit-from-within finish. As the light hits your cheekbones, there's a really natural looking [copy]In terms of coverage, it delivers the medium finish that Hourglass promised. I've applied the creamy texture with both my fingers and a makeup brush, and I think you get a better finish with the latter (or a sponge) as you can really buff the formula into your skin. I would add that a little goes quite a long way and it is definitely the kind of foundation that you can apply to the areas that need it without worrying that the rest of your face will look more radiant or more matte. When I say the finish of Hourglass Ambient Soft Glow Foundation is natural and skin-like, I mean it.
There is a new trend for skincare-makeup hybrids and a lot of new foundations include ingredients that you would expect to find in your creams and serums. Hourglass is no exception, and the Ambient Soft Glow Foundation contains vitamin E and white tea extract to keep skin calm and hydrated. What interested me most about this formula is that it also helps protect against blue light emitted from our phones and laptops. I spend most of my day at my laptop having calls with brands, filling in spreadsheets and catching up on emails, so if a base promises to fend off blue light then I'm game.
The Verdict On Hourglass Ambient Soft Glow Foundation
Hourglass Ambient Soft Glow Foundation, £ 56,00 gives you a very natural, second-skin finish and has impressive staying power – so much so, you won't need your trusted . If you want to channel the no-akeup makeup look, this foundation will be your new best friend. It's offers long-wear, medium coverage with flexibility on the finish and you can easily dial up the glow with a dusting of Ambient Lighting Powder or a slick of Hourglass Vanish Flash Highlighting Stick, £ 45,00.
If you wear tinted moisturiser or light coverage foundations, this might not be your everyday go-to but it's a great option to have in your makeup arsenal for special occasions or important meetings when you want a little extra coverage that will stay in place.
How Ambient Soft Glow Compares To Other Hourglass Foundations
As I mentioned, Hourglass has a solid selection of bases already, however I'm willing to go on the record and say that the Ambient Soft Glow Foundation will be a bestseller by Christmas because of the natural finish. That being said, if you have dry skin, I would still point you in the direction of the Illusion Hyaluronic Skin Tint SPF 15 because its packed full of hyaluronic acid and is incredibly forgiving. On the other end of the complexion spectrum, if you battle with oiliness will keep shine at bay with the help of kaolinite mineral clay. While you can definitely layer Ambient Soft Glow Foundation, does provide full coverage with effortless speed.
More From Hourglass
There is more to Hourglass than just good base products. If you haven't explored the brand's lipstick range, it's definitely worth a trip into store, especially if you prefer your makeup to be vegan-friendly. Carisa spent years looking for a vegan-friendly red pigment that was as punchy and bold as traditional formulas and she finally cracked it with Hourglass Confession Ultra Slim High Intensity Refillable Lipstick, £ 39,00. The Hourglass Voyeur Waterproof Gel Eyeliner, £ 27,00 is a must-have if you're fed up with your current liner running or smudging throughout the day and the Hourglass Unlocked Instant Extensions Mascara, £ 30,00 and Hourglass Caution Extreme Lash Mascara, £ 30,00 are two of our bestselling mascaras.
Read More
• The Best Hourglass Products
• The Hourglass Products Rosie Huntington-Whiteley Loves • Best Summer Makeup Products
• How To Create The No-Makeup Makeup Look • Best Sweat Proof Makeup Products