MOST WANTED
The Best JVN Haircare Products For Your Hair Type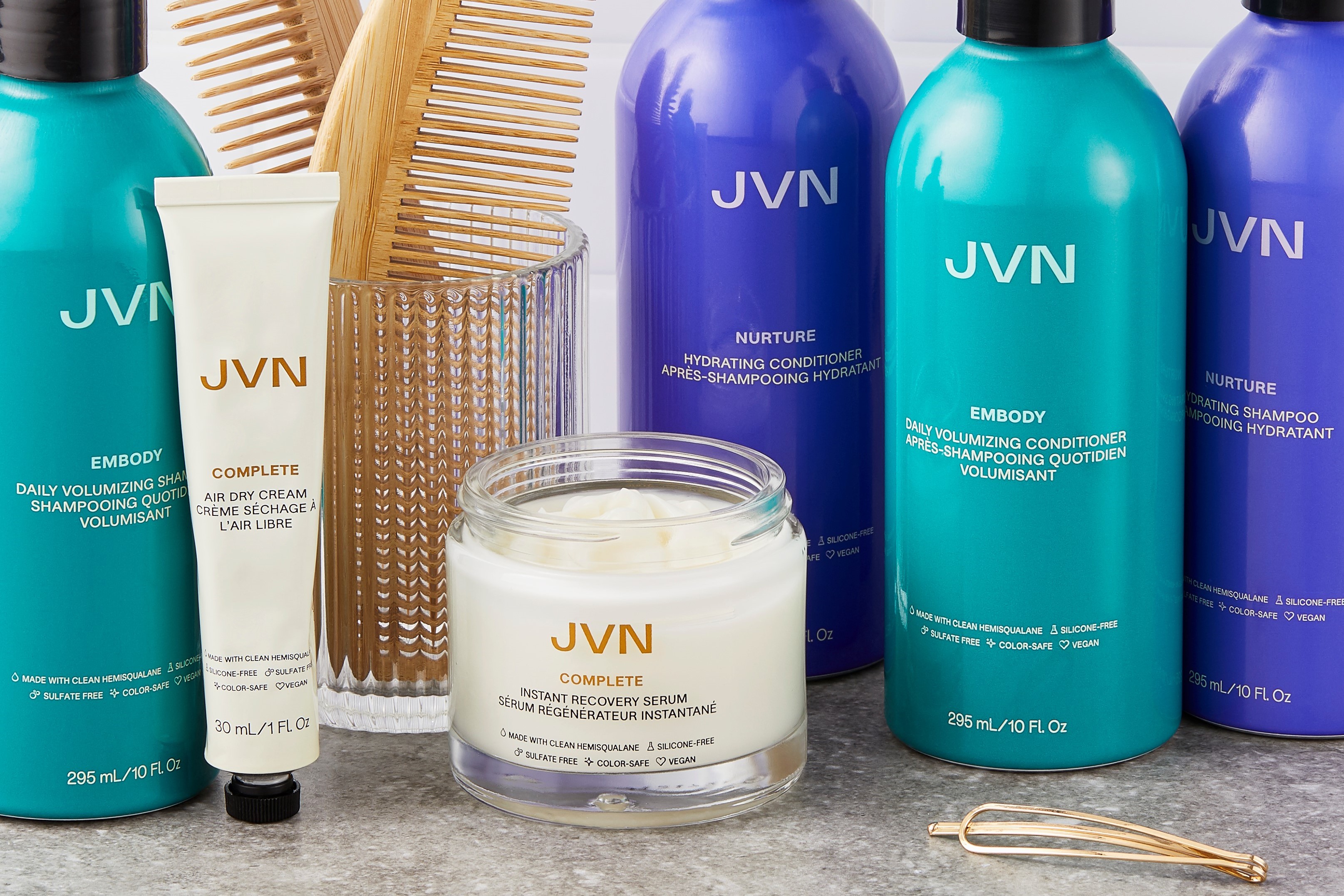 PSA: Jonathan Van Ness' haircare brand,
JVN
has arrived in the UK and is available exclusively at Space NK. The target market is everyone and Jonathan has made sure that his debut beauty brand has the wow-factor and some. With three specific wet lines, including Embody, Nurture and Undamage, and four styling products, Jonathan has drawn on his experience as a hair stylist to ensure JVN has a solution for every haircare concern.
"JVN allows everyone that uses it to find their best hair self, feel beautiful, and show the world that they can look better than ever, while being confident in their choice to bring clean beauty to their hair," Jonathan told us exclusively.
Who Is Jonathan Van Ness and What Is JVN?
If you don't watch Netflix's hit show
Queer Eye
you might be confused by all the excitement around JVN. Jonathan Van Ness is an award-winning TV personality, bestselling author, podcast host, hair stylist and now, founder of a game-changing hair brand. While Jonathan might be best known as a member of the
Queer Eye's
Fab Five which hit the silver screen in 2018, his TV career started five years earlier when he starred in the web series
Gays of Thrones
. Currently, Jonathan hosts and executive produces his own Netflix series,
Getting Curious
, alongside launching JVN Hair.
Over the years, Jonathan has used his platform to support and raise awareness for LGBTQIA+ communities and the issues they face on a day-to-day basis. One of the projects he advocates for includes
The Trevor Project
, a foundation that helps provide information and support to young LGBTQ people around the clock. It's safe to say that
Why We Love JVN
Jonathan Van Ness has taken the guesswork out of finding the right shampoo and conditioner for your hair. The brand's three categories are easy to navigate and a dream to use with heavenly ingredients, textures, and scents. For example, if your hair is a little finer than you might like you would opt for Embody Daily Volumizing Shampoo and the accompanying conditioner. The entire range is vegan-friendly, sulphate-free, colour-safe and sustainable.
Hemisqualane is the hero ingredient across the range, which is unlikely to be a surprise to anyone who follows Jonathan and is aware of his love for
Biossance
, a beauty brand that also champions squalane. What's the difference between hemisqualane and
squalane
? Well, hemisqualane is essentially a healthy silicone that's made from sustainably sourced sugarcane. It helps to strengthen hair and give it a healthy glossy finish.
JVN Hair was made with everyone in mind and while we're willing to bet you'd enjoy using any of the products, we've rounded up our favourites and outlined which ones are best for certain hair types.
Our Favourite Products From Jonathan Van Ness' Hair Range