MOST WANTED
Why People Are Loving JVN Air Dry Cream Right Now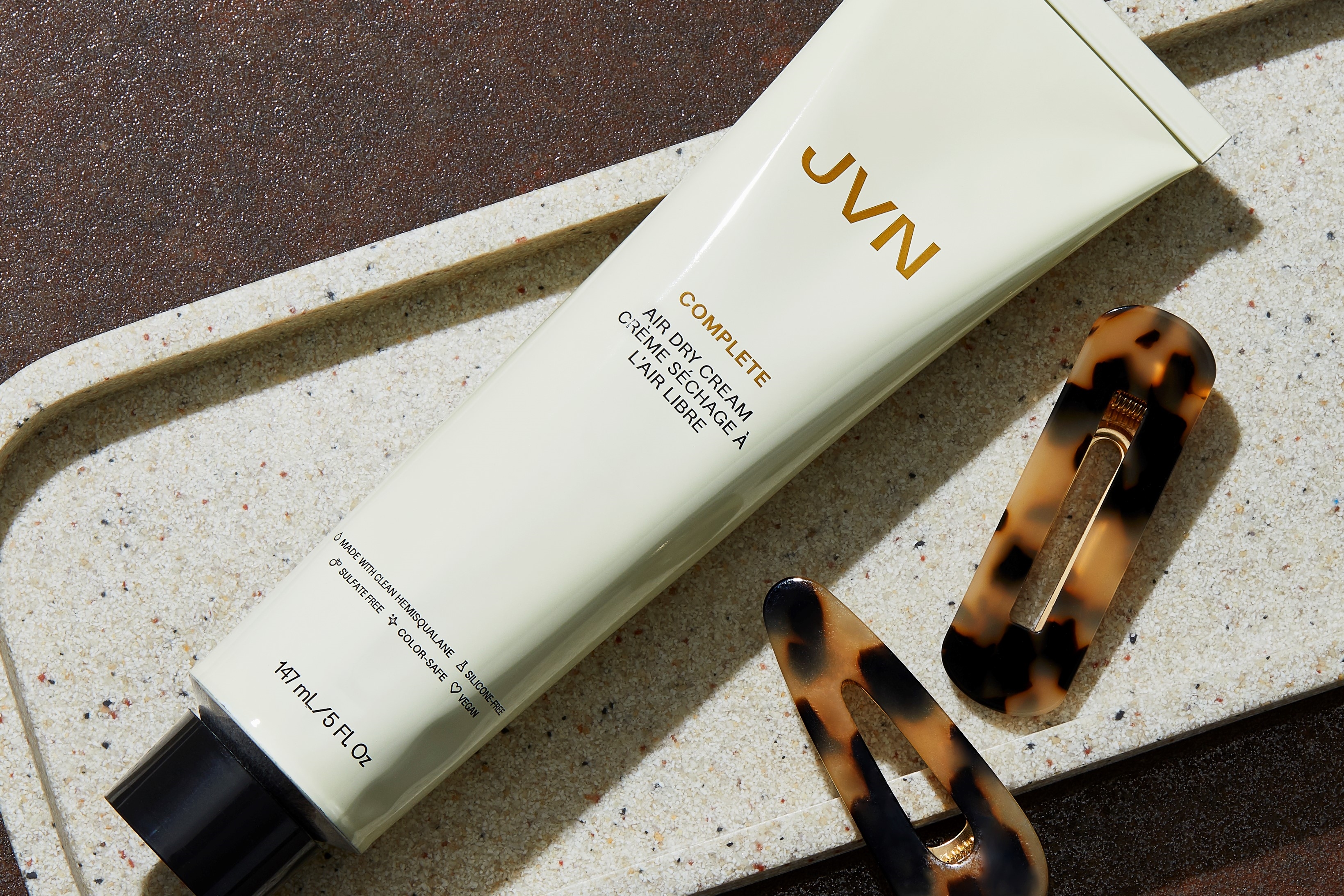 When
Jonathan Van Ness
announced he was creating his own haircare line, fans of Netflix's hit show,
Queer Eye
went wild, and when
JVN Hair
launched they weren't disappointed. The streamlined range is easy to shop, caters for all hair types and is conscious of the environment.
While the shampoos and conditioners are nothing short of exceptional (I'm hooked on the
Embody Daily Volumizing Shampoo, £16
), it's the
JVN Complete Air Dry Cream, £21,
that has got people talking.
The styling cream encased in the slim, cream tube has received good reviews across TikTok and YouTube, and it's proven very popular at Space NK HQ with several of the buying team, including myself, using it on a regular basis.
Top Line On JVN Air Dry Cream
There has been a little bit of confusion around this cream; it's a product that should be used on hair that's left to air dry rather than blow-dried. If you're someone who likes to (or wants to) embrace your natural waves, this gel-like cream provides a gentle hold and a little bit of volume. It's the kind of haircare product that you apply and then get on with your life, leaving it to work its magic.
Everything You Need To Know About JVN Air Dry Cream
The uplifting, citrusy scent of tangerine and grapefruit hits you before you have time to note the texture. And, the fragrance lasts for days afterwards, keeping your hair smelling fresh. My hair is just below my shoulders, and I'd say it's somewhere in between fine and thick, but I always veer towards volumising formulas. I used a 20p size amount of the Air Dry Cream and combed it through damp, freshly washed hair and then left it to dry naturally.
With a one year old daughter and a demanding job, I'm always willing to try out a beauty product that requires minimal effort on my part but delivers results. I'd be lying if I said I didn't approach these types of products with some scepticism. There are plenty of products that promise game-changing results and very that actually deliver on them. JVN Air Dry Cream is the latter group. It's seriously easy to use and helped define my natural waves. Frizz was noticeably reduced, my hair smelt incredible, and it felt smoother and softer the next day.
In keeping with the rest of the range, the Air Dry Cream comes packed up in an aluminium tube and a post-consumer recycled plastic cap. It's as sustainable as possible and don't forget, you can recycle your empties with us via Handle.
The Verdict On JVN Hair Air Dry Cream
I've fallen pretty hard for this cream, and it's become a firm fixture in my weekend routine. Why do I think people have gone crazy for it recently? It helps curb the effects of humidity, which makes it a summer haircare essential in my book. If you're heading away to balmy climates, I highly recommend packing a tube of Air Dry Cream.
I do have one potential amber flag; while on paper this cream should work for anyone who wants to ease frizz and boost volume, those with thick locks who rely heavily on blow-drying might find it impractical. You can use heated styling after using it, but it's designed to work on air dried hair.
More On Jonathan Van Ness' Hair Range
Have thick, frizzy hair and want to try JVN Hair? Don't worry there are several products designed for you in mind, including JVN Hair Nurture Deep Moisture Mask, £ 21,00 and JVN Hair Complete Instant Recovery Serum, £ 12,00. If you colour your hair regularly, I'd point you in the direction of JVN Hair Undamage Strengthening Shampoo, £ 18,00, along with the matching conditioner. If you're keen to know what the genius behind the brand uses on their hair, I also recommend you read Inside Jonathan Van Ness' Grooming Routine.
Read More
• Latest New Beauty Product Launches
• What Is Sensitive Skin? • What Is Retinol?
• How To Treat Hormonal Acne • How To Recycle With Handle